Learn about Email Studio Setup
After completing this unit, you'll be able to:
Access the Admin Tab.
Describe the difference between a permission and a role.
Provide Email Studio access to a user.
Recall legal compliance standards related to email sending.
Configure general account settings, including adding a physical address.
Authenticate your email domain.
OK, ready to dive into the Admin tab? This is where you, awesome admin, set up and configure components so that marketers can start creating and sending email campaigns. Note: While anyone can follow along to learn about the requirements, you must be a Marketing Cloud administrator to complete these tasks.
To access the Admin tab within Email Studio:
Click Admin.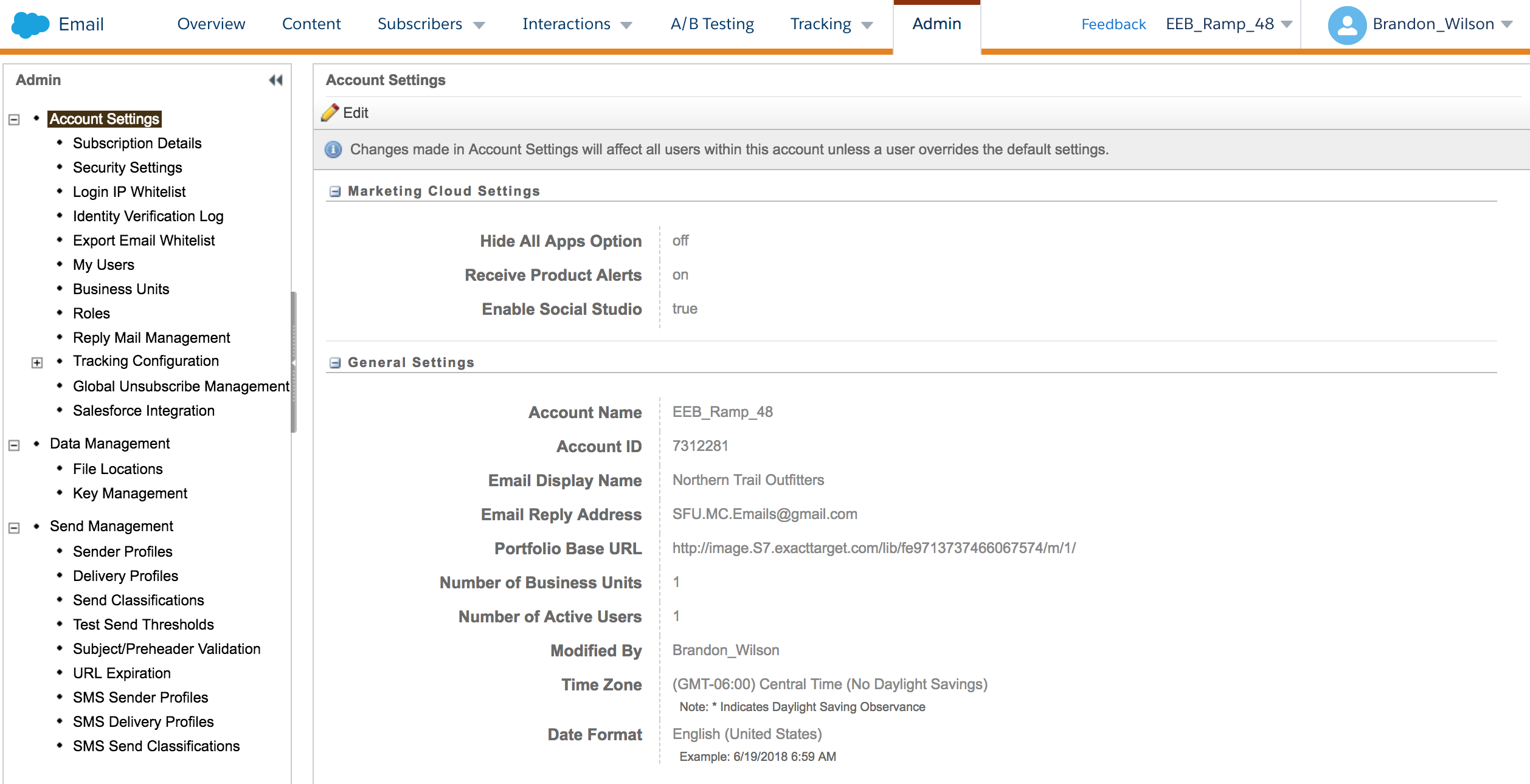 You can also access the Admin tab from any Marketing Cloud app:
Hover over your username.
Click Administration.
The Admin tab is organized into general account settings, data management, and send management. At a minimum, you or your administrator (if that's not you) will want to configure the following components.
Timezone and Date Format: Set your timezone and culture code preferences so you view time-related data in your time zone and culture, rather than the default CST and en-US.
Physical Address: Enter the physical address of your company. This is required to ensure CAN-SPAM compliance (we talk more about that later on in this unit).
Security Settings: Define parameters for session timeout, username and password conventions, and lockout logic. These features help improve the overall security of your account.
Users: Create and disable users for the account.
Headers and Footers: Automatically add text and images to the beginning and end of your email messages to ensure compliance with CAN-SPAM regulations. Set this information as part of the send classification, or customize how these headers and footers appear at an account level.
Send Classifications: Define parameters for an email job in a central location and reuse those parameters for multiple email send definitions. This includes a sender profile, delivery profile, and CAN-SPAM classification.
Reply Mail Management (RMM): In Marketing Cloud, RMM is a function that manages replies to the email jobs you send. RMM can process the reply automatically, if appropriate, or forward the message if it requires personal review. You can perform parts of the configuration in the Marketing Cloud application interface. Other parts require help from your Internet service provider (ISP).
URL Expiration: Configure when, at a minimum, email links tracked by the Marketing Cloud expire and where expired links redirect to when clicked.
From Address Management: When you use From Address Management in Marketing Cloud Email Studio, an admin can add a single From address and import multiple From addresses to use in email sends. Importing multiple addresses is ideal for accounts that use AMPscript in Sender Profiles to create dynamic From addresses in email sends. Only import addresses that you plan to use as From addresses in email sends.
Now for your most important task (at least from a user's perspective): giving users access to Email Studio. There are two ways to do this, through roles and through permissions.
Permissions control a user's access to various Marketing Cloud applications. You set these at the application level. So, for example, if your creative team is completely separate from your email sending team, you can give a user access to Email Studio and Content Builder but not to Contact Builder.
With permissions, your choices are:
Allow: The user has access to an application or functionality.
Deny: The user does not have access to an application or functionality.
Not Set: This is treated the same as Deny (the user does not have access to an application or functionality).
Roles, on the other hand, are a set of either predefined or custom permissions. You can apply roles to a user or a business unit, and depending on the variety of work a user performs, you might need to apply both roles and permissions. Marketing Cloud comes with several default user roles including: Administrator, Analyst, Content Creator, Data Manager, Distributed Sending User, Marketing Cloud Administrator, Marketing Cloud Channel Manager, Marketing Cloud Content Editor/Publisher, Marketing Cloud Security Administrator, and Marketing Cloud Viewer.
You can also create custom roles.
Here's how to provide Email Studio access to a user by applying roles.
Let's first create a user.
Navigate to the Admin tab.
Click My Users.
Click Create.
Enter the user's:

Name
Reply Email
Add to From Name Dropdown
Notification Email
External Key (optional)
Username
Time Zone
Culture Code
API access privileges (if yes, check API User)
Temporary Password

Click Save.
Next, let's apply several default roles that not only give your user access to Email Studio but also are great default roles to assign any digital marketing manager.
From the My Users screen, check the empty box next to the user.
Click Manage Roles.
Under Roles, click Edit Roles.
Select Content Creator, Data Manager, and Marketing Cloud Editor/Publisher.
Click Save.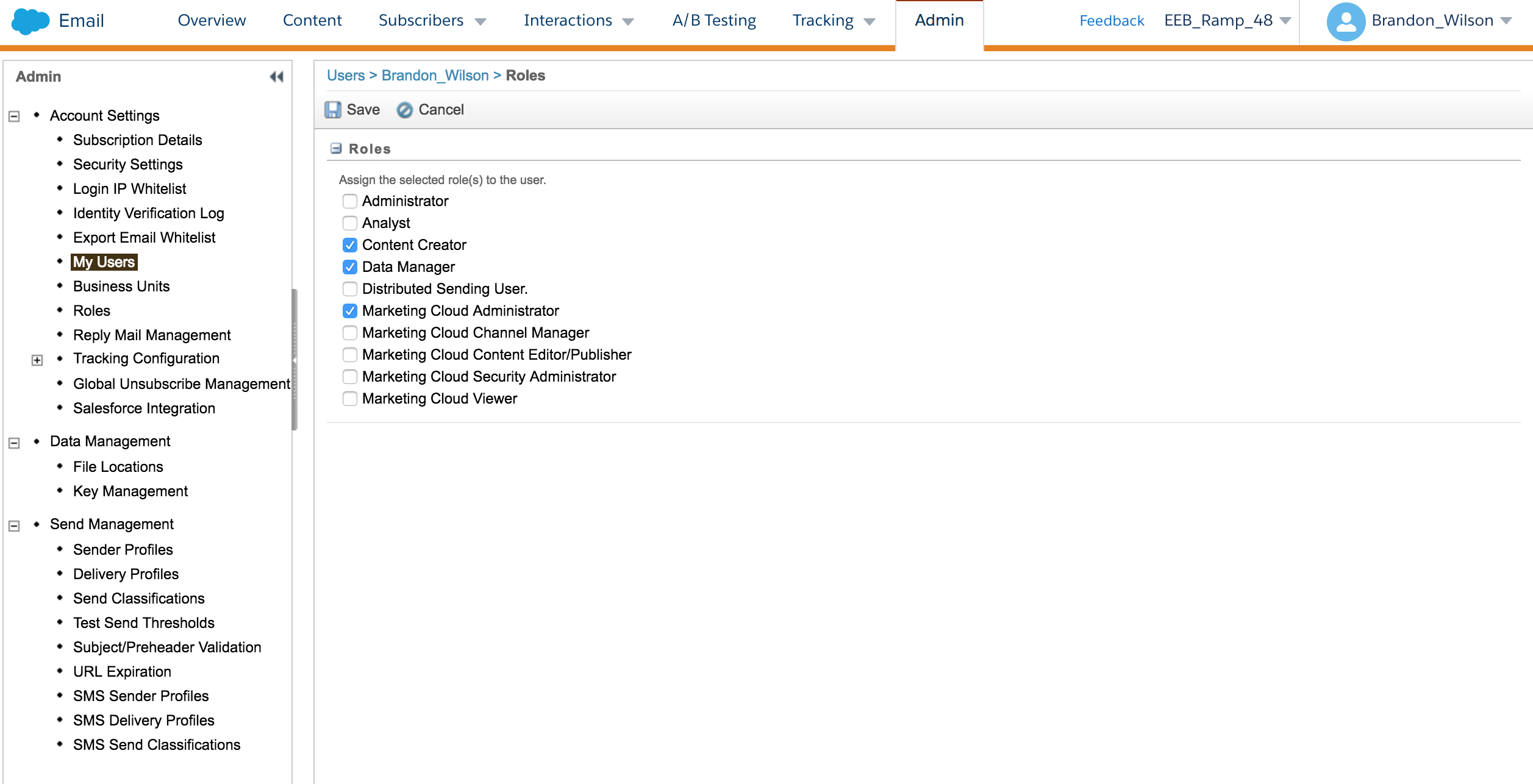 Major ISPs and corporate spam filters check for domain verification when deciding whether to allow emails into a subscriber's inbox. This is their way of ensuring you are who you say you are, and therefore, whether you can receive emails (also called "deliverability"). There are a few ways to achieve verification on your end. You can purchase a Sender Authentication Package (SAP) or a Private Domain, and once it's set up, Marketing Cloud automatically authenticates the Email Reply Address (or Account Default) during provisioning.
Or, if you don't purchase a SAP or Private Domain, you must verify any unauthenticated domains before sending. Here's how.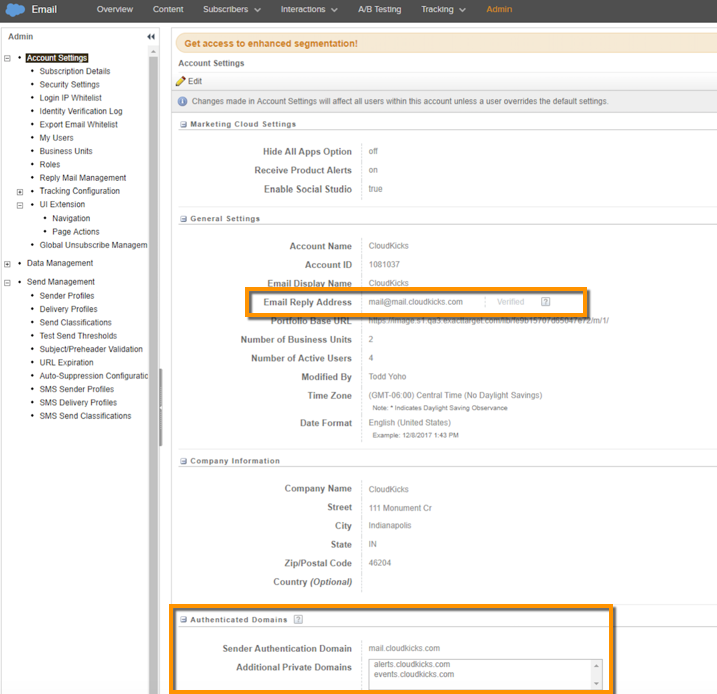 In Email Studio:
Click the Admin tab.
In Account Settings, click Edit.
Under General Settings, enter the email address in Email Reply Address.
Click Verify.

If you use an authenticated domain (SAP or Private Domain), the status button changes to [Verified] immediately. Click Save.
If the domains do not match, you are prompted to send a verification email to the address you entered.

Once you send a verification email, the status button changes to [Pending].
You then have up to 48 hours to click Verify.
The status button displays [Verified] when the process is complete.
Easy enough, right? Just remember, you cannot send emails from email addresses with the status [Verify], [Pending] or [Not Verified], and any unverified or pending domains will not show up in the From options of your Send Flow (which you learn more about later).
On the subject of spam, email marketers also need to take several steps to stay compliant with CAN-SPAM. You can learn about the CAN-SPAM Act and guidelines in the Follow Legal Compliance Guidelines unit of the Email Marketing Strategies module.
One of the CAN-SPAM guidelines requires that you include a physical mailing address somewhere in your email. Luckily, Marketing Cloud makes that easy by building it into the process. Before your team sends an email, Marketing Cloud checks for a physical mailing address. Where does it pull this address from? Yep, you guessed it: Account Settings. Here's how to ensure your account includes the correct address.
Click the Admin tab.
Click Account Settings.
Click Edit.
Update your physical address as desired.
Click Save.
Throughout this unit, you've taken several necessary steps to get up and sending. Great job!
COPYRIGHT
Rights of ALBERT EINSTEIN are used with permission of The Hebrew University of Jerusalem. Represented exclusively by Greenlight.