Get Started with Email Studio
Learning Objectives
After completing this unit, you'll be able to:
Define key features and functionality in Email Studio.
Log in to Marketing Cloud.
Describe the Marketing Cloud homepage.
Navigate the Email Studio app.
Why Marketers (Still) Love Email
It's true, email has been around a long time. But guess what? It's still a great channel for reaching customers. Even as social and mobile have exploded in growth, email is better in conversions, click-throughs, and number of users. Customers trust email. And marketers love it because it's easy to track customer behavior—like which emails they open, which links they click, which offers they redeem, and on which devices. Email is a tried-and-true way to deliver personalized communications that build lasting customer relationships.
Ready to take advantage of these benefits? Marketing Cloud has just the product: Email Studio. Whether you're a digital marketing manager, a Marketing Cloud admin, or a little of both, you can build great emails, segment and target your audience, and send with confidence with Email Studio—all without any coding.
Some key features and functionality:
No coding required: Accelerate email creation with an intuitive UI and drag-and-drop blocks for static and dynamic content.
Share content development across channels: Easily tag, search, and share content across distribution channels—including email, social, and mobile using Content Builder—for content creation and management at scale.
Send with confidence: Test emails and see the exact customer data in the preview. No more sending anxiety.
Built-in artificial intelligence: Take advantage of our AI and improve email engagement with the help of Einstein.
Any email, any audience: Create all types of emails from newsletters to bank statements.
Watch the video to see these capabilities in action.
Take a Tour of Email Studio
Now let's get hands-on and take a look at the application. If you're a Marketing Cloud customer and you know your username and password, navigate to mc.exacttarget.com and log in. If you're not, don't worry. In this module we show you lots of screenshots and give you step-by-step instructions so you can see just how easy it is to use Email Studio.
First Stop: Marketing Cloud Homepage
You've arrived at the Marketing Cloud homepage. Before we dive into Email Studio, let's briefly check out this page.

Starting at the top (1), the navigation bar is how you move between the Marketing Cloud apps and tools, including Email Studio. If the navigation bar disappears while you're in a particular app, you can always get back to it by hovering over the blue cloud at the top left.
Next is your marketing calendar (2). This homepage view of your Calendar lets you quickly and easily see past, current, and future digital marketing campaigns, as well as the channels you're using—social, mobile, email, and so on. You can also view campaigns and messaging by business unit using the filter.
The homepage also gives you a view of your recent items. Scroll down to access recently sent emails, recently edited content, and more.  
Next Stop: Email Studio Overview
Ready to check out Email Studio? Accessing it from the Marketing Cloud homepage is quick and easy. In the main navigation bar on the Marketing Cloud homepage:
Hover over Email Studio.
Click Email.
If you work in Email Studio a lot, you can set the Email Studio Overview page as your default homepage, or in Marketing Cloud terminology, your default login screen. To do this:
Hover over your username.
Click Cloud Preferences.
Click Default Login Preference.
Select Email.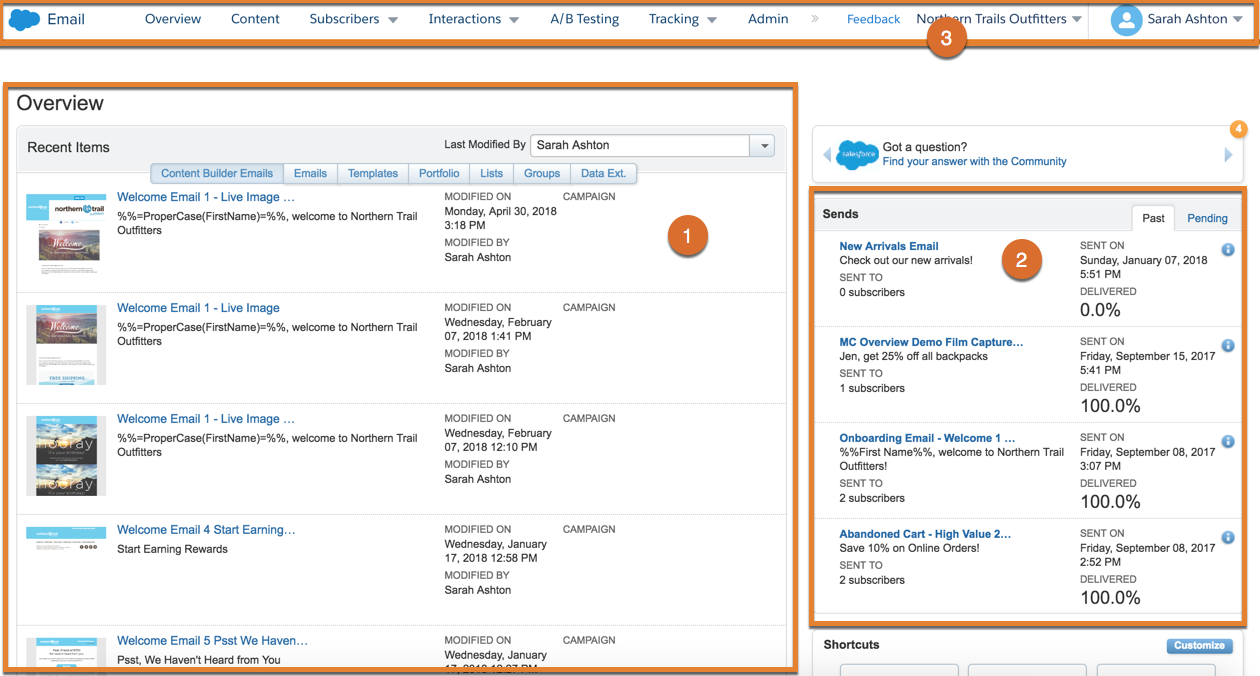 The Email Studio Overview page displays all your recent items, including Content Builder emails, templates, and data extensions (1), as well as past and pending sends (2). Use the top navigation bar to find all the tools (3) you require to create, test, and send great emails.
Email Studio Navigation Flashcards
Use these interactive flashcards to learn more about each section of the Email Studio navigation bar.
Read the navigation section on each card, then click the card to reveal what you can do in that section. Click the right-facing arrow to move to the next card, and the left-facing arrow to return to the previous card.
Now that you're more familiar with the Email Studio app, in the next unit, we take a closer look at the key tools that prepare you to send.
Resources
Copyright
Rights of ALBERT EINSTEIN are used with permission of The Hebrew University of Jerusalem. Represented exclusively by Greenlight.