Learn Einstein Voice Basics
After completing this unit, you'll be able to:
Explain what Einstein Voice is.
Discuss how Einstein Voice can impact you and your business.
Let's look at this hypothetical scenario: Hans Albert is a newly promoted VP of Sales at Nobel Retail and needs to close a lot of business. After deploying Einstein at his company, Hans has been able to close more deals and focus his time with the right accounts and opportunities.
With his success though, he's also been given more responsibility, and he knows that he needs to step up his game in order to keep his team on track and to stay ahead of his competition. He's been using his voice assistant on his smart speaker and on his smartphone for a while now to help him with his personal tasks, but wonders if there's any way to adapt this technology to help him at work as well. 
Lo and behold, he learns that Salesforce has developed new products powered by new Einstein Voice technology, Einstein Voice Assistant and Einstein Voice Bots, that can enable him and his end customers to talk directly to Salesforce from any device. Hans is so excited about this announcement that he immediately begins integrating Einstein Voice into his work routine. Now let's take a look at how this helps Hans in his new role.
For starters, Hans can conversationally update Salesforce with Einstein Voice Assistant. Instead of having to manually enter his meeting notes, Hans can now verbally log his notes through the mobile app. Hans can start by saying: "Hey Einstein, take a note. Today I met with Jennifer Perkins, VP of Sales…" and Einstein intelligently predicts what information to log and what records to associate it with, what changes to make, and what follow-ups to assign. With such a simple data input process, Hans saves so much time and has noticed that he's logging notes more frequently and more accurately. As a result, the precision of his forecasting, the quality of reporting, and the accuracy of the recommendations that Einstein produces have all improved significantly.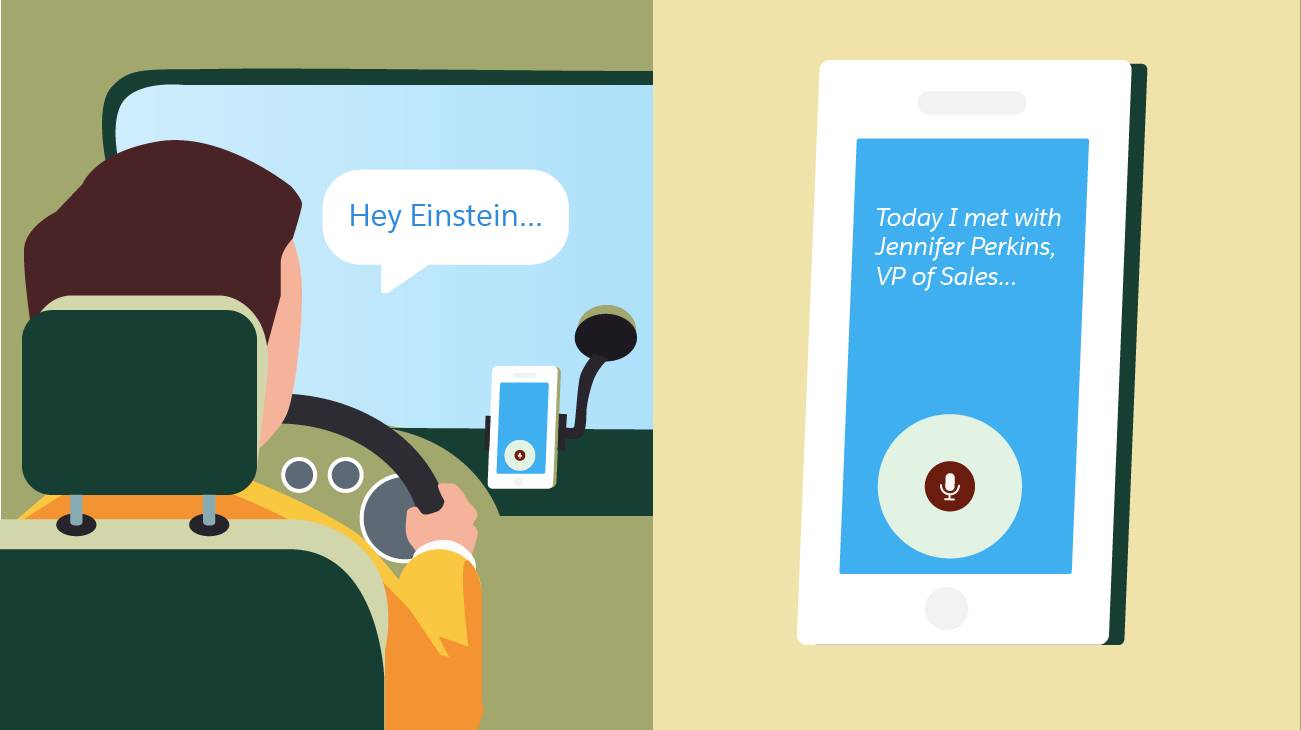 In addition to conversational updates, Hans now also gets his Salesforce daily briefing read to him—the same way he gets his flash briefing every morning from his smart speaker with all the news, weather, and traffic information he needs as he gets ready for work. Through an entirely customizable dashboard, Hans gets verbal updates on his accounts, opportunities, meetings— everything that can help him get a kick-start on his day before he even leaves the house! In the example below, Hans receives his daily briefing which includes a meeting with Ohana stores. Now he can prepare for his day.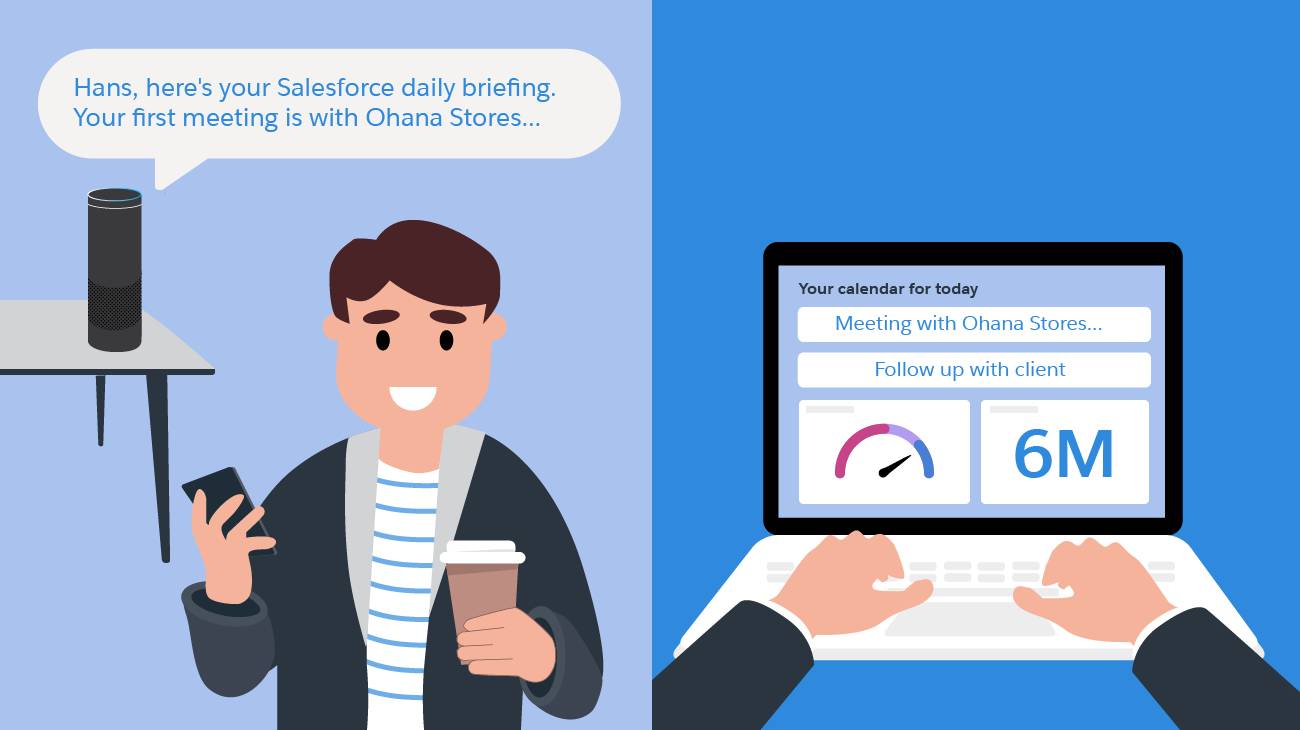 With the help of Einstein, Hans can also find, filter, and create dashboards with his voice. Now, when his boss asks him questions about how business is going, Hans can simply say "Hey Einstein, pull up my opportunities in EMEA," and this information shows up without having to click around, allowing his presentations and meetings to flow seamlessly.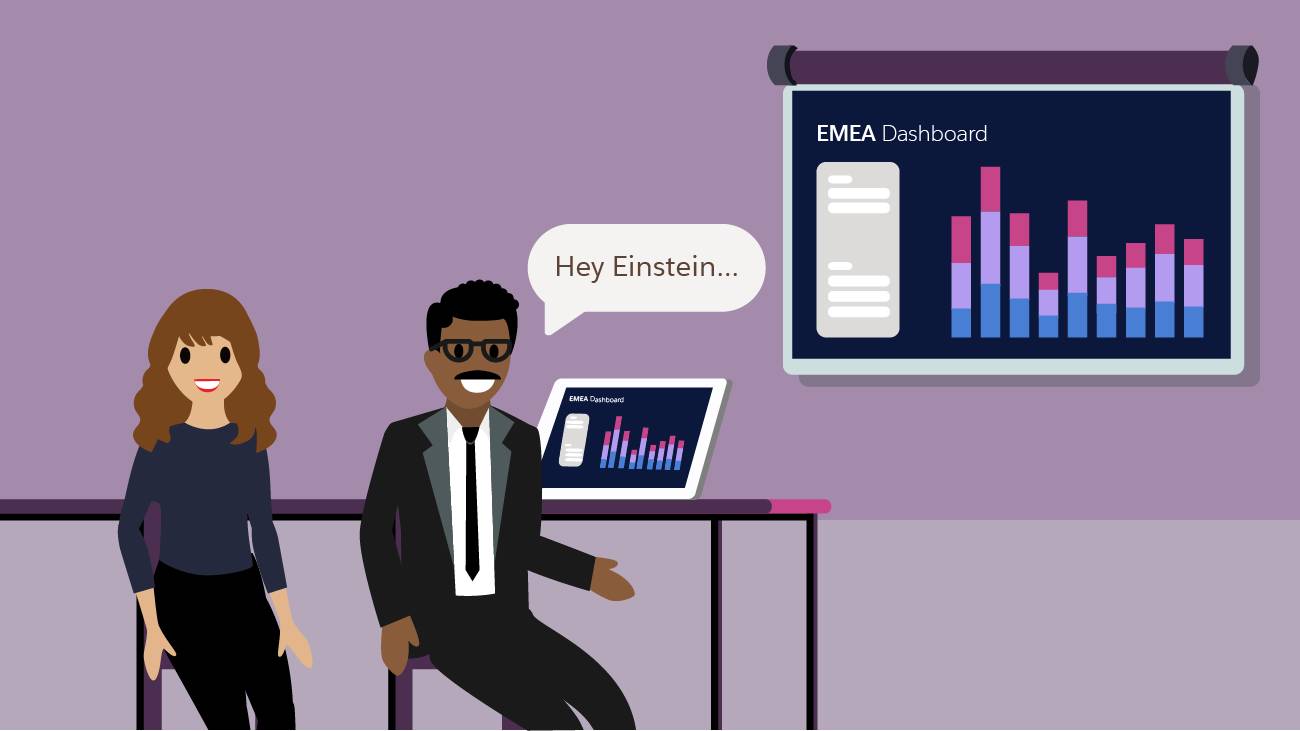 All these new features are great for Hans and his team, but how does this help the end customer? Nobel Retailer gets a lot of inquiries from its customers, including status of their orders and the timeline of their return processing. Nobel Retailer currently uses Salesforce LiveAgent to help customers get answers to these questions. Now, with Einstein Voice Bots, Nobel Retailer is making it even easier for its customers to get the responses they're looking for. Instead of typing their questions into a device and waiting for a response, customers can speak into their voice assistants and get the answers and updates they're looking for in real time. It's a seamless and natural user experience.
Now that you've learned the basics of Einstein Voice, we want to get a bit more technical so you can understand how all this cool technology works. Keep reading!