Install and Configure Distributed Marketing
After completing this unit, you'll be able to:
Install the managed package.
Describe the different license types and permissions for Distributed Marketing.
List features in the Distributed Marketing apps.
Configure account and system user authentication.
You understand how Distributed Marketing and Journey Builder work together. You created your checklist and confirmed that you meet the requirements for rolling out Distributed Marketing. You can now install Distributed Marketing in Salesforce through a managed package. It's super easy to install, and then you complete a few steps for your initial configuration.
Navigate to the Install Managed Package page for Distributed Marketing on Salesforce Help. From here, you simply follow the steps to log out of Marketing Cloud, paste in the URL for the managed package, and select whom to install the package for. Make sure you're using a supported web browser. We recommend that you install this for admins only or specific profiles so that you are installing for licensed users only.
Access to Distributed Marketing is controlled through custom permissions and permission set licenses. You can assign the custom permissions in your Salesforce org using installed permission sets or using your own custom permission sets or profiles. The permission set licenses are provisioned in your account and can be assigned using installed permission sets.
| This permission set.... | Includes... |
| --- | --- |
| DMAdministrator | Access to Distributed Marketing custom objects and Visualforce pages for Distributed Marketing administration |
| DMAdministrator License | Administrator (mcdm_15 namespace) custom permission and consumes one Distributed Marketing license |
| DMStandard | Access to Distributed Marketing custom objects and Visualforce pages for standard Distributed Marketing functionality |
| DMStandard License | Standard (mcdm_15 namespace) custom permission and consumes one Distributed Marketing license |
Permissions
Administrator (mcdm_15 namespace): This permission grants access to admin functions, such as linking journeys to campaigns and managing org defaults. It also grants access to all of the standard permission functionality, including reviewing, personalizing, and sending content.
Standard (mcdm_15 namespace): This permission grants access to standard user functions, such as content personalization and approval of campaign members for messages.
Assign Permissions
Now that you understand the different permission sets and permissions, you can assign them by following the steps in the Assign Permissions topic on Salesforce Help. Assign both of the administrator permission sets to your Distributed Marketing admins, and assign both of the standard permission sets to your Distributed Marketing users.
After you install Distributed Marketing, you'll notice a couple of new Distributed Marketing applications in the App Launcher menu if you have the appropriate permissions: Distributed Marketing Administration and Distributed Marketing Settings.
These apps grow as we roll out new features, so check out release notes to see if there are new things for you to do here.
Distributed Marketing Administration
This app is only for our System Administrators and Distributed Marketing Administrators and requires the DMAdministrator and DMAdministratorLicense permission sets or equivalent. You'll use this app to do a few things.
Connect your org with your Marketing Cloud account.
Register and manage Marketing Cloud business units with Distributed Marketing.
Enable greeting styles for messages (such as Full Name, First Name, and so on) that your users can select from when personalizing messages.
Enable single-message journeys to use in Quick Send, a feature for sending single messages directly from contact and lead records.
Manage any custom personalization interactions you set up.
We talk more about each of these settings in later units.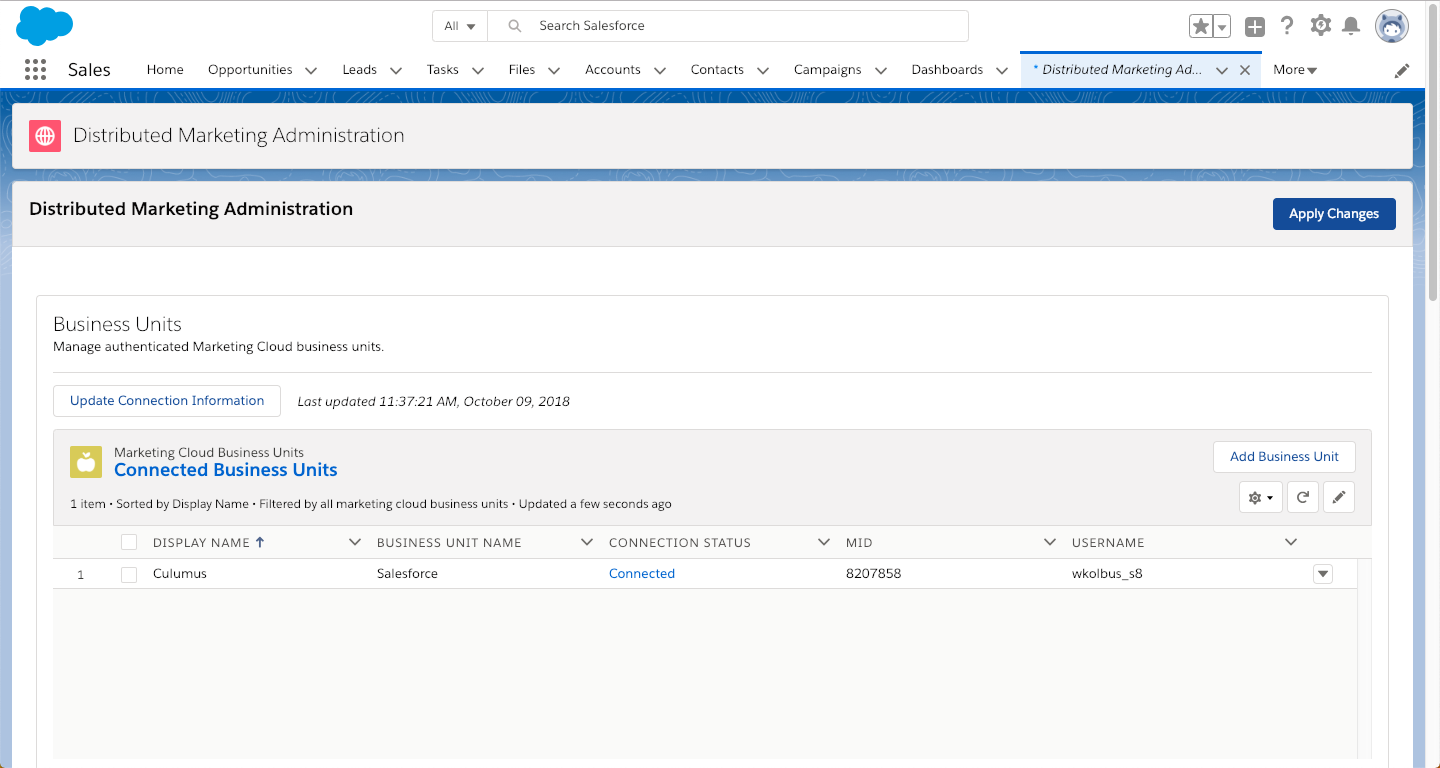 Distributed Marketing Settings
This app is for Distributed Marketing Standard users. They use it to select the default name that is used to greet recipients in messages sent from their account. Available greetings include First Name, Full Name, System Default (the default chosen by the admin), or other custom options configured by an administrator. For example, users can choose to greet a customer as "Mary" or "Mary Smith" depending upon their personal preference. Users can also adjust this for each individual recipient when personalizing messages.
The final step in installing Distributed Marketing is configuring a secure connection between your Marketing Cloud account and your Sales, Service, Financial Services, or Community Cloud org. We use named credentials with named principal identity type and OAuth 2.0 protocol to authenticate.
Account Authentication
To authenticate your Marketing Cloud account with your org, navigate in Salesforce to the Distributed Marketing Administration app. Select Add Business Unit and follow the steps provided by the Distributed Marketing installation wizard to add and authenticate up to 200 unique Marketing Cloud business units with your account.
System User Authentication
The Distributed Marketing system user authenticates between clouds. We recommend using a dedicated user for system authentication, which helps you avoid issues with permissions or user changes. Before you begin, ensure you're logged out of any active Marketing Cloud session. If you don't log out of active Marketing Cloud sessions, Salesforce automatically authenticates against that session, which can result in configuring an incorrect Marketing Cloud account.
Follow the steps provided by the Distributed Marketing interface to authenticate your system user. 
You installed Distributed Marketing, set up permissions, and registered a business unit with Distributed Marketing. Next, we complete the initial setup and take a look at settings you use to manage the user experience with Distributed Marketing.