Get to Know the Admin Console
Learning Objectives
After completing this unit, you'll be able to:
Explain how the Admin console helps you customize Desk.com.
Understand how to navigate the Admin console.
Set up new agents and add agents to groups.
Welcome to the Admin Console
In the previous module, you learned that the Admin console is where you can configure Desk.com to meet your organization's customer service needs. In this unit, we talk about some of the main setup features of the Admin console, including how to:
Set up your Desk.com team
Provide multichannel support
Automate case management
Create support center content
Integrate external systems with Desk.com apps
Your Dashboard
When you first log in and navigate to the Admin console, you land on the dashboard. Use your dashboard to help you get set up in Desk.com. Check out the links to the quick start guides and suggested case management workflows. It also has a setup checklist to help you keep track of the tasks you've completed.
Set Up Your Desk.com Team
The team area includes administration for both users (1) and groups (2). You can also create custom role permissions.
Create Users
You don't have to limit users to members of your support team. Users can be anyone in your organization, including sales, product management, or engineering. Having a broad list of users allows you to provide your customers full company support, because cases can be passed to the person in your company who has the right fix. We recommend creating a user for anyone who might be needed to give input to fix a customer issue.
In Desk.com, users are referred to as agents and can be either a full-time agent or a flex agent.
Full-time agents are your usual full-time support staff or anyone spending a lot of time in Desk.com. This type of license is billed per month.
Flex agents are seasonal or contractual workers or someone within your organization that uses Desk.com only occasionally. This type of license is billed hourly.
Doesn't user creation sound fun? Let's give it a try and create a new user, Halina Darzi, as a full-time agent:
Within the Admin console, click Team in the top navigation.
You should already be in the Users section.
Click the Add User button

Enter/select the following:

Type: Full-Time
Name: Halina Darzi
Email: halina.darzi@trailhead.com
Access Level: Agent. Note: For now you won't be adding her to any groups, we'll do that in the next section

Click the Add button.
How easy was that? Super duper easy!
Configure Support Groups
After you've added your users as agents, you can organize them into groups. With a group, you can assign cases to groups of people rather than to individual agents. You can also give a group custom roles and permissions. The other great thing is that agents can belong to more than one group, so you can assign them to as many groups as make sense for your business processes.
One common use case is to have a group address a specific level of support, such as Tier 1 Support versus Tier 2 Support. Another is to create separate groups to address different types of support, such as billing versus technical support.
Let's set up the Technical Support Team group and add yourself and Halina to it:
Within the Admin console, click Team in the top navigation.
Click Groups in the side navigation.
Click the Add Group button.
Name your group: Technical Support Team
Add yourself and Halina as members of the group, by clicking each of the tiles.
Click the Add button to create the group and add the members.
Yep… It's really that simple. Now that you have groups, you can use them in a ton of different ways, including showing members of a specific group different case filters (you'll learn about them in the next unit). You can even create rules to automatically assign specific types of cases to specific groups. The possibilities are endless.
Provide Multichannel Support
Channels (1) are how your customer questions and requests get into Desk.com as cases. Desk.com gives you one place to manage cases created from all your channels (2), including email, Twitter, Facebook, phone calls, website chat, and your support center (3). You can view and respond to all these channels from the Agent console within Desk.com.
Connect Your Customer Channels
There are separate sections for enabling and configuring all your support channels, including:
Email—Use an email address provided by Desk.com, or configure a connection to your existing support email address.
Chat—Enable your customers to chat live with your agents over your website.
Phone—Enable your phone settings and set up an integration with a computer telephony integration (CTI) provider.
Social Channels—Connect to your Twitter and Facebook accounts, then customize how Desk.com interacts with them.
As an example of setting up social channels (and to show you how easy it is to do), let's check out how to connect your Twitter account to Desk.com:
Within the Admin console, click Channels in the top navigation.
Click Twitter in the side navigation.
Click the Add Twitter Account button
Log in to your Twitter account by entering your Twitter username and password.
Click the Authorize app button.
Once the magic of Social Sign In happens, you'll be redirected back to Desk.com. You should see your profile image (in our case, the Trailhead Twitter account) and an option to import your tweets. For the time being do NOT check this box. Just click the Add Twitter Account button (6).
You should now see that you just added one Twitter account. How cool is that?
Now let's check out the various options you have for configuring your Twitter connection to Desk.com:
Hover your mouse over the Twitter account; you'll see the edit and delete icons appear.
Click on the pencil icon to view the edit options.
From this screen (see screenshot below) you can do things like choose which group to assign new cases to, which Twitter account to use when replying to tweets, what kinds of Twitter content will create cases, and how you want to group direct message (DM) threads.
For more information on managing your Twitter channel, check out the Desk.com Support Center article on handling Twitter cases.
Configure Your Self-Service Support Center
Wouldn't it be great if your customers could answer their own questions? Build a Support Center and they will come! A great example of a support center is our very own Desk.com Support Center. Not only does it show how you can customize your support center to your corporate look-and-feel, but it's a great place to get your Desk.com questions answered (go figure!).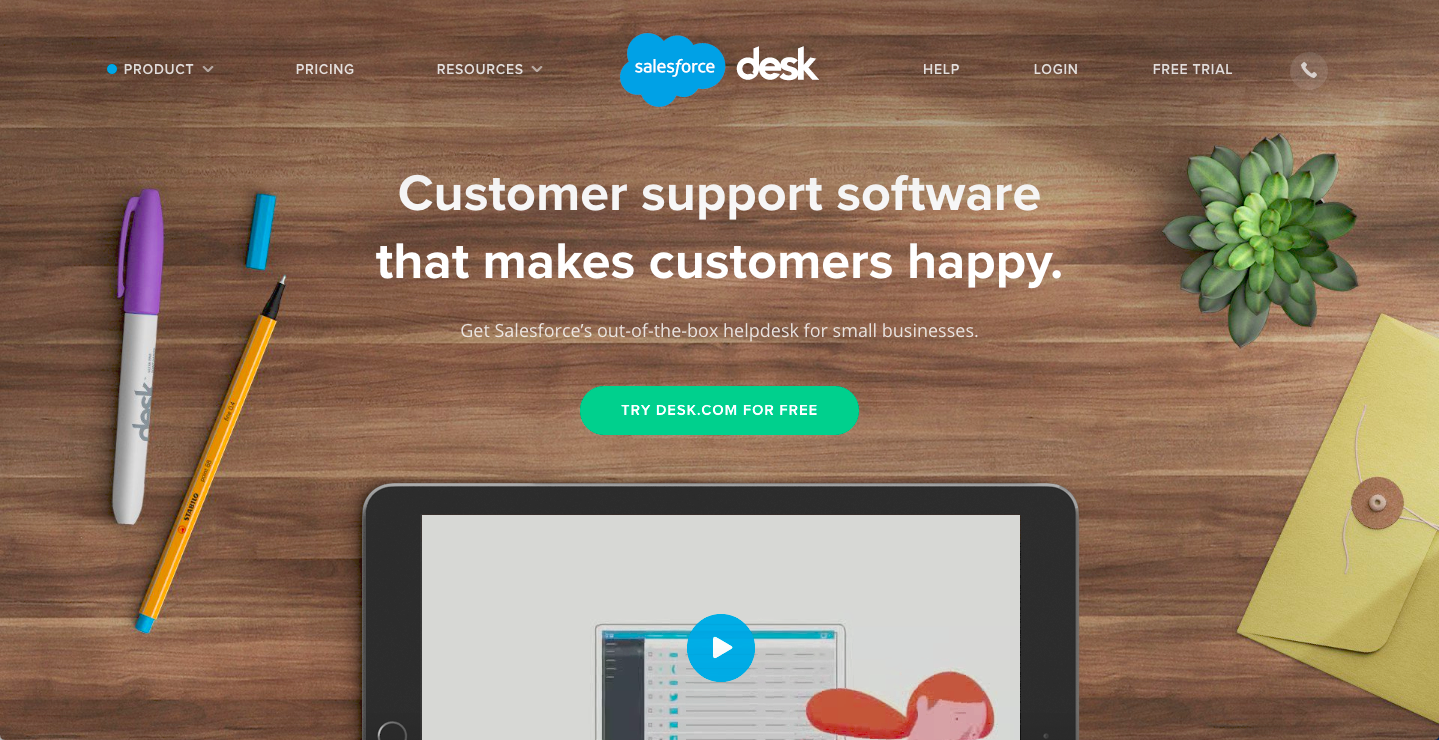 Check out the Customize your Support Center article in the Desk.com Support Center for step-by-step instructions for making your support center truly yours.
Automate Case Management
Desk.com provides all the tools you need to manage your cases. Which, after all, is a super important part of what you're wanting out of Desk.com. With Desk.com you can categorize, automate, and create agent case views in the Cases section.
Filters—Create custom views to help agents prioritize and focus on their most important cases.
Labels—Categorize and visually distinguish cases in your Universal Inbox.
Macros—Save your agents' time by triggering a series of actions with a single click. Actions can include setting a case status, applying labels, or inserting a custom response. One click and you're done!
Rules—Preconfigure workflows that assign cases or perform other repetitive tasks. Another huge time saver!
We'll go over more of this functionality in later modules, but for now, let's check out how to create a filter. This is one of the most useful ways to organize cases for your agents. We will create a filter that displays just the cases assigned to our Technical Support Team and ensure that only they can view it.
Within the Admin console, click Cases in the top navigation.
You should already be in the Filters section.
Click the Add Filter button
Complete the Add New Filter form:

Name: Open Technical Support Team Cases
Description: All open cases that are assigned to the Technical Support Team group.

Click the Add button.
Complete the Edit Filter form:

Click the Add Condition button next to the Add 'All' Condition section. All conditions you add here must be true for a case to appear within this filter.
Enter the following conditions:

Status is not Closed
Status is not Resolved
Assigned Group is Technical Support Team. Note: you will click the Add Condition button to add each new condition.

Permission to this Filter:

Select the Group radio button
Choose the Technical Support Team

Click the Enable toggle control to activate the filter.

Click the Update button
Congratulations! You've created your first filter. Now let's check out some other functionality, like the Support Center.
Create Support Center Content
Desk.com makes it easy to create Support Center articles on the fly. Creating public articles for your self-service support center provides your customers help without any intervention from your support agents. You can organize articles by topics to make it easy for your customers to find the content they need.
See more details in the video: How to Learn the Basics of Implementing Your Support Center.
Integrate with External Systems Through Desk.com Apps
With Desk.com Apps, you can integrate with other communication, marketing, and project management tools. Desk.com integrates with many external systems, such as JIRA, Google apps, and Slack. Browse the Apps section to find new apps or manage the apps you've already installed.
Check out this video on the Desk.com Admin Overview.
Now you're familiar with the great features that help you customize and set up Desk.com for your agents. In the next unit, we'll walk through the Next Gen Agent console so that you can start handling cases from your customers.