Get Started with Desk.com
Learning Objectives
After completing this unit, you'll be able to:
Explain what Desk.com is.
Describe the ways Desk.com can help your business.
Explain the difference between Desk.com and Service Cloud.
Welcome to Desk.com
Are you new to Desk.com? Not sure exactly what it is or how to use it? Don't understand what makes Desk.com special? If you've answered "yes" to any of these, you're in the right place.
Customer Service with a Smile
As customers, we want to be treated like we're a familiar face. We want to feel that the businesses we support with our hard-earned dollars care about us. It feels good to be remembered at the places we frequent, like our local coffee shop, restaurant, or dry cleaner. Like when the barista where we get our caffeine kick knows not only our order, but our name, too (and how to spell it!).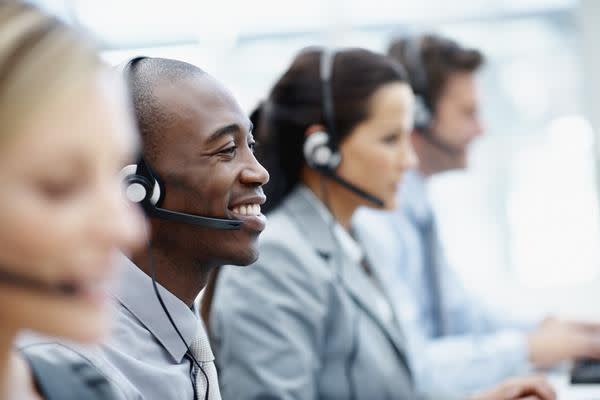 When was the last time you received service that made you feel extra special?
Common Business Challenges
Personal customer service is difficult in today's connected, mobile, and multichannel world. Some businesses manage trillions of customer interactions. Can you imagine remembering trillions of exchanges? No way!
We live in a hyper-connected world where unhappy customers are quick to share their experiences on Facebook or Twitter. Even a small misstep can have big ramifications for your business, and any delay in finding the right information can have a major effect on employee productivity. With Desk.com, you can know your customers better, offer the products and services they really want, and quickly respond whenever they need help. And you can solve employee issues and get them the solutions they need—fast.
What Is Desk.com?
Desk.com is the all-in-one customer support application that helps fast-growing businesses respond to customer inquiries across multiple channels (email, Twitter, Facebook, phone calls, live chat, and discussion boards) and offers online self-service support. Out of the box, Desk.com offers great core functionality to help you manage your support cases. All the tools you'd expect, plus built-in process automation and support for mobile. Desk.com is not only easy to use, it's also quick to implement. Most organizations can get up and running within a couple of days.
Let's review some of the ways Desk.com helps you jump-start your customer service.
Help Customers Faster
You want to help your customers as quickly as possible and get them to the right people who can help. But when your business is growing rapidly, it's harder and harder to stay organized and find the time to sift through all your cases. With Desk.com, you can help your customers in record time.
Route inquiries to the right agents.
Organize cases with intelligent tools that help you close cases.
Set up workflows and automation to speed through repetitive tasks and frequently asked questions so that you can focus on more complex cases.
Help customers even when you're not at your computer using the Desk.com mobile app.
Make Better Decisions
No company is perfect, and even if they were, ecosystems are constantly changing. Course corrections are needed to stay relevant to your customers, and Desk.com has a set of tools that helps you monitor your customers and make changes.
Survey customers from within Desk.com to measure customer satisfaction (CSat) and adjust your products and services over time.
Speed your decision-making using case reporting.
Track support-team performance down to the individual agent and analyze service metrics across every support channel.
Anticipate customer sentiment based on recent interactions, predict the level of service needed, and identify which ones need special attention.
Help Customers Help Themselves
Wouldn't it be great if your customers could answer their more straightforward questions themselves? That would leave your support teams free to tackle the gnarlier cases. The good news is that Desk.com can do just that—and it even supports mobile self-service!
Create branded sites with knowledge articles for common support requests.
Encourage users to submit and manage their support cases online.
Reduce your overall case volume by suggesting relevant knowledge articles based on support case content.
Provide a better self-service experience with separate help centers for each of your product lines.
Connect your self service resources to your web and mobile apps for a seamless customer support experience.
Scale as You Grow
As your business grows and becomes more complex, you'll likely need different tools to keep up with your caseload. You might need to provide your customers with different ways to contact you, or your support team might need to grow, so a flexible solution is more important than ever.
Integrate with your third-party tools to help you track customer data, like e-commerce and bug tracking tools.
Offer your customers different ways to reach you by adding channels, such as social media, phone, or live chat.
Expand your team with pay-by-the-hour flex users or additional full-time users.
Sync your customer data between Desk.com and Salesforce so that your sales and support teams can view the same customer interactions.
Desk Connect keeps all your customer information in sync with Salesforce on standard objects—accounts, contacts, and cases—so sales and service can collaborate to deliver a better customer experience.
What's the Difference Between Desk.com and Service Cloud?
You might be confused because Salesforce has two customer service products: Service Cloud and Desk.com. Both have different strengths that best serve different types of businesses.
Desk.com is perfect for businesses that are case-centric. Requests for customer service usually involve single problems rather than interconnected customer issues.
Service Cloud is great for businesses that are account-centric. For these businesses, customer service agents need a full view of the customer, with information pulled from many different parts of the company, such as marketing, product management, contracts, order management, or billing data.
For example, your cable company is an account-centric company. A cable company knows your billing information, your contract information, and your physical location to set up an appointment and get you the right service based on your contract. A case-centric company, like online music provider Pandora, supports single, unconnected inquiries.
If I start with Desk.com can I move to Service Cloud later?
Absolutely! Desk.com is connected to Salesforce via, you guessed it, Desk Connect. With all your customer information and case interactions already shared in Salesforce standard objects, you don't have to move data from one system to another, making the upgrade path between Desk.com and Service Cloud seamless.
With the basics of Desk.com and how it can help your customer service efforts under your belt, let's dive into navigating the user interface in the next unit.