Start Your Service Cloud Setup
After completing this unit, you'll be able to:
Plan your console layout.
Describe common components of a Service Cloud console.
Describe the use case of specific components available in the console.
You've made the exciting decision to move to Service Cloud, and you've got your data migration plan prepared and your transition mapped out. So far so good. There are some differences between a Desk.com agent console and the Service Console in Service Cloud. In this unit, we highlight some important features for you to think about as you build your console. We cover features that are similar to those in Desk.com, and some that your agents will love. Let's get started.
Before you start customizing your first console, it's important to carefully plan out how your agents will use it. Building out a useful console enables your awesome agents to have a much easier transition to the new platform. As with Desk.com, the console in Service Cloud is a unified help desk that supports multichannel support. The main difference is that in the Service Console these channels all feed into one view. So to design a console without too much clutter, planning is key!
Eager to get the ball rolling? Alright, here's what we recommend:
Identify your agents' workflows (how do they work their cases?).
Visualize what to include in your console and why (what can be done better?).
Create a plan for your console layout.
The Service Console in Service Cloud is unique! It's visually different from the Desk.com agent console because the console is tab-based. Using tabs in the console makes it easy for agents to view all the information they need without losing context.
If you haven't already taken the Service Cloud Basics module, we recommend you go over it, as it walks you through how to configure a basic console in Service Cloud. We also suggest you take the Service Console Customization module to learn more about the process of customizing your Service Console.
But before you do that, let's discuss what to expect when you move your Desk.com functionality to the Service Console.
When you're coming from Desk.com, you're used to seeing the agent console looking like this:

The agent console displays your filters (1), while the main view of your agent console shows your cases and case details such as case status and priority (2). You also see case type (phone, email, and so forth) (3), and labels (4) that visually distinguish cases further.
Now what can you expect from the Service Console in Service Cloud?
As we've discussed in the previous units, there are features in Desk.com that look and act differently when compared to the Service Console. Let's look at a basic console setup: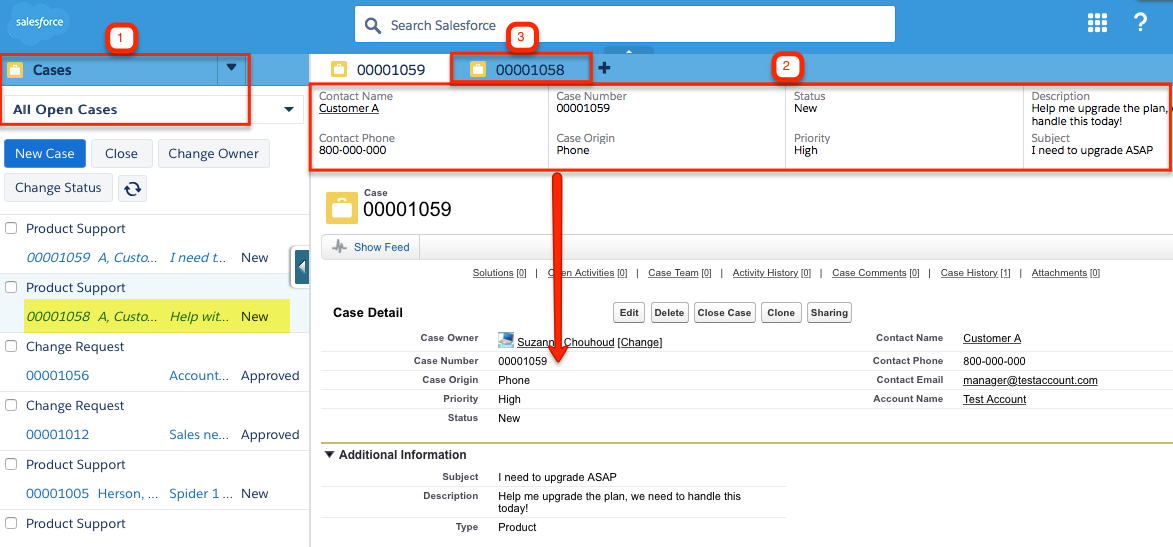 Note: The console components in this example are from the Salesforce Classic user interface.
At first glance, not too shabby! We have our navigation tab (1), that provides us easy access to select which cases to display, just as filters in the Desk.com agent console do. Once you select your case, it opens in a tab and the highlights panel (2) displays key information, related to your selected case. What you see here is customizable—you can choose to include similar information as the Desk.com main view, such as status, subject, and priority. Note that the tab-based view comes in handy here, as you can have multiple case types open (3) without losing view access to your navigation panel.


Within Desk.com, we don't have the concept of adding and removing tools in the layout of the Agent console. The layout is pretty much fixed, which doesn't leave much room for customizations to be done. Although Desk.com does allow for integrations to be added, these do not affect the agent console layout but rather add to the functionality behind it. Here's where Service Cloud comes in with a number of options to enhance the Service console layout.
We briefly mentioned a few tools, such as Live Agent and CTI, but let's touch on a couple more components that are pretty unique in what they can offer:
Knowledge One
Macro Browser
Let's briefly go over these.
Knowledge One is a widget, which you can add to your Service Console, to easily display articles to your Agent, like this: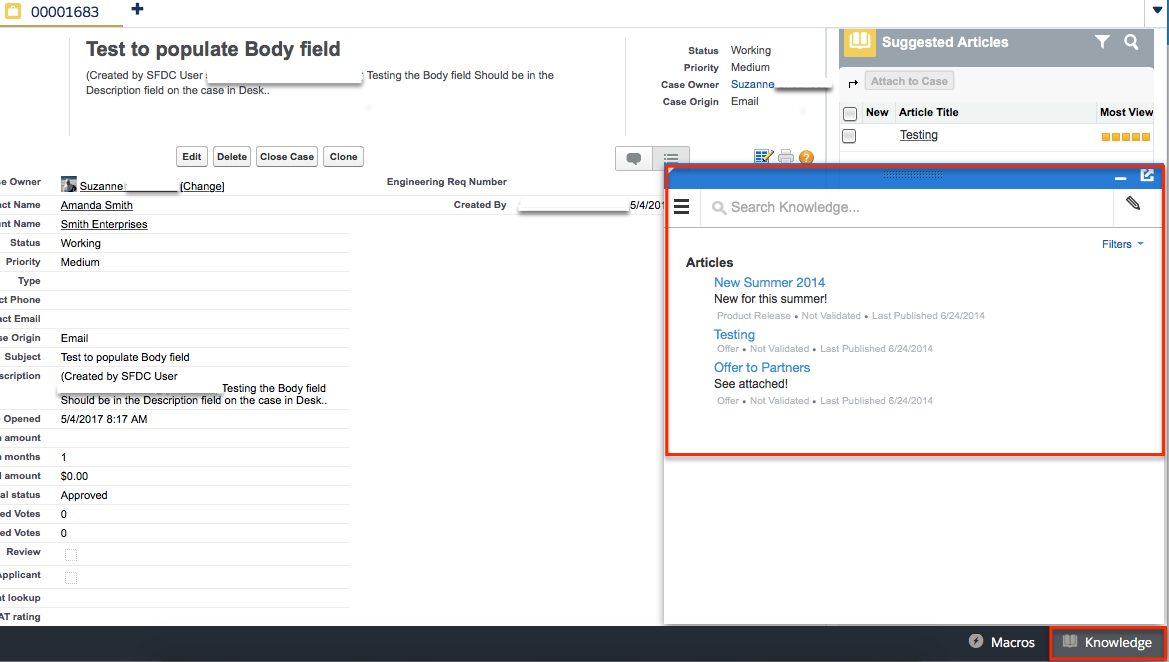 Not only does this allow for easy access to content that's often used by your team, but it lets your agents see, attach, and create articles without even leaving the case in the Console view.
Now over to Macros, we know you love them! The Macro Browser is also a widget that you can add to your console layout. It appears as a small widget in the footer of your Console, as seen above next to the Knowledge One component. With the widget readily accessible in your console, you give your agents easy access to a powerful tool that drives efficiency to a whole new level.
With these components in place, you're off to a great start. If you're interested in adding more tools to your Service Console, then have a look at the Service Console Components module.