Get to Know Customer 360 Data Manager
Learning Objectives
After completing this unit, you'll be able to:
List the benefits of Customer 360 Data Manager.
Identify who can use Customer 360 Data Manager at your company.
Connecting Customer Experiences
Connecting to customers has grown more complex. Customers increasingly want experiences and business transactions to be as easy and seamless as ordering an Uber from their phone. But companies are struggling to connect with their customers and create those top-notch experiences across every channel. Salesforce's Customer 360 can help businesses deliver connected customer experiences across Sales, Service, Communities, and Commerce. 
With Customer 360, companies can engage their customers using a single platform. Within that platform, the Customer 360 Data Manager lets users connect all customer data across the business, including multiple Salesforce orgs, Commerce Cloud B2C instances and even systems outside Salesforce to build a single source of truth.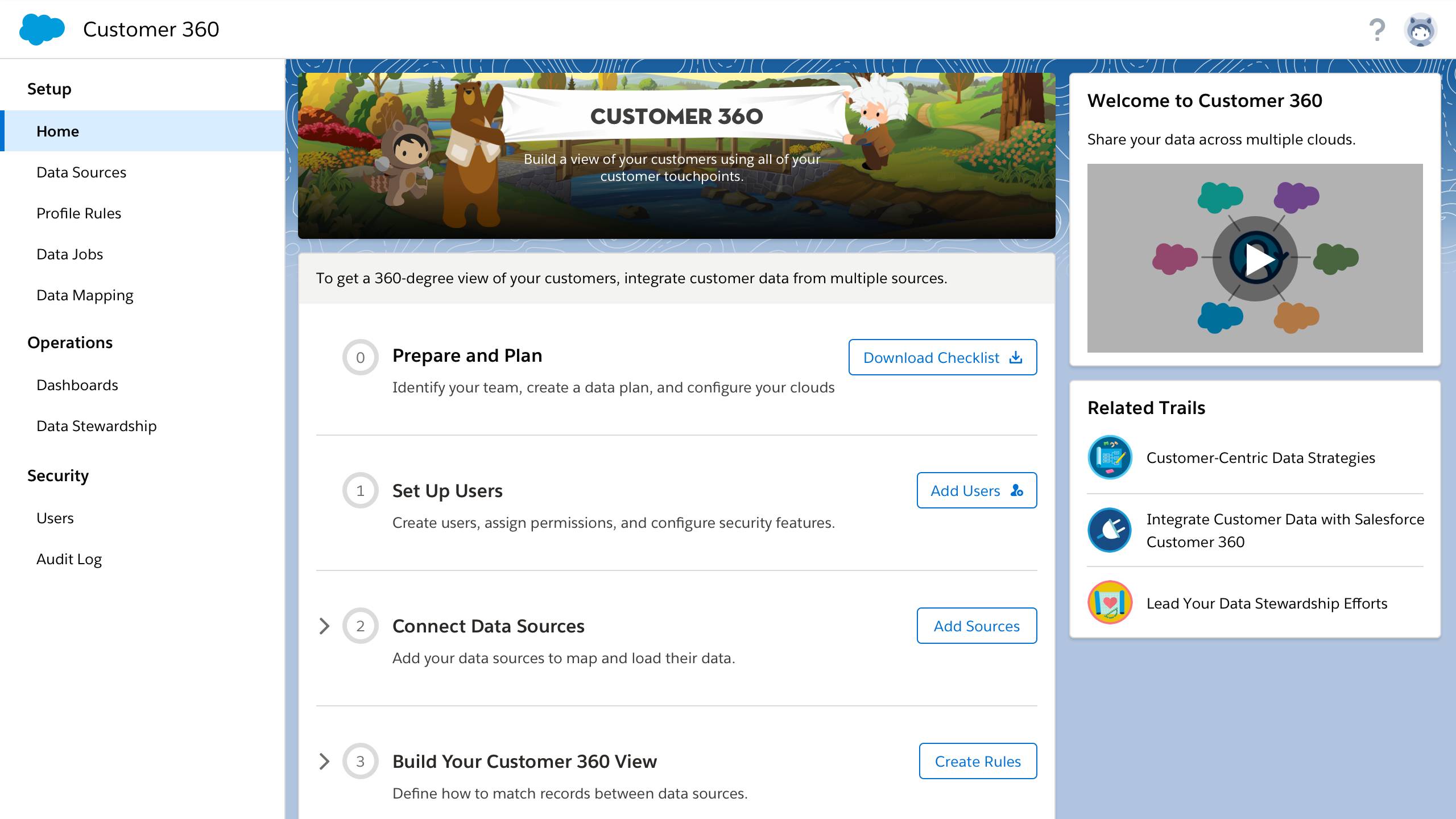 That hub of Salesforce orgs and instances is connected using a shared identity of the individual. For instance, an individual customer in Service Cloud is also recognized in Commerce Cloud B2C. Likewise, customer data in B2C Commerce surfaces in Service Cloud.
Salesforce Customer 360 Data Manager provides:
Shared data of the customer across departments and orgs built into Salesforce Customer 360
A centralized hub where users can connect multiple data sources
A global customer identity that ensures businesses are using accurate customer data and records to effectively help them
Access to the most up-to-date customer data from connected systems
Cloud Information Model mapping that allows for a single representation of data across the connected instances and orgs
Point-and-click features that reduces implementation time from months to weeks
Here are some benefits of Customer 360 Data Manager:
Reduces implementation and maintenance costs by eliminating point-to-point integration projects that typically require external technology to connect Salesforce apps and orgs to each other
Increases speed of innovation by reducing time to value for the implementation of customer data management on the individual customer records
Simplifies the creation and management of a unique customer profile that is a single source of truth across the Salesforce Service and B2C Commerce ecosystem
Accelerates the development and deployment of experiences in Service and Commerce Clouds that make interactions among the products seamless
Improves customer experiences for B2C customer journeys, including service interactions for commerce shoppers or customers in companies with multiple service orgs
Provides a view into the quality of data available within and across connected systems
Enables organizations to federate data across their business with appropriate levels of security and trust
Improves internal processes for managing compliance and exception handling
Improves Service Agent productivity
Makes Service Agents (primary user) more confident in the quality of customer data
Customer 360 Data Manager Is for Admins
Now that you know what Customer 360 Data Manager is and some of its benefits, let's talk about who uses it—and why. You'll most likely use Customer 360 Data Manager if you're a data admin or cloud admin. 
For instance, Service Cloud and Commerce Cloud B2C admins use it to configure permissions and access as well as for data mapping for their respective systems.
Data administrators/stewards play a central role in making certain their business is using Salesforce Customer 360 Data Manager effectively to achieve business goals. In many organizations, this means a data admin steps up to oversee the implementation of a technology solution aligned to the whole business, not just one department. The data admin works across the organization to ensure that data is accessed securely and safely.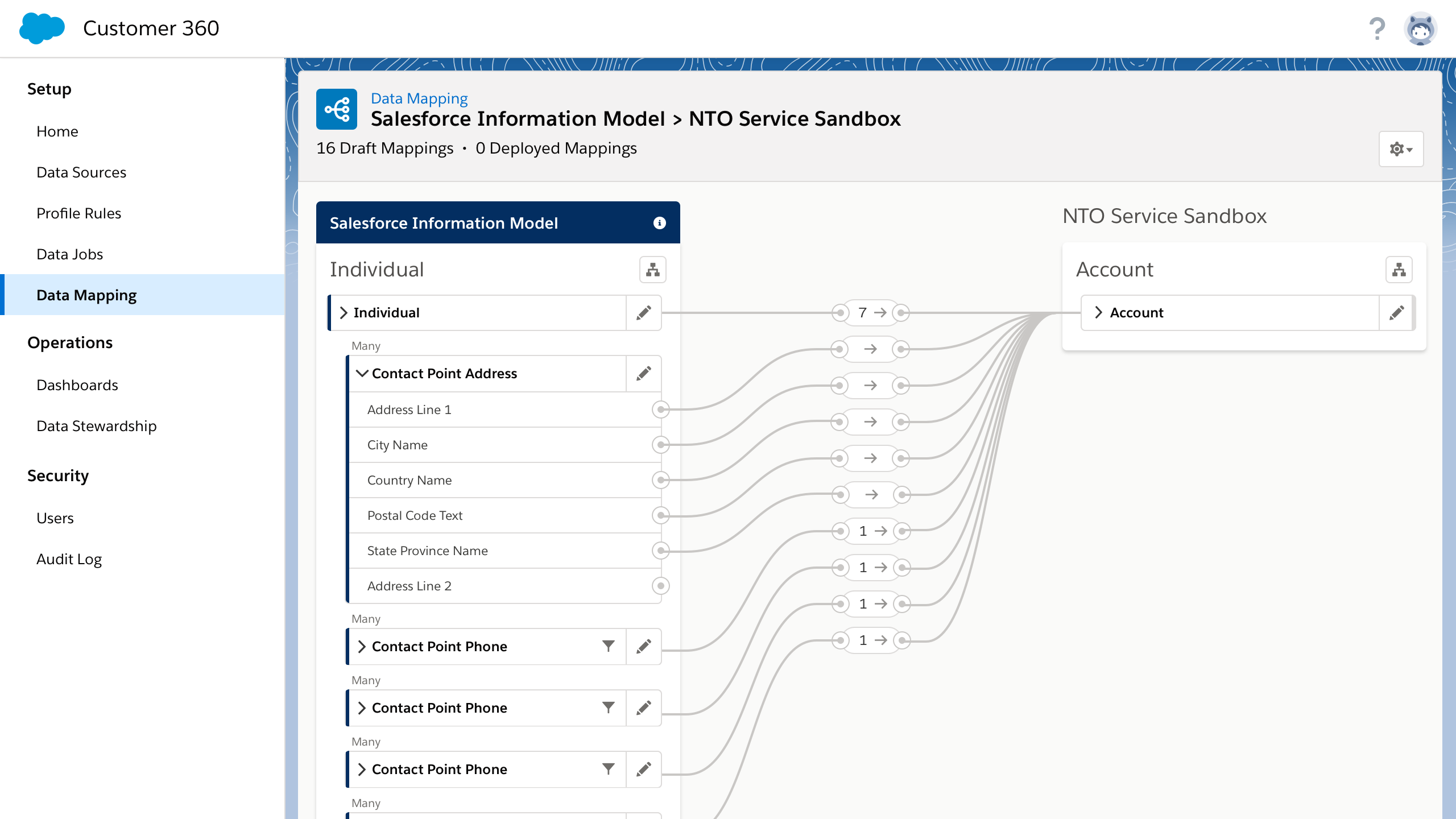 The data admin partners with Service and/or Commerce Cloud admins to map data to a central data model (the Cloud Information Model). They configure rules that help generate an individual customer identity and share data across all their connected systems.
Cloud admins and data admins work together to simplify the implementation of connected experiences. Salesforce Customer 360 Data Manager provides the simplest path to integration across Salesforce applications and data sources.
Resources