Set Up Users and Data Sources
Learning Objectives
After completing this unit, you'll be able to:
Grant access to users.
Connect data sources with Customer 360 Data Manager.
After aligning the team and stakeholders on the key business objectives for using Customer 360 Data Manager, the next step in the implementation process is to ensure that the people and systems involved are granted proper access and connectivity.
Set Up Users and Grant Access
Pia logs in to the new Customer 360 Data Manager account and starts setting up access for key teammates who will assist with the implementation.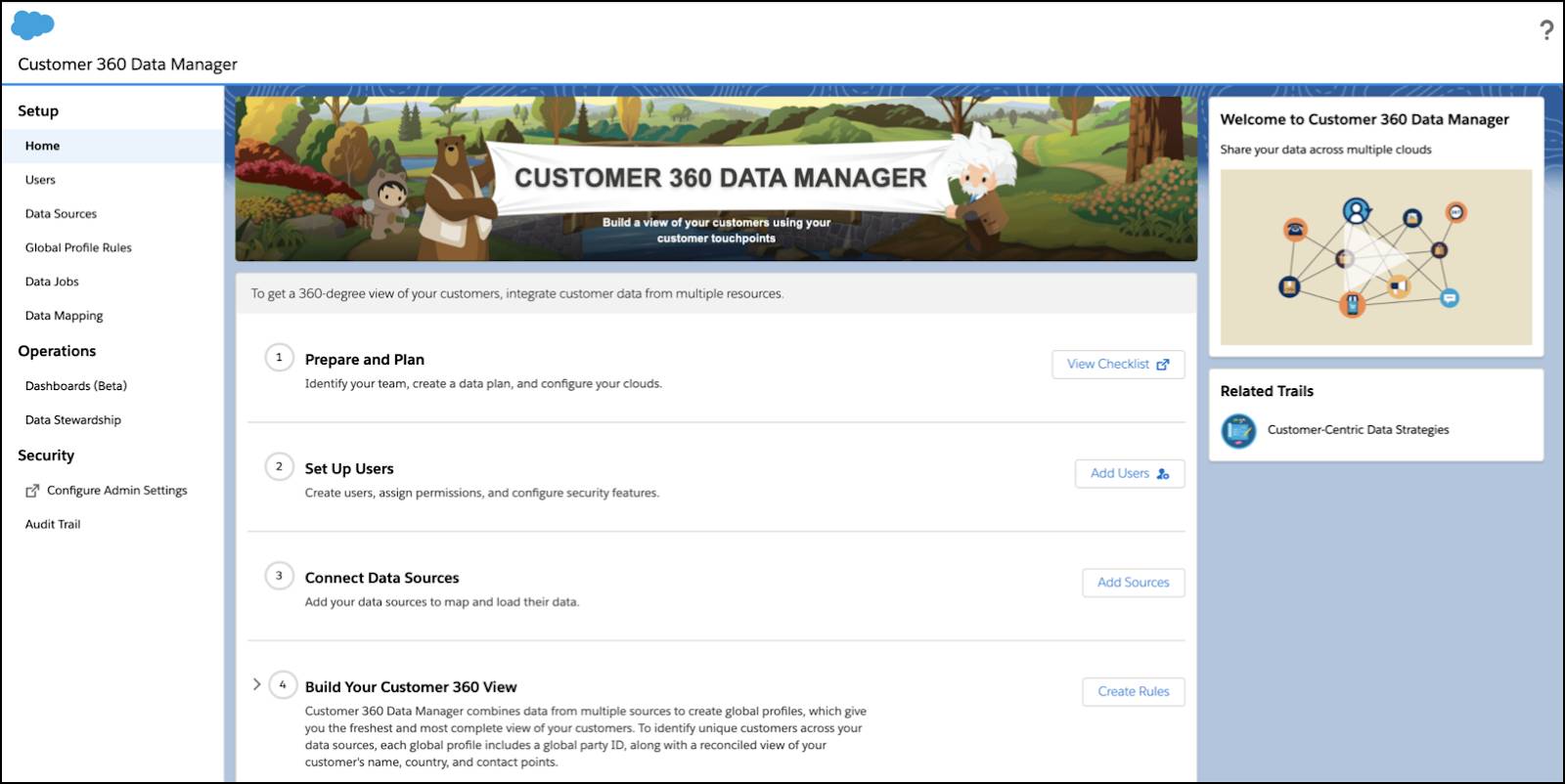 For NTO's implementation, Pia is already set up as a system administrator. She knows she'll work with other admins, so she creates user accounts for each of them. She navigates to Users in Customer 360 Data Manager and clicks New to get started. 
She enters user information, like first name, last name, email address, and more. Then she selects a profile for the user. There are two types of user profiles for Customer 360 Data Manager:
System Administrator
Standard User
Both profiles grant access for users to modify their own user profile, reset or edit their own password, and access all of the features in Customer 360 Data Manager. However, only users with the system administrator profile can set up and manage other users, and access the Configure Admin Settings section where things like security settings, data storage capacity, user licenses, and more administrative settings are found. 
First, Pia provides Customer 360 Data Manager access to Felix, NTO's Service Cloud admin, and assigns him the standard user profile. Although he'll access Customer 360 Data Manager, he doesn't need the same level of access as Pia.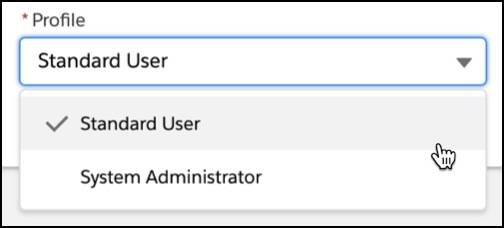 Source System Access
Next, Pia works with the admins and developers of the systems she's going to connect to Customer 360 Data Manager. The admins need to do some work before Pia proceeds with implementation.
In Service Cloud, the Service Cloud admin...
Creates a permission set that grants the Connect Org to Customer 360 Data Manager permission.
Assigns the permission set to the Customer 360 Data Manager admin responsible for creating the connection. That admin logs in to create the connection.
Grants access to another user (if the admin isn't doing this part) who will edit the Lightning component layout for service console and access service console components with Customer 360 Data Manager data. This setup work can start before or after the Customer 360 Data Manager configuration is complete.
In B2C Commerce, the Commerce Cloud admin...
Grants Pia access to modules in Business Manager that are used by Customer 360 Data Manager.
Creates and enables a global OCAPI ID in Account Manager and adds more client IDs for other data sources in Customer 360 Data Manager.
Works with a B2C Commerce developer to download the Customer 360 Data Manager Files from the Git repository. They review OCAPI Client IDs Configuration on Salesforce Help to determine how to to configure and test OCAPI.
Connect Data Sources
After the system admins complete their tasks, Pia is ready to connect the data sources, including Service Cloud and Commerce Cloud, with Customer 360 Data Manager and authorize data sharing. This step establishes a secure connection with Customer 360 Data Manager and other data sources for data import and export, and other use cases. Pia gathers the necessary info, like account type and domain name, for each of her sources.
There are three steps to add a data source in Customer 360 Data Manager.
Select a data source type, such as the Salesforce org or Commerce Cloud instance.
Enter identifying details about the data source.
Connect to the data source.
Connect Service Cloud with Trailhead Simulator
With the necessary information gathered, Pia navigates to Data Sources in Customer 360 Data Manager to get started. Want to give it a try? You can use Trailhead Simulator to practice setting up a Service Cloud org.
Launch the Trailhead Simulator. Click Begin.
In Customer 360 Data Manager under Setup, click Data Sources.
Click Add Data Source.
Click Salesforce Org and Next.
Enter a connection name that uniquely identifies the data source. It is useful to include cloud, region, and sandbox or production type information in the name. For this example, enter Service Cloud EU Production and press Enter or Return on your keyboard.
Select an org type to connect. For this example, select Production.
Click Next.
Enter your username and password for the org. For this example, enter example@demo.com for username and Sim123! for the password.
Click Log In.
Click Connect.
That's it! Now you can see the new connection in the data sources list. 

Connect B2C Commerce
Next, Pia connects NTO's Salesforce B2C Commerce instance with Customer 360 Data Manager. She goes through the same steps but chooses Commerce Instance. Then she enters the required information and completes the connection by logging in to the Commerce instance.
Pia then lets the B2C Commerce admin know that it's time to take the final step of authorizing B2C Commerce Client IDs in their Commerce Cloud instance. The B2C Commerce admin completes the steps outlined in Salesforce Help. 
The Service Cloud org and Commerce Cloud instance are now securely connected with Customer 360 Data Manager. Let's follow along with Pia as she creates global profiles next.
Resources