Integrate Service and Ecommerce Data
Learning Objectives
After completing this unit, you'll be able to:
Map data between data source objects.
Set up Lightning web components for sharing data across clouds.
Now that global profiles are created and imported back into source systems, Pia is ready to move on to NTO's next business objective: providing customer services agents with an integrated view of customers' ecommerce and service data. She does this by setting up the Service + Commerce integrated experience. As you learned in Customer 360 Data Manager Fundamentals we use the term integrated experiences to describe ways you can access and use data across systems. There are lots of opportunities to share and view data across systems, but in this module, we look specifically at Service + Commerce. 

Map Data
As we explored in Customer 360 Data Manager Fundamentals, Customer 360 Data Manager uses a hub and spoke design that allows you to map all data sources with a central data model called the Cloud Information Model (CIM). For example, use Customer 360 Data Manager to map the Global Party Id field in the CIM Individual entity with the Global Party field in the Service Cloud Account object. Or map the Commerce Cloud Order object to the Sales Order entity in the CIM.
To set up the Service + Commerce integrated experience, Pia first needs to map the objects from NTO's data sources with the CIM. After reviewing Mapping Sets on Salesforce Help, she learns that she can use these mapping set templates to meet NTO's needs:
Commerce Cloud: Order to CIM: Sales Order—Map your B2C Commerce Order object with the CIM Sales Order entity.
CIM Individual to Salesforce Org: Account—Map the Individual entity in the Cloud Information Model with the Account object in your Salesforce org.
CIM Individual to Salesforce Org: Contact—Map the Individual entity in the Cloud Information Model with the Contact object in your Salesforce org.
CIM Individual to Salesforce Org: Lead—Map the Individual entity in the Cloud Information Model with the Lead object in your Salesforce org.
After creating the mapping sets, Pia needs to activate a mapping version for the mapping sets. This process saves a version of the mapping sets that is referenced by Lightning web components that are set up later in their Salesforce org. She navigates to Data Mapping in Customer 360 Data Manager to get started. 
Trailhead Simulator
Use the Trailhead Simulator to practice creating and activating a mapping set in Customer 360 Data Manager along with Pia.
Launch the Trailhead Simulator. Click Begin.
In Customer 360 Data Manager under Setup, click Data Mapping.
Click New.
Click Template.
Click Next.
Select the mapping sets to create from the list of templates. For this example, select: Individual to Account from Cloud Information Model to Service org.
Click Create.
Click Individual to Account to open the mapping set editor.
Expand the Account object.
Expand the Individual object.
Click the scroll bar to scroll through the mapping set and review the field mappings. In your live environment, you can update field mappings to fit your organization's needs.
Click Data Mapping to return to the list of mapping sets.
Click Activate Mapping Version.
Enter a unique mapping version name using alphanumeric characters, periods, and hyphens. In this example, enter Version1.
Add a description for the mapping set version that helps you and other users understand changes to this version. In this example, enter version1.
To activate the new mapping version, click Create.
Create Service Console View of Order Data
With mapping sets created and activated, Pia lets the NTO Service Cloud admin, Felix, know that it's time to set up Lightning web components to view the Commerce Cloud data in Service Cloud. She provides Felix with the mapping set version name she entered when activating the mapping sets. Felix reviews the prerequisites and steps in Salesforce Help and is ready to go. 
Configure External Data Source
Felix starts by adding the Salesforce Connect: Data Federation Service (DFS) external data source in the Service Cloud org. Completing this configuration allows Lightning UI components to exchange data with other clouds. Felix navigates to Setup in Service Cloud, then uses Quick Find to navigate to External Data Sources. He follows the steps in Configure External Data Sources to add DFS and sync the SalesOrder object.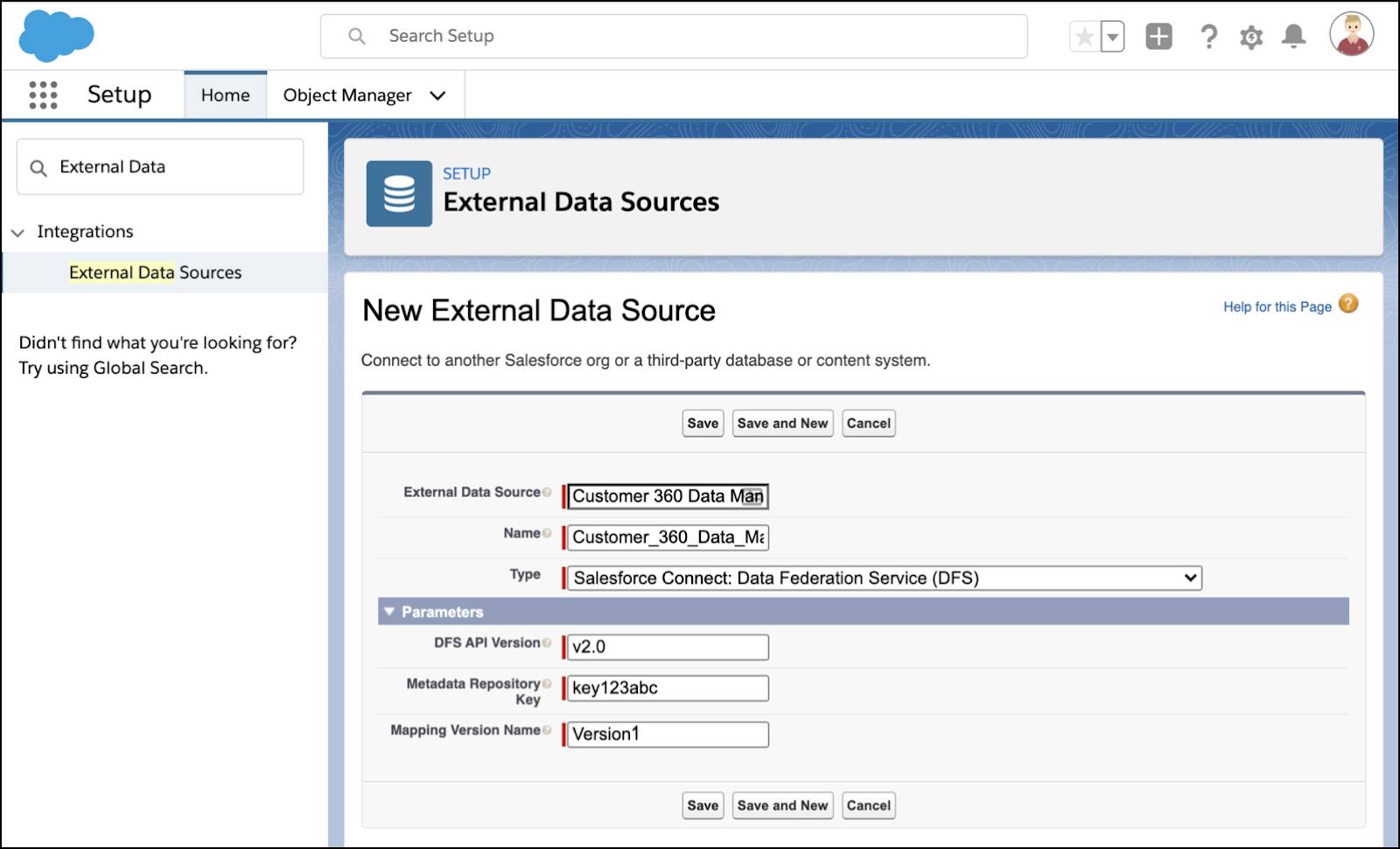 Add Lightning Web Components
Now Felix can add the Lightning web components that make the data visible to service agents. First, while he's still in Service Cloud Setup he confirms that the global party ID field on the Account, Contact, and Lead objects is set to visible and read-only. He wants to make sure that service agents can see the data, but not edit it.
Felix navigates to User Interface | Lightning App Builder. He could create a new page, but Felix already decided to modify an existing Lightning record page. He updates the page layout to add columns for the two Customer 360 Data Manager components he's adding: 
| Component | Description |
| --- | --- |
| C360 Order History | Shows the ecommerce order history for the person account that was matched to B2C Commerce orders through Customer 360 Data Manager.  |
| C360 Global Profile | Shows the matched Customer 360 profile data related to the person account record in the page layout.  |
Felix then adds the Global Party ID field to the page layout. He activates the layout and saves the change.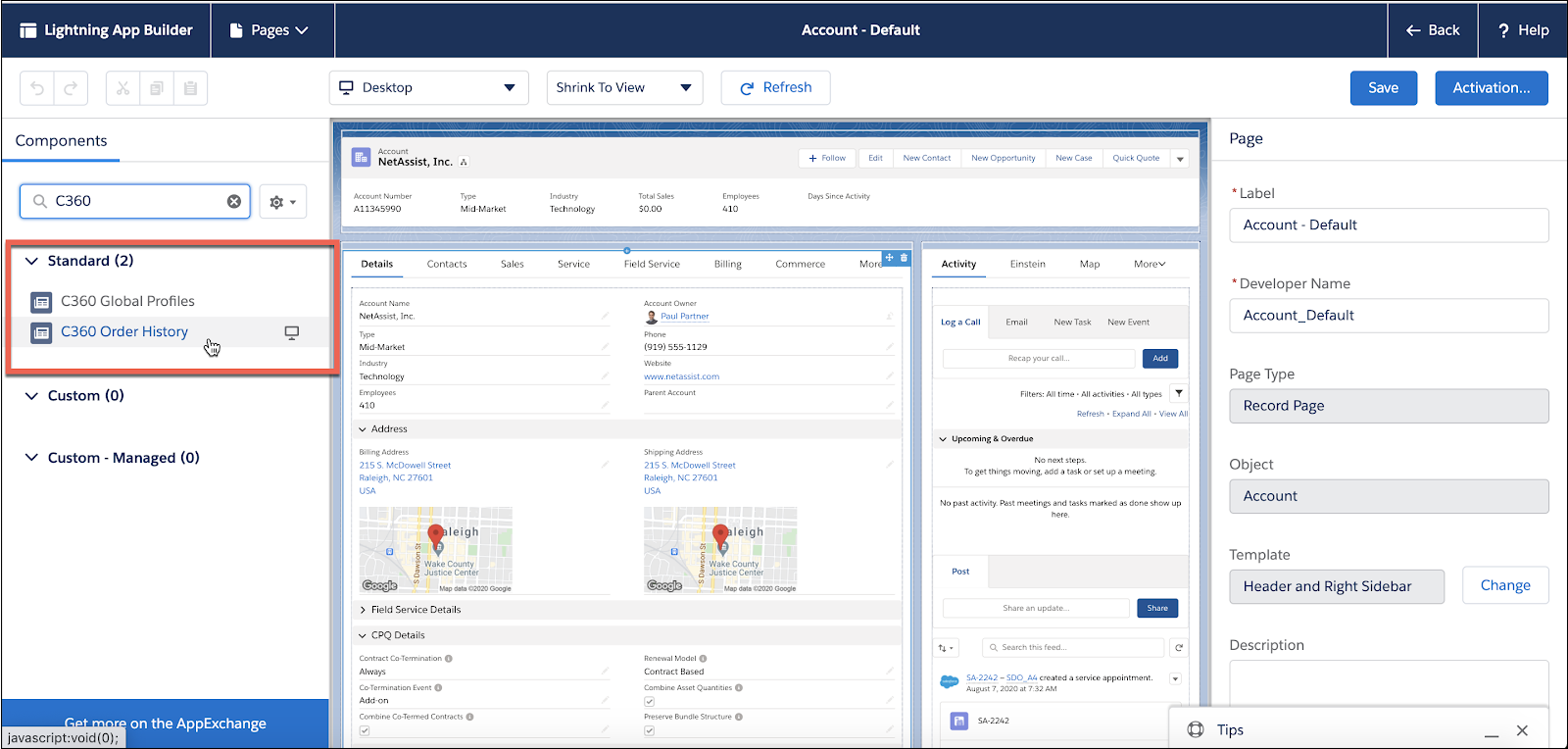 Finally, Felix lets Pia and the rest of the team at NTO know that they just worked together to enable their service agents to get all the customer order information they need directly in Service Cloud. They celebrate with a happy dance!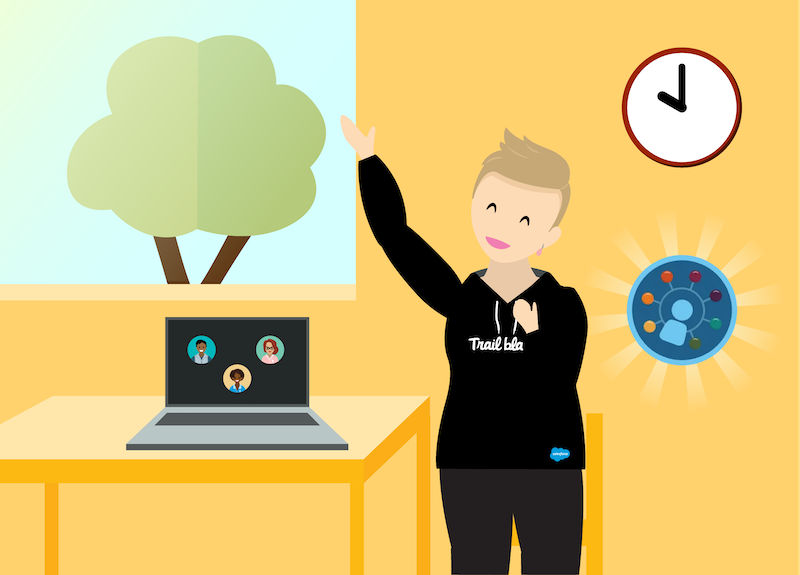 Pia understands that configuring Customer 360 Data Manager and setting up integrated experiences is just the beginning. Having a solid plan for how data is shared and updated is critical for NTO to establish next. The NTO team is now ready to make Customer 360 Data Manager a regular part of their data management process.
Ready to Get Started with Customer 360 Data Manager?
You learned how to organize an implementation team, set up users, run data jobs, and build integrated experiences. You completed simulations to connect a data source, create global profiles, and more. Are you ready to set up Customer 360 Data Manager? 
Review the Planning Checklist on Salesforce Help to prepare for your implementation. Then configure Customer 360 Data Manager and enjoy the benefits of centralized customer data management.
Resources