Connect Your Teams and Create Your Plan
Learning Objectives
After completing this unit, you'll be able to:
Assemble a team to set up Customer 360 Data Manager.
Create a checklist for getting started.
Introduction
Managing data across multiple clouds, systems, or databases can pose real challenges for organizations. People change the information they share—sometimes in subtle ways like using an abbreviated version of a first name—and sometimes in big ways like a completely different phone number or email address. As a Salesforce admin, enterprise architect, developer, or someone who helps manage your organization's data, you understand that connecting the information about people across systems is challenging. The good news is that Customer 360 Data Manager helps you connect your customers' contact data across your business—including multiple Salesforce orgs, Commerce Cloud B2C instances, and even systems outside Salesforce—and creates a single source of truth.
In this module, we walk through the steps to set up and get started using your new Customer 360 Data Manager account. Before you start, we recommend that you complete the Customer 360 Data Manager Fundamentals module to get a deeper understanding of important terminology and how this product works.
Meet Pia Larson at Northern Trail Outfitters
Pia Larson is leading the team to implement Customer 360 Data Manager. She's an enterprise architect at Northern Trail Outfitters (NTO), a national sporting goods chain. NTO has retail stores in various countries and also an online portal to sell products. Pia is ready to step up as the admin for Customer 360 Data Manager, which she is excited to set up with clicks—not code.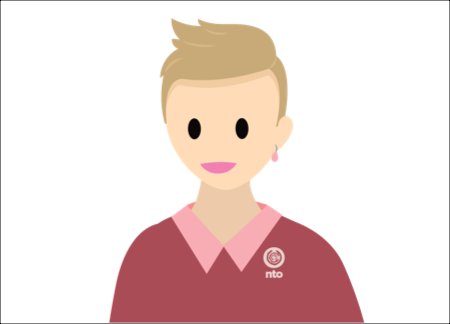 Pia looks at what challenges NTO is facing and how she can address them using Customer 360 Data Manager.
| The problem is... | The solution is to... |
| --- | --- |
| Identifying an individual customer contact data across separate systems, especially with variations in name or contact information. | Build a global profile and global party ID for each customer using data from Commerce Cloud, Service Cloud, and other data sources.  |
| Outdated or varied customer data exists across systems. Data is being updated in some places but not everywhere. | Use data stewardship tools and validation dashboards to identify and correct data quality issues. |
| Customer service response times are slow due to working in multiple systems to identify customer order data and support cases. | Provide customer services agents with an integrated view of customers' ecommerce AND service data, in order to provide a more seamless customer experience. No more "swiveling the desk chair" between multiple monitors to look at another app's data. |
Get Organized and Align the Implementation Team
To get ready for the Customer 360 Data Manager implementation, Pia follows these recommended steps.
Organize Your Team
Pia includes a business analyst for the project, the Salesforce admins who manage Service Cloud and Commerce Cloud, an admin for each additional system they're including, and a couple of developers. Pia uses a worksheet like this while working with the team to document system details for the implementation.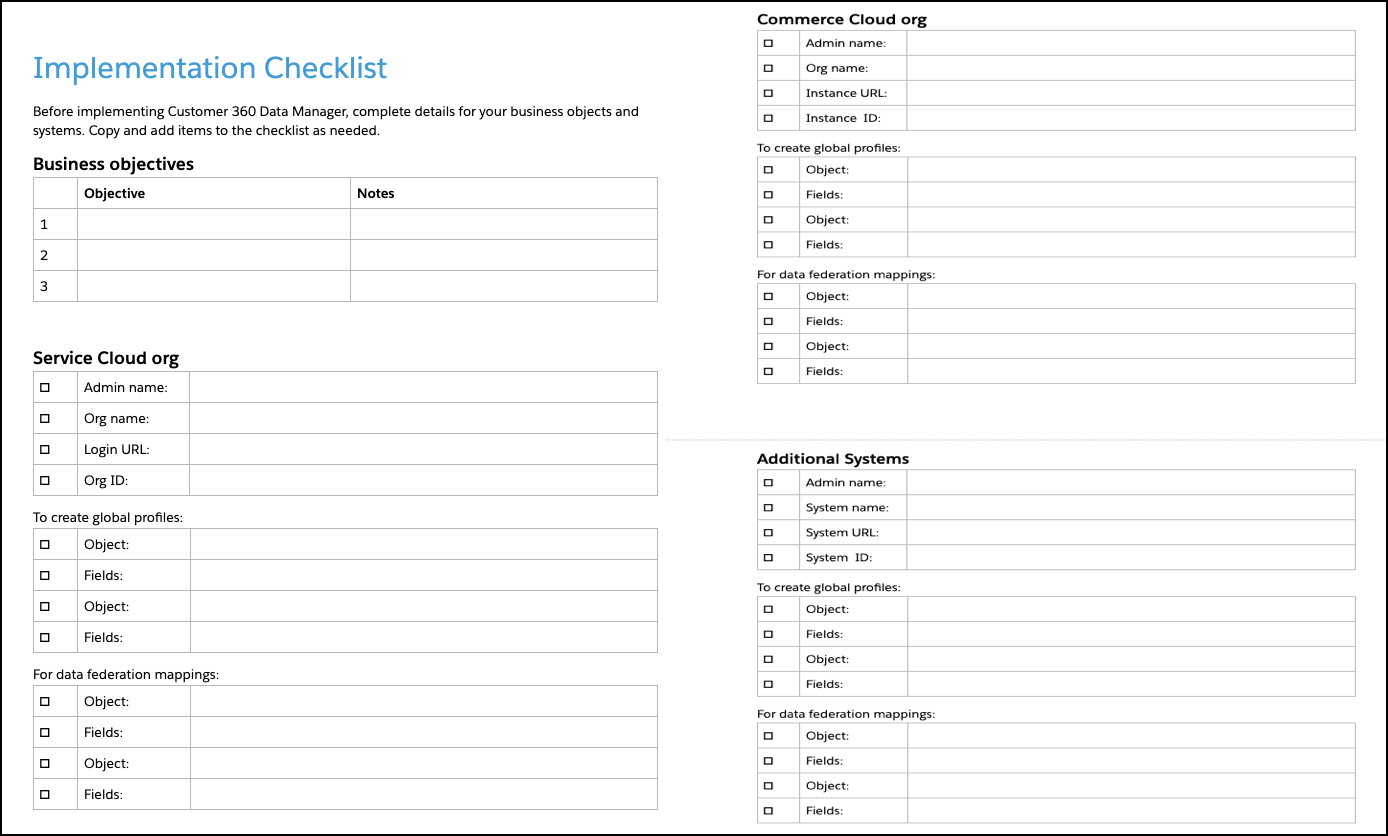 Define Your Business Objectives
Pia works with the team to align on what they want to achieve with their Customer 360 Data Manager implementation. They also carefully review important considerations for using Customer 360 Data Manager to ensure they met all the requirements.
Identify the Systems to Connect
After discussing the business outcomes they identified, the team discovers they need to add another system to their list. 
Identify the Data, Objects, and Fields to Include from Each System
Pia organizes working sessions with admins and reps from each system to conduct a deeper assessment. They identify (1) the data required for matching records and creating global profiles, and (2) the data they want to make available for queries across systems.
Create a Data Change Management Plan
Pia works with her stakeholder group to create a plan for how the project is going to impact their business process around data management. For example, they create a set of steps for data admins to follow when updating their global profiles with new source data.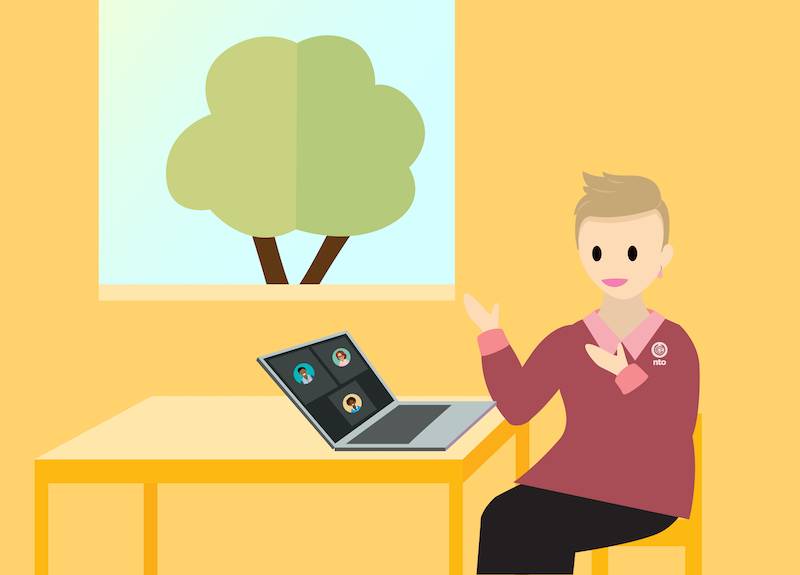 With business objectives identified, system details documented, and the team aligned, Pia is ready to begin the implementation. After reviewing Salesforce Help, Pia understands that to achieve NTO's goals, she needs to complete setup steps to successfully implement Customer 360 Data Manager. Since many of the setup steps build upon each other, she completes the setup steps in the following order.
These procedures...

Address these business objectives...

Set up users and data sources.

All objectives are addressed.

Data prep and load.

Create profiles.

Create global profiles and IDs to identify individuals across systems.

Refine data.

Export ID.

Identify and correct data quality issues.

Build components.

Integrate service and ecommerce data to reduce call handling time and improve the customer experience.
Throughout the rest of this module, we walk you through how Pia completes all of these procedures to achieve NTO's business objectives. Pia is ready to get started—are you? Next, we follow Pia as she sets up users and connects data sources.
Resources