Use Global Profiles within Integrated Experiences
Learning Objectives
After completing this unit, you'll be able to:
Explain what a Customer 360 Data Manager integrated experience is.
Name some Lightning web components used in the Service + Commerce integrated experience.
Integrated Experiences
When mapping sets are created and activated, you can set up custom Lightning components that access and display data across connected sources to create integrated experiences. We use the term integrated experiences to describe ways you can access and use data across systems. 
We've created a few integrated experiences for the most common needs. For example, you can enable service agents to create a person account from a global profile in Service Cloud. Use another integrated experience to retrieve data across multiple orgs. You can even build and customize components for your organization. 
Service + Commerce
Let's take a look at one specific example that we call Service + Commerce.
Make it easy for your service agents to view Commerce Cloud customer orders directly in Service Cloud. With the C360 Global Profile component, view a complete, reconciled profile with data matched by Customer 360 Data Manager. With the C360 Order List component, view B2C Commerce Cloud order history with links to order details within your Service Console to quickly handle customer cases.
Rachel Rodriguez ordered a winter jacket from Northern Trail Outfitters but had a question about the warranty. When she called and spoke with a service agent, that agent didn't need to log into Commerce Cloud to find her order history and then log in to the Service Cloud to create a case. Directly in Service Cloud, the agent could view her Commerce Cloud order history using the C360 Order List component on her case record.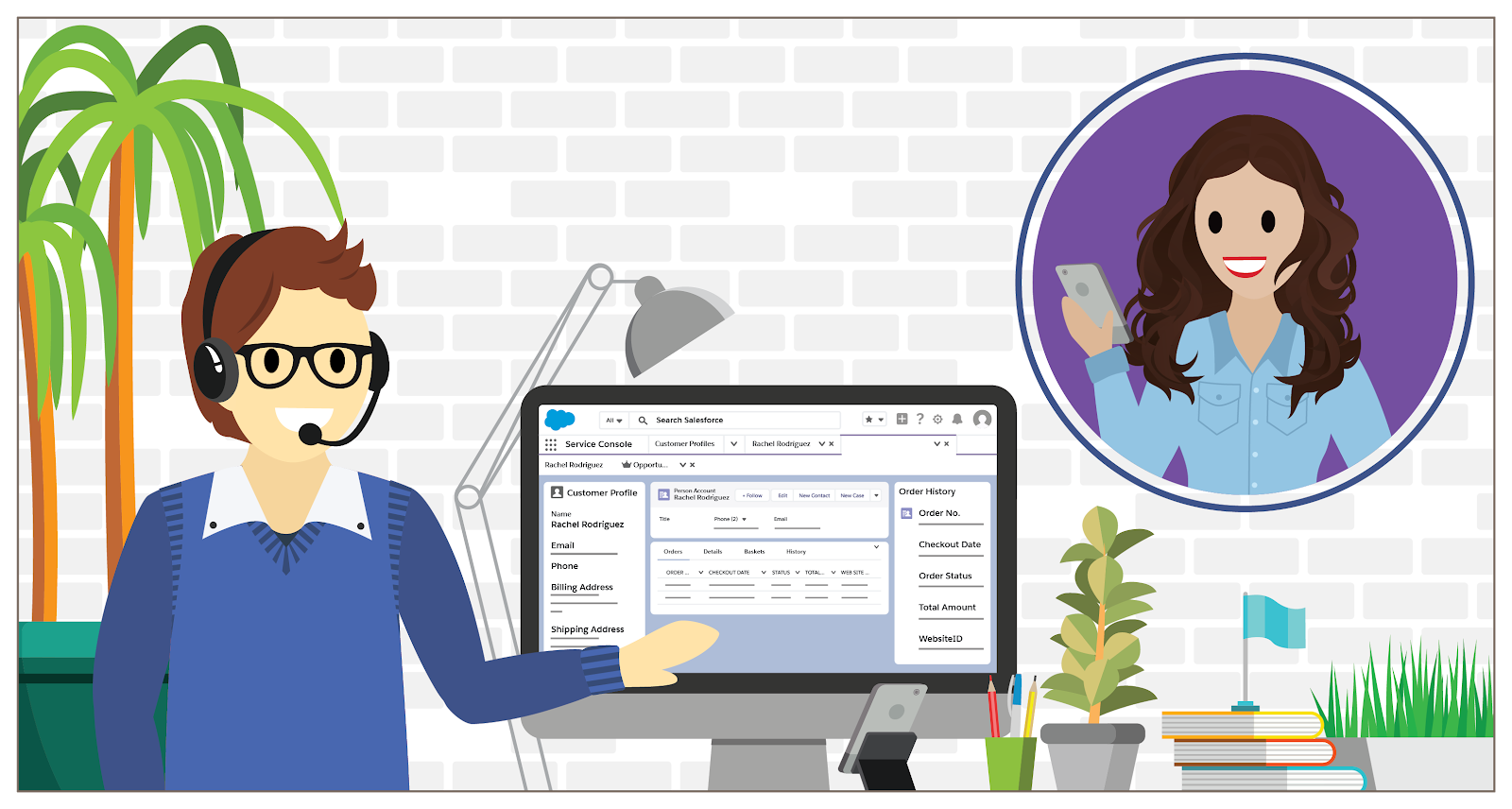 This is just one example of the many integrated experiences you can create through Customer 360 Data Manager. Want to learn more about new integrated experiences and features as they're released? Bookmark the Customer 360 Data Manager release notes for the latest information.
Knowledge Check
Think you know Customer 360 Data Manager now? How about a quick check on some more key terms! Just like the first unit, this knowledge check isn't scored—it's just an easy way to quiz yourself. (Reminder: Drag the description from the left column underneath the matching term on the right. When you finish matching all the items, click Submit to check your work. If you'd like to start over, click Reset.)
Ready to Get Started?
Now that you understand how Customer 360 Data Manager works, know the basic terminology, and love the integrated experiences you can create, contact your Salesforce account rep to see if your organization fits the requirements. When you're ready, check out the Planning Checklist on Salesforce Help and the Salesforce Customer 360 Data Manager Learning Map to get prepared. Then complete the Customer 360 Data Manager Setup module on Trailhead to get started using Customer 360 Data Manager.
Resources