Create a Global 360 View of Your Customer
Learning Objectives
After completing this unit, you'll be able to:
Explain what the global profile is and how it's created.
List ways the global profile ID is used across connected Salesforce data source tenants.
You might be thinking, "Alright, I understand how my data sources connect with Customer 360 Data Manager. Now, how do I get to that 360 view of the customer I keep hearing about?" Let's take a look using an example. 
Meet Rachel Rodriguez, a consumer of Northern Trail Outfitters (NTO) products. NTO has data about Rachel in multiple systems: a customer profile in Commerce Cloud, Service Cloud, and more. However, she uses slightly different names and email addresses, and her phone number is sometimes formatted differently. We call these unique pieces of data, such as a phone number, email address, or physical mailing address, contact points.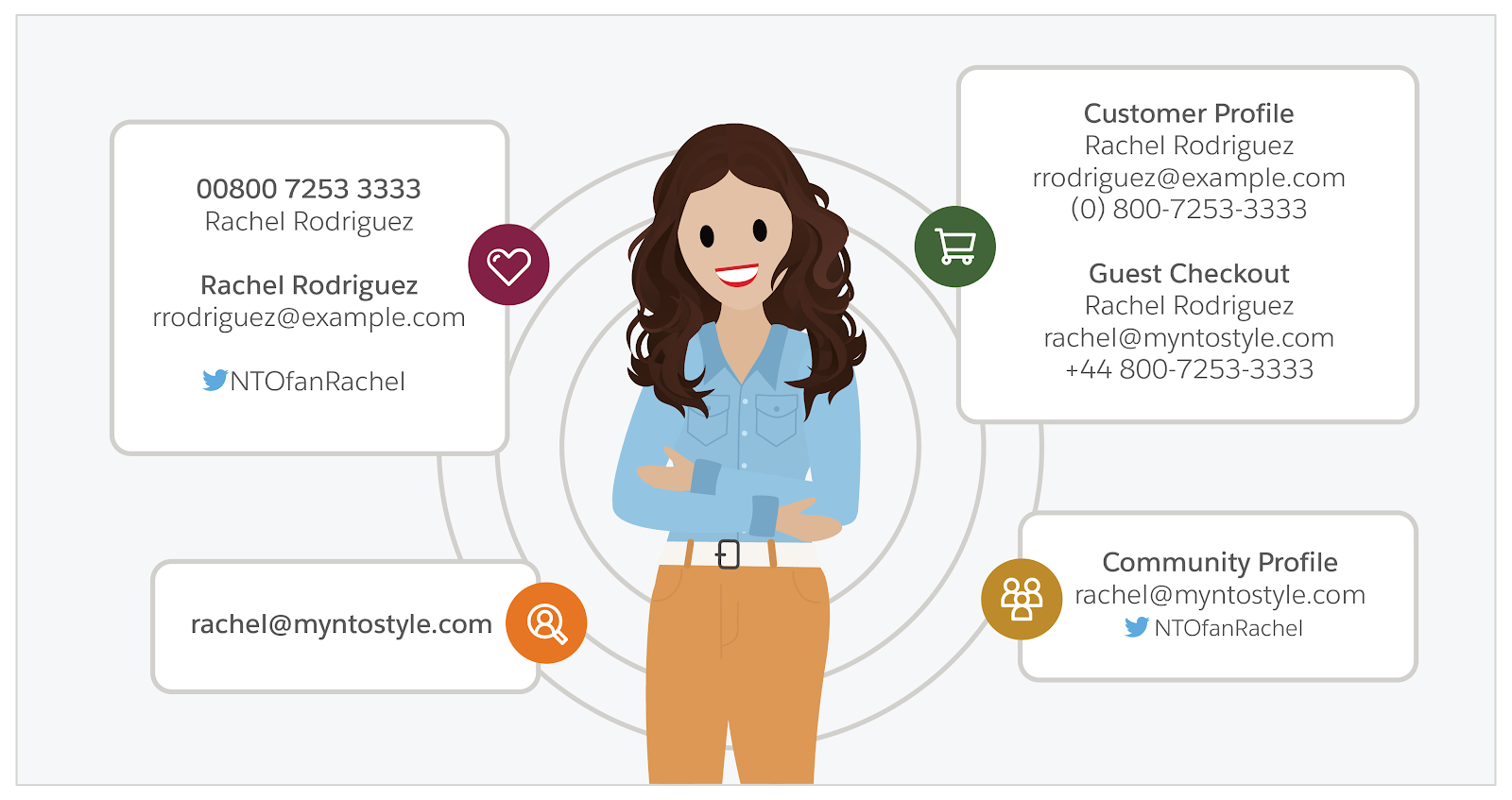 Customers are represented by multiple contact records and system-specific profiles across the Salesforce Customer 360 platform, which is necessary for each cloud and product to operate independently. But connecting the dots among all of those things can be tricky. Now with Customer 360 Data Manager, you can use a global profile and global party ID to identify your customers quickly across systems.
Global Profile and Global Party ID
When you import your customers' data, Customer 360 Data Manager processes the data and identifies unique customers by validating, standardizing, and matching that data. It combines data from every connected data source, such as Salesforce Clouds or external systems via MuleSoft or .csv file upload, into a global profile for each unique customer. 
Global profiles are optimized with the most common data used to identify and contact a person. The global profile includes a global party ID—a unique ID that you can use to link the transactions across your data sources. You can do this by exporting and putting it in a new standard field across Salesforce clouds, or by using the data lineage attributes that inform you of the external system records related to the global profile. The global party ID also lets you get extra information about that customer, such as order information, from the system of record where it's stored.
It's important to understand that global party IDs are not immutable, by design. In other words, these identifiers can change as global profiles merge or split based on discovery of additional information, such as new contact points, or due to data stewardship actions.
Some examples of customer data stored in a global profile include:
Contact information
A list of clouds that contain a record for that person
Preference settings indicating whether it's used in match rules and stored in the Customer 360 Data Manager Hub
Setting that indicates if the record is queried as part of a global profile when mapped from a connected data source
Now your customer view of Rachel Rodriguez includes a global profile featuring the most common data. Even better, as the individual profiles are updated, you can resolve those changes against her global profile—ensuring that it always provides the most accurate representation of Rachel.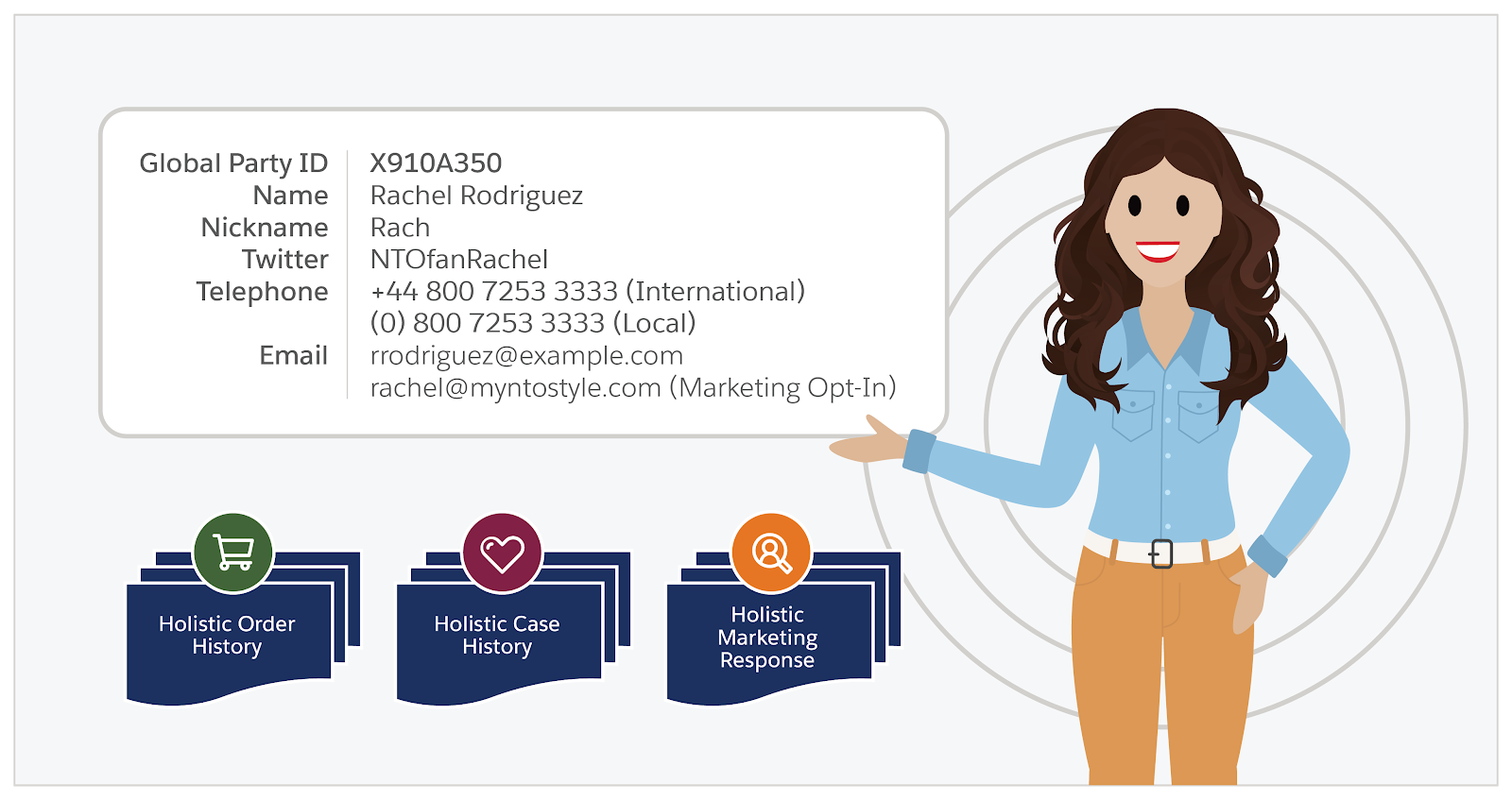 It's important to remember that global profiles are only as trustworthy as the source system data. Before you get started, make sure that enough customer data consistency exists across your source systems, including a first name and party ID, or first name, last name, and a contact point. Next, we examine what those profile rules are and how they match data.
Global Profile Data Preparation Rules
When you're reviewing profiles like Rachel's, you'll start to find ways to get even more accurate. For example, Rachel used "Rach" as her first name in her online shopping, so setting a fuzzy match rule for first name, along with an exact match for email address can help identify matches that might otherwise not get identified. 
Customer 360 Data Manager follows a few unique rules for profile creation: preparation rules, match rules, and reconciliation rules. Applying these rules is similar to doing the laundry—washing, sorting, and putting away. Let's take a look at each type of rule.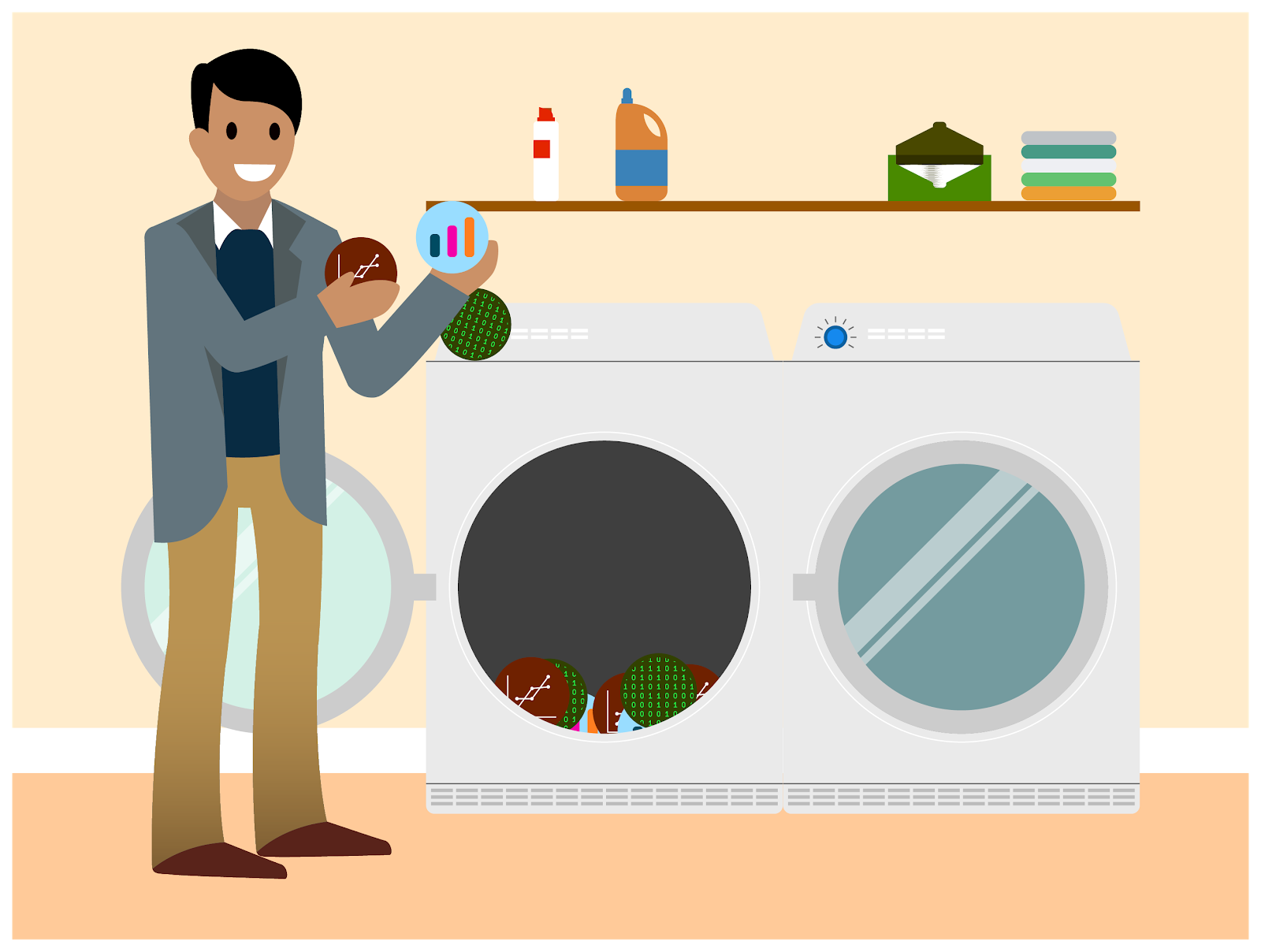 | Rule Type | Definition | Example |
| --- | --- | --- |
| Preparation rules | Think of these as the washing machine for your data. These rules apply basic cleansing to certain customer data attributes, such as contact points and social handles, to aid with matching. | Normalizes for international phone numbers, so if Rachel inputs "(800)7253-3333" for her number, the appropriate country code is added and formatting is standardized to "+44 800 7253 3333". |
| Match rules | If your data were socks that just went through the washing machine, this is the time when you decide how to sort those clean socks and match them. This set of criteria identifies when multiple records refer to the same customer by comparing names, email addresses, and phone numbers. We give you a default set of rules to get started, but based on your needs, you can create your own. | You can specify the fields to use for matching records together. A field can be matched using fuzzy or exact logic, like fuzzy first name, exact last name, and exact email address. In this case, if two records have a fuzzy matched first name of "Rach" and "Rachel", exact matched last name of "Rodriguez", and exact matched email address these records are matched as one customer. |
| Reconciliation rules | Now that your data is cleaned and sorted, Customer 360 Data Manager decides which drawer to put things in—in the global profile or not. These rules are also used to keep profiles up to date. | A service agent updates Rachel's last name from "Rodriguez" to "Rodriguez-Smith" in a contributing source record within Service Cloud. The reconciliation rule now uses that last update of "Rodriguez-Smith" as her last name in the profile. |
Data Flow
Want a deeper understanding of how global profiles are created? Here's an overview of how Rachel Rodriguez's data flows in and out of Customer 360 Data Manager. (Keep in mind that you'll be working with data for multiple customers at a time. We're just using her data as an example.)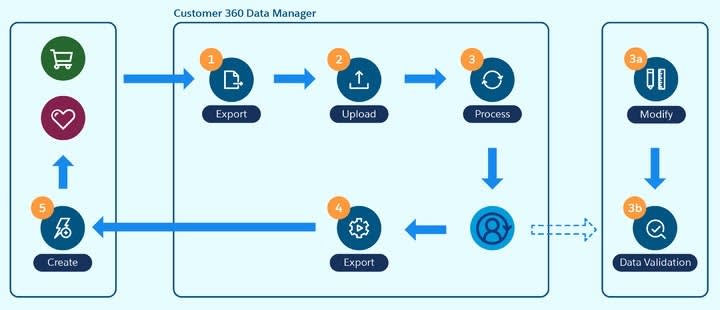 First, admins export Rachel's data from connected data sources. For example, export her customer and order history data from Commerce Cloud and contact record from Service Cloud.
A Customer 360 Data Manager admin imports the files to a staging area in Customer 360 Data Manager.
The admin runs a data job in Customer 360 Data Manager to process Rachel's files according to activated match rules and create her global profile.

The admin can modify Rachel's profile using the Data Stewardship feature if needed.
The admin can also use data validation dashboards to visualize the data, understand how match rules affect quality, identify data to discard, and more.

Finally, the Customer 360 Data Manager admin exports her global profile and global party ID from file staging and then works with system admins to import the global profile data into connected data sources. Now Rachel's GPID is infused in those data sources!
The Salesforce org admin can then create custom Lightning components to view Rachel's data in connected sources. For example, her Commerce Cloud order history can be viewed directly in Service Cloud.
Think you're getting the hang of these global profiles? Check out this video to review what you just learned about global profiles and get a preview of how data flows across systems—which we cover in the next unit.
Resources