Implement and Reuse Your Content
After completing this unit, you'll be able to:
Create layouts using Content Builder content.
Manage settings for content in templates.
Explain how Content Builder works within other Marketing Cloud products.
Your content is created and added to your library. Now let's explore ways to implement and reuse your content.
Layouts are a group of content blocks that you save and reuse. For example, you can group together an image content block, text content block, and button content block and save it as a layout. Then you can combine a layout with other content blocks, or combine multiple layouts together, to create an email.
To create a layout in Content Builder, click Create. In the Content Block menu, select Layout. Choose a content layout style from the dozens of standard options.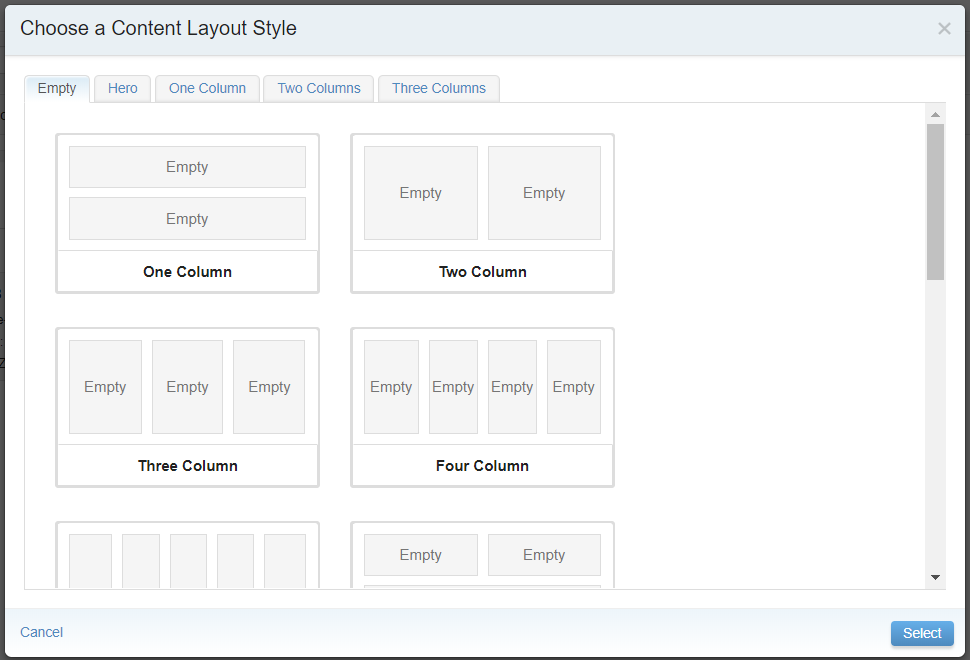 From the Content tab in the layout editor, you can drag a content block type into an empty block and start editing, or drag an existing block into an empty space. After you adjust the Layout Settings and click Configure for the styling between blocks, save your new layout. You can now add the layout to a message or landing page to share your content.
In this example, we use the Two Column (Top) layout to create a reusable layout for birthday emails. The layout includes a text box and image that the sender can customize, along with a birthday coupon graphic that is already complete.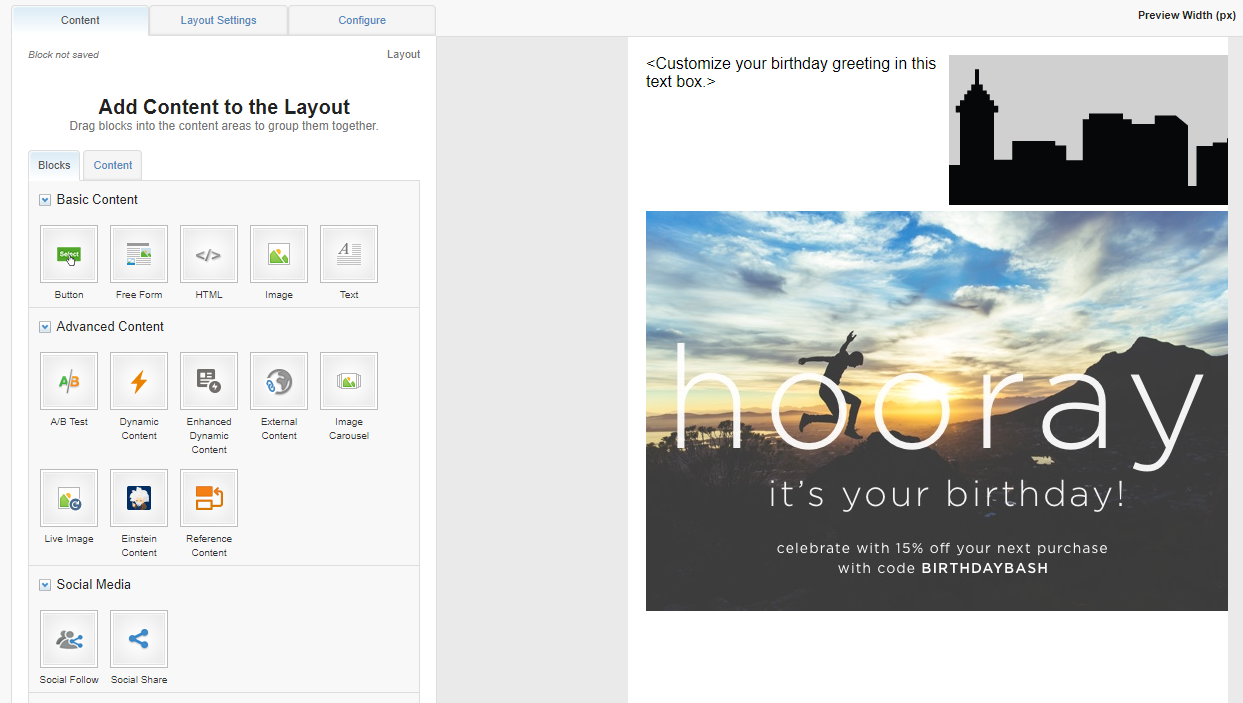 A template is a predefined structure for messages. You can use empty templates or add content to a template with predefined areas for customization. For example, build a template with your company logo at the top, contact information at the bottom, and empty content blocks in the center for your users to customize before sending.
In Content Builder, click Create. In the Template menu, you can choose to create a template by either pasting HTML or creating a new template from an existing one. When you build from an existing template, select from the standard options to get started with Template Builder. From here you can build mobile-optimized templates using a drag-and-drop interface, making it easy to create and deliver relevant messages to your subscribers.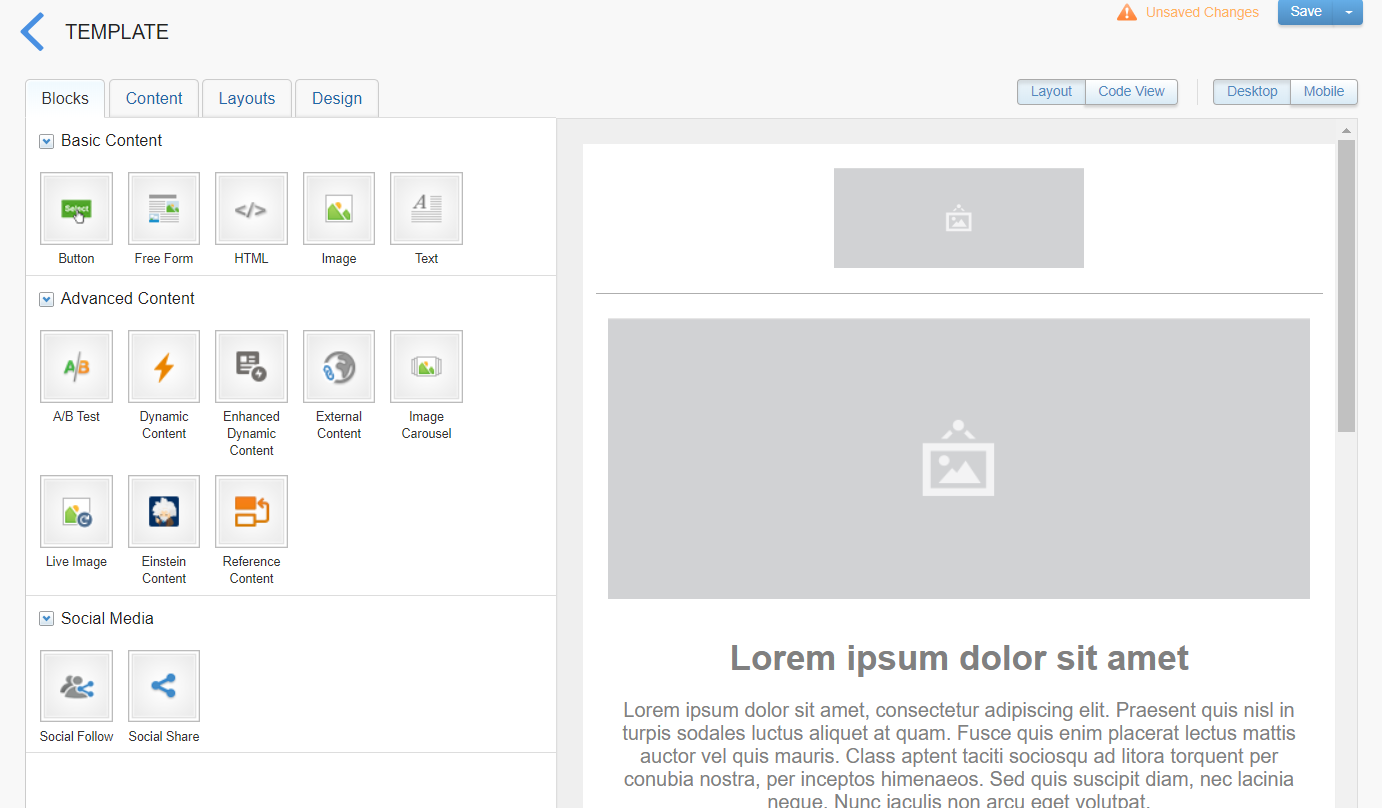 As you drag and drop blocks, content, or layouts to build the template, you can also define properties for specific areas. 

Click Properties to define the following for the content or block.
Add text that instructs users how to use the content block.
Set a limit on the number of blocks.
Select what types of blocks are allowed.
Click Lock to prevent users from editing that area of the template.
Here's an example of a template created in Content Builder.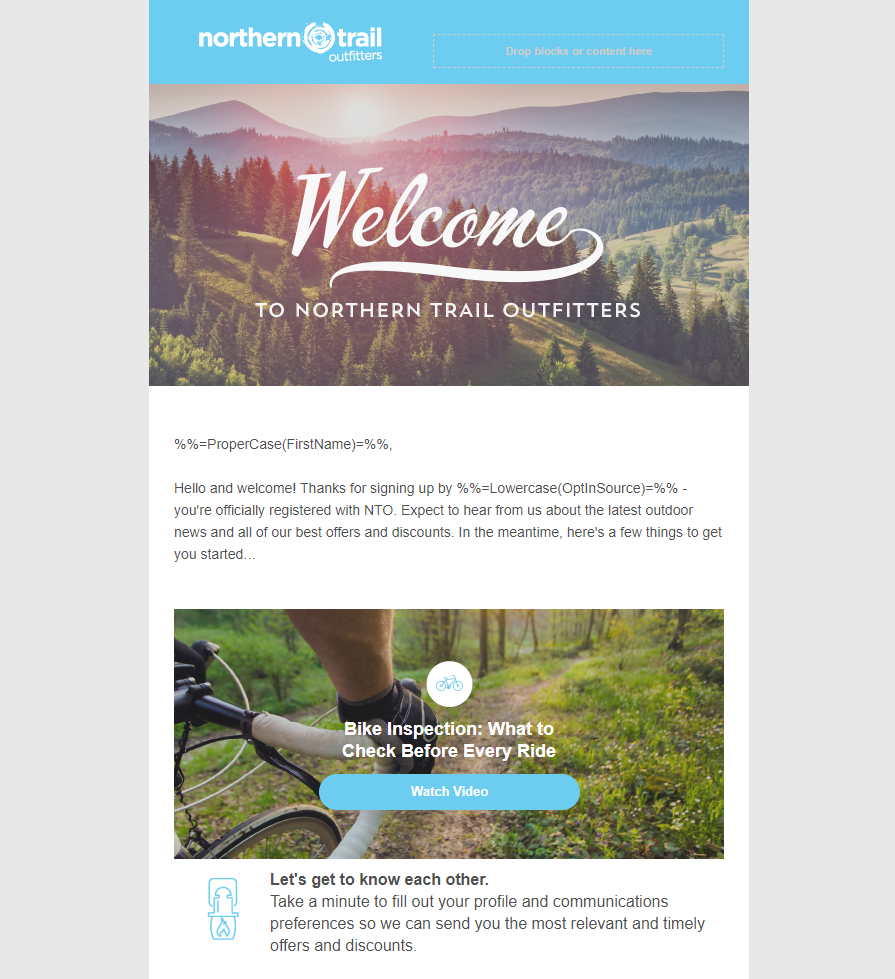 Check out this video on building a template.
Email Studio is the leading enterprise email marketing platform. Use Email Studio in Marketing Cloud to build and send personalized email, from basic newsletters to the most complex campaigns. Deliver promotional, transactional, and triggered messages, then track your messages and optimize them to drive performance. 
Email Studio is powered with the Content Builder editor, making it easy for you to quickly build emails using your library of content. You can navigate to Email Studio to access content from Content Builder, or create an email in Content Builder and send it through Email Studio.
Learn more about creating emails using Content Builder and Email Studio in this video. 
CloudPages is a Marketing Cloud application used to create and publish targeted marketing content to customers across multiple channels. Create a collection of content from your Content Builder library to publish as a landing page on the web or your mobile app. Select a layout and use the same content editor experience you learned in Content Builder to drag content into your landing page. Preview the page as desktop or mobile, then schedule a time to publish your page. Monitor published content to gauge its performance across each channel.
This video features a simple use case for using Content Builder with CloudPages.
Now you've seen a few ways to use Content Builder throughout Marketing Cloud. In the next unit we take a closer look at how you can use Content Builder to create powerful mobile messages.