Deliver Customer Success
Learning Objectives
After completing this unit, you'll be able to
Discuss the benefits of using Contact Builder.
List the Marketing Cloud apps that can use Contact Builder data models.
Deliver Results
Leung is at NTO's headquarters to present the implementation to their team. She presents the data model to her audience. They're impressed. For the first time, they have all the relevant data in one place: the abandoned cart, the contact that owns the cart, and the behavioral info necessary to analyze the event. 
They have a 360-degree past-to-present view of the abandoned cart event.
From the contact and cart relationship, they can identify a specific abandoned cart as Pharr's.
The Product Ids attribute of the cart tells them Pharr's cart contains a Conness 70 backpack.
From the cart and analytics relationship, they have a record of Pharr's behavior prior to the abandonment. This includes which products Pharr browsed, how long he spent on each product page, and the last page he viewed.
Leung calls their attention to the Time Spent analytics attribute. Time Spent measures how long Pharr interacted with the storefront during his abandoned cart session.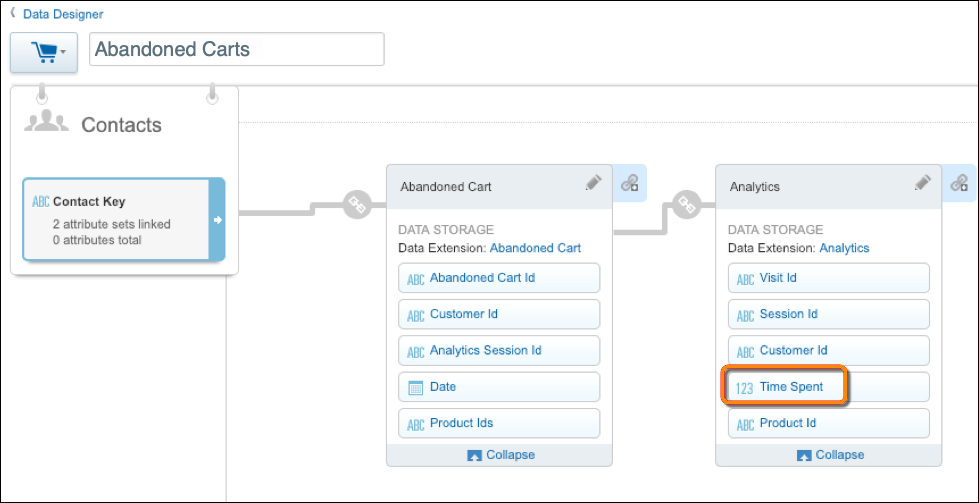 Nudge Customers
She recommends that NTO interpret Time Spent browsing as proportional to a customer's interest level in the product or products in the cart. Longer browse time indicates a higher interest level. So, if the value of Time Spent is greater than an NTO-defined threshold value, encourage the customer to complete a purchase. 
Let's see how this helps Pharr. Many customers, including Pharr, opt in to receive NTO's text messages. NTO nudges Pharr with a text ad for the backpack and includes a discount if he completes the purchase soon. And right on cue, Pharr sees NTO's text and places his order.
Deliver Winning Solutions
Leung demonstrated the Content Builder skills that help you, as a partner, grow your Marketing Cloud consulting practice. She took us through one example of how Contact Builder makes it easier to establish relationships between data that comes from different sources. Then, use the data to build one-to-one relationships with contacts. 
Other Marketing Cloud apps, such as Journey Builder, MobileConnect, and MobilePush, can use the populations and single-view contact data you create in Contact Builder. 
Journey Builder: Improve the customer journey. Tie in behavioral data from the single-view contact data. Create highly targeted customer interactions.
MobileConnect: Include the contact's mobile number in your data model and send SMS messages via MobileConnect. Use the single-view contact data to segment mobile message audiences and improve message targeting and personalization.
MobilePush: Increase customer engagement. Include mobile device identification in the single view of the customer. Create relative date campaigns for birthdays and anniversaries. Send campaign push messages via MobilePush.
Deliver Contact Builder solutions and you deliver much more than a data model. You give businesses easy access to a 360-degree customer view. It's a view they use to intelligently meet their customers' needs. 
With Contact Builder, you help businesses win the game of hide-and-seek.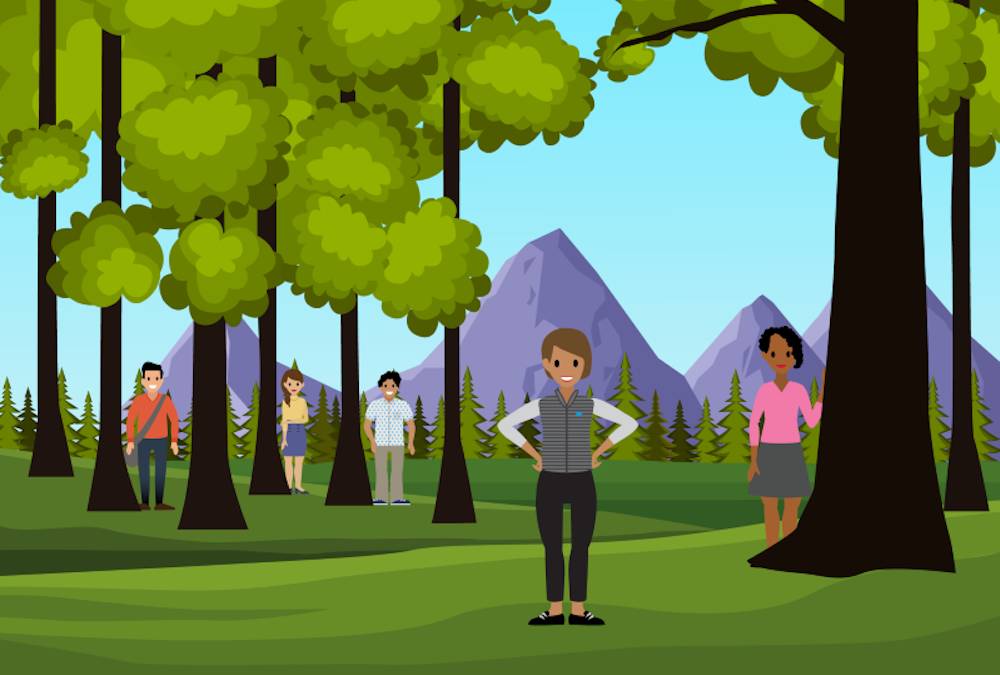 Resources