Manage Addresses
After completing this unit, you'll be able to:
Describe how address fields on the account, contact, and address objects interact with each other.
Restate how NPSP address settings impact address management behavior.
Summarize key challenges with address management.
Nonprofit Success Pack comes out-of-the-box with robust address management functionality that allows your users to track — and know when to use — multiple addresses for a household, including seasonal addresses. NPSP address management functionality also supports address verification services, so you know right away if an address isn't accurate.
While address management functionality is powerful, it can also be confusingly complex. Whether you're a new or experienced admin, be open to trial and error to understand how addresses are handled within NPSP and to determine the settings that work best for your organization.  
Here's a snapshot of what NPSP address management functionality supports out-of-the-box:
Multiple addresses for a household, such as seasonal addresses
Automatic update of addresses on all contact records in a household when the household address changes
Address override for a single contact in a household (for example, if that contact wants to receive mailings at a different address than the household)
Support of address verification services
Address history related list
It's important to understand how NPSP address settings affect address management behavior.
Here's a look (and a brief explanation) of the General Address Settings (you can find them yourself by clicking NPSP Settings >  People > Addresses):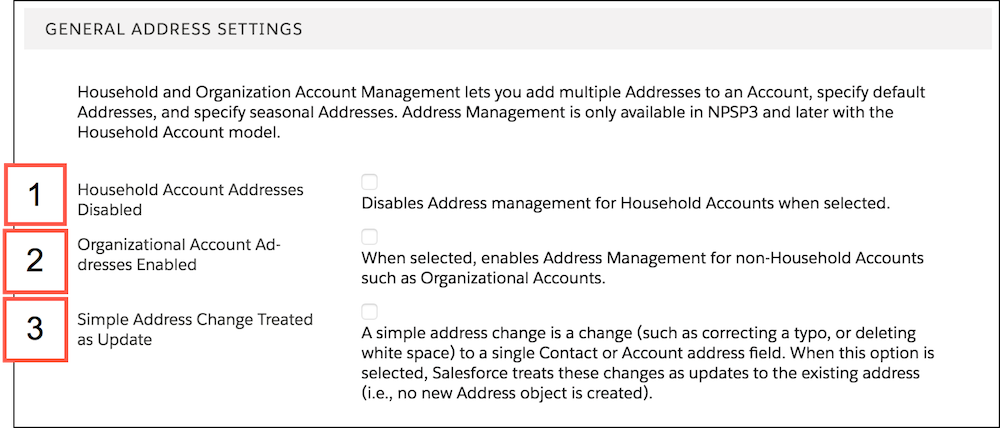 (1) Household Account Addresses Disabled: Disables address management for household accounts. By default, this is not selected, which means household accounts come out of the box with address management functionality. 
(2) Organizational Account Addresses Enabled: Turns on address management for organization accounts. By default this is not selected, so you need to change this setting if you want address management on organization accounts. 
(3) Simple Address Change Treated as Update: When this setting is not selected (which is the default), any change to an address is treated as a brand new address rather than an update to the existing address. And when we say "any change," we mean ANY change. Even an extra comma or added space in an address will be treated as a new record. 
For household accounts, address management functionality is enabled by default. This means that households are automatically set up to track multiple addresses, and sync the current household address across all contacts in the household.
For organization accounts, address management is disabled by default. If you want to track multiple addresses for organization accounts, update the Organizational Account Addresses Enabled setting.
Let's take a look at the address fields on an individual contact. There are other standard address fields in Salesforce, so if your admin has customized your page layouts you may see different fields than what we show here. For simplicity, we generally recommend removing the secondary and other address fields from your page layouts because they don't work with the NPSP address features. 
The (1) Primary Address Type picklist allows you to specify what type of address is in the Mailing Address field. In this example, the Mailing Address is this contact's home address. 
Sometimes a contact wants to receive mailings at an address other than their household address. In this case, select the (2) Address Override field to prevent the Household Address from being copied to the contact's Mailing Address.
The (3) Household Mailing Address is a formula field that holds the value of the household's address. Typically, this will be the same as the contact's Mailing Address, unless Address Override is selected for the Contact.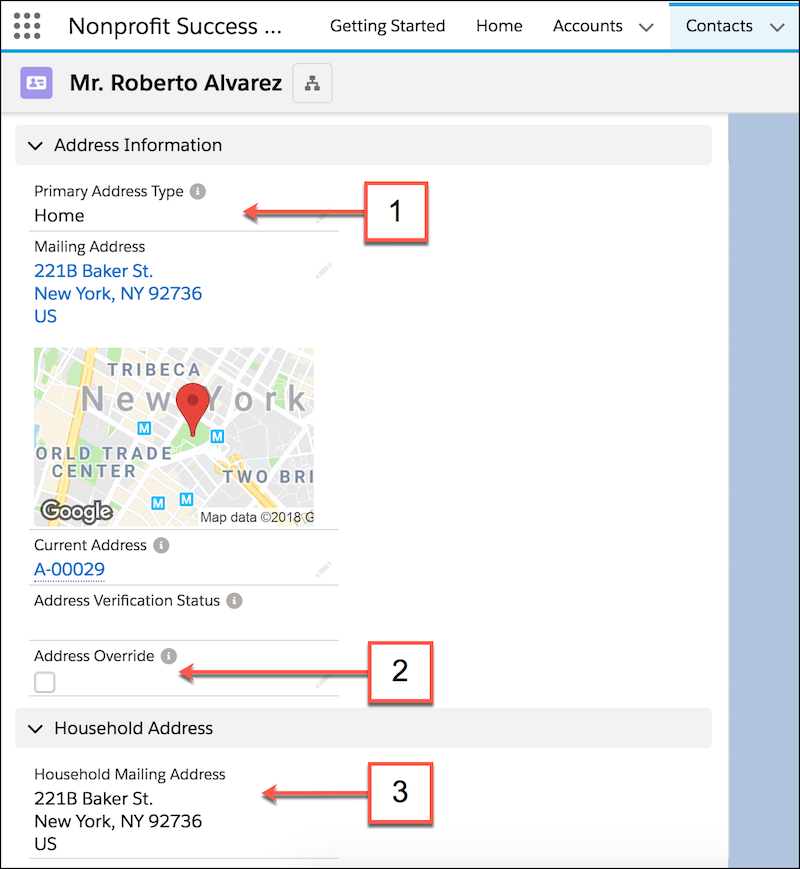 On household accounts, address management keeps the address on the account in sync with all of the contacts in that household. In addition, changing a household address results in a new address record. You can switch back and forth between address records for seasonal moves, or use them as a way to see where a donor has lived in the past.
Let's look at some typical scenarios with household accounts to see how different address fields interact with each other, and how NPSP tracks which address to use when.
Create a new contact record
Sofia, the Development Associate from our fictional nonprofit adds a new contact record (one that's not part of a household account that's already in Salesforce) and leaves the account field blank. NPSP creates the household account record for her. Then address management functionality kicks in and creates a separate address record attached to the new household account, and syncs up addresses on all three records (the contact, the household account, and the address records).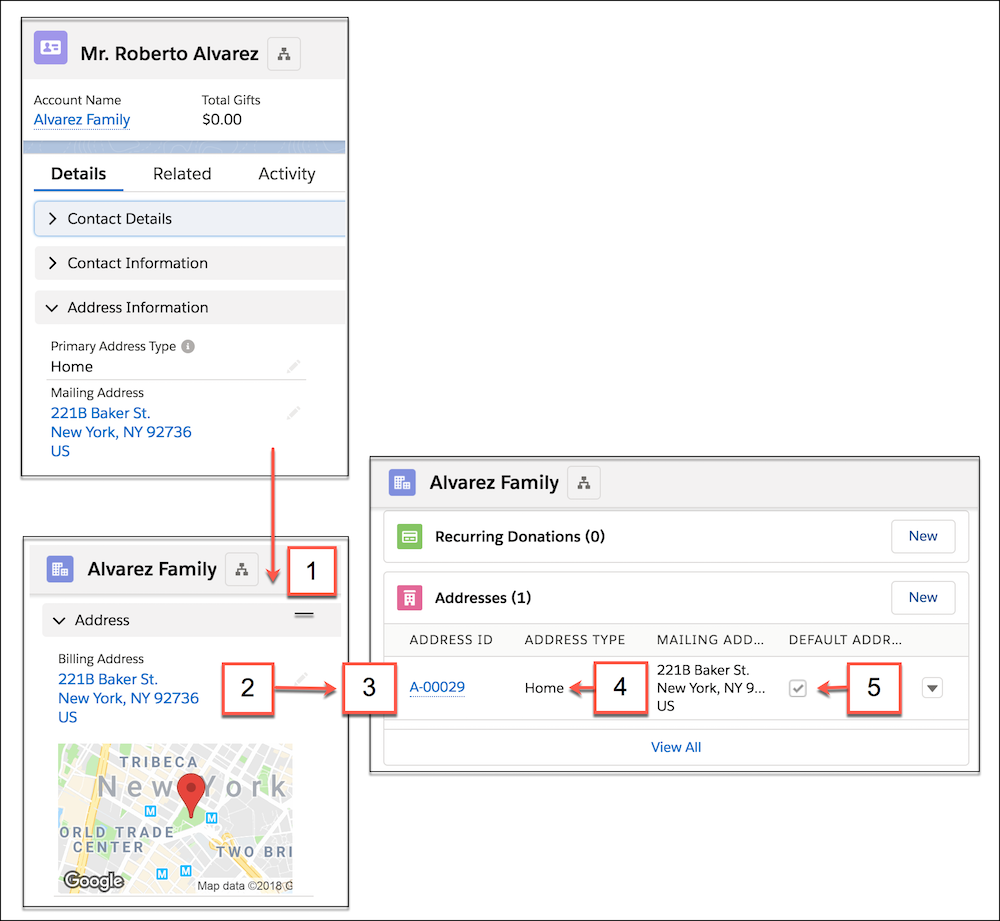 (1) NPSP automatically creates a household account for the contact.
(2) Address management copies the mailing address you entered for the contact to the household account Billing Address.
(3) Address management functionality creates an address record attached to the household account.
(4) The primary Address Type selected on the new contact is copied to the Address Type on the address record. If you leave the primary Address Type blank, it defaults to 'Home.' 
(5) The new address record is automatically set as the Default Address.
Add a new contact to an existing household
When Sofia adds a new family member (as a contact) to an existing household, their address is typically the same as the household's. The address management functionality automatically takes care of this for Sofia by setting the new contact's Mailing Address to be the same as the household address.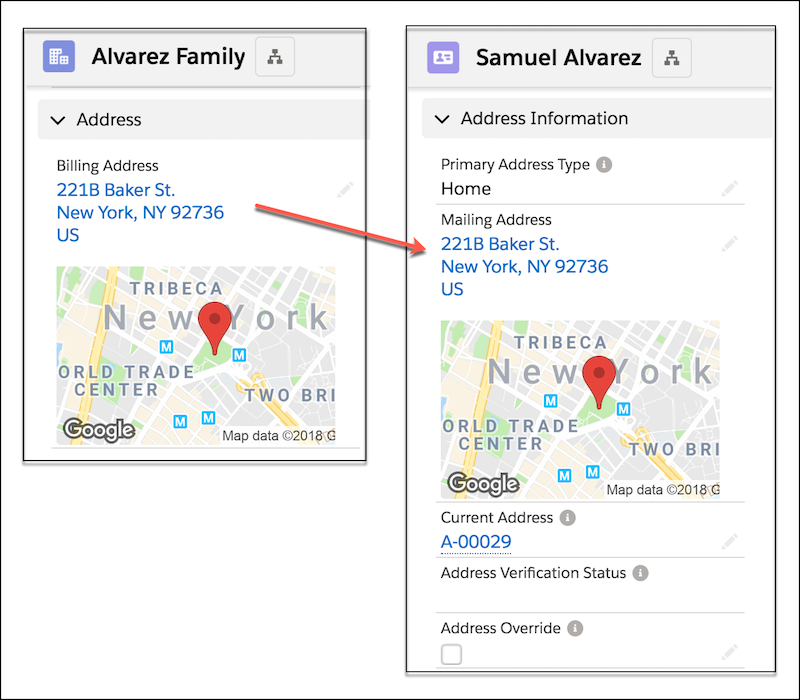 Update a household address when a family moves
When a family moves, not only does the household address need to be updated, but also the mailing address for each contact in the household. Address management automates this process for you by syncing the new address between the household account and each of the related contacts. Sofia always updates the household account address first to be most efficient and keep NMH's contact data up to date. 
If a contact has Address Override selected, that contact's mailing address will not be synced with the household address.

Address management behaves differently for organization accounts. It's disabled by default. To enable address management for organization accounts, select the Organizational Account Addresses Enabled field in NPSP Settings > People > Addresses.
Address management functionality on organization accounts gives you a new address record when the account address is updated, and an address change history in the address related list.
NPSP lets you verify addresses as you enter them in Salesforce using one of three address verification APIs (Cicero API, Google Geocoding API, and SmartyStreets API), or your own API. For those of you who might not have heard of an "API" before, it's basically a software intermediary that allows two applications to talk to each other. In this case, it allows the address verification tools to talk to Salesforce. You must have address management enabled for organizational accounts to use an address verification service. 
The three address verification APIs have different considerations including complexity and cost. We recommend looking at reviews and comments from fellow users in the Power of Us Hub community before making your decision.  
Once you've set up NPSP for address verification, NPSP:
Checks to see if addresses exist when you try to add them
Standardizes addresses for you (i.e. converts "Street" to "St" in the saved record, etc.)
Our intrepid admin Gorav from the No More Homelessness nonprofit wants to set up address verification to help ensure the data that gets entered in their org is as clean and complete as it can be. While many of the address verification services require an additional investment, Gorav makes the case to his executive director that the price of the service is worth it in terms of driving user adoption and overall efficiency. Let's follow along as Gorav sets up address verification for the NMH org. 
1. Click the NPSP Settings tab, then People > Addresses.
2. Click Edit.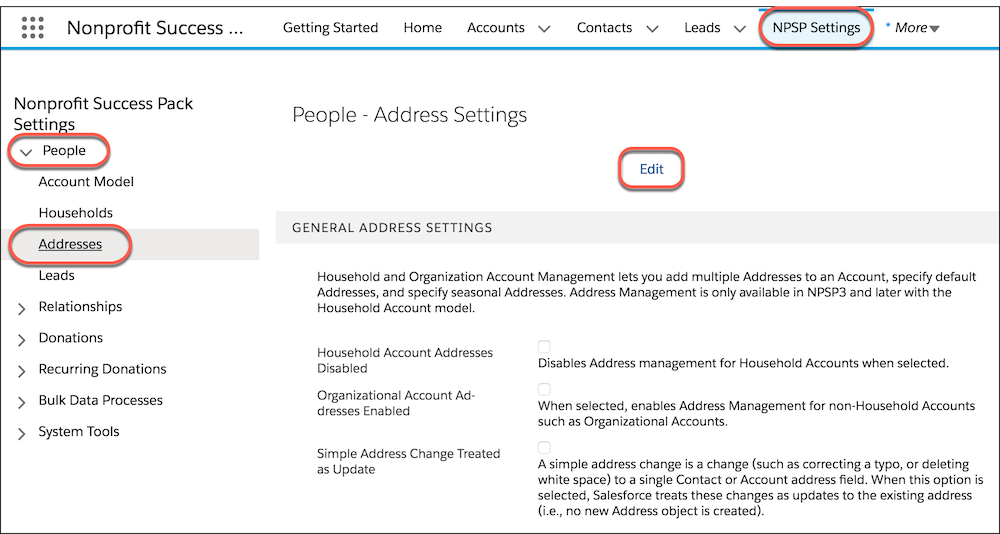 3. Review the general instructions under the Verification API Account Settings section and click Enable Automatic Verification.
4. Select the address verification service you want to use and enter the appropriate information. For more specific guidance on the individual verification services available, contact the service provider directly.
5. (Optional) Select Reject Ambiguous Addresses to mark ambiguous addresses as invalid when the API returns more than one address. If not selected, Salesforce chooses the first suggested address as the valid address.
6. Click Save.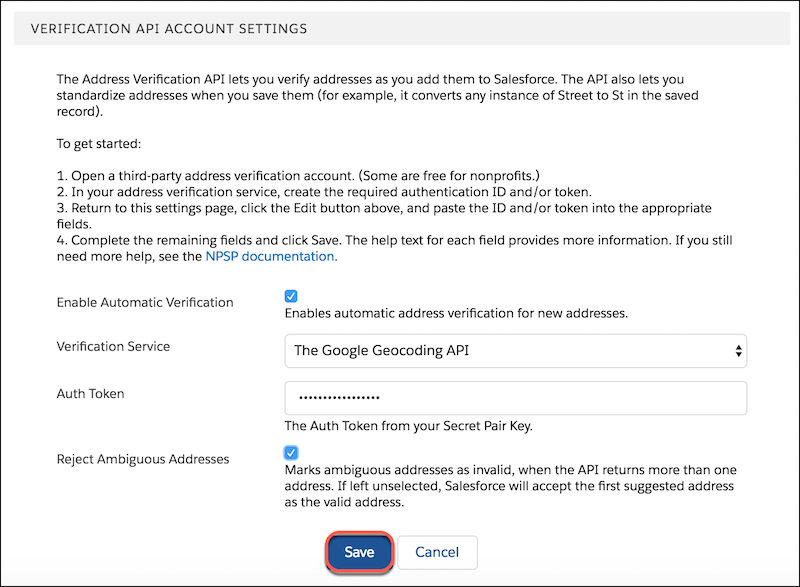 7. (Optional) Click Verify All Addresses to mass verify addresses that already exist in your organization. Remember, Salesforce only verifies those addresses you enter after you've set up your address verification service. This option is available with the SmartyStreets API only.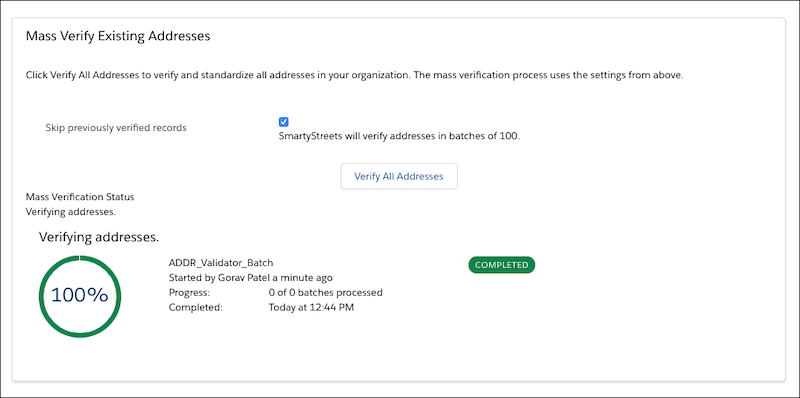 You may want to exclude a specific address from being verified, and you can easily do so by selecting the Verified checkbox on the address record. Address verification skips any record with this checkbox selected.
Tracking addresses with an address object introduces a level of complexity that may be more than some organizations need (or want) to manage. There's something to be said for keeping things simple, especially if your organization has very simple address tracking needs. Address management can also add to your data storage, although most organizations stay well within the data storage limits included with Enterprise Edition licenses (which is what you have if you're using the 10 nonprofit licenses). 
If your organization doesn't have complex address management needs, you might consider disabling address management to save data storage space. For example, organizations that always send mailings to contacts at their household addresses, whose constituents don't have seasonal addresses, and that don't plan to use address verification services might want to forego using the address object.
Keep in mind that even if you do have simple address tracking needs, leaving address management enabled lets you take advantage of the automatic syncing of address records on all contacts in a household when the household address changes.
If you do decide to disable address management, you can do so by updating your NPSP address settings.
Thanks for sticking with us through this super flashy unit on address management. Configuring the address management features in NPSP to meet your organizational best practices, and to support clean and complete data, is critical to supporting user adoption. And user adoption is the key to ensuring that you see the greatest return on your investment in any technology.