Access Advanced Email Tools
Learning Objectives
After completing this unit, you'll be able to:
Collaborate with the Salesforce administrator at your organization to add automation to emails.
Discuss with your Salesforce administrator if connecting Microsoft® Outlook® or Gmail is right for your organization.
With help from Gorav, the skillful Salesforce admin at the fictional No More Homelessness (NMH), everyone on staff has been able to send messages directly from Nonprofit Success Pack (NPSP) to individuals and small groups of constituents—and they love it. By sending messages directly from Salesforce, a contact record shows the full communication history between NMH and that person. No more duplicate messages and no more long lapses between emails! Now anyone on staff can see when a message was sent out, what it was about, who the recipients were, and when the email was opened. 
It's hard to imagine how sending and managing email directly from NPSP could be better, but it never hurts to ask. Michael, the Communications Intern at NMH, asks Gorav if there's anything else they can do to save time.
Gorav, in all of his admin wisdom, suggests automating messages that the team sends out regularly.
Add Email Automation
Email automation lets you send messages either at a specific time or after a certain set of conditions are met—all without having to click 'send' yourself. It can be an incredibly powerful and useful tool for any organization, but not every message should (or can) be automated. 
A good candidate for automation would be an email that's sent from a template at a specific time or triggered by the same action. At NMH, for example, the program team could automate the welcome and orientation email sent out to new volunteers and the development team could automate thank-you emails for small donations made through the website. And Michael knows exactly what he wants to be automated for the Communications & Advocacy team. 
A while back, Michael, NMH's Development Director Aniyah Thompson, and Gorav worked together to set up engagement plans in NPSP, which automatically assign tasks to an NMH staff member after a group of volunteers complete the advocacy training workshop. One of the first tasks on Michael's list was to send follow-up emails with resources to help the newly trained volunteers get started with hosting an advocacy event for their networks. NMH has a template for these emails, so they're identical, but someone on staff has to manually push the send button when the time comes. Wouldn't it be great to have those messages sent automatically?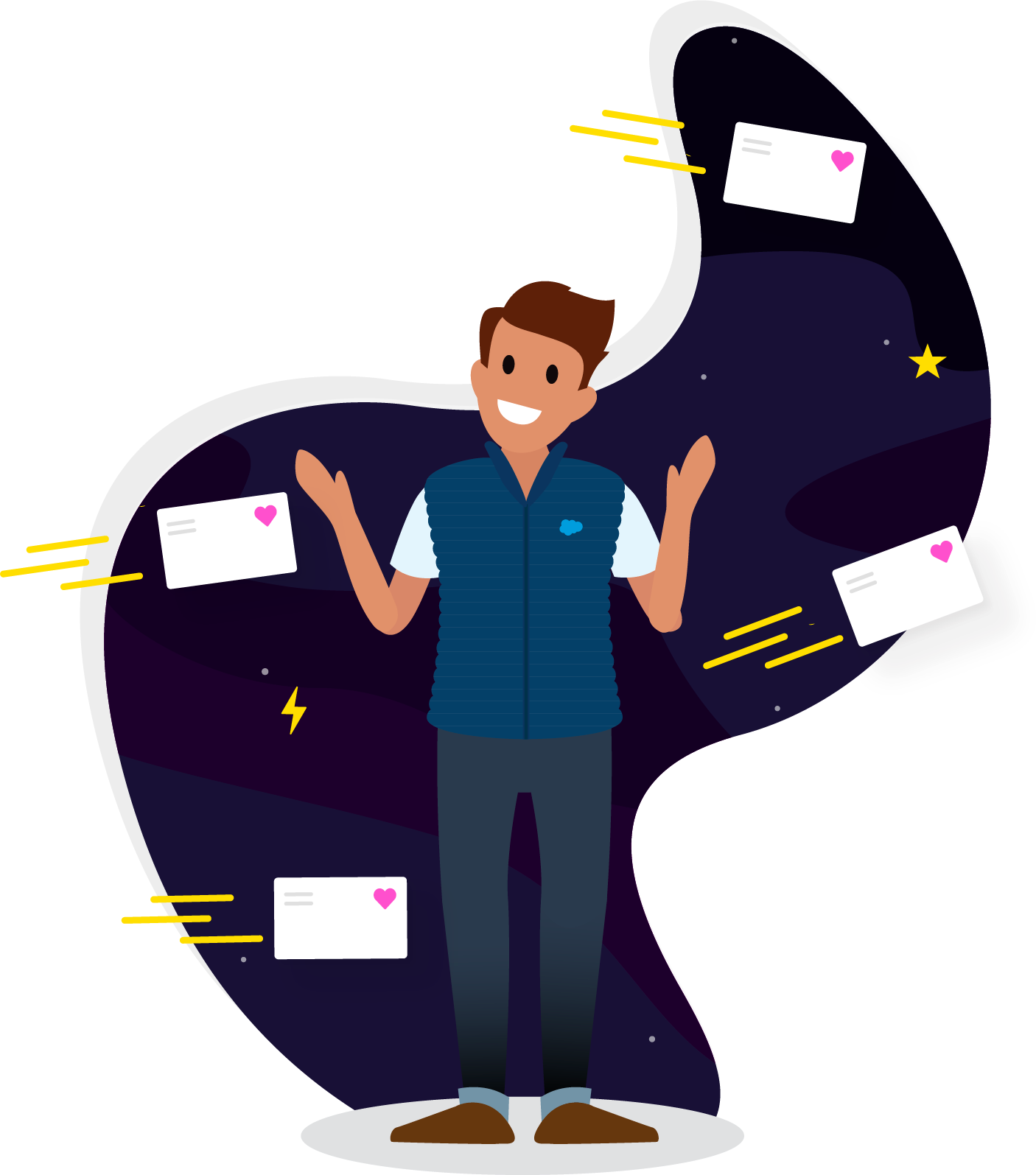 That's a perfect candidate for automation. Behind the scenes, Gorav does some admin magic and...poof! The follow-up email sent after an advocacy training workshop is now automated. Gorav, being as amazing as he is, not only sets up the automation, but also organizes staff training on the new process. Even though it's an extra step, it's worth his time to make sure everyone on staff knows when there's a change or additional customization in NPSP. What good is the tool if no one knows how to use it? 
Connect Gmail or Outlook to Salesforce
Although everyone at NMH has been trained (and tested) on sending messages directly from NPSP, some are more eager than others when it comes to adopting the technology and changing old habits. Gorav holds weekly office hours so anyone on staff can come and ask him a question about Salesforce or make a suggestion. Just about everyone has contacted Gorav at one point or another, except Kim Friedman, the Executive Director. 
No news is often good news, but adapting existing processes and workflows isn't always comfortable or easy, even if it's for the best in the long run. But Kim's been suspiciously quiet: no chats, no emails, and no, "Oh! I have a quick question for you…" when they run into each other in the break room. Gorav decides to check in with her, to make sure the transition to NPSP is going well for her. 
Kim is thrilled at how efficient and organized the team has become since transitioning to NPSP. She also sees great value in the new email features the team is using...but she's still using her private email account as the primary way she communicates with constituents. 
Wait, what? That means that all of Kim's institutional knowledge is locked inside of her personal email address. That's fine for certain messages that really are private (like that invitation to a yoga class), but most of her emails are routine communication about donor cultivation and staying accountable with the board. Sharing that information with staff would benefit all external communication. She also (apparently) has some important contacts that don't have records in NPSP, and if they don't have records, their information isn't accessible to everyone else at the organization. How would it look if the Development Director started a new solicitation process with someone that Kim already knows personally? Not great. 
Well, there is a better way. Gorav can integrate Salesforce with Outlook and Gmail, so everyone on staff (including Kim!) doesn't have to spend time going back and forth between their inbox and NPSP. The integration with email allows everyone to send messages directly from Gmail or Outlook but use some of the great Salesforce email features, including templates and quick text, and have the email history tracked on the Activity timeline of a contact record. For Kim, this means the rest of the staff will know when she messages a constituent and what the email was about. 
Email + Salesforce Integration Features
When a Salesforce admin integrates either Outlook or Gmail with NPSP, you can see and access Salesforce data from directly inside your inbox. Some of the features include:
Emails to multiple contacts, opportunities, and other records.
Create records for contacts, accounts, opportunities, and more, including custom objects.
Search existing Salesforce records.
Connect nonrecurring calendar events to multiple Salesforce contacts (and other records that use tasks or email messages).
Sync contacts and events (check the resources below for more information on limits of syncing event attendees and event attachments with Gmail and Outlook).
When Outlook or Gmail is integrated, your inbox will look more or less the same as before, but include a space on the side for Salesforce records relevant to your messages, be they contacts, opportunities, accounts, campaigns, or other objects (including custom objects!).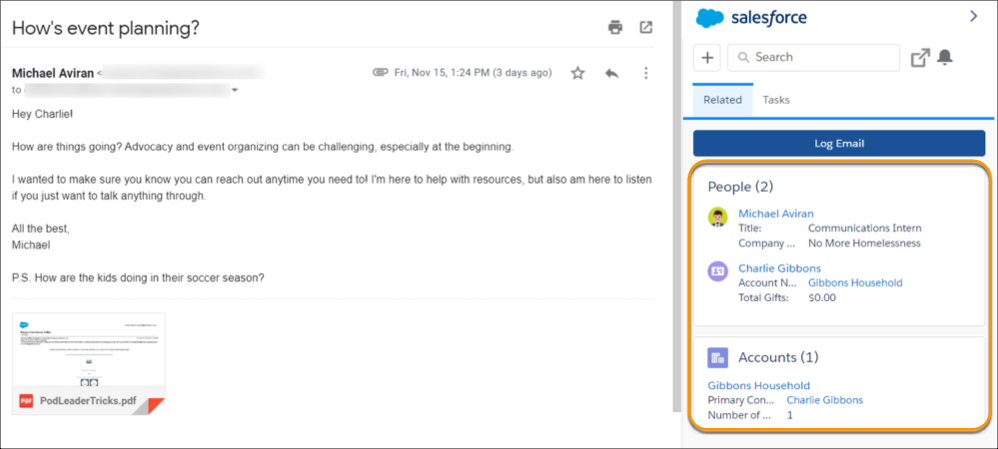 Once Gorav has the email integration up and running, everyone on staff is happy with how it works, especially Kim. She feels empowered to continue using her email account to manage her contacts, and the development team (and everyone else on staff) knows when she sends out major donor asks. When anyone on the team looks at a board member's contact record, they can see in the activity timeline when Kim follows up after a meeting and if there are any subsequent meetings or plans. 
What's not to love?
Resources