Organize Campaigns
Learning Objectives
After completing this unit, you'll be able to:
Understand how campaign hierarchies let you group and analyze related marketing efforts.
Describe the levels of a typical campaign hierarchy.
List the marketing results displayed with hierarchies.
Understand how record types make managing campaigns easier.
Make Campaigns Work for Your Business
Margaret sees the potential of campaigns, but she wants to know how that potential maps to her own company's challenges. How can she get her marketing programs organized, solve some of her problems, and create a well-oiled machine?
Organize Campaigns with Hierarchies
With Salesforce campaigns, organization is built-in.
By using the Parent Campaign field on her campaigns, Margaret can relate her campaigns to each other in a hierarchy. With a hierarchy, she can group her campaigns into categories that suit her business.
There are a few different ways hierarchies can be applied to a business's marketing practices. A common approach is to use the hierarchy to group campaigns by marketing strategy. The hierarchy can have as many as five levels, but three levels works well for many companies. The top level can represent an overall strategic focus, such as selling a new product in a company's lineup, or building brand awareness.
The second level can be for the different aspects of that focus, like the product launch, getting feedback from purchasers, or upselling previous customers. Finally, the third level can represent individual marketing efforts, like an email, an online ad, invitations to demos, or the demo itself.
Another way of using hierarchies is to group campaigns by time period. In this approach, the top level can be for the marketing efforts for the entire year, the second level can be for each fiscal quarter, and the third level for individual campaigns in each quarter.
A third way of using hierarchies is to use the first level for a large event, such as an annual conference. The second level can then be for supporting marketing efforts like the registration and emails, and the third level can be for individual sessions at the conference.
What Campaign Hierarchies Look Like
Jamie tells Margaret she can use this hierarchy approach for the launch of the new wood-fired grill All-Seasons is introducing this summer. The top level can be a rollup of all their product marketing efforts. A second level can be for the big initiatives like the product launch and getting customer feedback. And a third level can be for the individual marketing programs, like emails and demos.
The hierarchy can look like this.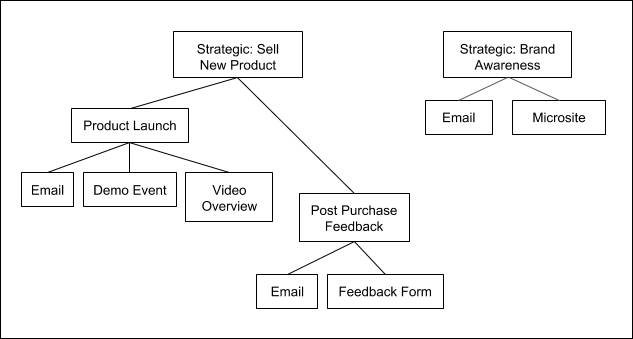 Margaret's three-level hierarchy with strategic initiatives at the top, her product launch in the middle, and individual campaigns at the bottom.
With her campaigns in a hierarchy, Margaret will be able to see the results not just for individual campaigns, but also for whole sections of the hierarchy. This means that she'll be able to see the overall results for the entire product launch, and for the entire new product strategy. That's just what she needs.
In her Product Launch campaign, Margaret can see the opportunities and revenue for her email and demo campaigns beneath it in the hierarchy.
To make a campaign a child of another campaign, all Margaret has to do is:
Create the parent campaign.
Create the child campaign and enter the parent campaign name in the Parent Campaign field.
Get Specific with Campaign Record Types
Now Margaret wants to know if she can track different details for different kinds of marketing efforts. Can she use campaigns for an event as well as for a marketing email?
Jamie tells her that with record types, she can create customized campaign records for each type of campaign she runs. So for example she can have one record type for email campaigns, another for demo events, and so on. Her email campaign record type can include a field for the email template used, while her demo event record type can have custom fields for things like the location, timing, equipment needed, staffing, and whatever else she needs to track.
The more fields she tracks, the more detailed results she gets.
Margaret's demo event record type with its Venue and Number of Staff fields.