Analyze the Impact of Your Campaigns
After completing this unit, you'll be able to:
Give an example of how reports and dashboards can help you analyze campaigns.
Create reports and dashboards.
Share reports and dashboards.
Salesforce reports let you compare, evaluate, and categorize data so you and your team can make more informed decisions. You can track response rates, analyze which campaigns were most effective in soliciting donations or sign-ups for an event, and report on the ROI for your campaigns. And to help you get the right data and set up reports quickly, Nonprofit Success Pack (NPSP) has report types that simplify the task of deciding on what data you need to better analyze your engagement efforts. 
A report type is like a template that determines which fields and records are available for a report, based on a primary and any related objects. For example, the 'Campaigns' report type gives you options just for reporting on campaigns. With the 'Campaigns with Contacts' report type, however, 'Campaigns' is the primary object and 'Contacts' is the related object so the report allows you to report on all the fields in the Campaigns object plus any fields from Contacts that are related to the campaigns you're reporting on. 
Reports are for sharing, and who sees what is determined by the folder. All reports need to be saved to a folder, which can be public, private, or shared. The Salesforce admin controls who has access to the folder based on a number of things, but the thing for you to know is that a folder might be available to everyone at your organization, a subset of people, or private so only the owner has access. Folder sharing settings are available for both reports and dashboards. 
In this unit, we're going to skim the surface of the powerful reporting features you can use in Nonprofit Success Pack, so be sure to check out the reporting resources at the end of this unit to learn more about all that reports and dashboards can do. 
The next advocacy training event is coming up at No More Homelessness (NMH) and Michael Aviran, the Communications Intern, needs to order catering and share the list of attendees with other team members who are working on the programming. 
Let's follow along as Michael creates a simple report on his campaign that he can also use for general preparation and event set up. 
1. Log in to Salesforce and use the app launcher (

) to navigate to NPSP (if you're not already there).
2. Click the Reports tab, then New Report.

3. Click Campaigns to filter the report type options.
4. Choose a report type. You can either pick just Campaigns or Campaigns with an object, which makes fields from that additional object also available in the report. Michael chooses Campaigns with Campaign Members, so he can see the list of attendees for the June training event.
5. Click Continue.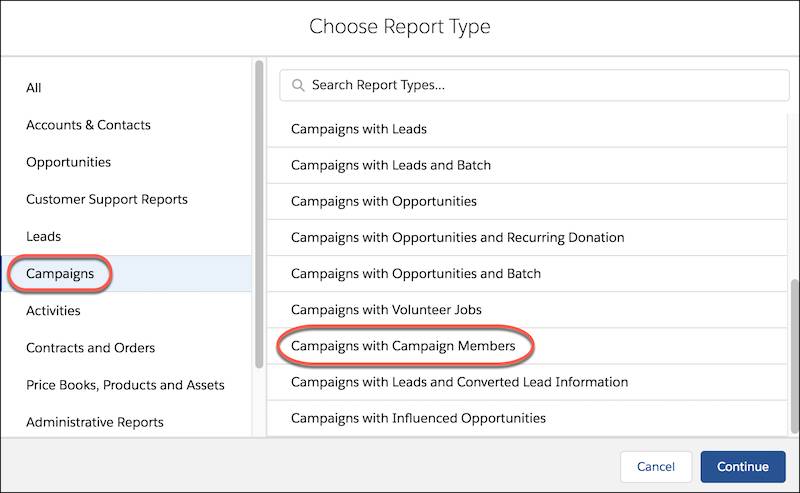 6. Time to start adding data to the report. Click Filters.
7. Under the Filters header, click Show Me and select All Active campaigns. The click into the search box to start adding filters. Michael starts with Campaign Name. He leaves the Operator as equals, enters Event: June 2019 - Advocacy Training Day, and clicks Apply.
8. (Optional) Add more filters following step 7. Michael adds Member Status, leaves Operator as equals, and searches for and adds RSVP Yes. He now has three filters on this report.

9. Now to fine-tune how the report is organized. Click Outline.
10. Under the Columns header, click into the search box to start looking for and adding fields. Michael finds a custom field the awesome NMH made for the campaign member record called Dietary Restrictions. Once it's in the report, he can drag and drop the column to move where it appears.
11. To organize the data, click the dropdown arrow from the column header and select Group Rows by This Field. Michael wants to organize this report to better answer an immediate question: Are there attendees with dietary restrictions? He needs to know to place the catering order. He groups the data by the Dietary Restrictions column. 
12. Click Run.
13. Click Save and save the report in an appropriate folder.
Now, with just this one report, Michael can share the list of attendees with the rest of the NMH team and see the total number of attendees with different dietary restrictions, making the food ordering process much easier (and inclusive!). And if he wants to share only diet types and total numbers with the caterer, all he has to do is deselect the Detail Rows button at the bottom of the window to hide individual rows.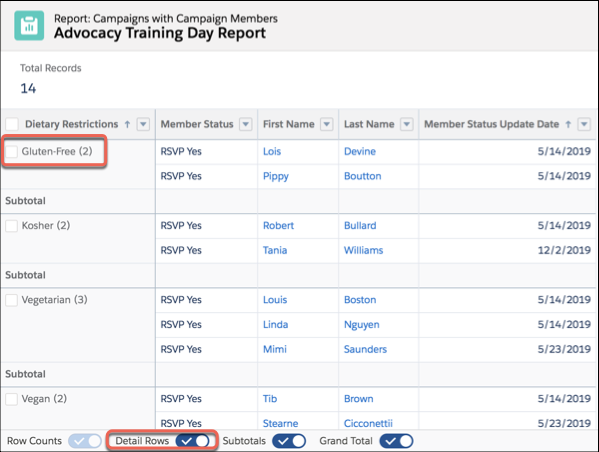 With the details hidden, now he has a caterer-friendly summary: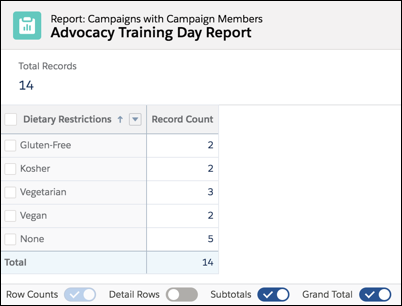 It's not just Michael who needs attendee data. Cristina Jasic, the Director of Communications and Advocacy, also needs to report on the overall event attendance for a foundation that's funding the initiative. This is where Michael's hard work (from waaaaay back in Unit 2) of setting up the NMH campaign hierarchy pays off. Cristina can see everything she needs to know about their No More Hostile Architecture campaigns without going to Michael or building a report.
To view the campaign hierarchy, Cristina finds the No More Hostile Architecture campaign, clicks the Related tab from the campaign record, and scrolls to the Campaign Hierarchy. Here, she can quickly see the total responses in the hierarchy—exactly the data she needs to report back to her program officer on the number of community members that attended the training event. For another view, she can also click View All to see more details within the hierarchy.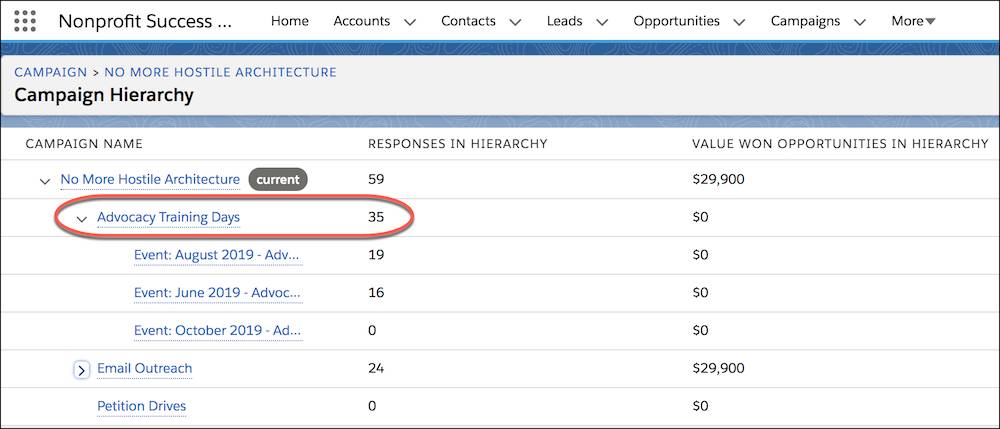 If you don't have access to the same information that Cristina is using, check with your admin to make sure you have the right permissions. 
Reports make it easy for the staff at No More Homelessness to access data so it's insightful and actionable. Dashboards take it one step further, by pulling in key metrics and multiple reports and depicting it all in the same window. With dashboards, it's even easier to understand the story your data is telling.
Michael wants to create a dashboard to visually display NMH's results related to the No More Hostile Architecture campaign. He's built a few reports that each show unique key data points and now he wants to bring them all together in one place. But like so many things in Salesforce, he needs the right permissions to access and build dashboards—permission to the dashboard folders and any report he wants to include in the dashboard. 
Let's follow along as he creates the dashboard:
1. In NPSP, click Dashboards from the navigation menu (if your Salesforce admin has added it there). You can also find it with the app launcher (

).
2. Click New Dashboard.

3. Name the dashboard and enter a description. Michael calls this the No Hostile Architecture Campaign.
4. Select a folder. Michael chooses a publicly available folder called NPSP Dashboards so it's easily accessible to everyone.
5. Click Create.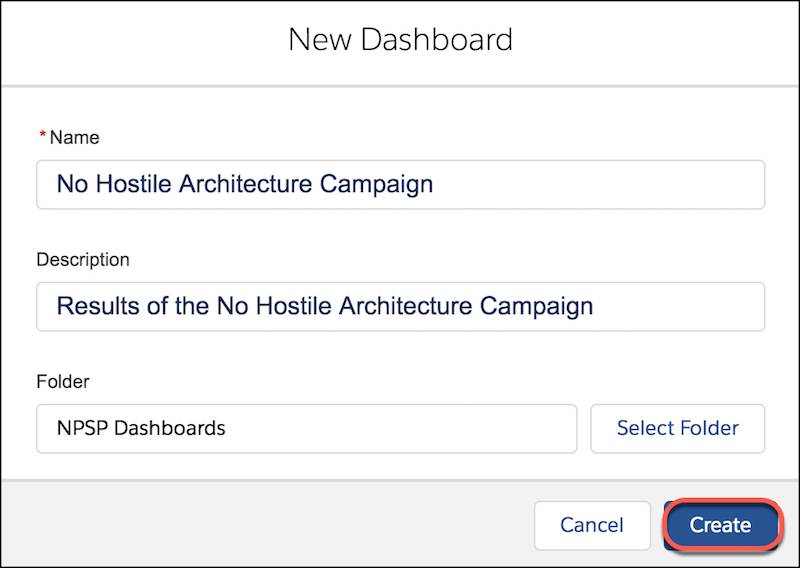 6. Now it's time to add report components to the dashboard. Click +Component.

7. Select a report to add to the dashboard. Michael types NMHA Fundraising in the search box to find the report he created earlier, following the standard report creation process. He clicks on the report name once he finds it.
8. Click Select.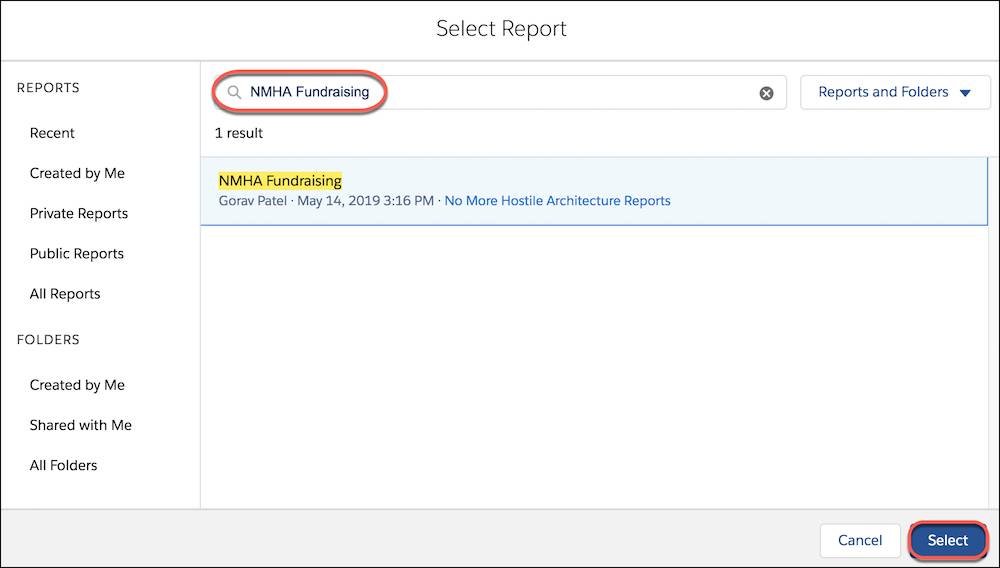 9. Under the Report field, confirm that you have the report you want.
10. Under Display As, select a chart type.
11. Set or adjust all the other component settings as needed.
12. Under Title, give your chart a name. Optionally, add a Subtitle and Footer.
13. Click Add. Your new component now appears on the dashboard.
14. Drag and drop the component to move it, or grab a corner and drag to resize.
15. Click Save.
16. (Recommended) Click +Component and repeat the process to add more reports to the dashboard.
17. Click Done.
Michael added a total of six different components to his dashboard for visualizing data about the recent advocacy training workshop. Viewed as a dashboard, these reports give the team an intuitive way to understand and analyze the success of the event.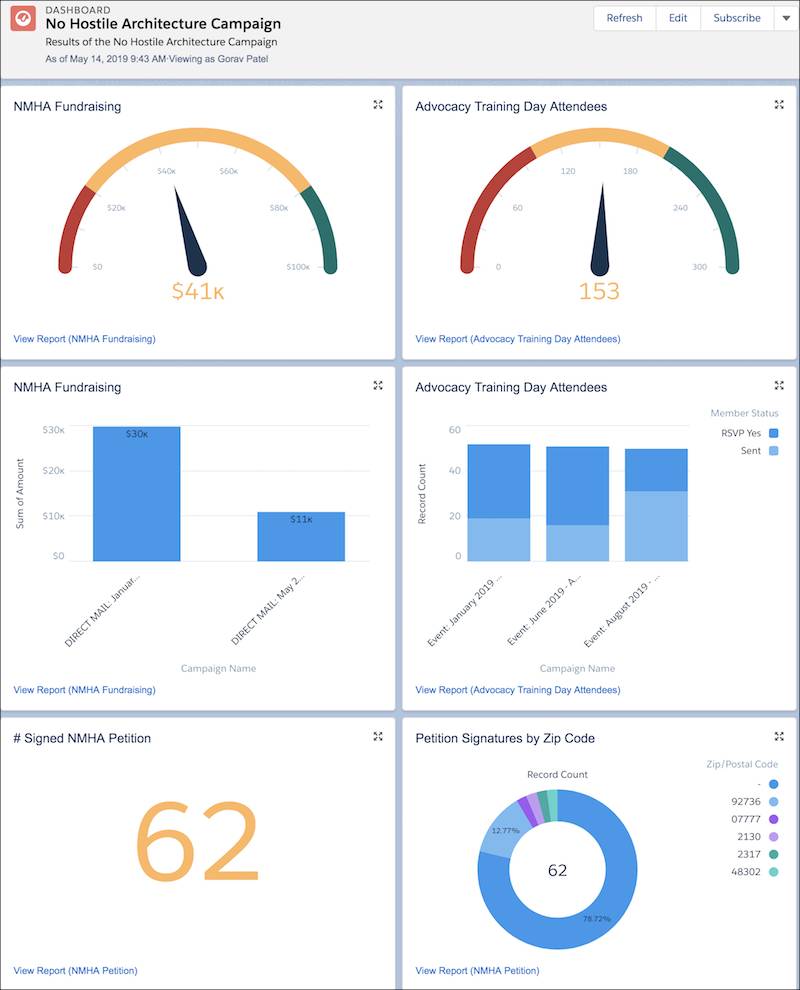 Michael can share his lovely new dashboard with anyone on the team. If he ever needs to adjust access, he can move the dashboard to another folder.
Reports and dashboards are ideal for collaborating on measured goals, like event attendance or donations raised, and it's easy to keep your team in the loop when you share your awesome data using Chatter feeds. When the awesome Salesforce admin at your organization turns on feed tracking, each report and dashboard features its own Chatter feed. This lets you share with an @mention to another team member directly on the report or dashboard. 
Michael wants to share his new dashboard with Cristina. This is how it's done:
1. From the navigation menu, click Dashboards and open the dashboard you want to share.
2. Click the collaborate button (

). If you don't see this button, your awesome admin may need to enable Feed Tracking on dashboards.

3. In the Chatter window, @mention someone. Michael writes a message and adds @Cristina so she gets a notification with a direct link to this dashboard.

This is what it looks like when Cristina gets the notification in her Chatter feed. She can click the No More Hostile Architecture link to go directly to the dashboard and leave any comments for Michael. Using Chatter ensures that her comments will always be in context.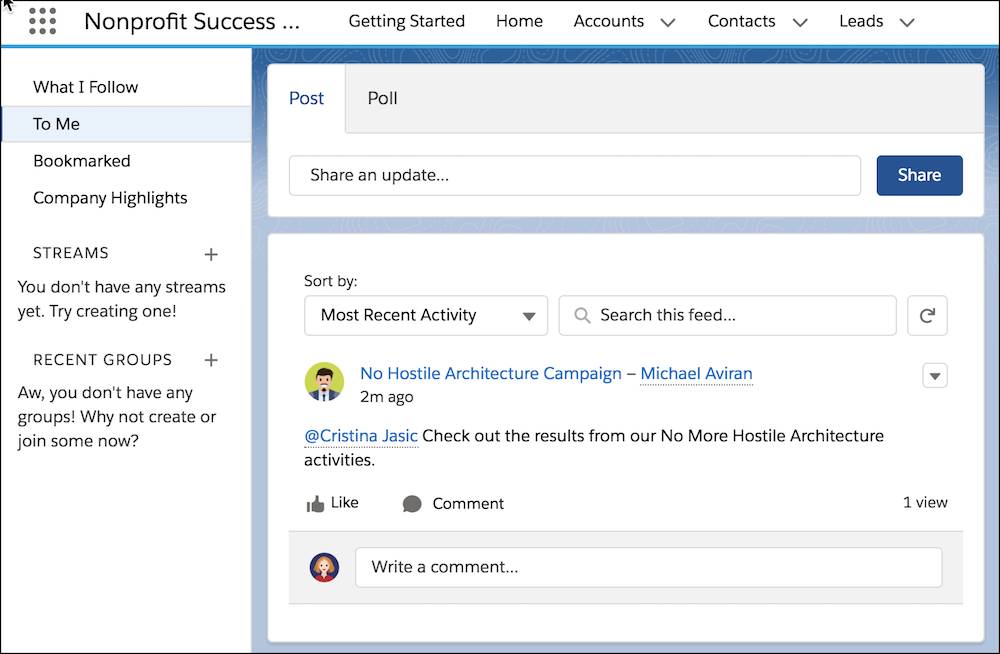 Updating a teammate with an @mention is great right after you create or edit a report or dashboard. @mention, however, is a manual process. If you want to get regular updates, you can set up a subscription so the report or dashboard arrives automatically to your email on a schedule you determine. But just like @mentions, you need to make sure your admin has turned this feature on for your organization.
Michael wants to make sure that Cristina has an updated version of this dashboard first thing every Monday morning, so she has the information she needs to start her week successfully. He suggests it, and she loves the idea. So thoughtful! He's really making a case for being hired as a permanent employee at No More Homelessness. 
Let's see how to subscribe to a dashboard (and you'd do the same thing for a report):
1. From the navigation menu, click the Dashboards tab.
2. Find a dashboard and click the arrow next in that row.
3. Select Subscribe from the menu.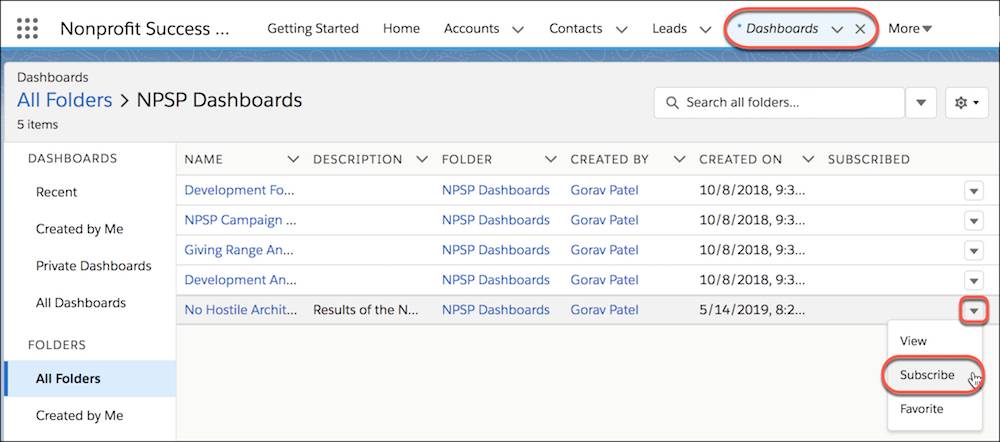 4. Set the subscription schedule. In this case, Cristina chooses weekly on Mondays at 8:00 AM. Optionally, she could also select Add conditions to this report if she wanted to receive an additional email when data in the report met her set conditions.
5. Click Save.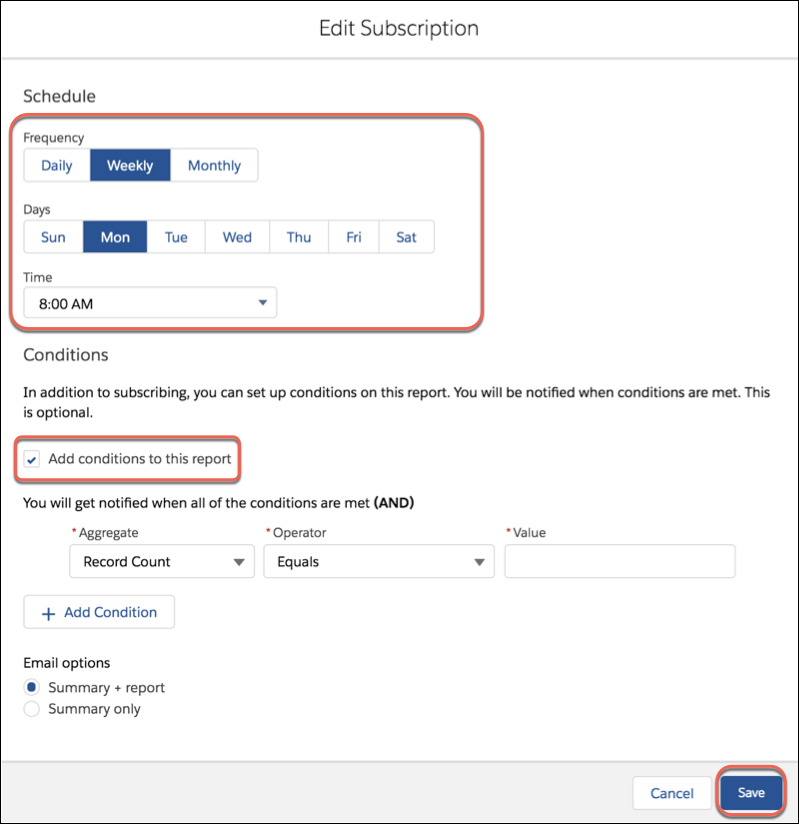 Now Cristina will receive an email every Monday with the updated dashboard and a link that goes directly to the dashboard itself if she needs to dig in further.
With Salesforce, Michael has been able to efficiently manage NMH's advocacy training events, giving Cristina time to focus on empowering the attendees as advocates for real solutions to homelessness. NPSP has proven itself to be the strong foundation NMH needed to manage their current activities and offer flexibility to grow as their marketing strategies become more sophisticated.