Analyze Campaign Data
Learning Objectives
After completing this unit, you'll be able to:
Find and interpret data on campaign records.
Name and use the three most common report types to analyze campaign data.
Explain how dashboards can help you put campaign results in context.
Measuring What Works
At No More Homelessness (NMH), our (fictional) nonprofit, the No More Hostile Architecture campaign is underway and going well.
Michael, the Communications Specialist at NMH, is seeing better-than-expected response to the advocacy training workshops.
Sofia, an NMH Development Associate, is using the No More Hostile Architecture campaign to test advocacy-focused fundraising appeals. She wants to determine if the issue can help surpass NMH's fundraising benchmarks, plus which of two direct mail messages resonate most with donors. She loves to run A/B tests like this, testing two messages against each other and using the winner to become more effective.
Michael and Sofia's progress demonstrates the two main purposes of using campaigns: tracking campaign members and tracking opportunities. You can analyze response rates, examine which campaigns are most effective in moving constituents to action, and report on the return on investment (ROI) of campaigns. Plus, campaign hierarchies allow you to view the results of an entire effort at once through roll-up data coming from child campaigns.
Let's follow Sofia as she analyzes her campaign results and uses reports and dashboards to be more effective. She explores the campaign record's data, then uses each of the three main report types that can give you insight into your campaigns.
Use Data on the Campaign Record
You can start your campaign analysis by looking at a single campaign record and its helpful summary information.
Sofia first wants to check out the A in her A/B test, a campaign named Direct Mail: Feb 2021 - NMHA A. She starts on the campaign record by checking the Campaign Member Information and Donation Information areas on the record.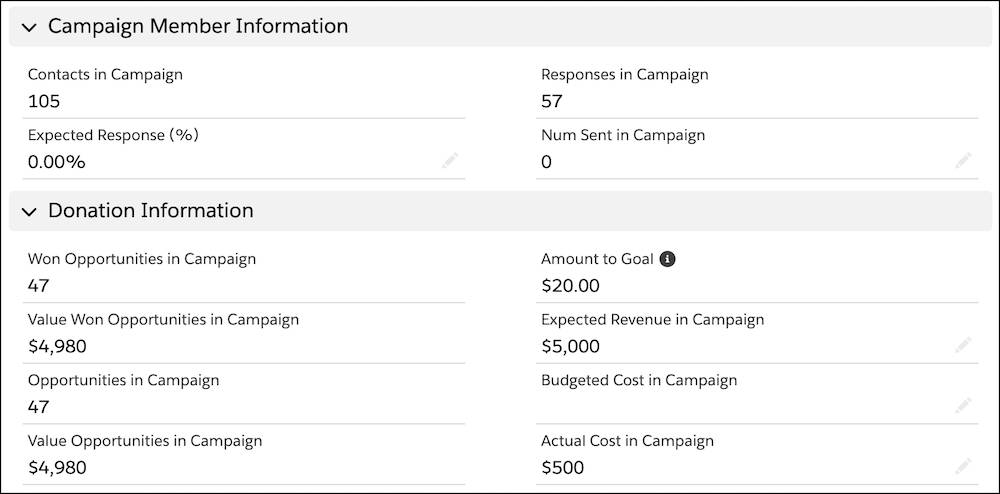 These roll-up fields tell us that there have been 47 donations totaling $4,980 (USD) towards our $5,000 goal. Almost there! 
If we want details, we can click into the Campaign Member or Opportunities related lists for more information.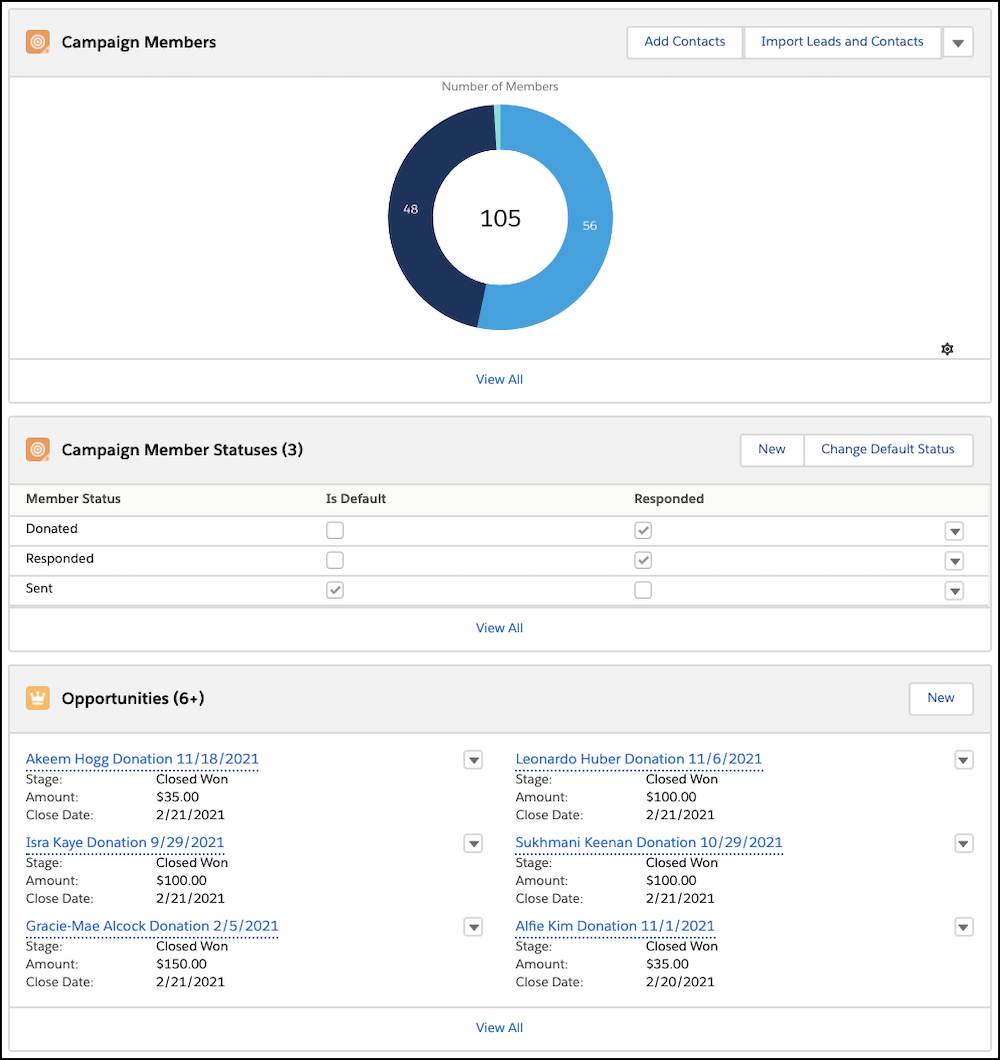 Using a Campaign Report Type
When you look at a single record, though, you're looking at only the results for that element of the campaign or a roll-up of the child campaigns under it. That doesn't help us compare two campaigns against each other.
In those cases — like when Sofia wants to check which campaign is winning her A/B test — you can use the Campaigns report type.
This report type is best for looking at high-level campaign metrics that come directly from campaign records. It allows you to group campaigns by Campaign Record Type (such as event or fundraising) and Campaign Type (like email or direct mail). Keep in mind that you can't get details about individual opportunities or campaign members from this type of report, though.
Let's follow along as Sofia creates her report.
Go to the Reports tab in Salesforce.
Click New Report.
Find and select the Campaigns report type.
Click Continue.
Enter the Outline and Filter settings to find the campaigns you are looking for.

In Group Rows under Outline, Sofia finds and selects Campaign Type to more easily find direct mail campaigns.
In Columns under Outline, Sofia finds and selects Contacts in Campaign, Responses in Campaign, Won Opportunities in Campaign, Value Opportunities in Campaign, Actual Cost in Campaign, and ROI.
In Filters, Sofia selects Show Me All Campaigns and then filters on Campaign Record Type equals Fundraising, and Active is True.

Click Run.
Sofia finds her competing A and B campaigns in the report and compares.

The Direct Mail: Feb 2021 - NMHA A campaign is the clear winner with a — wait for it —  739-percentage-point ROI advantage!
Now Sofia knows which message to send next.
Using the Campaigns with Campaign Members Report Type
Sofia knows what her next No More Hostile Architecture fundraising appeal will say and it's off to the direct-mail vendor for printing and sending.
But she's not ready to give up on those supporters who didn't give during the A/B test campaigns. She wants to send them a follow-up email to give them another chance to support the work.
She can use the Campaigns with Campaign Members report type to quickly find non-responders from her A/B test campaigns and add them to a follow-up email campaign.
This type of report is helpful in situations like this and when you want to:
Create a list of campaign members to send to your direct-mail vendor.
Send a list to an address verification service.
Add people from a previous campaign (or campaigns) to a new campaign.
Sofia has already created her follow-up campaign — Email: April 2021 - NMHA A/B Testing Followup — so now it's time to use the Campaigns with Campaign Members report type.
Go to the Reports tab in Salesforce.
Click New Report.
Find and select the Campaigns with Campaign Members report type, then click Continue.
Enter the Outline and Filter settings to find your campaigns. Sofia is looking for everyone who received a message from her previous campaigns but didn't respond, leaving their member status as the default status of Sent. This requires some filter logic to include anyone in campaign A or B who also has that member status.



Click Run to see the full report.
Click the menu dropdown arrow next to Edit () and click Save to save the report.
Once the report is saved, click the menu dropdown arrow () again and click Add to Campaign.



Select the campaign, member status, and existing campaign member settings for these campaign members and click Submit.
And, just like that, Sofia is ready for her follow-up email.
Using the Opportunities Report Type
The No More Hostile Architecture efforts are just a few of the campaigns that Sofia and the NMH development team are running this year. They want to dig deeper into all of their fundraising campaign results.
That is an example of when you want to use the Opportunities report type. This report is great for: 
Filtering your campaign results by close date, donation amount, average amount, maximum amount, etc., across campaigns and time periods. (But it is limited in that it can't pull in fields from the campaign record, such as Campaign Type.)
Researching questions about how income is distributed over the year, the average gift for each campaign, or the campaigns with the highest maximum gift.
Presenting a high-level overview of revenue by campaign by time period, say quarter.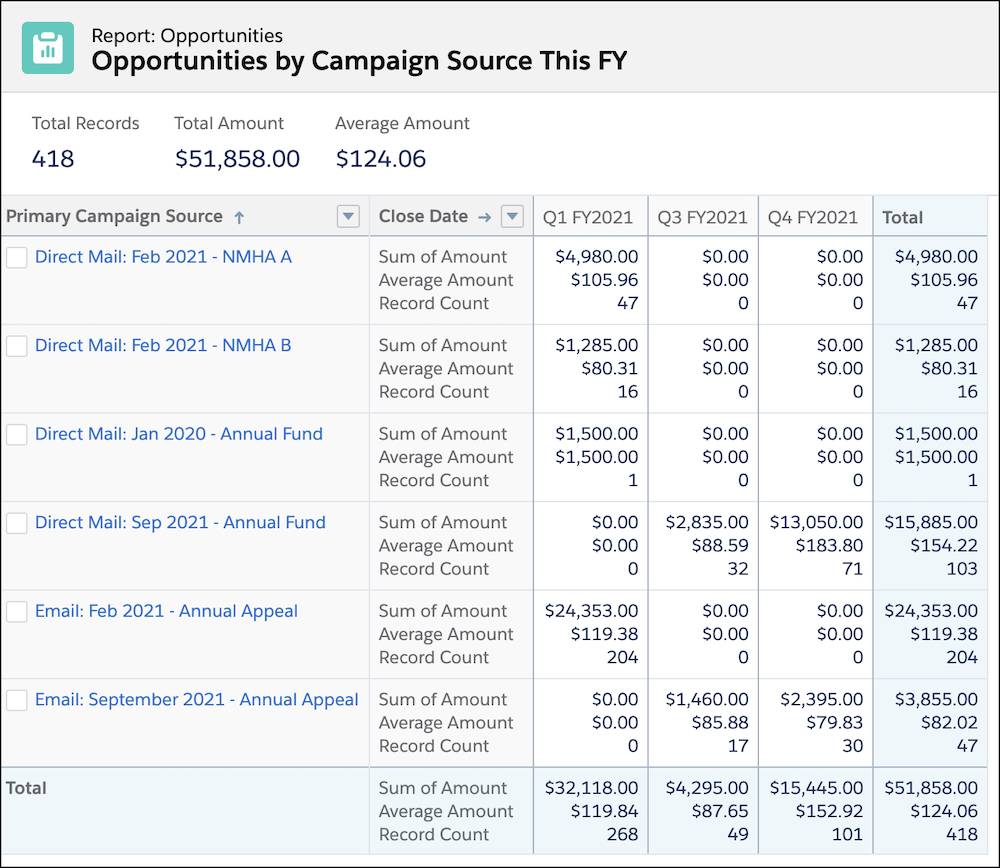 Plus, clicking on a quarter for any intersection of a campaign and a quarter can show details about specific donors, as well.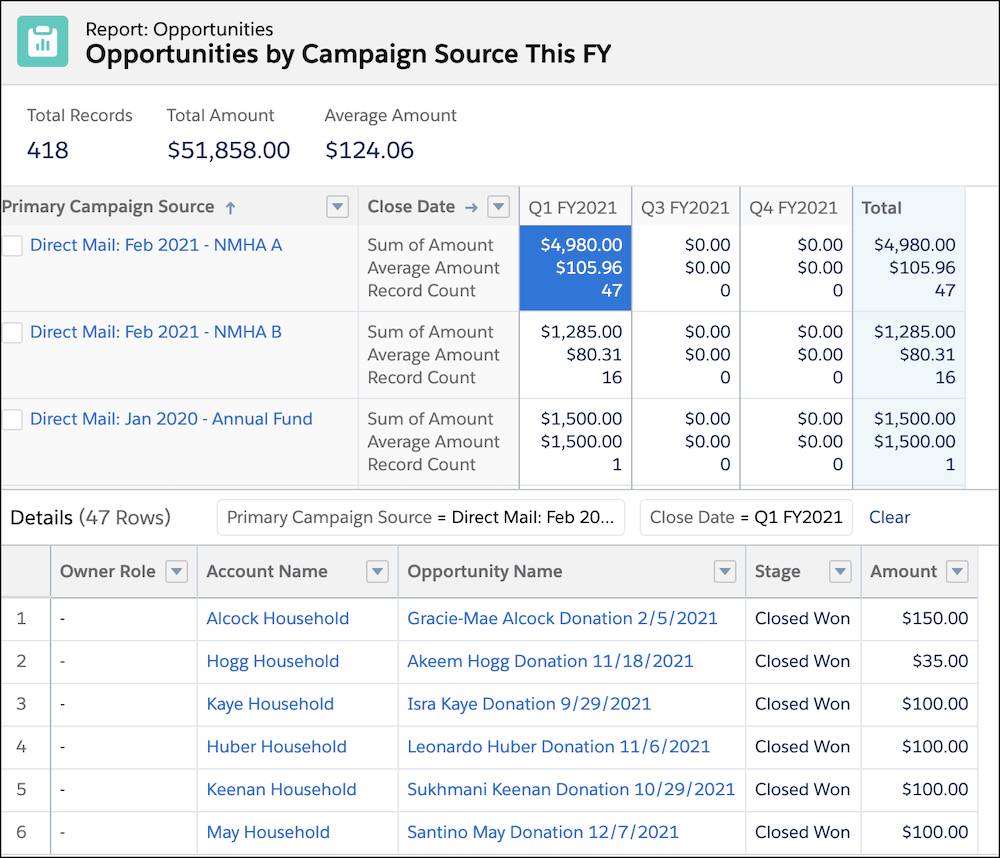 Opportunities is a report that Sofia and other development team staff look at frequently and it's worth exploring.
Bringing It All Together in a Dashboard
Individual reports are really useful, but do you know what's really cool? Bringing them together into dashboards.
Dashboards make it easy to display your campaign results in one place to follow progress as the responses and donations pour in. Once you set up a few reports like those we've reviewed in this unit, you can add them together into a dashboard, giving key team members a way to follow progress on many reports.
Plus, NPSP comes with the Campaign ROI Analysis dashboard right out of the box that you can use as-is or as a jumping-off point for your own dashboards.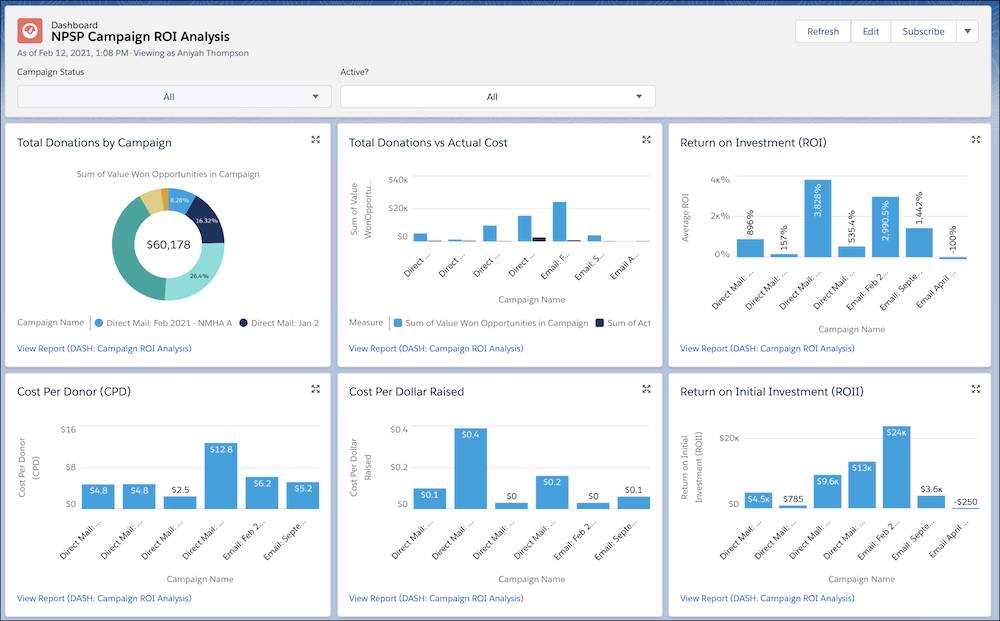 The Campaign at Its Close
It's this dashboard and others that allow Michael, Sofia, and the staff at NMH to follow the No More Hostile Architecture campaign and others.
Their effort was a success, by the way. The combination of advocacy and public awareness — all powered by fundraising, of course — mobilized the community and pressured the city council to drop its hostile architecture proposal. What's more, the council is talking with NMH and other community groups about better ways to address the root causes of homelessness.
The team was able to achieve all of this with hard work and a little bit of help from campaigns (organized in a clear hierarchy and analyzed through helpful reports, of course) in Salesforce.
But there's no time to rest on their laurels — or you on yours — it's time for the next campaign!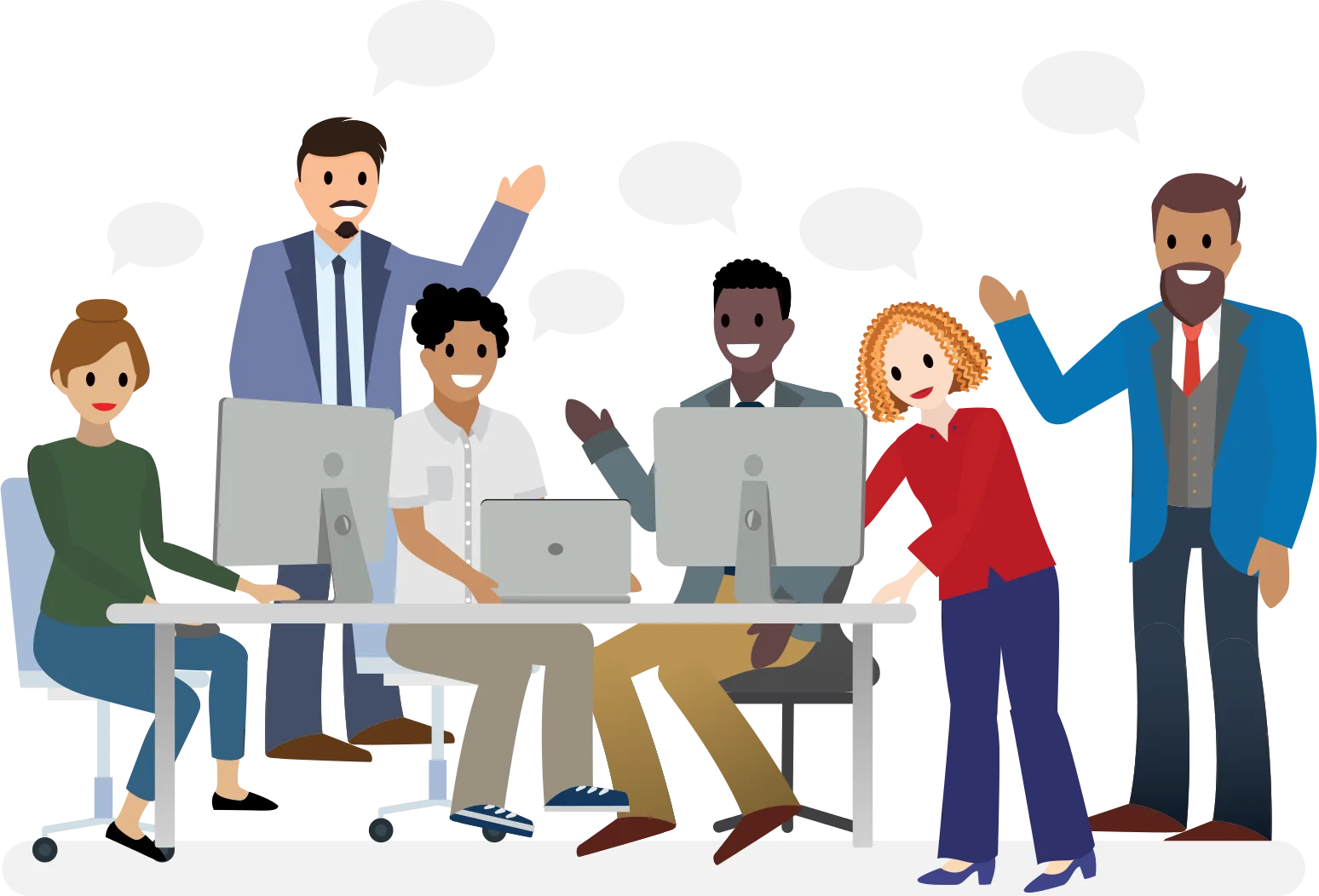 Resources