Learn the Customs of Your Customer
Learning Objectives
After completing this unit, you'll be able to:
Describe the benefits of creating a business process flow diagram.
Explain the importance of learning the language of the customer.
Recognize the danger of focusing only on responsive teams.
More Than What's on the Label
Did you know that you or someone you love might be a business analyst? It's true! Sure, the words "business analyst" may not be in your title, but it's entirely possible that you're already doing business analyst things in your day-to-day job. Maybe you're an admin responsible for adding functionality to your Salesforce instance. Or you're the type of person who sees an opportunity for process improvement, and you can't help but do something to make things better for your business. (Or you actually have "business analyst" in your title and you're here because the badge piqued your interest. Welcome!)
Whatever brought you here, and whatever your title is, the fact of the matter is that business analyst skills are found in a variety of roles. And like any skill set, learning a few pro tips can make a huge difference in how successfully you apply those skills.
In this badge you learn many things that skilled professional business analysts do to be successful in their projects and in their careers.
Go with the Flow
When you're called upon to improve a business process, one of your biggest challenges is to fully understand what your stakeholders are presently doing and why there's a need for improvement. You have to be a detective, working to ferret out the actual issues that are causing them pain. To do that, you need to shine a light on the current state of affairs, and you should do it very early in the project timeline.
One of the best ways to get a deep understanding of how your customer does things today is to create a business process map. This is a visual representation of every step and decision that's made to complete a process from start to finish. It is a great way to engage stakeholders, identify improvements and start the change process.
The UPN (universal process notation) is a simple way to document processes and it is easily understood by everyone in the meeting, and the drill down approach keeps the diagrams compact so they can be viewed online. This is important because increasingly workshops are remote to be able to include all the stakeholders, no matter where they are located.
The following diagram is a top level lead-to-cash process showing the activities, the handoffs and the people and systems involved. It literally gets everyone on the same page. Each of the activities can drill down to the next level of detail, and down and down to get to the correct level of detail.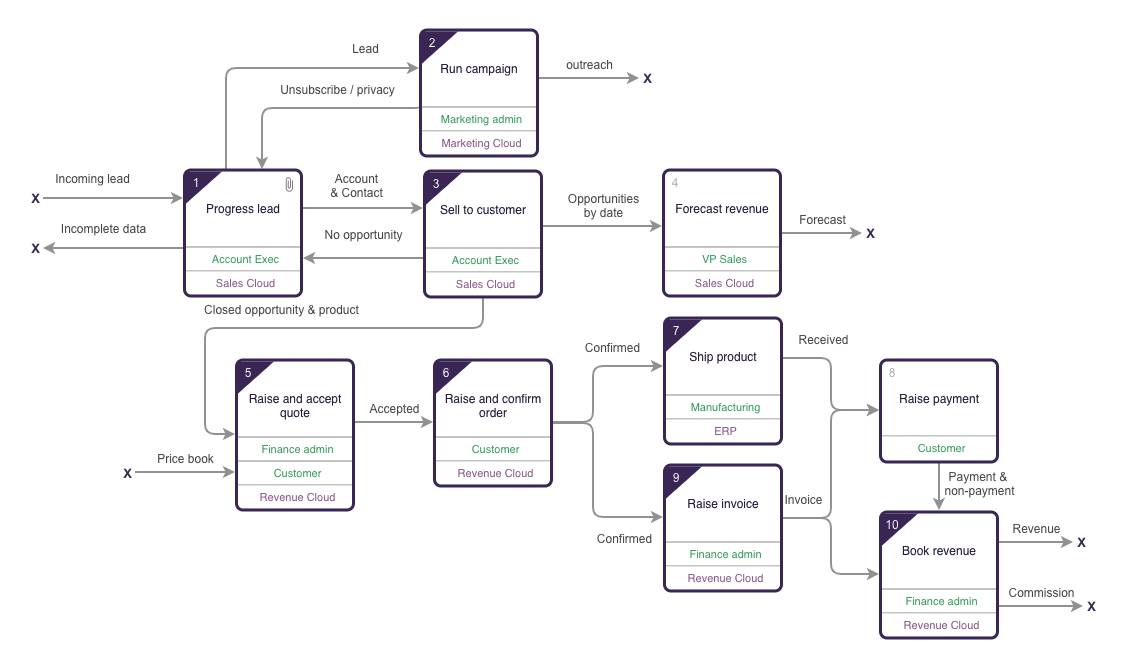 It's OK to start with an incomplete rough draft of the process flow diagram. Base your draft on intel you gather from existing documentation and training materials. You don't have to know everything at this point, you just need a frame to build upon later.
Next, meet with the people who know the process best: the actual workers who go through every step as part of their regular jobs. Have them fill in the gaps and correct mistakes in your draft. Encourage them to share the smallest of details so that your process flow is as complete as possible. Every little detail can hold within it an opportunity to change things for the better.
This exercise is often a rich source of information about what causes frustrations and inefficiencies with the current process. Use it as an opportunity to drive discussions about what's painful, and what might relieve that pain. It also offers you the chance to get clarification about industry-specific requirements that may be new to you.
Once you've finished fleshing out the process flow diagram, take the time to create a polished version. This diagram is part of your documentation and should be easy to reference throughout the project. It can serve as a starting point when eliciting business requirements. It can help you evaluate how potential solutions integrate with the current process. And finally, it is great to have a "before and after" set of process flow diagrams to illustrate how things have improved over the course of the project.
Learn the Language of the Locals
It should be no surprise that good listening skills are critical for success in your role as a business analyst. After all, a big part of your job is to understand what your customer hopes to accomplish with a new process. And you get a lot of that information through conversations. Those discussions are bound to include lingo specific to the customer's business. Be ready to pause a discussion to ask for a definition of the term. Then, start using it as soon as possible.
If you're able to learn the customer's language, and use it to verify what they're saying or asking for, you'll show a true devotion to understanding their business. This builds trust while preventing things from getting lost in translation. For example, use the language of the customer when you document business requirements. That way, anyone on their side can pick up a requirement, immediately grasp what's being asked for, and then contribute to a discussion without introducing potential misunderstandings.
Avoid Attention Traps
In your quest to understand your customer's business process and develop solutions to improve it, you'll interact with many different people throughout the organization. Some will be very responsive, they might even make the effort to reach out to you when they have an idea or concern. On the flip side, it's often challenging to get responses from busy people.
There's a danger to this scenario. Those who are easiest to work with may not be ones who can help with the most important priorities of the project. So you can mistakenly end up devoting too much time to lower priorities because it's easier to get information from responsive people. Also, no one likes being a pest. But in reality you have to put extra effort into following up with those who have the information you need, even if they seem less willing to share.
Connecting with the right people, using the right language, and using visual tools improve your chances in finding the information you need to best help your customer.
Resources