Promote Mobile Payment Methods
Learning Objectives
After completing this unit, you'll be able to:
Explain why it's important to offer alternative payment methods.
List two reasons why shoppers select a specific payment method.
Explain the benefit of one-touch checkout.
List three tips for mobile payment success.
Explain how to determine which mobile payment option to offer.
Introduction
Mobile payment methods are an embedded part of the mobile experience. We've seen a 14% increase in mobile orders on sites that accept payment from a mobile wallet.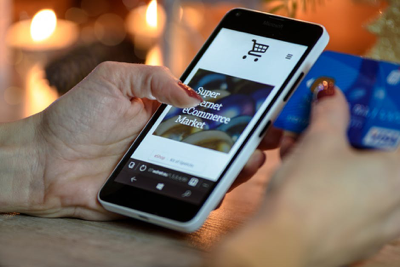 Why Offer an Alternate Payment Method?
In a survey of over 300 million shoppers from 37 countries, we saw that customers were looking for security, ease of use, and convenience. Nearly one-third of mobile shoppers now pay via a mobile wallet. When asked why they selected a specific payment method, 86% of them cited security, while 82% of them cited ease of use. One-touch checkout eliminates manual data entry during checkout—saving shoppers a ton of frustration.
This means that you need to implement payment processing with state-of-the-art encryption and best-in-class fraud prevention. Offload these essential tasks to a third party so that your payment processor can do the worrying. Offer shoppers a choice of payment method. Whether they're shopping online or in person, they want a payment method that gives a seamless, intuitive, and convenient experience.
Let's Talk About PayPal
Let's take a look at PayPal as an example. PayPal has 210 million active account holders and supports over 200 markets and 100 currencies. Account holders can transact online, on a mobile device, via an app, or in person. They can withdraw funds in 56 currencies and hold a balance in their account in 25 countries.
iOS Versus Android
Which mobile payment options should you consider? Take a look at your traffic. iOS dominates both mobile user share and mobile revenue share, with nearly 62% of mobile user share and 65% of mobile revenue share. How does the traffic on your site compare with these numbers?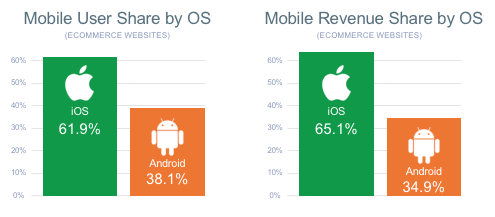 Mobile Payment Case Studies
Next, we'll look at some case studies from customers who implemented mobile payment options.
Customer Example 1
At one site, mobile phones drive 50% of their ecommerce traffic. They recognized the need for a fast mobile shopping experience, which led them to adopting Apple Pay. During the first weekend after their Apple Pay soft launch, shoppers placed 15% of all mobile orders through Apple Pay, with no promotion. Average order value held steady. The speedier transaction time didn't negatively impact order size. Their Apple Pay shoppers experienced less friction, with Apple Pay buyers spending 90 fewer seconds onsite than others. This was credited to a faster checkout process.
Customer Example 2
When another company implemented Apple Pay for the holidays, they saw great results, including a 28% conversion increase and a positive impact on controlling fraud.
Apple Pay was 2.6% of all orders and 6.01% of all iOS orders.
The mobile conversion rate for Apple users without Apple Pay was 1.26%, and 1.61% for those with Apple Pay, a conversion increase of about 27.72%! They also experienced a 90% improvement for Apple Pay orders for both chargebacks and fraud cancellation.
Don't Abandon UX Principles
When adding mobile payment to your site, always consider best practice UX principles. Many mobile wallet partners use standards, but you should insist on good mobile design principles. Button placement depends on your KPIs. Placement on the product detail page only makes sense for one item per order. Consider testing placement on specific page elements.
Mobile Payment Insights
Mobile payment implementation requires planning and attention to detail. Use these tips for mobile payment success.
Review which payment methods are right for your audience: geography, demographic segment, traffic split by device/operating system.
Work with your payment service provider (PSP) early and often for compatibility and implementation direction.
Review your fraud partner for compatibility.
Make sure your order management system can support the payment method.
If the customer info is coming from a third party, make sure it meets your address standards.
Review error messages provided to the customer.
Perform user acceptance tests (UAT) for all scenarios.
Next Steps
We looked at why it's important to offer alternative payment methods, and why shoppers select a specific payment method. We also learned about one-touch checkout and some cool tips for mobile payment success, and figured out which mobile payment method to offer. Mobile success is on its way!
Now let's check your storefront's operational holiday readiness.
Resources
Want to hear more about what Salesforce sees in our commerce future—and yours? Take a look at this blog post on Salesforce Predicts.