Learn Lessons From Last Year
Learning Objectives
After completing this unit, you'll be able to:
Explain the benefit of a holiday retrospective.
List three key changing holiday dynamics.
Explain the dynamics of shopper early engagement.
Explain the importance of mobile devices.
Describe the shift from Cyber Monday to Black Friday.
Introduction
Everyone knows that the holiday season is where retail money is made! Shoppers wait all year to save up for this important time. That's why you should always begin pre-holiday planning with a look back at the previous year. A retrospective helps:
Frame success metrics.
Identify new or continuous patterns of behavior.
Identify opportunities for improvement.
By the Numbers
Let's start by taking a look at last year's shopping trends by the numbers. At Salesforce B2C Commerce, we have access to the shopping activity of half a billion shoppers, making over 1 billion visits to sites across 30 countries. This data provides a unique view of the 2017 shopping story.
During the 2017 holiday season, it was clear that these online shopping dynamics were changing.
Timing—Early kickoff to "digital window shopping"
Black Friday—The digital shopping event of the season
Cyber Week and Cyber Monday—Be prepared to engage
Mobile—The most important digital channel
Recommendations—Customers choose personalized experiences
Digital Window and Early Kickoff
Shoppers kicked off their holiday spending sooner than ever before. As a consumer, you've probably noticed retailers filling your inbox with Cyber Week promos earlier each year. The data shows the onset of what we're calling "digital window shopping."
This means that shoppers checked out catalogs and deals early. Traffic growth rates were the highest at the start of the season, but that didn't translate into higher conversion. Shoppers filled their carts at higher rates than ever before, with Add to Cart rates jumping by 34% pre-cyber week.
But they waited to complete their purchases until the Cyber Week deals were in place.
Black Friday Versus Cyber Monday
Black Friday was once again the biggest digital shopping day of the year. Take a look at the data.
| | | |
| --- | --- | --- |
| Growth | Black Friday | Cyber Monday |
| 2016 | 21% | 10% |
| 2017 | 32% | 15% |
Numbers look great, but take another look. For both of the last 2 years, Cyber Monday's growth was less than half the total growth of Black Friday. This means that Black Friday has become the digital shopping event of the season. Shoppers are telling us that they don't have to wait until Cyber Monday to do their shopping.
Maybe we should start calling it Cyber Friday!
Early Engagement Within Cyber Week
Though shoppers didn't purchase as much prior to Cyber Week, Thanksgiving Day emerged as the fourth-largest shopping day of the season, with revenue growing 31% year-over-year with a 24% growth in traffic.
Though Cyber Week represented a third of the entire season's revenue, retailers had a hard time getting shoppers back online afterward. Half of all shopping was complete by December 3.
The lesson: Be prepared to engage shoppers as early as possible.
Mobile Milestones and Records
Shopper confidence in mobile ordering soared. Mobile devices drove the highest rate of all traffic ever, averaging 61% this past season. Orders placed over mobile set a record for mobile order share at 40%, while mobile wallet usage dramatically decreased payment experience friction.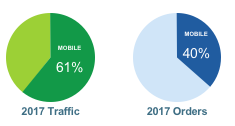 These are some of the 2017 highlights.
Christmas Day was a peak mobile day, where over half of all orders were placed from a phone.
For the first time, Thanksgiving-day orders from computers dropped below 50% of all orders.
Mobile wallets hit the mainstream with usage peaking at 40% on the Thursday and Friday before Christmas.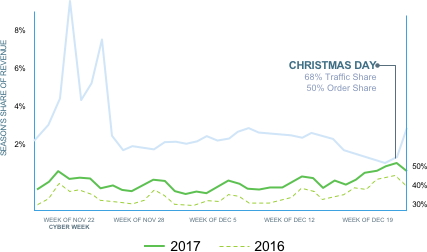 Personalization Wins
Personalization had a huge impact on holiday shopping. In 2017, 30% of Cyber Week revenue came from shoppers who clicked or tapped on product recommendations. This group was only 5% of the shopper base, making them the most productive segment.
Plan a Team Retrospective
Leveraging B2C Commerce data and insights is a great way to prepare for the upcoming holiday season, but you should also evaluate your unique storefront experience. Meet with your team to review these questions.
What didn't work during the holiday season?
Which campaign and promotional tactics were successful?
How can you align online experiences with offline or in-store experiences?
What can you do differently with merchandising, marketing, functionality, or retail ops?
What metrics can you use to determine holiday merchandising improvements?
Next Steps
Holiday shopping and timing dynamics are ever-changing. We learned a lot from looking back. We learned that Thanksgiving has become a major shopping event and that Black Friday is the digital shopping day of the year.
We also learned that you need to be ready for your shoppers early. And you need to plan for customers using mobile devices, which are critical to the shopping journey. There's also no doubt that key shoppers demand a personalized experience.
With these insights and your company's unique perspective, let's learn how to strategize holiday promotions.