Learn About the AWS Certified Cloud Practitioner Exam
Learning Objectives
After completing this unit, you'll be able to:
Describe the benefits of becoming AWS Certified.
Enroll to take the AWS Certified Cloud Practitioner exam.
Identify topics covered in the exam.
AWS Certified Cloud Practitioner
Now that you have arrived at the end of the Learn the AWS Cloud Practitioner Essentials trail, show off your knowledge and skills by becoming AWS Certified.
Obtaining the AWS Certified Cloud Practitioner certification helps you stand out and gain credibility for your overall understanding of the AWS Cloud. It's also a foundational AWS certification starting your journey toward achieving further Associate or Specialty certifications.
Certification Perks
When you pass the exam, you earn a digital badge you can showcase on your social media sites, resume, and email signature. You get a Credential ID that others can use to quickly verify your certification status online. Your certification is valid for 3 years.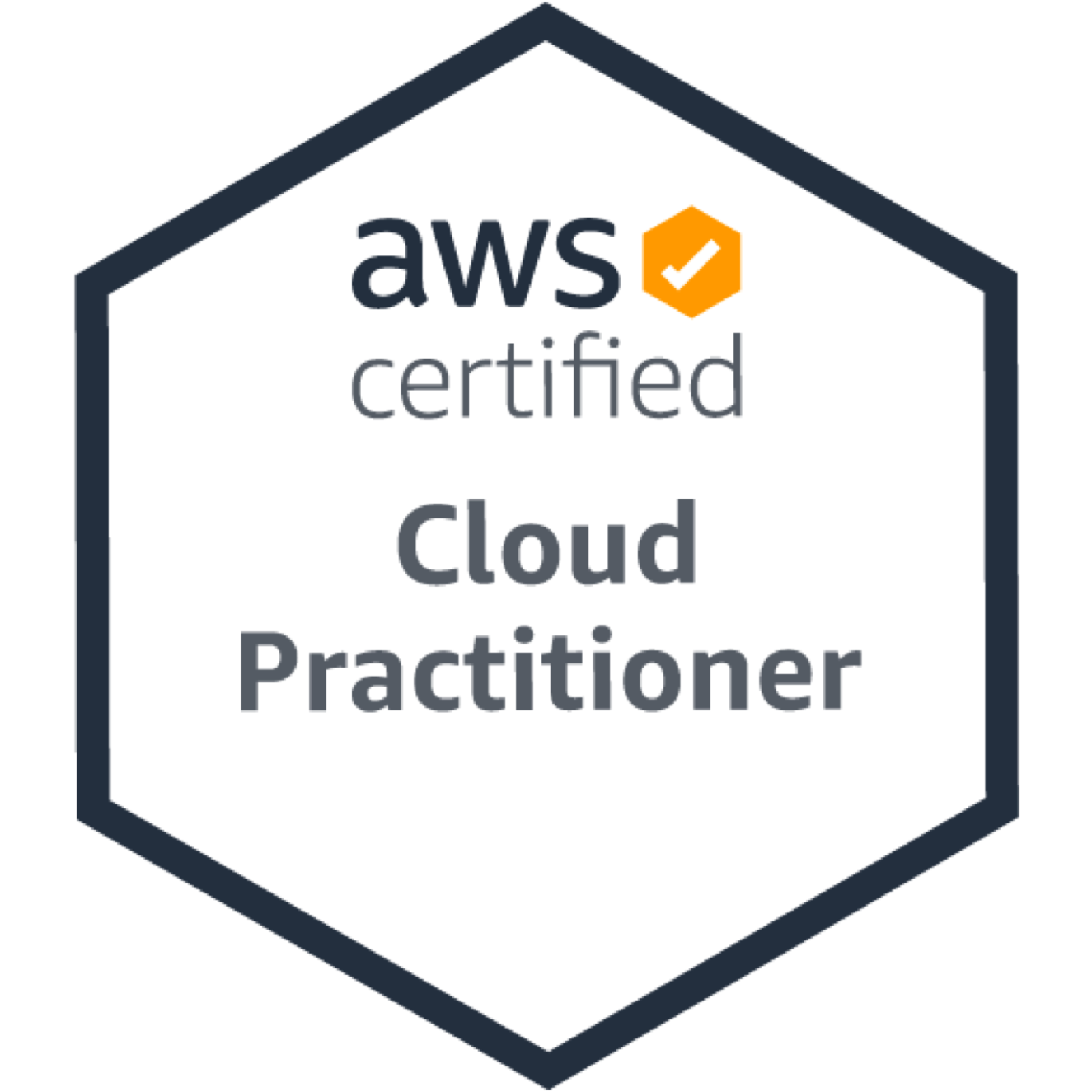 You also get a 50% discount voucher you can apply toward recertification or any other AWS certification exam, a free practice exam to prepare for your next AWS certification, access to exclusive AWS Certified merchandise, and  other perks.
Exam Logistics
The AWS Certified Cloud Practitioner exam can be taken online or at a certified testing facility. To schedule an exam:
Sign in to the  AWS Training and Certification site using your Amazon.com credentials.

If it's your first time logging in to the site, you will be asked to fill in profile information like your name, email address, preferred language, country, and time zone. You'll also be asked to agree to the AWS Customer Agreement. Click Save when done.
From there, you're prompted to create an AWS Certification account. Make sure the name you provide here is identical to the first and last name on your ID.
Once you enter the site, you will be asked to fill out additional demographic information like your address, your current role, and experience level.

Once you're logged in, choose Schedule New Exam to get started.
Here are some additional details about the exam.
| | |
| --- | --- |
| Recommended Experience | Six months of fundamental AWS Cloud and industry knowledge |
| Number of Questions | 65 |
| Passing Score | 70% or 700 out of 1,000 points |
| Time to Complete Exam | 90 minutes |
| Results | Received immediately; certification awarded within 5 business days |
| Cost | $100 USD |
| Location | Testing center, or online proctored exam in English |
| Restrictions | No hard-copy or online materials can be referenced during the exam |
| Language | Testing center exams are available in English, Japanese, Korean, and Simplified Chinese |
Exam Content
The exam consists of two types of questions.
Multiple-choice questions with one correct response and three distractors.
Multiple-response questions with two or more correct responses out of five or more options.
The exam covers the following main topics by percentage.
Cloud concepts: 28%
Security: 24%
Technology: 36%
Billing and pricing: 12%
Practice
In the next unit, we give you access to study resources and an opportunity to test your AWS Cloud knowledge.
Resources