Get Familiar with Architecture Diagrams
Learning Objectives 
After completing this unit, you'll be able to:
Describe what an architecture diagram is.
Explain the difference between a reference architecture diagram and a solution architecture diagram.
What Are Salesforce Architecture Diagrams?
A Salesforce architecture diagram shows you how different parts of a system or solution fit together. Architects, partners, and solution engineers use architecture diagrams to communicate important information about a proposed design with stakeholders and the project team.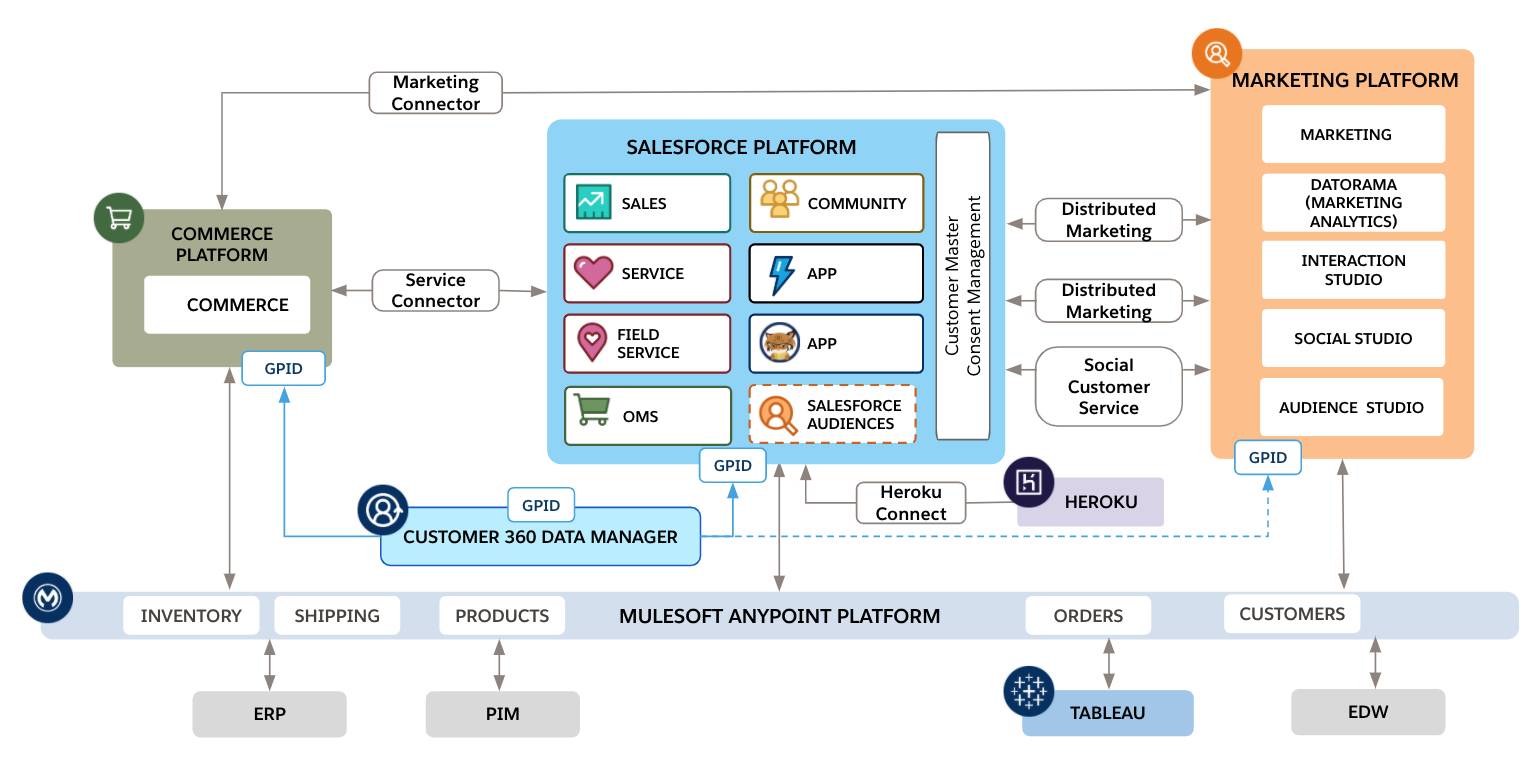 This diagram shows how different components within an integrated Salesforce solution communicate with each other. For example, apps and services on the Salesforce Platform connect to the Commerce Platform, helping create a unified, seamless experience for customers.
There are two types of architecture diagrams, with different levels of complexity. Who your audience is and what you're using the diagram for determines the type of diagram you use.
Let's take a closer look at each type of architecture diagram.
Salesforce Reference Architecture Diagrams
A Salesforce reference architecture diagram shows the high-level overview of a system's design. Reference architecture diagrams are often used to communicate the vision and strategy of a solution to business executives and stakeholders. These diagrams articulate best practices, identify patterns, and outline systems as they correlate with one another.  
Think of a reference architecture diagram as the visual blueprint of a house. The blueprint tells you there's a bathroom in the house, but it doesn't tell you the color of the sink, or describe the size of the tub. Those types of technical details can be found in a solution architecture diagram.
Salesforce Solution Architecture Diagrams
A Salesforce solution architecture diagram shows the technical tools needed to deliver a solution. Solution architecture diagrams are more prescriptive than reference architecture diagrams. They identify specific tools and resources that you need to deliver a solution. These types of diagrams enable delivery teams to discuss solutions and designs in greater detail. If a reference architecture diagram is the general blueprint that defines the layout of your house, the solution architecture diagram specifies the details for each room. 
Explore Salesforce Solution Kits
Whether you're just starting on the path of digital transformation or looking at the possibilities of integrating Salesforce products, we recommend you explore Salesforce solution kits. We've vetted every solution kit with Salesforce experts, and have outlined a recommended approach to achieve your connected experience vision. Within each kit, you'll discover architecture diagrams that help communicate the technical concepts and materials needed to deliver a solution for the use case. 
To learn more about Salesforce solution kits, check out the Salesforce Solution Kits: Quick Look module. 
Resources