Learn About Managing Payments with Checkout
Learning Objectives
After completing this unit, you'll be able to:
Describe how you can use Checkout in your day-to-day business.
Determine if an AppExchange solution is eligible for Checkout.
List the benefits of using Checkout.
What Is Checkout?
Buying online is a familiar process—search a website, select an item, submit payment, and you're done. Online retailers strive to make buying online user friendly, because that encourages their customers to make more purchases.
Checkout is a payment management tool that you use to make AppExchange purchases more user friendly. With Checkout, your customers can buy your solution with a credit card or bank transfer directly from your listing. 
Accurate and secure bank transfer and credit card processing are complex tasks, but we want payments to appear easy to your customers. That's where Checkout excels. Checkout is powered by Stripe, a global online payment processing company. Stripe provides the technological, fraud prevention, and banking infrastructure that ecommerce websites require. With Checkout and Stripe, buying is easy and transactions are fast and secure.
Along with Checkout, you can opt to use the Checkout Management App (CMA), a performance-tracking and email notification tool. The CMA is a dashboard app with graphics that partners can use to track the sales performance of the Checkout-enabled AppExchange solution. It's also an email notification system. You configure it to send automated emails to your customers and team members whenever important AppExchange activity occurs.  
Who Can Use Checkout?
We know that, as an AppExchange partner, you're eager to support credit card and bank transfer payments. But before you rush off to set up Checkout, make sure it's a good fit. 
Company Requirements
To use Checkout, your company must be based in a country that Stripe supports. Supported countries can accept payments from anywhere in the world. For the most up-to-date list of supported countries, check Stripe's website. If your country isn't listed, you can sign up to be notified when Stripe becomes available.
Payment Method Requirements
Automated Clearing House (ACH) bank transfers
ACH is an electronic network for financial transactions in the United States. If your company is based in the United States, you can receive ACH payments directly from customers with US bank accounts. The currency for ACH transactions is US dollars.
Single Euro Payments Area (SEPA) direct debits
SEPA is an initiative of the European Union to allow for the direct debiting of euro-denominated bank accounts within the SEPA region. If your company is based in Europe or the United States, you can accept SEPA direct debit payments from customers in countries within SEPA. The currency for all SEPA transactions is the euro.
Credit card transactions and multiple currencies
Partners across the globe can accept credit card payments. For credit card transactions, Stripe supports the use of multiple currencies. You can configure Stripe to accept a customer's payment in one currency and process your deposit in a different one.
Transaction Currency Requirements
When customers buy your solution, they send funds and you receive funds. Stripe must support the currency or currencies used to send and receive funds. You can find a list of supported currencies on the Stripe website. Stripe frequently adds new ones. If a currency isn't on the list today, there's a good chance it will be soon.
AppExchange Solution Requirements
To use Checkout, you must distribute your AppExchange solution as a managed package. To learn more about managed packages, see the AppExchange App Development module. 
When you list a solution on the AppExchange, you assign a pricing model—free, a free trial, or a paid listing. Checkout doesn't apply to free solutions, since they have no financial transaction to process. You can use Checkout with trial and paid listings. If your solution is a paid Lightning component, you're required to use Checkout.
Checkout Requirements

Your company


Must be based in a Stripe-supported country

Payment methods


For Automated Clearing House (ACH) bank transfers, your company must be US-based and your customers must pay with US bank accounts.
For SEPA direct debits, your company must be EU-based or US-based, and your customers must be within the SEPA area.
Credit card purchases are globally available to all companies and customers.

Transaction currency


The customer must pay with a Stripe-supported currency.
You must receive funds in a Stripe-supported currency.

Your AppExchange solution


Must be distributed as a managed package
Must not be an original equipment manufacturer (OEM) app
Must be a paid AppExchange listing
Now that you understand what's required to use Checkout, let's see how one of our partners determines if they can use Checkout. Winablement Corp. is a Salesforce AppExchange partner. Norman, Winablement's admin, is interested in using Checkout for an existing listing. Winablement is based in sunny Mallorca, Spain. Norman checks Stripe's website and sees that Spain is a supported country. Spain's default currency is the euro, which Stripe supports. So far, so good. Winablement sells its solution in a managed packaged and charges $25 per user per month. We've got good news for Norman: Winablement can use Checkout for this listing.
What if a company doesn't meet all the criteria? No problem. Instead of Checkout, the company uses the Channel Order App. See the module Channel Order App Basics for details. 
Customer Benefits
At Salesforce, we strive to give our partners and customers the best possible experience using our products. Checkout is one way we make AppExchange payments attractive to your customers. With Checkout, you can give your customers more payment method options and save them money.
Let's look at an example. Winablement Corp. markets its solutions worldwide. Winablement configures Checkout to accept credit card payments and to process the payments using the customer's local currency. 
An Australian customer wants to purchase Winablement's solution and pay with a credit card but worries about foreign-transaction fees. With Winablement's specific configuration, Stripe processes payments in Australian dollars and sends payments to Winablement in euros. Because customers pay with their native currency, there are no foreign transaction fees.
Partner Benefits
It's great that Checkout makes AppExchange purchases easier for your customers. But we aren't done singing its praises. The benefits are plentiful for partners, too. If you're looking for a more efficient way to complete AppExchange administrative tasks, you're really going to like Checkout. 
Payment Collection and Distribution
Checkout streamlines payment collection and distribution. It does all the work of collecting credit card and bank information, managing trial periods, and processing charges. The service automatically bills your customers' credit cards or debits your customers' bank accounts. It also automatically deposits the money into your bank account.
Automated Licensing
Checkout integrates with the License Management App (LMA) to fully automate licensing. It updates licenses in the LMA whenever you make subscription changes in Stripe or your customer makes subscription changes in AppExchange. To learn more about the LMA, see the module App Licensing and Customer Support for AppExchange.
Hands-Free Revenue Sharing
As a Salesforce partner, you agree that all purchases of your solution take place through AppExchange. You also agree to share revenue for every AppExchange solution you sell. Your revenue-sharing amount for Checkout payments is 15%. For credit card payments, there's also a 30¢ fee per transaction. Step away from your spreadsheets. Checkout automatically calculates and processes these amounts. That's as hands-free as it gets.
Expanded Payment Types
Checkout gives you the option to accept credit card and bank payments. That plays well with your customers' geographic and demographic payment preferences. In certain countries, bank transfers are the trusted online method. In others, it's credit card payments. Enable credit card payments and bank transfers and your customers can use their preferred method.
Reporting and Performance Tracking
But wait, there's more. The Checkout Management App makes it easy to track your AppExchange sales and revenue. A customizable dashboard lets you visualize app performance data, such as revenue per month.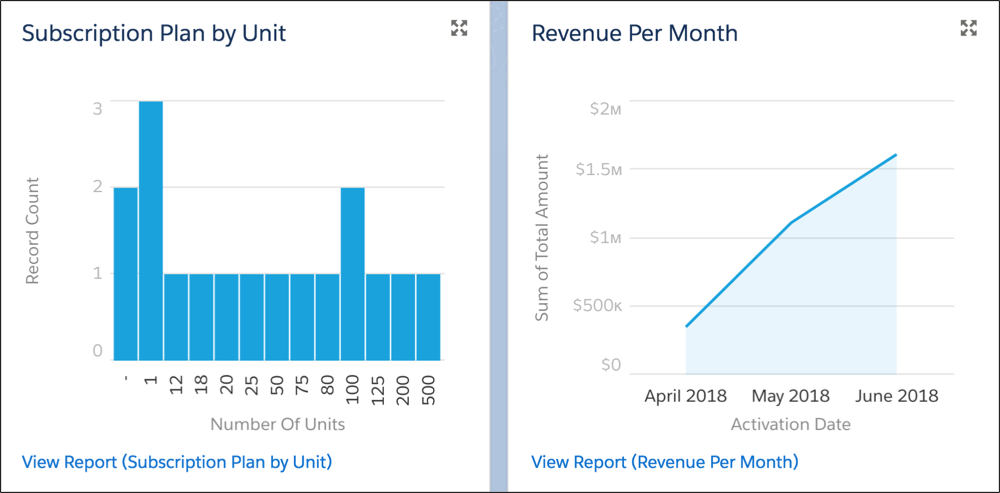 Activity Notifications
As a partner, you strive to encourage repeat business and loyal customers. How do you do that? It's all about communication. Timely communication helps build lasting relationships. The CMA is mission control for communication. 
You configure the CMA to send informative emails to your customers and team members whenever specific AppExchange events occur. Is a customer's subscription about to expire? Configure the CMA to send a reminder email with a link to renew. Does your sales department want to know about subscription changes? Tell them automatically with CMA notifications. Sharing actionable information has never been easier.
Checkout and the CMA are a low-overhead dynamic duo. They take care of everything from collecting customer payment info to sending thank-you emails. And both of them are simple to set up. You're well on your way to enjoying the benefits.
Resources