Engage Alumni with Community Cloud
After completing this unit, you'll be able to:
Assess Community functionality and needs.
Identify use cases for Communities.
Customize Communities for your Alumni.
As your day-to-day work has proven time and again, alumni engagement is not a one-way street. We've shown you how Salesforce facilitates communication to your constituents, but just as importantly, Salesforce gives your alumni the chance to reciprocate the connection by sharing feedback, getting involved in campus events and initiatives, and building their networks with Salesforce Communities.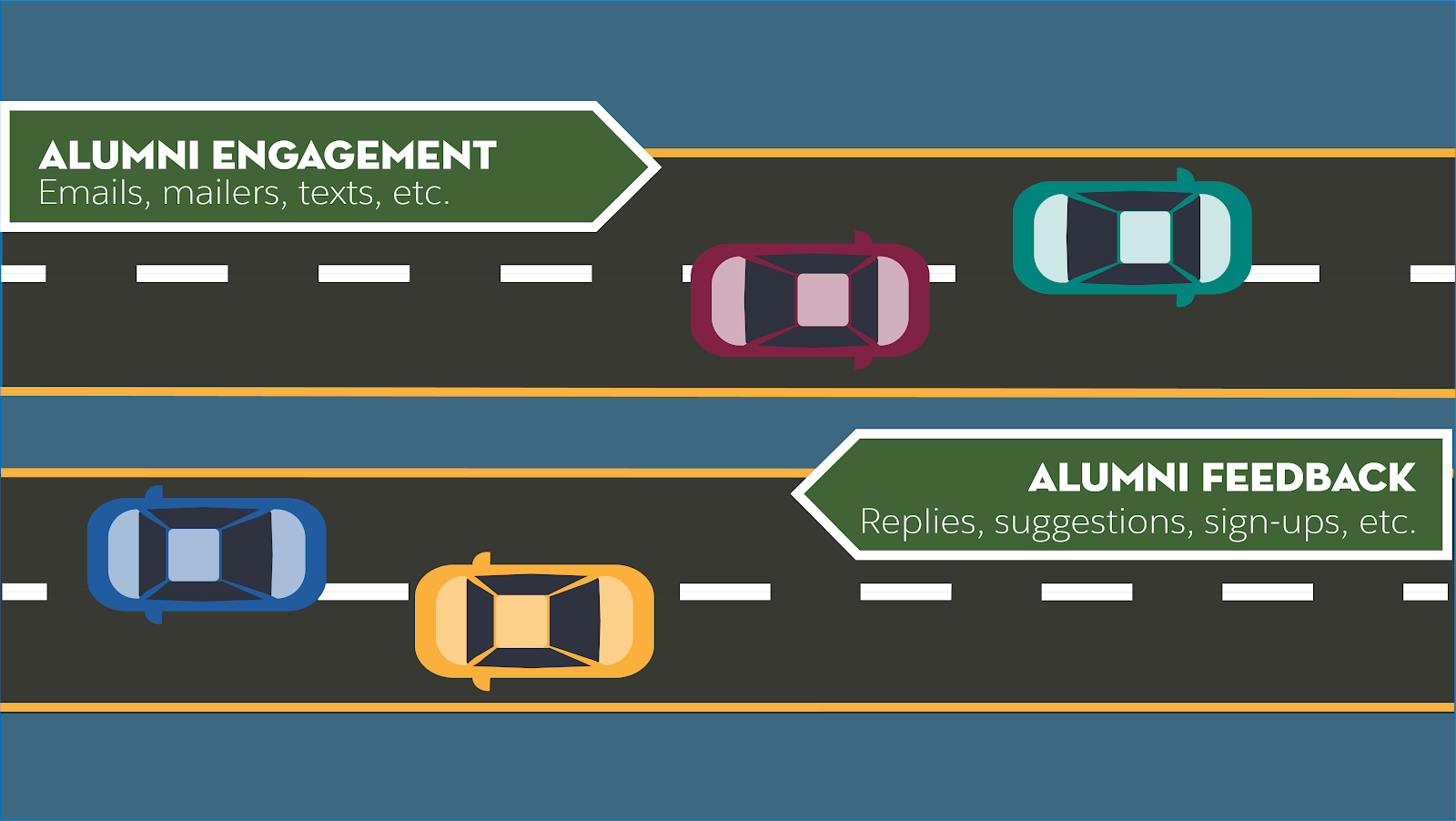 At its most basic level, a Salesforce Community is a portal for a group that shares a common goal or mission. Communities can be tailored to fit the needs of the groups they are created to serve. In the context of alumni relations, they offer a streamlined way for alumni to stay in touch with an institution's engagement team, as well as each other. Let's take a peek at how Cloudy College is leveraging Salesforce Communities.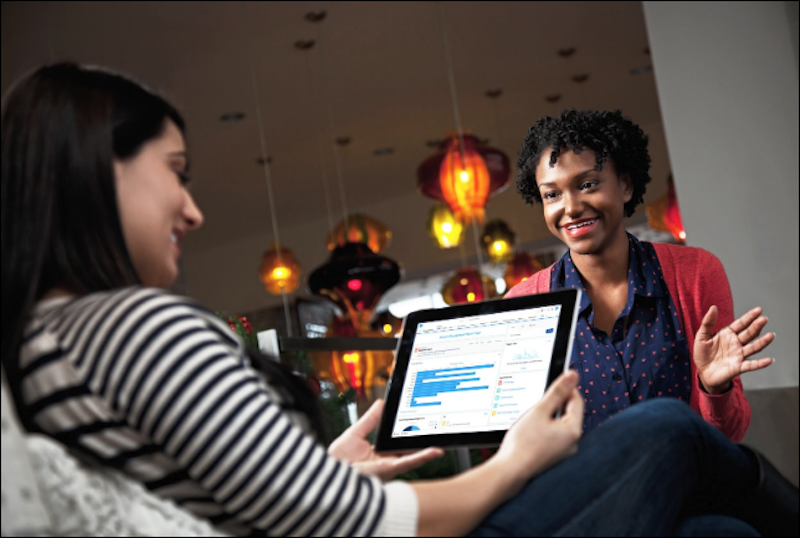 Virginia Cook is the VP of Development at Cloudy College. She reaches out to Ann Marie Garcia, Cloudy's Director of Alumni Engagement, with a request for a new Salesforce Community where alums can interact with each other and Ann Marie's team. Virginia believes providing Cloudy graduates with a place to connect with one another and learn more about campus initiatives will have a positive impact on her team's overall development efforts. The goal of this alumni community is to facilitate stronger relationships among members of the Cloudy alumni base and enhance the sense of personal connection between those alums and their alma mater.
Since Salesforce Communities can accommodate the needs of practically any group, the application is only really limited by your imagination. Here are just a few of the ways alumni engagement teams are utilizing communities to serve their alumni and the institution.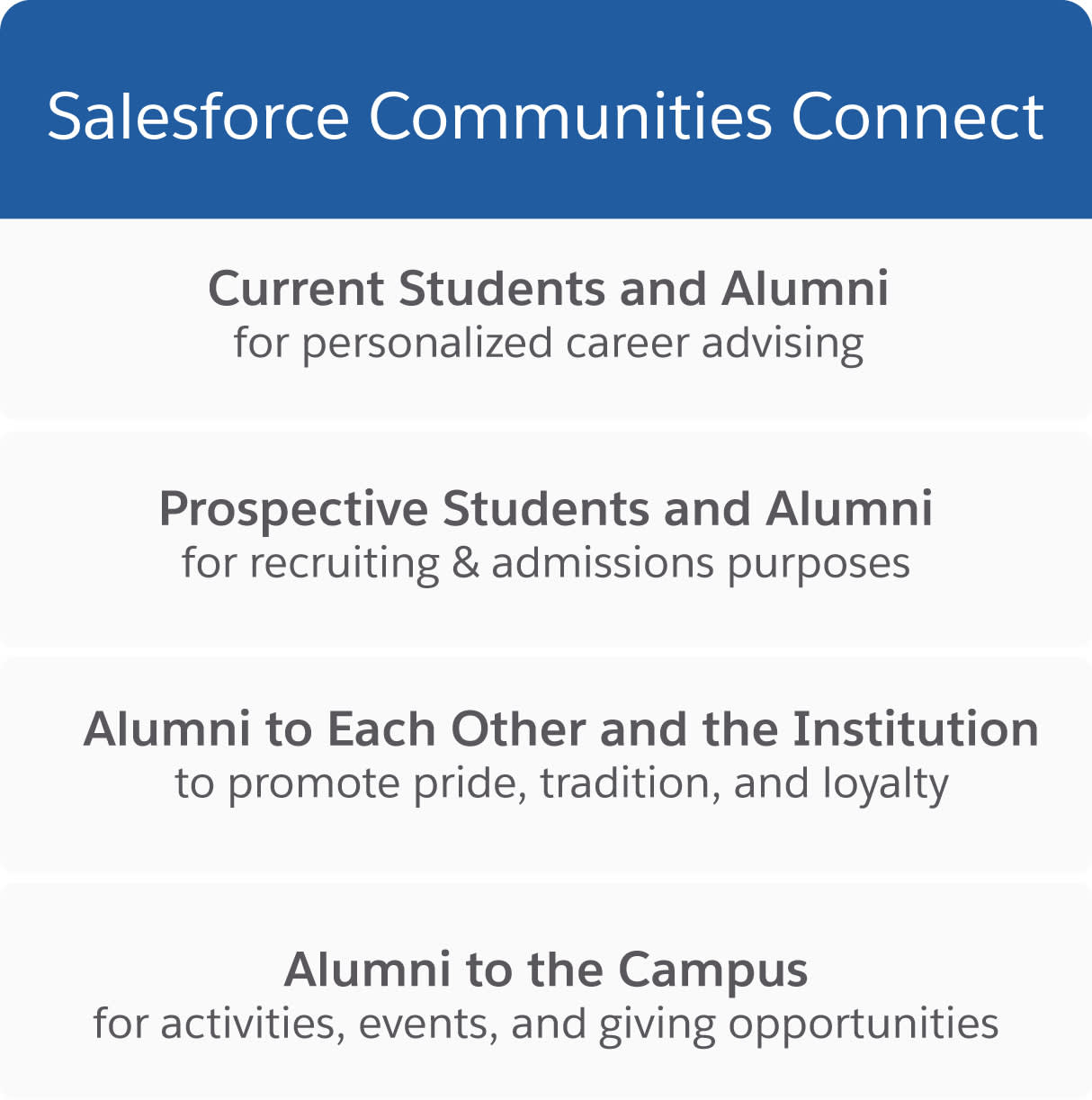 The takeaway here is that your Community doesn't have to look like anyone else's—it just needs to meet the requirements you set as success metrics. If you have a specific goal in mind and build your community to meet that goal, you're well on your way to enjoying the benefits of having happy and engaged community members.
Once you've identified the purpose of your community, there are some best practices you can implement to take it from pretty great to totally awesome. One of the most impactful things you can do is approach this digital gathering space as an IRL (in real life!) community.

In strong communities, people are constantly interacting with each other and exchanging information. Replicate this in your Salesforce Community by encouraging relevant, ongoing conversations. You can nurture these conversations by ensuring questions posed to the community are never left unanswered. Sometimes those answers come from your team and sometimes they come from other community members. Either way, it builds confidence in your community as a valuable resource when you keep the conversation going with as little lag as possible. You can also create the atmosphere and goodwill of an in-person community gathering by hosting fun events like Q&As and team challenges where members can chime in and share an experience regardless of their location.


Another way to make your community a hotspot is to use it to solicit feedback from members, and then (this is where it gets really good!) implement that feedback when it's sound. Post survey links, use the Poll feature in Chatter (yep, Chatter is available in Communities), start Discussions, and monitor posts for unsolicited feedback, too. By encouraging this dialogue and sharing updates about changes or decisions made as a direct result of members' suggestions, you build trust and show your community members that their opinions matter and that they are an integral part of the institution.

Establishing your community as a home base for relevant information and documents deepens your members' connection to the space as well. And helping your community members help themselves saves your team time, too! Create Groups for specific events and topics where members can find key dates, event registration links, and campus news, among other details. Curate file repositories to make popular forms and documents easy to access and download. You can also use Salesforce Knowledge to create a database of articles that answer FAQs or provide step-by-step directions to help your members complete complicated processes successfully. Creating Topics in Salesforce Knowledge lets you group articles by topic and/or keywords so your help content is easily searchable, eliminating the dreaded never-ending scrolling and clicking routine.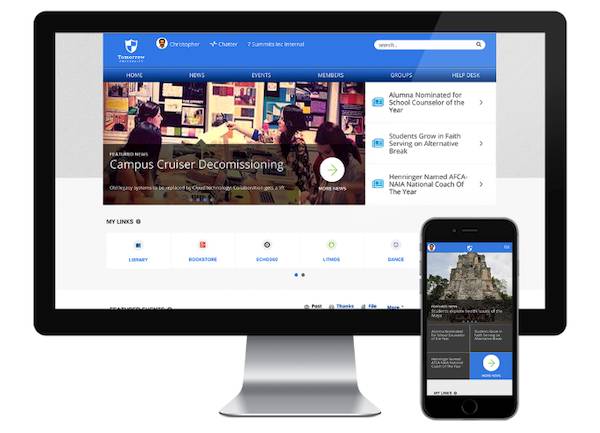 Salesforce provides all the tools you need to build a community that's informative, easy to navigate, and fun to visit. You'll be amazed at how quickly your constituents engage.