Automate and Personalize Alumni Outreach
Learning Objectives
After completing this unit, you'll be able to:
Leverage campaigns for more effective outreach.
Assess your marketing automation needs.
Identify how marketing automation works in conjunction with campaigns.
Now that you know your way around EDA, it's time to get a bit more personal. Salesforce has many marketing tools that help you streamline your team's alumni and volunteer outreach, making each communication personal and relevant. Let's take a closer look.
What Are Salesforce Campaigns and How Do You Use Them?
You may be familiar with the term campaign as it relates to a capital campaign, for example. But in Salesforce, it means something a bit different. A campaign is an engagement initiative that you can plan, manage, and track within Salesforce. The campaigns object can be used to track any outbound marketing project that asks a contact for a response. Want to send a series of emails to recruit alumni volunteers for an upcoming admissions event? Campaigns can do that. Looking to distribute direct mail to promote this year's reunion weekend? You guessed it—campaigns can do that, too.

Alright, so campaigns are a great way to group people together in Salesforce. That's impactful, but what if you want to engage with groups of contacts in multiple ways as part of a broader effort? That's where the campaign hierarchies come into play.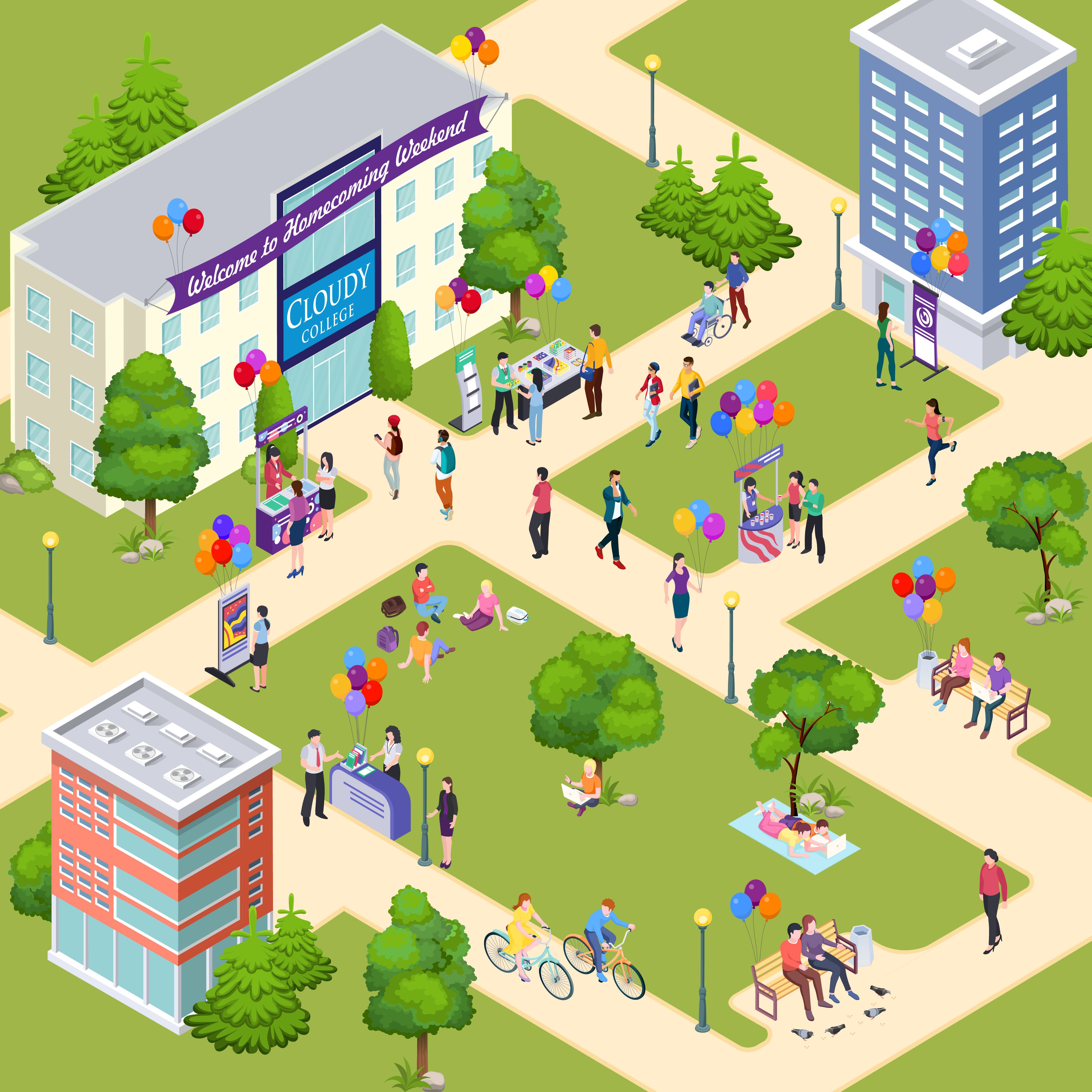 As you'll recall from the previous unit, planning for Cloudy College's Homecoming weekend is in full swing. The communication strategy the alumni engagement team has in place includes a direct mail brochure, a save the date email, and an email with an e-brochure and video. Campaign hierarchies allow your team to link each individual outreach effort to the overarching Homecoming celebration. They create a sightline into the success of the top-level initiative as well as the efficacy of each smaller engagement effort meant to support it.

Campaigns are the gift that keeps on giving when it comes to organization and analysis of your alumni engagement endeavors. Once your campaigns are entered and linked, you can run reports and create dashboards that provide a visual representation of how your work is impacting achievement of your overall goals. You can compare response rates on different outreach methods, see ROI vs. costs, and so on. When you're empowered with data that shows where you're crushing it and where you may need to make some changes, the possibilities for stronger engagement are limitless. When you're ready to start creating campaigns, check out the Major Donor Relationship Management with Education Cloud module to see a step-by-step for creating a new campaign and adding campaign members. We linked that module in the Resources section at the end of this unit.
Marketing Automation for the Win
Maybe you're thinking marketing automation isn't relevant to folks who aren't members of the institution's marketing team. The truth is, marketing = engagement. So if you like the idea of automating redundant, time-consuming tasks so your team has more time to do the stuff that really puts your collective skills to use, keep reading.

Salesforce's marketing automation tools allow you to automate activities like emails, forms, landing pages, and nurture programs. These types of communication are critical to staying connected to your constituent base with timely and consistent outreach. They can also be incredibly tedious to do on your own. Salesforce has two options for marketing automation: Marketing Cloud and Pardot. Both empower you to stay engaged with your contacts without spending all day sending emails and posting messages, but each has its own unique qualities. Let's do a little compare and contrast, shall we?
What Salesforce's marketing automation tools do
Marketing Cloud and Pardot both have the capability to manage email and social channels
Marketing Cloud can send SMS messages and display advertisements
Pardot provides scoring and grading features that allow you to figure out which donors are most interested and a good fit for your institution
How Salesforce's marketing automation tools work
Marketing Cloud is extremely flexible and can be configured very precisely to fit the exact needs of an institution. However, that flexibility is a byproduct of increased complexity
Pardot is generally regarded as more intuitive and user-friendly, but is less customizable
Check out the diagram below to see more similarities and differences between the tools.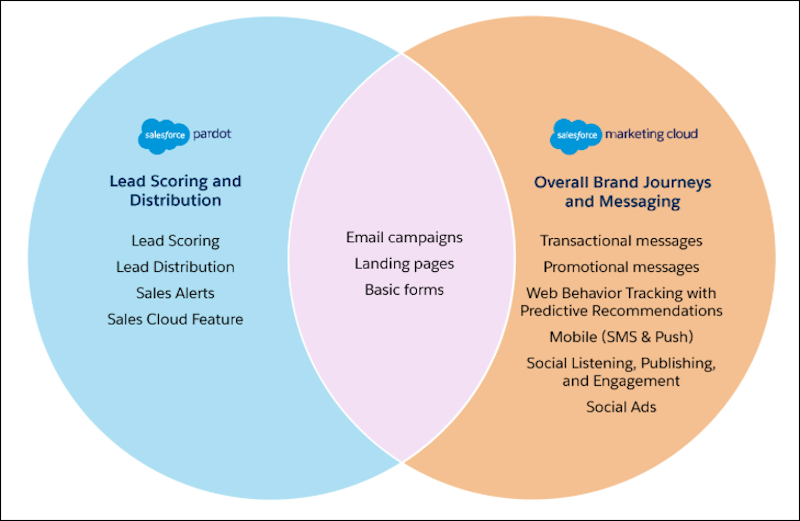 So how do you choose? It's a great question, and one to be considered with care. While there are many deciding factors that may be unique to your school or team, here are some questions to consider.
What is the scope and timeline of your project?
What is your team's bandwidth? Do you have a Salesforce admin on staff?
What are your outreach goals?
Having a strong sense of your answers to these questions is great prep for a deeper conversation about selecting the Salesforce marketing automation tool that's right for you.

What if your analysis of your institution's marketing automation needs doesn't lead you to a definitive answer of either Pardot or Marketing Cloud but instead to the question, "Can we use both?" The answer is yes.

Some institutions may find Pardot to be the right fit for the initial marketing phases such as engagement and lead nurturing, and Marketing Cloud to be the right tool to manage relationships with constituents once they've been converted. Some institutions, particularly large ones, might be good candidates to use Marketing Cloud to introduce themselves to their constituent audiences, and then rely on Pardot's engagement and lead nurturing features, for example. If you think a mix of both solutions may be the right path for your institution there are some additional questions to consider.
What integration model will you use?
Who are your key product users?
Do you have a product champion for each product?
These kinds of questions may be best answered in collaboration with a Salesforce partner. Check out the Resources section of this unit for more information regarding finding and selecting a Salesforce partner or to further explore the concept of using both Pardot and Marketing Cloud at your institution. 
Put it All Together
Great news! Regardless of which tool ends up being the best fit for your team, Salesforce campaigns are compatible. When they join forces with analysis, campaigns and marketing automation reveal their full potential. Campaigns hold and organize all your data; marketing automation is the key to execution.

Once you've configured your automation tool to send those promotional emails or texts, post on social media, develop segmented lists of your most receptive donors, and so on, your campaign reports and dashboards let you see the success metrics of your efforts. Blending your marketing automation data with Salesforce data helps you see the whole picture of your alumni engagement with better, more complete reporting.

We discuss Salesforce reports and dashboards in more detail later on. But first, we introduce you to Salesforce Communities and explain how they support and advance your alumni engagement efforts. See you in the next unit!
Resources