Discover Age of Makers
Learning Objectives
After completing this unit, you'll be able to:
Describe the purpose and history of the Age of Makers game.
Explain how to access the Age of Makers game.
The Game that Can Change The World
Age of Makers is a game that's designed to inspire youth around the globe to make their communities and our world more equitable and sustainable. Using technology, they develop solutions to real-world problems. And through music, they amplify their voices to call for better social conditions. You might be wondering how a game, which is usually associated with play and fun, could have such an impact. Well, with dedicated volunteers like you partnering with educators to inspire youth locally, the magic happens.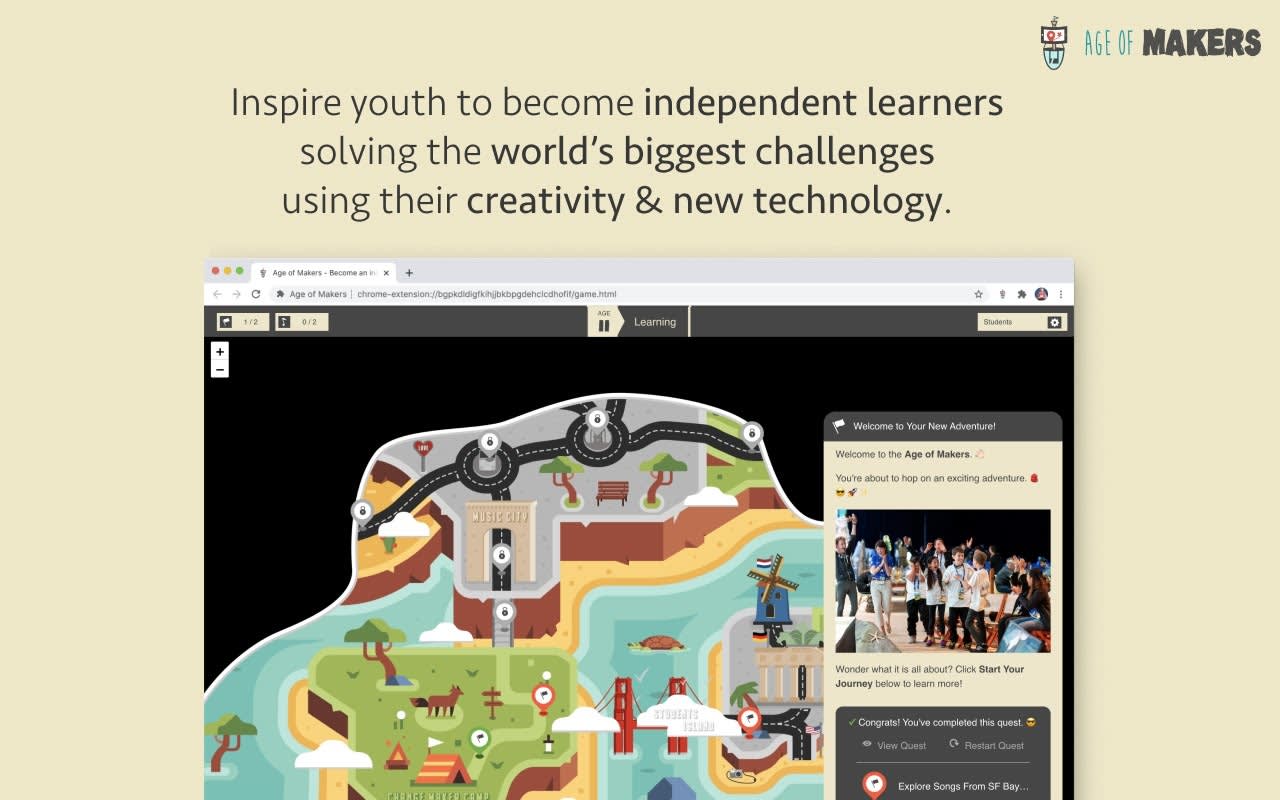 We've seen the magic firsthand. Hundreds of middle and high school students around the world have already used the Age of Makers game. They've made 3D printed electronic prototypes to address global issues, such as climate change, gender inequalities, and ocean pollution.  They've also produced songs that advocate for more access to free, quality education, fight racism, and address other pressing challenges that our world faces today.
Are you wondering how that's even possible? If doing all that we've described with a game sounds outlandish to you, that's understandable. It's a very unique approach to education. But don't worry, by the end of this module, you'll be an Age of Makers fan and expert!
Okay, Tell Me More About the Age of Makers Game
Age of Makers is free and open source. Everybody in the world can use it without spending a penny. And the source code is available on GitHub for developers who want to contribute to the initiative. 
To allow you and others to join us in this global movement, Salesforce made Age of Makers as accessible and transparent as possible. The game works as a Google Chrome extension that you can install on any laptop, including Mac, PC and Chromebook. 
The game empowers youth to use new skills to positively impact the world around them. Participants navigate a virtual world that guides them through their learnings, as they gain real-life skills, such as coding, 3D printing, and music production. 
As a teaser to what this unique student experience looks like, here's a sneak peek of the game.
By playing Age of Makers, youth are empowered to challenge the status quo and inspired to use their sense of purpose as a motivator throughout their journey in life. We call this Purpose-based Learning. We'll tell you more about it in the next unit.
Volunteers and Educators Coming Together
The game itself is only part of the equation. Salesforce has built programs around it, so that volunteers like you can partner with local educators to run multi-week activities. Age of Makers provides these programs.
Music for Change: a social-impact, music-production, and digital-literacy curriculum that gives young people from around the world a voice for social justice.
Future Trailblazer Challenge: a maker curriculum that challenges students to solve one of the United Nations's Sustainable Development Goals (SDGs) using cutting-edge technologies, like 3D printing or micro:bits (small programmable electronic devices).
The Music for Change and Future Trailblazer Challenge programs employ a mix of different types of engagement with the students.
In-person or online live sessions are led by educators and volunteers. It's a unique opportunity for students to engage with experienced professionals to talk about real-life challenges and work together to build a better future.
Independent learning driven by the students using the Age of Makers game in between the live sessions. With a computer and internet access, students can follow the guided curriculum at their own pace, developing skills and motivation to change the world.
Each program comes with its own schedule. For example, here's the timeline for the Music for Change program.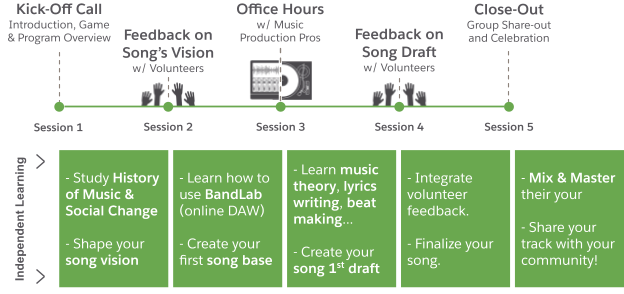 Creation of the Age of Makers Game
Age of Makers was born from a wild idea from a Salesforce Volunteer, Kim Chouard, and an incredible teacher, Callen Taylor, from Visitacion Valley Middle School (VVMS) in San Francisco. Back in 2015, Kim and Callen started a Maker club in the school's library to provide students with a creative space to learn technology to impact their community. 
Within three years, the library was transformed into a professional Maker's space, with 3D printers running in the background, a student-created photo booth, and even a slime-based piano. To scale the program globally, Kim joined Salesforce's Philanthropy team and the Age of Makers game was created. 
Built for and by Students
While much of the Age of Makers game code was developed in-house at Salesforce, some cool features were developed by students and former participants:
Costin Smilovici and DeAngelo Dove from CodeNation created the onboarding experience of the game, as well as the dynamic game map and some design elements.
Jeremy Samuel and Usean Redic from The Hidden Genius Project made an interactive piano quiz and created the Music Theory videos.
As you explore the game, you'll encounter many more student creations, including prototypes and songs.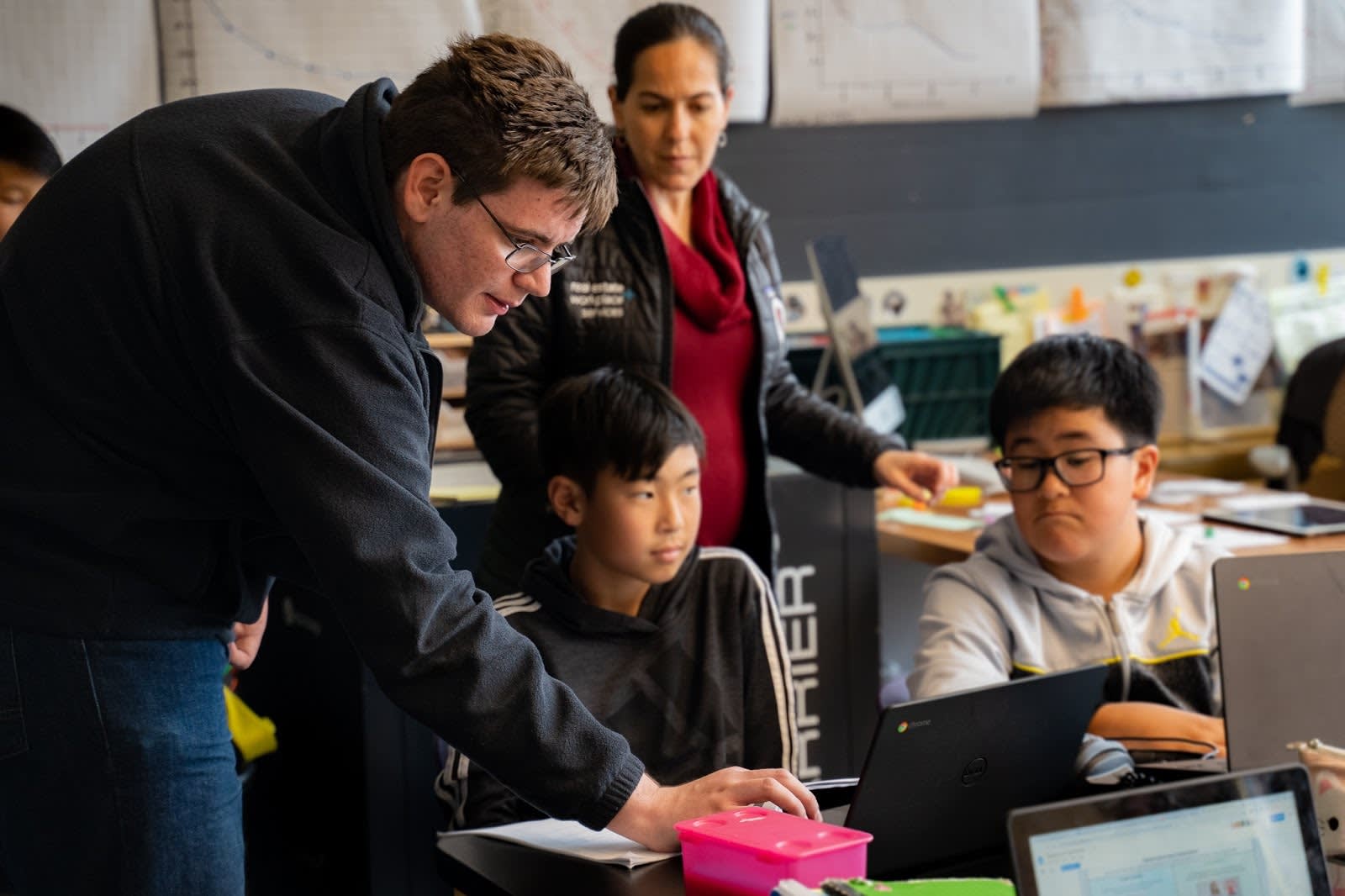 The Age of Makers game has room to grow. If you have ideas for a new curriculum or feature, check out the next units to learn how to get involved.
Resources