Learn About Action Plans
After completing this module, you'll be able to:
Explain what Financial Services Cloud action plans are.
List some benefits of using action plans.
Explain the difference between action plan templates and action plans.
If you've already earned one of the badges in the Inspire Customer Loyalty with Financial Services Cloud trail, you probably remember the team at Cumulus Cloud Bank. Let's get reacquainted.
Ryan Dobson is a part-time admin, full-time wealth manager and financial advisor, and all-round superhero. Ryan works hard to understand his clients' financial needs and goals and always goes the extra mile to help them plan their finances and secure their future. This is what makes Ryan such an asset to Cumulus.
Of course, Ryan can't do this all alone. He is ably assisted by Srilakshmi Maajid, who recently joined the team as a client associate. Srilakshmi's learning the ropes at the bank. Her job is to assist financial advisors like Ryan in planning, organization, and scheduling so they can focus on what's important: helping clients succeed. Srilakshmi's passionate about what she does and is constantly looking for opportunities to improve processes.
Finally, we can't forget our all-star admin, Matt, who's been working tirelessly to help Cumulus stay abreast of the latest industry trends in customer service and technology. 
In fact, as Cumulus Cloud Bank strives to be a modern financial institution, there's more than enough work to go around for everyone at the bank. While that's usually no problem for our team, lately a few routine tasks have slipped through the cracks. 
This has Ryan concerned. As a veteran financial advisor, he has a view of everything that goes on within the Wealth Management division of Cumulus Bank. He understands the ebb and flow of processes and tasks and how these need to work in concert so that the team captures and meets customers' needs in a timely manner.
Top of mind, he wants to make sure that the periodic financial plan review meetings with high-net-worth clients continue to go smoothly. There's a fair amount of planning and prep work that happens before each one.
Sending meeting invites well in advance
Collecting the client's financial documentation
Reviewing the documentation
While these tasks are simple, with so many other priorities, Ryan's afraid that someone can drop the ball. These tasks need to be done, done on time, and someone's gotta do it. 
Ryan recently heard Matt talk about a feature called Action Plans in Financial Services Cloud, and he's curious to see if it can help solve his team's task management woes. He asks Matt for more details.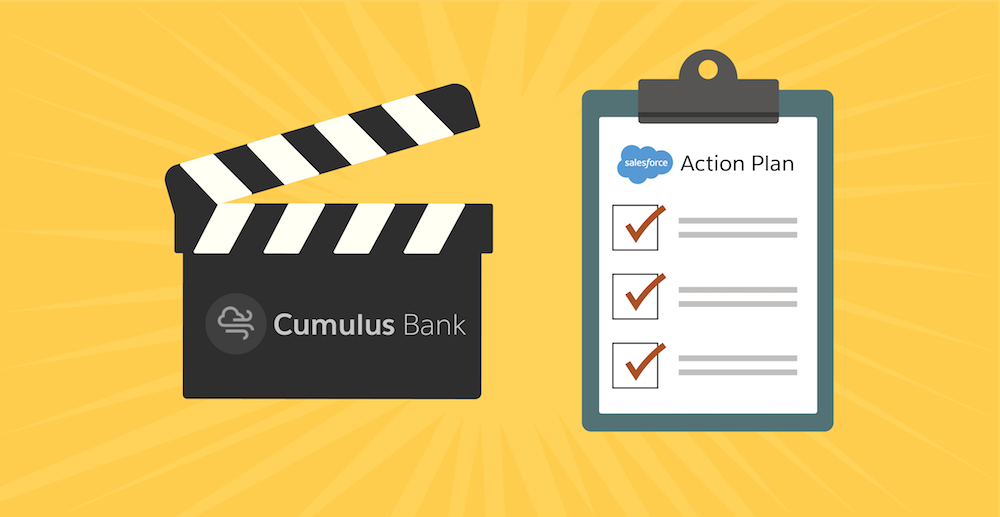 Action Plans allow you to capture repeatable tasks and then automate the task sequences—improving collaboration and productivity. Using action plans, a team can automatically assign task owners and deadlines for specific client engagements. These can include Ryan's financial plan meetings, account openings, loan approvals, and claims processing.
Action plans also make it easy to create reports and dashboards, so you can monitor progress and ensure compliance. 
When you work with action plans, you first create action plan templates. So what's the difference between an action plan template and an action plan?
In an action plan template, you capture the repeatable tasks involved in a specific type of engagement, for example, financial plan review meetings with clients. For such engagements, wealth managers need to set up a meeting in advance, collect financial documentation, and review the documentation. You set up the action plan template once, and update it as your understanding of the repeatable tasks refines over time. 
An action plan, on the other hand, is a run-time instance of the template that allows you to automate the sequence of the tasks you defined in the template. You generate an action plan from the template for each engagement, such as Ryan's next financial plan review meeting with one of his most important clients, Kiara Shah. 
This works the same way a meeting minutes template works in Microsoft Word. You define the structure and placeholder content in the template once, and create new instances of the template in a Word doc after every weekly team meeting. 
Now let's get back to action plans! 
Ryan's excited by the possibilities. Follow along in the next units as he works with the team to set up the feature so all wealth managers at the bank can use action plans for recurring work. With action plans, they can assign tasks and set completion dates for those tasks, making sure nobody drops the ball and, most importantly, keeping clients happy.