Create an Amazon Connect Instance
Create a New Trailhead Playground
OK. Go ahead and create a new Trailhead Playground. While you're still working in AWS in this step, now is a great time to prepare your playground so it's ready for you right when you need it.
Scroll to the bottom of this page, click the down arrow next to Launch, and select Create a Trailhead Playground. It typically takes 3–4 minutes for Salesforce to create your Trailhead Playground. Go ahead with the rest of this step while your playground is spinning up.
Learn More About Amazon Connect
It's time for telephony!
Amazon Connect is a cloud-based contact center that makes it easy for any business to deliver better customer service at lower cost. It's based on the same contact center technology used by Amazon customer service associates around the world, powering millions of customer conversations. The self-service graphical interface in Amazon Connect makes it easy for you to design contact flows, manage agents, and track performance metrics–no specialized skills required. 
There are no up-front payments or long-term commitments, and no infrastructure to manage with Amazon Connect. Customers pay by the minute for Amazon Connect usage plus any associated telephony services.
Set Up Your Amazon Connect Instance
Check your region at the top of the console. Amazon Connect isn't available in all regions. To make sure Amazon Connect is set up correctly, select US East (N. Virginia) from the region dropdown at the top of the AWS Management Console after getting started. 
Enter amazon connect in the Find Services search bar (1). Then click on Amazon Connect (2). You can also find it by expanding the All Services section and scrolling to the Customer Engagement category. 
Time to start setting up your instance.

If this is your first time creating an instance, click Get started.
If you already created an instance, you're taken to a list of your instances. Click Add an instance.

On the Identity management page, make sure Store users within Amazon Connect is selected.
In the Access URL field, enter a unique value. This value becomes your instance name.
Store your Access URL in a safe place. You need it later in the project. 
Click Next step.
On the Create an Administrator page, make sure Add a new admin is selected.
Complete the form to create your admin account. Store the admin username and password in a safe place. Then click Next Step.
On the Telephony Options page, check the boxes for both Incoming calls and Outbound calls, then click Next step.
On the Data Storage page, click Next Step.
Review the information on the Review and Create page. This is a good time to double-check your Access URL and administrator name matches your notes. Then, click Create instance.

In a minute or two, you're able to start using your Amazon Connect instance. You're taken to a Success screen with a nice blue Get started button. Ready to click on it?

Configure Your Amazon Connect Instance
Time to configure a few options and then test the instance to make sure everything works.
Click Get started. You're directed to your Amazon Connect instance in a new tab. Notice, the URL is your access URL.
Since it's your first time in this instance, you're greeted by a welcome message. Click Let's go. You need a phone number to make use of Amazon Connect's features, so you're presented with a couple of options to select from. 
For the purposes of this project, select United States +1 from the Country dropdown.
In the Type dropdown, make sure Direct Dial is selected.
Select a number from the Phone number dropdown. Write this number down. You need it later in the project. Know that your phone number is free for a specific period of time. At the end of this project, you release this number back to AWS to avoid charges after the free period is finished.
Click Next.
If your browser asks to use your computer's microphone, go ahead and allow access. Time to test your new instance.
Test Your New Instance
You can now make inbound and outbound calls. If your browser asks to use your computer's microphone, allow access. 
On the Claim phone number screen, you see the Contact Control Panel (CCP).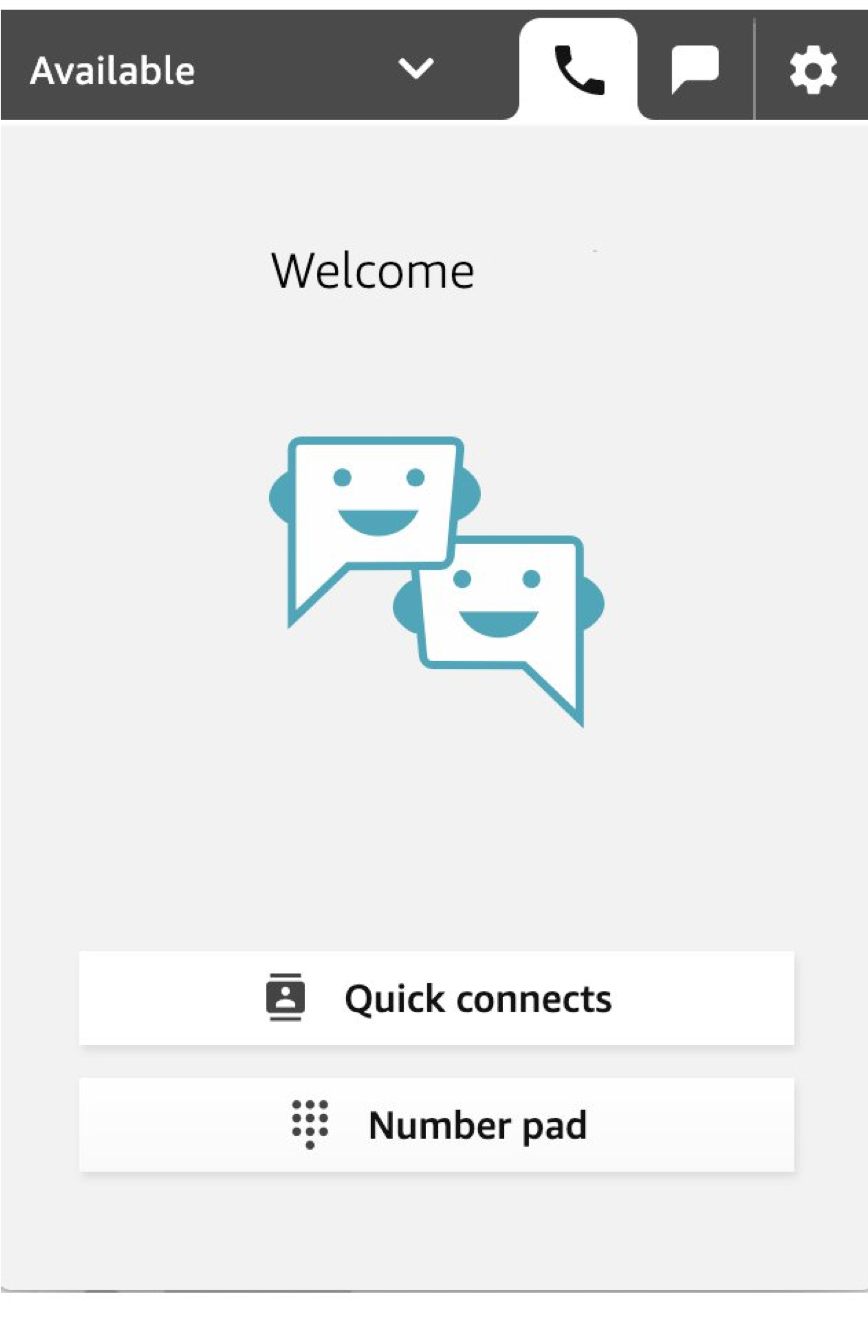 Test your calling capabilities. Note, it may take some time for the number you claimed to be ready for testing. If you're unable to test following the instructions below, wait a few minutes and try again.
Make sure your agent state is set to Available.

Click the disclosure arrow at the top of the CCP.
Select Available. 

Use another phone to call the number you claimed.

Dial the number you set up above.
When the voice prompts, press 1 for an agent.
Press 1 to move to the front of the queue.
Press 1 once more to be connected.

Your Contact Control Panel indicates that your call center is receiving an incoming call. Click  to accept the call.
Then, click End call. The Contact Control Panel switches to the After Call Work mode, which gives the agent time to finish up tasks.
Click Clear contact.
Congratulations! You've completed your first call. Now, let's try an outgoing call.
Click Number pad.
Enter a phone number where you receive calls, then click Call. 
When your phone rings, answer it. You can then hang up your phone or click End call in the Contact Control Panel.
Click Clear contact.
Great, testing is complete!
Create an Additional Agent Profile
You have just a few more steps to fully configure your Amazon Connect instance. You're going to integrate with Service Cloud soon, so it helps to create additional agents in Amazon Connect so they're ready to be used in Salesforce.
In Amazon Connect, click  in the left navigation, then click User management.
Click Add new users. 
Make sure Create and set up a new user is selected, then click Next.
Add user details. Choose a login name and password that are different from your Amazon Connect admin account. Write down this agent login name and password, as you need that information in the next section.

Your agent's password should be at least 8 characters with an uppercase letter, a lowercase letter, and a number. Amazon Connect won't allow you to save the user without meeting this criteria.

For Routing Profile, select Basic Routing Profile.
For Security Profiles, select Agent.
For Phone Type, make sure Soft phone is selected. 
Click Save.
Verify the details then click Create users.
You just created an agent in Amazon Connect. Now the agent can log in from the Salesforce Service Console once the integration is complete!
We won't check any of your setup. Click Verify Step to proceed to the next step in the project.
Resources