Make These Healthy Habits Stick
Learning Objectives
After completing this unit, you'll be able to:
Articulate what you can do to set yourself up for nutrition success.
Describe ways to bring healthy eating to your team.
Put Your Nutrition Know-How to Work
You've got the basics, so let's dive in to find out how you can set yourself (and your team) up for healthy eating success.
Set Yourself Up for Success

"My biggest piece of advice for eating healthy when you have a busy schedule is to plan your meals. Take a little time, create a meal plan and do the bulk of the shopping and cooking on your day off. This makes meals throughout the week much easier and will help you avoid ordering take out or heating up that frozen meal. Planning your food for the week will also save money at the grocery store, food will be purchased with purpose and you'll create less waste. Above all, try to have fun with it and try new things, before you know it you'll have your own repertoire of delicious, healthy dishes." - Bill Corbett, Salesforce Executive Chef
So, you know what goes into a healthy diet, but you may be wondering how to make it work for you. Making lifestyle changes, especially something as fundamental as what we eat, can seem daunting. But, like any wellbeing practice, starting small is the key to long-term success. Here are a couple more tips to get you started on your journey. 
Devote some time to plan what you would like to eat and what foods to buy. Spend some time on the weekend or once or twice during the week shopping for fresh ingredients and prepping meals for the week ahead. Don't get caught unprepared. If you wait until you're hungry or if you're short on time, you're more likely to make an unhealthy meal choice. And if you're eating out, don't be afraid to ask for substitutions. Find easy, healthy options that work with your lifestyle.
You don't have to change your diet entirely, just remember that every little change makes a difference. If the transition feels too big, focus on one small change at a time—like adding veggies to your lunch each day. Even the smallest step toward healthy eating can help you build sustainable habits and start to say goodbye to the processed or sugary foods.
Remember, the Ohana is rooting for you! Now, let's take these new healthy eating habits to the masses with tips for making nutrition top-of-mind for your team or company.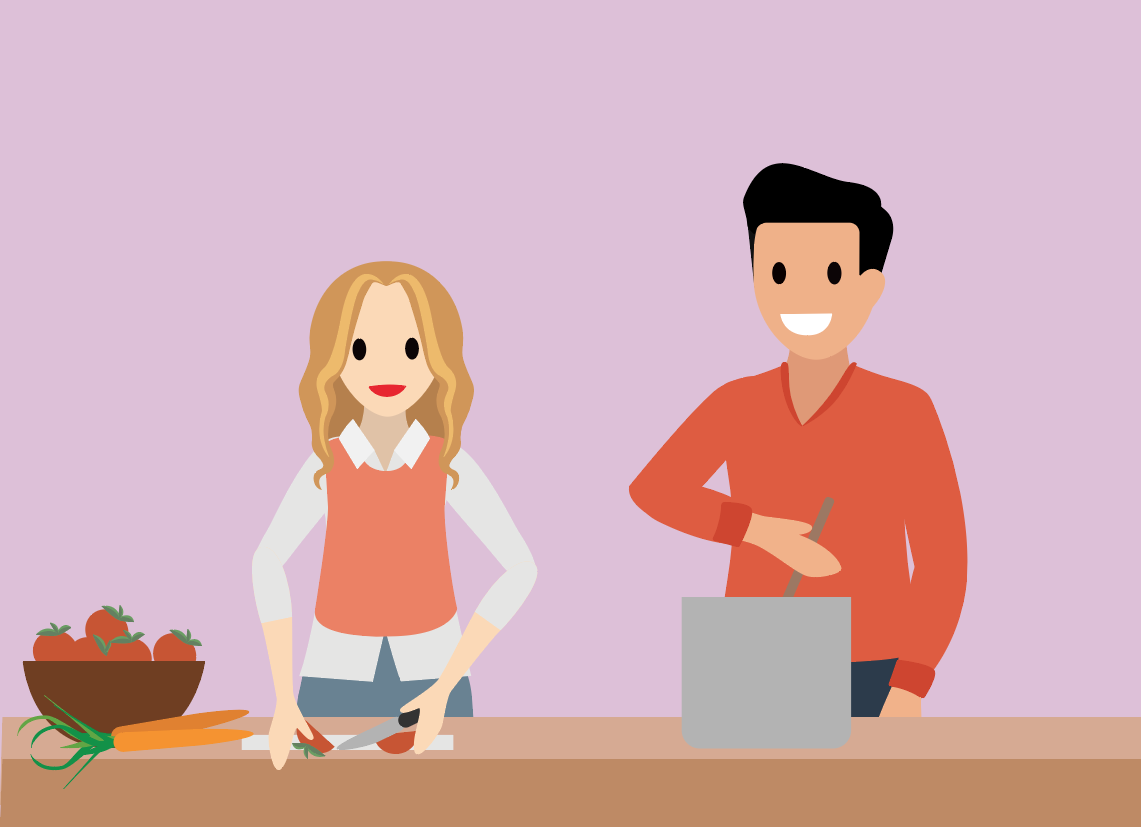 Healthy Eating Is a Team Sport
It's time to make healthy eating a way of life in the workplace. A good start is ensuring any company-sponsored meals and snacks center around healthy, plant-based foods (we admit, we're still working on this one ourselves). Even vending machines can get a healthy snack makeover. Talk to your team or building management about stocking them with healthier snacks and replacing sugary drinks with water.
It's important to get your team involved, too. Send weekly conversation starters to employees to get them talking. You'd be surprised at how eager employees are to share their own tips and tricks. At Salesforce, we've asked employees to share their favorite food-related documentaries, healthy restaurants near their home or office, and meatless meal recipes. 
These conversations can fuel future content on an internal blog or e-newsletter. Our most popular topics internally at Salesforce have been tips for staying on track with a healthy diet while traveling, why eating healthy at work is a no-brainer, and the nitty-gritty details of sugar.
A light-hearted competition—like a meatless chili cook-off or recipe contest—is another great way to get employees in on the action. You can even devote a day to a particular legume, fruit, or veggie and see what unique snacks show up in the break room. Tomato Tuesday, anyone?
Once you've armed employees with the knowledge, it's up to you to pave the way to success. Provide a positive, supportive environment. Be a visible leader. And listen to your team. By incorporating their ideas and engaging them in making nutrition a priority, your team will feel more invested in the effort, making them more likely to succeed. And when they win, we all win.
Now, Put It Into Practice
To recap, in this module we've covered the basics of healthy eating, why plants should be the star of your plate, how to cook up some seriously drool-worthy dishes, and ways you can bring it all to your team. It's a lot to digest. But as we've mentioned, it's OK to take it slow and incorporate small changes over time—that's the most sure way to achieve big results long-term. 
Resources