Set Up Patient List Filters
Learning Objectives
After completing this unit, you'll be able to:
Describe how you can use patient lists.
Explain how Health Cloud uses cross-object relationships.
Add cross-object relationships to customize patient list filter options.
Introduction
Leif Hansen and Harryette Randall, patient manager and Salesforce admin at Bloomington Caregivers, have been working together to get information about therapy sessions visible on patients' timelines and cards.
Patient Lists
Patient lists are a special type of object list. The special feature of patient lists is that you select items using criteria from multiple related objects. So, for example, caregivers can create a list of all patients aged 65 with memory problems and kidney disease.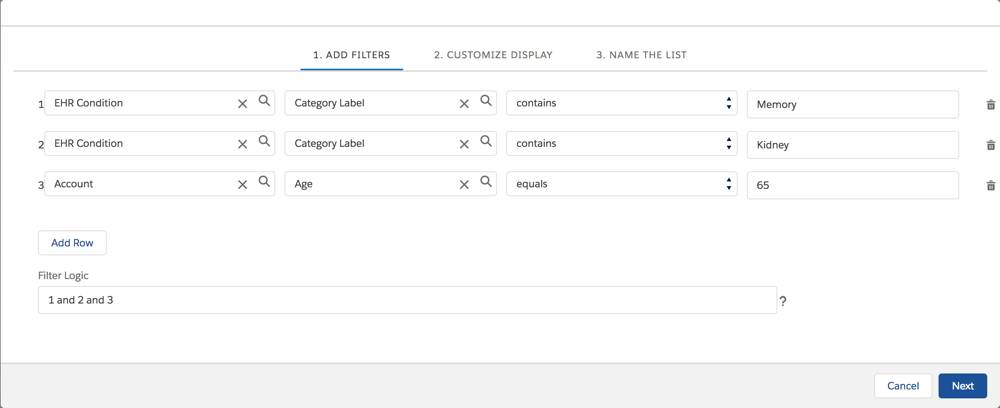 This feature enables caregivers to manage their patients better by targeting care for patients with shared treatment protocols or medical conditions.
Add Objects to the Filter Options
Leif has been using patient lists to create customized lists of his patients. He now wants to create lists of patients that are filtered by information about their attendance at therapy sessions. He asks Harryette if this is possible.
Harryette checks and finds that it is, but she needs to add a cross-object relationship. The custom Therapy Session object has a relationship with the Account object, but more than 30 electronic health record (EHR) objects alone relate to the Account object. Adding all these Account-related objects to the patient filter list would make the list unmanageably long. By creating cross-object relationships, only selected objects appear in the filter list, which makes it easier to work with.
So, to add Leif's Therapy Session object to the patient list filter options, Harryette needs to add the object to the cross-object relationship list.
Create a Cross-Object Relationship
Harryette sets about creating the cross-object relationship.
From the Health Cloud Admin home page, click Cross Object Relationships and then New.
Provide the following values and settings:

Cross Object Relationship Name: Therapy Session Relationship
From Object: Account
To Object: Therapy_Session__c
Relationship (optional): leave blank
Reverse Relationship (optional): leave blank

Click Save.
Leif can now use values from any field (1) in the Therapy Session object (2) to create custom patient lists.
Harryette now also has a look at the object reference in the Health Cloud Object Reference Guide to see what other cross-object relationships, among the 30-plus that are possible, are worth adding.