Learn What's New for Einstein Analytics in Spring '20
After completing this unit, you'll be able to:
Describe changes in bindings-naming convention.
Create interactions with the Advanced Interaction Editor.
Use external data to amplify Life Prediction Scoring.
Describe how to collaborate on a new version of a dashboard with Publishing Feature.
Perform What If simulations on a row of data.
If you hold the Salesforce Einstein Analytics and Discovery credential, keep in mind that you need to complete this module by the due date to maintain your certification. Another important part of maintaining your credential is ensuring that your Trailhead and Webassessor accounts are linked.
Interested in learning more about getting certified? Check out the Einstein Analytics and Discovery credential.
Salesforce introduced a ton of great feature enhancements. Let's take a look at some of the more important ones for this release.
Interactions, previously called bindings, enable different components in a dashboard to interact. You create interactions between queries to customize your dashboards. We changed the name based on customer feedback, but your processes and workflows haven't changed. Expect all documentation to be updated as well with this change.
Interactions, previously called bindings, power many parts of Einstein Analytics dashboards. The new Advanced Interaction Editor helps you create interactions for widgets and queries without leaving the dashboard designer. Use clicks instead of code to create multiple interactions for the same widget or query, preview the results, and insert the interactions all from the new editor.
Click Advanced Editor in the widget or query panel to get started. Select a query (1), source data (2), and interaction type (3). The Advanced Interaction Editor generates a preview of your interaction (4) and the result (5). To add your interaction to the SAQL or JSON, copy (6) and paste it (7). Click Save to add the interaction to your dashboard. Notice there is a More Options dropdown, where you can change the Data Serialization.
You can now include external data to better predict outcomes. Some predictive models require information that is not found in Salesforce, such as explanatory variables stored in outside data sources, or computed fields. 
Let's say you're building an opportunity time-to-close predictive model. You want to use counts of opportunity team members and qualified tasks associated with that opportunity record. Creating these aggregations using Einstein Analytics data prep is simple.
Quickly build the predictive model as an Einstein Discovery story. When scoring individual records back in Salesforce, tell the predictive model how many tasks or team members are connected to the opportunity. 
Instead of writing code or modifying the data model, simply build a dataset that refreshes on a frequent basis where this aggregation is performed. Make sure to map the predictive model fields that are not natively found in Salesforce back to the dataset.
With the publisher feature you can review, test, and edit a draft version of a dashboard while keeping the current version live. Analytics Studio users continue to see the current live version until you're ready to publish a new one.
Add yourself as a dashboard publisher, which lets you review and publish dashboard versions. Once you're on the publishers list, set a previous version as live and edit it until it's ready for primetime. Publishers always see the draft while users not on the publishers list continue to see the live version.
Let's take a look at how we use the publisher feature.
Open an Analytics dashboard, click the More icon at upper right, and select Version History.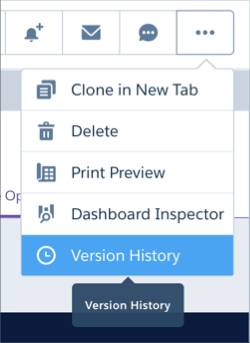 Then open the Publishers tab and click Add yourself as a Publisher.
Other members of the team with Editor or Manager access to the app that the dashboard is part of can do the same thing. As a publisher, you can review the draft version of a dashboard. When you decide that the draft is ready for prime time, you can make it live for other Analytics users.
Get live prediction scores interactively, including top factors and actionable insights. You can now use What Could Happen insights to perform What If simulations on a row of data. What Could Happen insights replace the previous Predictions & Improvements insights with a streamlined, interactive interface.
Suppose you want to explore how changing the route to market can affect the opportunity amount. Open the story and click What Could Happen on the Insights Navigation bar. In the Model Feature list, select an option under Route to Market. Based on your selection, Einstein updates the prediction score and top prediction factors (positive and negative). Select the Actionable radio button to see top improvements for your selection.
Rights of ALBERT EINSTEIN are used with permission of The Hebrew University of Jerusalem. Represented exclusively by Greenlight.