Use Macros and Connect Apps to Automate Processes
Learning Objectives
After completing this unit, you'll be able to:
Understand the difference between publish and engagement macros.
Create macros.
Apply macros.
List advanced features in Social Studio.
Now that you know how to create posts and manage content across a team, let's take a look at how you can use some advanced features in Social Studio to automate processes for creating content and how to pull content from external applications.
Meet the Macro
In Social Studio, macros are a great way to consistently apply publishing actions to posts you create. Macros allow you to configure instructions for commonly used actions and apply them to one post or multiple posts at the same time. Let's review these two types of macros: engagement macros and publish macros.
Engagement Macros
You can use engagement macros in Social Studio to apply actions to multiple posts at the same time. Here are a few examples.
Add a post to one or more workspaces.
Apply a specified status, priority, assignment, sentiment, classification, or labels to a post.
Hide a post that matches specified options in Social Studio.
Send the post to a Salesforce org.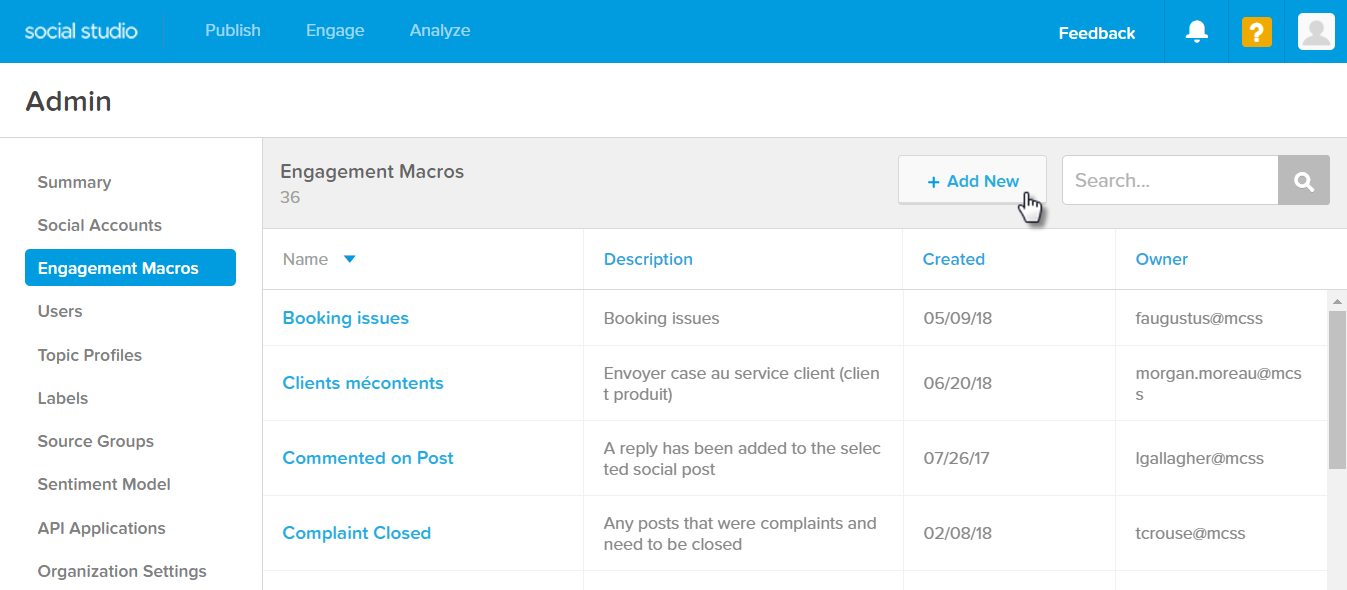 Create an Engagement Macro
With admin permissions, you can create an engagement macro.
Navigate to Engagement Macros in Admin Settings.
Click Add New.
Enter a name and description.
Select workspaces for the macro.
Select options for the macro.

Status—The status of the post within an approval workflow
Priority—A priority rating for the post
Assignment—Assign the post to a specific user
Sentiment—Apply a sentiment value to the post
Classification—Apply a classification to the post
Post Labels—Add labels to the post
Add Note—Enter a note that is visible from the calendar
Hide Post—Select to hide a post
Author Labels—Apply a label for the author
Send to Salesforce—Select a Salesforce org to send the post to

Save the macro.
You can also create the macro directly in Social Studio Engage by clicking Create New in the Macros tab of the post inspector for a post.
Apply an Engagement Macro
Now that your macro is created, you can begin applying it to posts to perform and automate actions.
In Social Studio Engage, navigate to a post.
Click the post to open post inspector.
To view a list of macros, click Macros.
To view the details of the macro, click  next to the macro.
Click a macro to apply it to the post.
Publish Macros
Use publishing macros if you want to consistently apply attributes to new posts within a workspace in Publish. Here are a few examples.
Apply multiple social accounts to new posts, so you don't need to select them all each time.
Apply the same Facebook Gating and Feed Targeting options to posts.
Apply consistent LinkedIn Targeting options to posts.
Apply the same DMP parameters to URLs for tracking visits through posts.
Create a Publish Macro
With admin permissions, you can create a publishing macro.
Navigate to workspace settings.
Click Publish Macros.
Click Add New.
Enter a name and description for the macro.
Click Add Attributes.
Select attributes that you want to include in the macro, such as labels or social accounts.
Click Add.
Choose the options for each of the attributes you select, such as a specific label or social account.
If you want, enable the macro to automatically apply to new posts.
Save your new publish macro.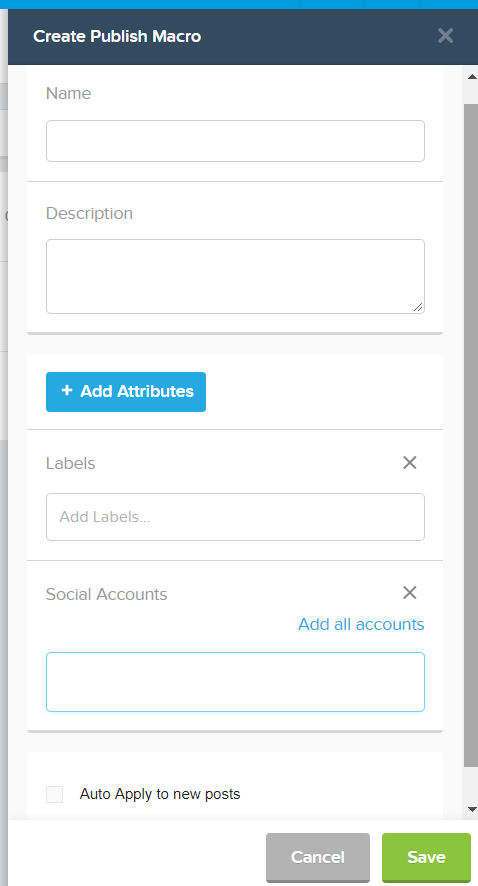 Once you've created your macro, applying a publish macro is easy. When you create a new post, click Apply Macro and select a macro to apply the saved attributes to the post.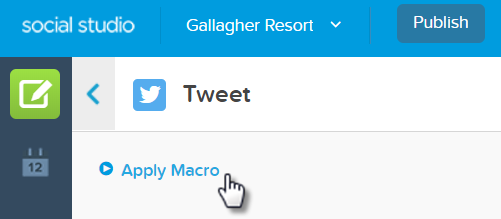 Connect Apps for Content
If you use third-party applications or sites to obtain content like stock photos for your posts, you can connect directly with applications to automatically access that content. If you'd like, you can also build your own content application and connect to it.
These content apps are supported by Social Studio.
FlashStock
Getty Images
Kontera
NexGate
Pressly
Rallyverse
Shutterstock
Trendspottr
Unmetric
Venuelabs
If you're interested in connecting to apps like these for content, talk to your Marketing Cloud account representative for more information.
Let's Get Social!
You explored Publish in Social Studio and reviewed all the steps to create posts. You learned how to share and reuse content, and how to implement approval processes. Plus, you discovered some advanced features for building macros and connecting to external apps. Now it's time to get to work in Social Studio and start publishing content to your social accounts!
Resources