Manage and Share Content
Learning Objectives
After completing this unit, you'll be able to:
Use Shared Content to reuse social posts.
Create an approval workflow rule.
Approve or reject a post.
Troubleshoot a failed post.
Share and Reuse Posts
The ability to share and reuse content is a key feature in Social Studio Publish. Workspace users can create content that is shared with each other so they can find and reuse the content in future posts. There are two options for sharing content: drafts or shared content. Let's look at the differences between these two sharing options. 
Drafts
As we explored earlier, you can use drafts to save a post if it is created but not ready to be published. This automatically adds the post to the Drafts folder where any workspace user can access it to edit, publish, or discard it.
Shared Content
Use Shared Content in Social Studio to make previously published content accessible to workspace users for reuse. You can even copy a post and edit it for a new post. This can save time for posts that need only small changes to reuse—reducing the chance of errors or inconsistencies when recreating the content.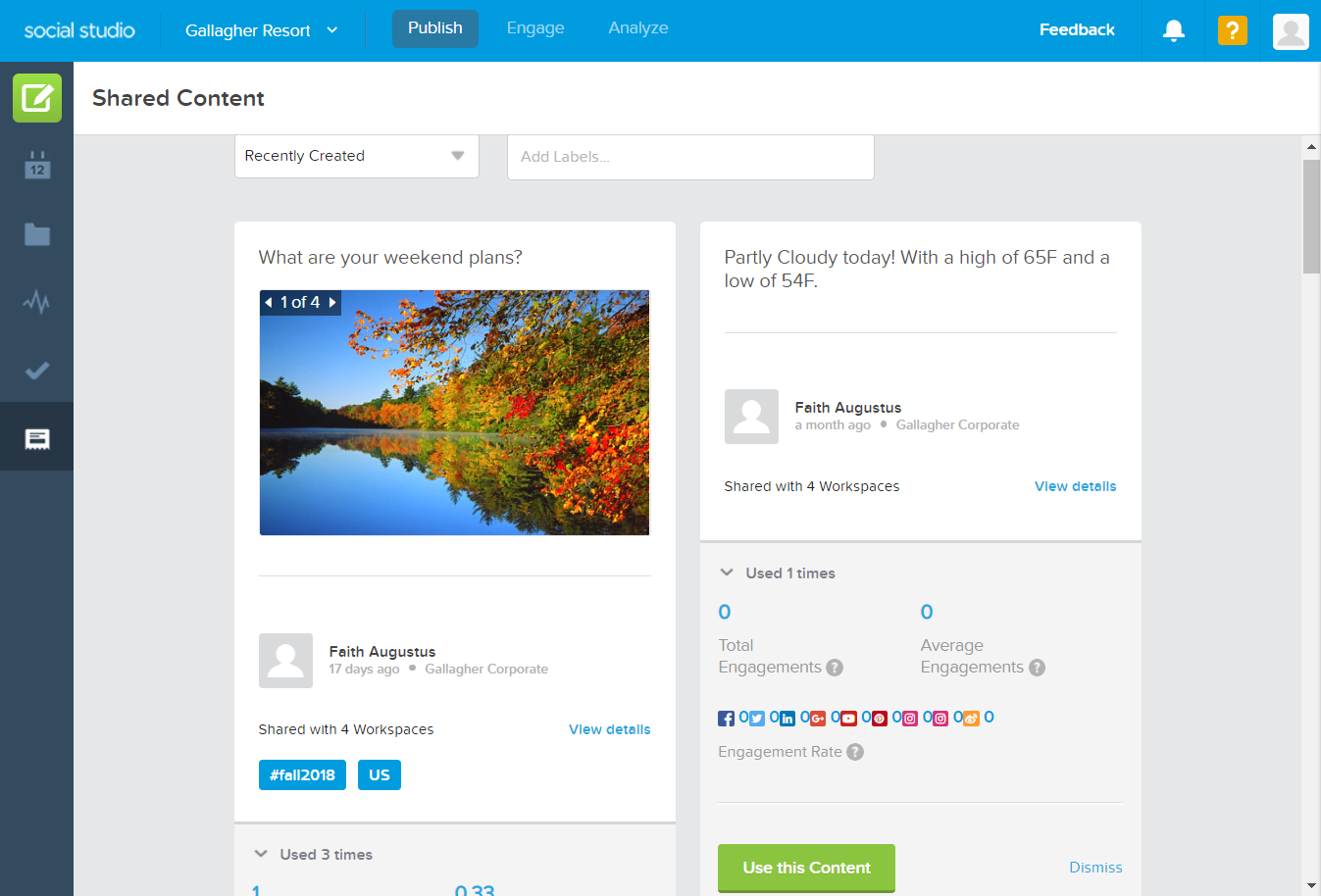 To add content to Shared Content, navigate to the workspace calendar.
Locate the post you want to share.
Click the post to open it and view details.
Click  to reuse the post.
Adjust the post as needed.
Add comments about the post for other workspace users to view.
Select workspaces to share the post with.
Click Apply.
Want to reuse shared content? Navigate to the post in the Shared Content folder. Click Use this Content and edit as needed before posting.
Approval Workflow
Do you or someone on your workspace team need to approve content before it is published? You can use workflow approvals in Social Studio to ensure content is approved before posting it live to your social accounts.
Create an Approval Rule
If you are a Social Studio workspace admin or super user, you can create new approval rules for Publish. Approval rules can contain as many approval levels as necessary and even accommodate different approval conditions. For example, you can specify if approval is needed from User A first, then either User B or User C next.
Navigate to Approval Rules in Workspace Settings.
Click Publish Rules.
Click New.
Enter a rule name that clearly describes the purpose.
Now it's time to define the conditions for the workflow. What criteria must be met to trigger this rule? You can set the condition based on who is submitting the content, which social account is being used, and other options. To create multiple conditions for the rule, click Add Condition.

Next, identify who the approver is for the post by selecting a specific user in the workspace. Add multiple reviewers as needed.
Save your approval workflow rule and you're done! 
Set Approval Rule Priority
You can prioritize approval rules for each workspace. After you create the rules, simply drag and reorder the rules in the Publish Rules list.
Approval Process
When a post matches the conditions of a Publish Rule, the post is routed through the approval workflow. The approver receives both an email and a Social Studio notification that a post is ready for their review. The approver then approves or rejects the post, with the option of adding a comment regarding the rejection. If multiple approvers are assigned, the next approver is notified for review. 
So, what happens next? If all reviewers approve the post, it is automatically published according to the deployment set by the author. If the post is rejected, the author is notified of the decision and any comments. They can then adjust and resubmit the post for review.
If you are a Social Studio workspace admin or super user, you can override and approve or reject posts pending approval. This override helps streamline approvals for teams with complex approval rules and can accelerate approvals for time-sensitive posts. For example, if a reviewer is on vacation, the admin can make the approval decision. When a post is overridden, a time-stamped note is made in the audit trail of who overrode the approval. 
Troubleshoot a Failed Post
If a post doesn't publish, a notification is emailed to the author and is added to the Publish calendar. Navigate to the post and click Manage Errors. The post inspector automatically shows error details. If the retry option is available, you can try posting it again.
Try these additional tips to resolve the issue.
Verify that the social account is authorized.
Check if the social account was removed from the workspace or tenant.
Confirm that the author is granted permission to publish the post to that social account.
Resources