Create Social Posts
Learning Objectives
After completing this unit, you'll be able to:
Create a social account post.
Add an image for a post.
Publish a post.
Social Account Content
Now we're getting into the heart of Social Studio Publish: creating posts for your social media accounts. Social Studio supports these social media platforms:
Twitter
Facebook
LinkedIn
Sina Weibo
YouTube
Pinterest
Instagram Business
Not only can you create posts for each of these platforms, you can use the content on multiple accounts for the same platform. For example, you can create one Facebook post to use with multiple Facebook accounts. You can also reuse the content from one platform on another. This helps save time if you are creating a post that you need to share in multiple places. Most of the steps to create a post are the same, but there are small variations depending upon the platform you choose.
Before you start creating posts, check the time zone for your account to ensure that posts are publishing for the date and time you intend. If your time zone isn't set, posts publish according to the default time zone set for the entire Social Studio tenant. You can access the time zone by clicking My Settings under your user image. 
There are two ways to start creating a post.  
Click a blank slot on the Publish calendar for a future date.
Click .
Select a social media platform, such as Facebook or Twitter, and now you can draft your post.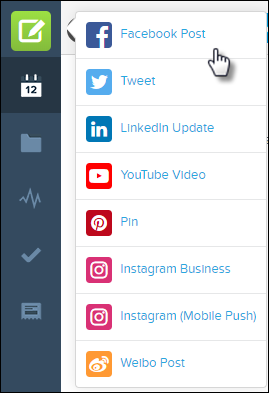 Depending upon the social platform you choose, you see different options for creating your post. 
Field

Description

Post To

Where do you want the post to show up?
Select one or more accounts for that social platform. For Pinterest, you also select a Board.

Content

What do you want to say?
Enter your post content. For YouTube, you upload a video, give it a title, and add a description.

Labels

How do you want to categorize this post?
Publish labels help you organize your content for reporting and filtering reasons. Create these in your Workspace settings.

Location

Where should this post tag?
Add a geographic location to tag in your post.

Deployment

When should the post publish?
Publish the post immediately or select an option to schedule a specific time and date for your post to publish.

Link Shortening

Do you want a shortened URL?
Select an option to shorten the URL if needed. Use this for tracking web analytics and for providing a friendlier user experience.

Web Analytics Profile

How do you want to track the post?
If you use a Web analytics program, click Add Parameters to append the tracking URL to your post URL.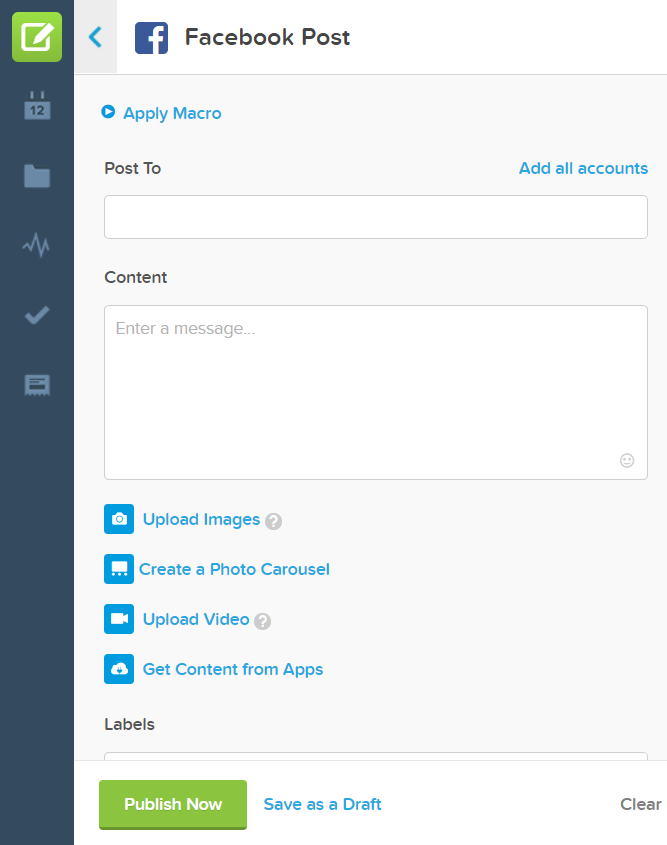 Here are several more posting options to keep in mind for specific social platforms.
When publishing to Facebook, you can select Send as Unpublished under Deployment to use the Facebook post in an ad.
Optionally Gate Facebook posts to limit the post to specific locations or languages.
Use News Feed Targeting with Facebook to target posts to specific demographics or data points.
When adding videos for YouTube, you can choose to make the video public, private, or unlisted.
Add Images or Videos
Want to enhance your social posts with images or videos? No problem! Many social platforms give you the option to add images or videos, and you can do this when creating your post in Social Studio. Depending upon the type of post, you can choose from the following options.
Upload Images
You can upload an image to add to a post, and some platforms support multiple images.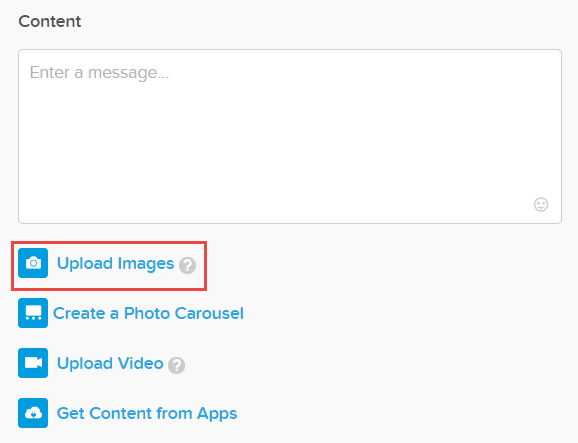 Create a Photo Carousel
With Facebook post, you can choose to create a photo carousel that displays up to five images, videos, headlines, links, or text for viewers to click or swipe through. To create the carousel, enter a URL for a page with the images you want to use. Assets are uploaded automatically or you can manually add them, then enter a headline and a description.
Upload Video 
For Facebook, Twitter, and YouTube posts, you can upload a video from your computer and preview it before posting. To create a thumbnail image of the video, play the preview of the video to the desired frame, pause, and click Capture Thumbnail.
When uploading a YouTube video, you can also select the category, tags, and playlists.
Category—This helps viewers find content and lets you refine targeting. Examples include Education, Entertainment, or Food.
Tags—Use tags to help viewers find your video when searching in YouTube. If you're an account admin, tags appear under YouTube Advanced Settings or in YouTube Post Inspector in the workspace calendar. Assign up to 100 tags.
Playlist—If you use playlists in your YouTube account, you can select a playlist to add your video.
Get Content from Apps
Use this option to import content from external applications, such as your account with a stock photo website. We explore how to connect to these apps in the next unit.
Draft and Publish
Your post is ready, but are you ready to publish it? When you're creating a post, you can select options to deploy the post immediately or schedule a later publish date and time.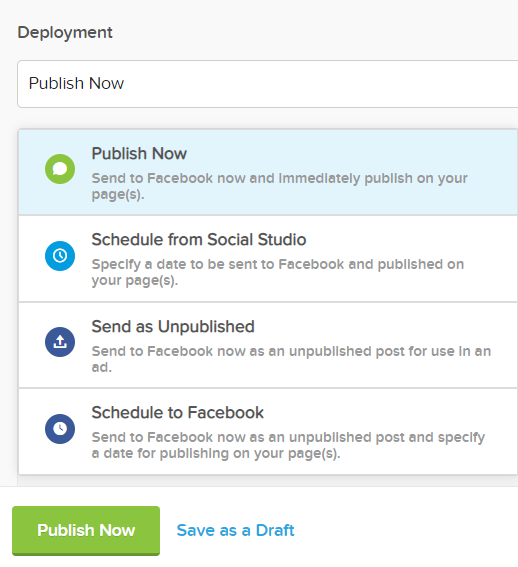 If you're ready to publish the post, select an option for Deployment to set the date and time. Then click Publish Now. If you want to publish later, you can set the time and date for publishing. You can also drag a scheduled post to a different calendar slot. 
To save the post as a draft and publish later, just click Save as a Draft. This adds the post to a shared Drafts folder in the workspace. Any workspace user can view, edit, or publish it.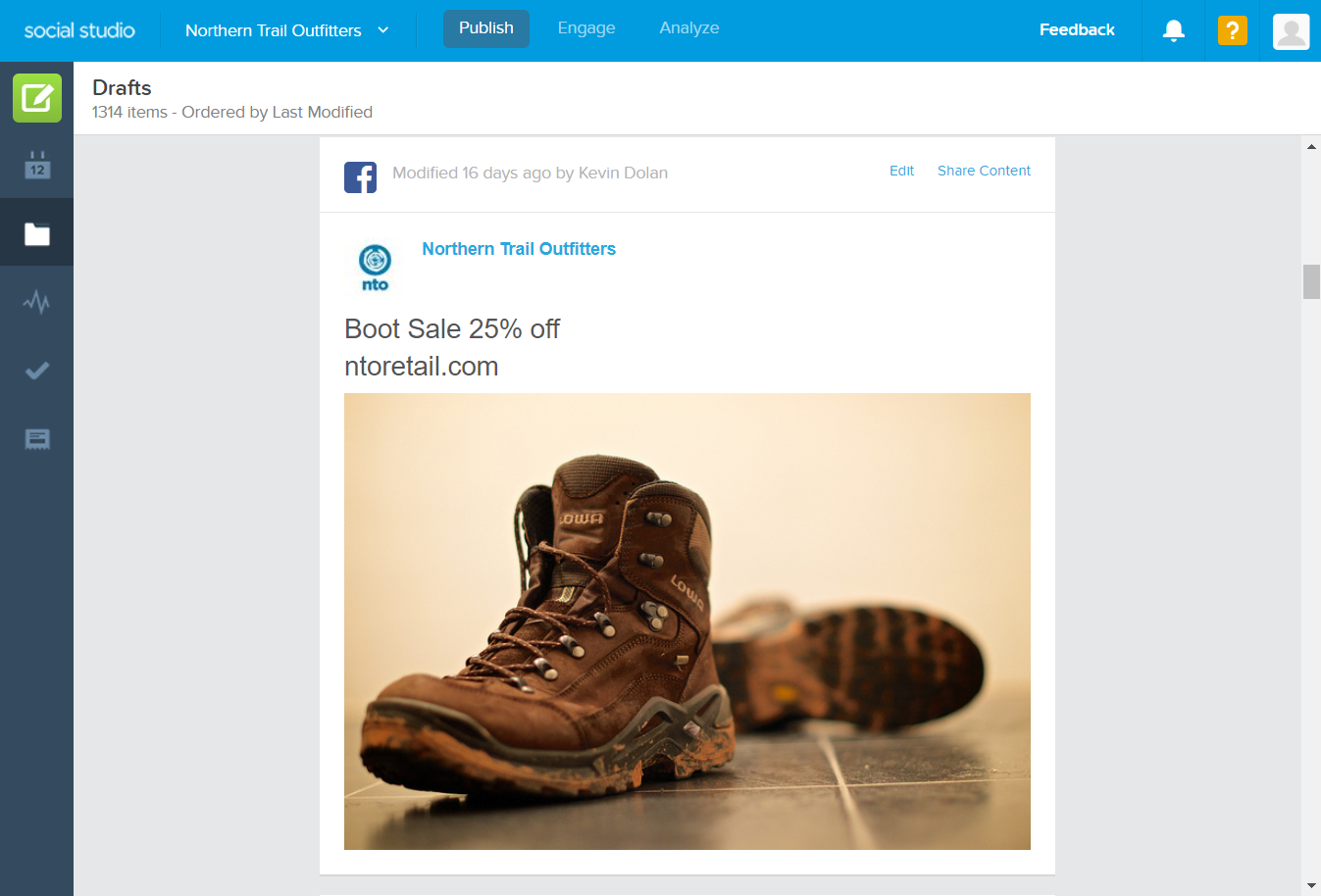 Now that you understand how to create and publish a post, next we look at methods for managing and sharing content in a workspace.
Resources