Promote Alternate Purchase Methods
Learning Objectives
After completing this unit, you'll be able to:
Explain why it's important to offer alternative purchase methods.
List two reasons why shoppers choose one purchase method over another.
Explain the ways shoppers can minimize interpersonal contact when making purchases at physical stores..
Describe how subscription services could help your business.
Explain ways to connect with shoppers on social media.
Introduction
The threat of COVID-19 has changed how many people choose to make purchases. By the middle of 2020, 61% of people said they were shopping in stores less, and 46% were shopping online more, according to the Salesforce Snapshot Research Series. And the Salesforce Shopping Index showed that digital commerce grew by 20% in the first quarter of the year. The trend will likely persist and impact the holiday shopping season.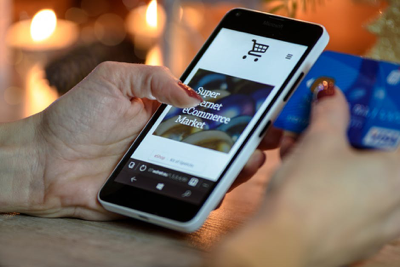 Why Offer Alternative Purchase Methods?
It's not just a shift from physical to digital, shoppers are choosing different ways to buy things in both realms, with one apparent overarching goal—avoiding unnecessary contact. The Snapshot Research Series found that as of June 1, nearly four in ten shoppers were choosing contactless payment and contactless delivery more than they did before the pandemic. About one-quarter had increased their use of self-checkout and curbside pickup. And many shoppers had increased their use of subscription services, automated retail stores, purchases over social media, and vending machines.
This means that you need to enable as many purchase methods as possible to meet shoppers' different comfort levels when it comes to venturing out of their homes, to store doors, or all the way to the shelves. 
Offer shoppers a choice of purchase payment methods. Whether they're shopping online or in person, they want a safe payment method that gives a seamless, intuitive, and convenient experience.
Less Contact In Stores
Some shoppers still prefer to come into physical stores and select products themselves, but they want to minimize contact with other shoppers or store employees. 
Self-Checkout: With the ability to scan product prices, bag items, and pay for them at a standalone station, shoppers can avoid coming within six feet of others. Offer visible signage to self-checkout areas, along with clear directions throughout the process.
Contactless Payments: Some shoppers want to leave the scanning and bagging to your pros, but they don't want to hand their payment to a cashier, or touch a keypad that many strangers have typed on. Enable contactless payment with mobile pay options based on the devices your shoppers use most.
Quick Handoffs of Online Orders at Stores
When time is of the essence—your shoppers need a last-minute gift or extra ingredients for a holiday family meal—they might not be able to wait for delivery in a few days. But if they are leery of spending time indoors with strangers due to the virus, they still have options, including buying online and picking up in store or curbside. Shoppers flocked to these options when COVID-19 first arrived. Sites offering them grew their digital revenue 27% in the first quarter of 2020, compared to 13% for sites that did not offer it.
Buy Online, Pick Up In Store: Shoppers can visit your website and see the inventory currently available in nearby stores. They can put their order together, finalize it, and pay for it on the site, then pick it up in a designated area of the store. You can send ongoing updates by SMS, or another preferred channel, so they know when the order is ready and what ID or other information they need to bring.
Curbside Pickup: Similar to buy online, pick up in store, in this version shoppers place and pay for their order online, but when they get to the store, they don't even need to get out of their car. Your employees bring the order to the curb and can even load it into the vehicle's trunk for a completely contactless experience. Even without a threat like COVID-19, this method is highly valued by shoppers with mobility limitations, time constraints, or other concerns, such as having a pet or small children in their care.
These purchase options require a strong order management system, which sees all store inventory in real time. Hold back stock in a storeroom or remove it from shelves as soon as an online shopper orders it, so they aren't unhappily surprised by items missing from the order when they pick it up. Also, dedicate certain staffers for these kinds of fulfillments. 
Subscriptions 
With all the extra activities that happen during the holidays, shoppers really appreciate when their ongoing needs are met without any extra effort on their part. Subscriptions are a way for you to increase shoppers' lifetime value with recurring revenue.
Deliver essentials: Many households have predictable ongoing needs for things such as paper products, baby supplies, pet food, and pantry staples. Help them set up an ongoing subscription, so you can plan ahead for inventory and delivery needs, and they don't have to.
Surprise and delight: Shoppers may love specialty foods, unique clothing, or fun toys, but lack the time to research and choose among the options. A box of curated items that arrives on a regular cadence can meet shopper needs. They also make a great gift.
Social Selling
As of June 1, 43% of people surveyed in the Salesforce Snapshot Research Series said they were spending more time using social media compared to before the pandemic started. Facilitate more holiday shopping right on those channels. 
Conversational Commerce: Bring commerce and service together by helping agents connect with shoppers on platforms such as Facebook Messenger and WhatsApp where they can answer questions and expedite orders.
Application Programming Interfaces (APIs): Use APIs to enable conversion right from the app where a shopper first encounters your product. If they see it on Pinterest, the API lets them purchase it by clicking through the link.
Don't Abandon UX Principles
When enabling a multitude of purchase options, always consider best practice UX principles. For example, many mobile wallet partners use standards, but you should insist on good mobile design principles. Button placement depends on your KPIs. Placement on the product detail page only makes sense for one item per order. Consider testing placement on specific page elements.
Purchase Option Insights
Adding and enabling new ways for shoppers to buy products requires planning and attention to detail. Consider these tips to ensure success.
Review which purchase methods are right for your audience: geography, demographic segment, traffic split by device/operating system.
Work with your partners early and often for compatibility and implementation direction.
Review your fraud partner for compatibility.
Make sure your order management system can support all purchase methods.
If  shopper info is coming from a third party, make sure it meets your address standards.
Review error messages provided to the shopper.
Perform user acceptance tests (UAT) for all scenarios.
Next Steps
We looked at why it's important to offer alternative purchase methods, and why shoppers might gravitate toward one method over another. We also learned how to help shoppers minimize interpersonal contact if they are nervous about COVID-19, choose subscriptions, and buy from third-party platforms. Your shoppers will have options this holiday season!
Now let's check your storefront's operational holiday readiness.
Resources
Want to hear more about what Salesforce sees in our commerce future—and yours? Take a look at this blog post on Salesforce Predicts.