Make Gifting Easy
Learning Objectives
After completing this unit, you'll be able to:
List three tips for using gift guides.
Describe how you can feature gift guides in navigation.
List three potential gift guide types.
Explain the difference between a gift builder and a gift finder.
Explain how product sets can make gifting easy.
Introduction
You can make gifting easy by creating awesome holiday-specific categories that act as gift guides. They show up when you want them to, and disappear when their time is done.
Gift Guides
Gift guides are an opportunity to be innovative and to think out of the box. They are a great way to make gift decisions easy. These are a few tips.
The Home Page: Feature them on the homepage and show them in the navigation.
The Entire Journey: Reinforce them throughout the shopper journey, including "No Search Results" pages.
Be Creative: Be creative with different types of gift guides. Have fun with it!
Leverage Email: Don't forget to feature them in your email or ad campaigns.
Change It Up: Change your gift guides over the season to keep the message fresh.
Popularity: Configure the order of products to show popular gifts on top.
Reusable URLs: Reuse the URL each year.
Gift builders let shoppers build a product, such as a customized pair of sneakers or a box of candy. With gift finders, shoppers answer a series of guided questions that refine the product set and help them narrow down within the catalog that perfect gift.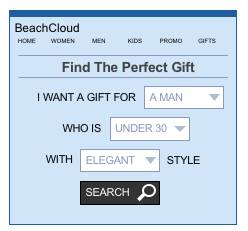 Let's take a look at a few examples.
| | |
| --- | --- |
| Example | Description |
| Offline to Online Experience | The fictional XO's Candy Company has taken the brick-and-mortar store experience and brought it online. Just as if you're standing at the candy counter, you can build your own box of chocolates online by picking the box size and filling it with your (or your friend's) favorite candies. Gift Builders like this one not only support the holiday season, but can be used for year-round gift giving on your site! |
| Gift Builder: Product Designer | On the fictional Jazzy-Jewelry storefront, shoppers can build pendant necklaces by selecting the chain metal, quality, and size, and the pendant's stone and metal type. Items can be added to a wish list, printed to bring for in-store purchase, or simply ordered online. |
| Gift Finders Quiz | Gift finders are used in place of a traditional gift guide. On the fictional Clothes-Yes! storefront, the shopper can take a short quiz about the person they're buying for to receive a curated list of gift items that might be perfect for them. This quiz focuses on the recipient's style and color preferences and the shopper's budget. |
| Gift Finder/Selector | Great-Cloth, a fictional apparel retailer, uses a short quiz to make gifting easy. After selecting from three dropdowns, they see a personalized gift assortment. This short quiz is featured prominently on their homepage during the holiday season. All their (fictional) shoppers love it! |
| Gift Finder by Skill/Experience Level | Another example is to create a gift assortment based on the recipient's skill level in a particular sport or activity. An experienced, trophy-winning runner, for example, would have a different assortment than a person who likes to take long walks. |
Use Product Sets
Another way that you can make gifting easier is by creating product sets for your shoppers to purchase. A product set is a group of products that can be ordered together or separately.
A home goods company, for example, can create product sets for some of their holiday products. This makes it easy for a shopper to purchase a set of special holiday china, for example, to make their holiday dinner shine. One click makes a happy host.
An athletic apparel company, as another example, can create sets based on athlete preferences, again making it easy for the shopper to purchase all of the same gear as one of their favorite pro athletes.
Creating sets can be time-consuming. When possible, leverage Einstein's set recommender, "Complete the Set" to automatically generate and display items that can be styled or organized together. This will help shoppers explore new categories, and it increases AOV by up to 6%.
If you don't want to use AI to create sets, you can use Einstein Commerce Insights to learn what items are most frequently purchased together, inspiring combinations that you might not have even thought of!
Next Steps
In this unit, we learned about the benefits of gift guides and how to feature them in navigation. We looked at examples of gift builders and gift finders to generate ideas. We also explored using product sets to help shoppers select gifts as painlessly as possible.
Now it's time to learn about mobile payment methods!