Install Nonprofit Success Pack (NPSP) into a Trailhead Playground
Install NPSP Into a Trailhead Playground
To install Nonprofit Success Pack (NPSP) into a Trailhead Playground, you need to have a few things handy:
If you've arrived here immediately after finishing the first step in this project, you should still be logged in to your Trailhead Playground and have all the right tabs open. If not, you'll need log in first. Everyone needs to be on the same page before moving forward! 
Open Your 'Install NPSP' Trailhead Playground
To start on next part of the project, you need to do two things: log in to Trailhead and open your Install NPSP Playground. Follow these steps to get set up if you haven't done this already.
Log in to Trailhead (if you logged out from the previous step to get a delicious snack, or something equally excellent). From the top of the page, click your profile photo and select Hands-on Orgs.
From the Salesforce Hands-on Orgs page, click the Launch button associated with your new Install NPSP Playground to open it in a new browser tab. To pass this challenge, be sure to use only the new Trailhead Playground you created in the first step. No other apps should be installed in the Playground.


You should land on a Trailhead Playground Starter app's welcome page.
Run the NPSP Installer
After you've logged into your Trailhead Playground, it's time to run the NPSP install tool:
Copy and paste this URL into your browser to launch the NPSP installer: https://install.salesforce.org/products/npsp/trailhead. This is a Trailhead-specific link with some sample data — don't use this URL to install NPSP into your production org or a sandbox! Also, be sure to use only this link for this challenge. Don't install another version of NPSP from the Salesforce AppExchange into your Playground for this challenge.



On the NPSP installer welcome page, click Log In to Start Pre-Install Validation and select Production or Developer Org. Do not select the sandbox or scratch org option.

Now look sharp, eagle eyes! Make sure you're definitely not in your real org with real data, or even inside a different Playground. Only use the new Playground you created in the first step of this project! Installing NPSP using the link on this page could overwrite existing customizations in other orgs, so you want to make sure you're doing all of this in the fresh Install NPSP Playground you made just for this project.



The Salesforce login page will load. Log in using the username and password for your new Install NPSP Playground. (You kept it handy, right?).
After submitting your login credentials, you have to give the installer permission to access your new Trailhead Playground org. On the Allow Access page, click Allow.



On the Install NPSP page, you'll receive a message that your pre-install validation was completed successfully. Review the information in the Connected to Salesforce box and verify that you're installing into your new Trailhead Playground. Look for that fun animal name again in the username to be sure.
Click Install.



Select the box at the bottom of the Product Terms of Use window to accept the Terms of Use, then click Confirm.
It may take a few minutes for all components to install, and you can watch your progress on the NPSP installer page.
If you receive an error during the installation process, go to help.salesforce.com, find the Support & Services area and log a technical support ticket with Salesforce. Include NPSP in the subject line and include in your comment the installation link listed in the error message. Mention that the error is within a Trailhead Playground. The more technical support knows about the situation, the faster they can help solve it!
When everything installs correctly, you'll see a confirmation message at the top of the screen and a list of green check marks next to each package.
Finally, click the user icon at the top of the NPSP installer page and select Log Out.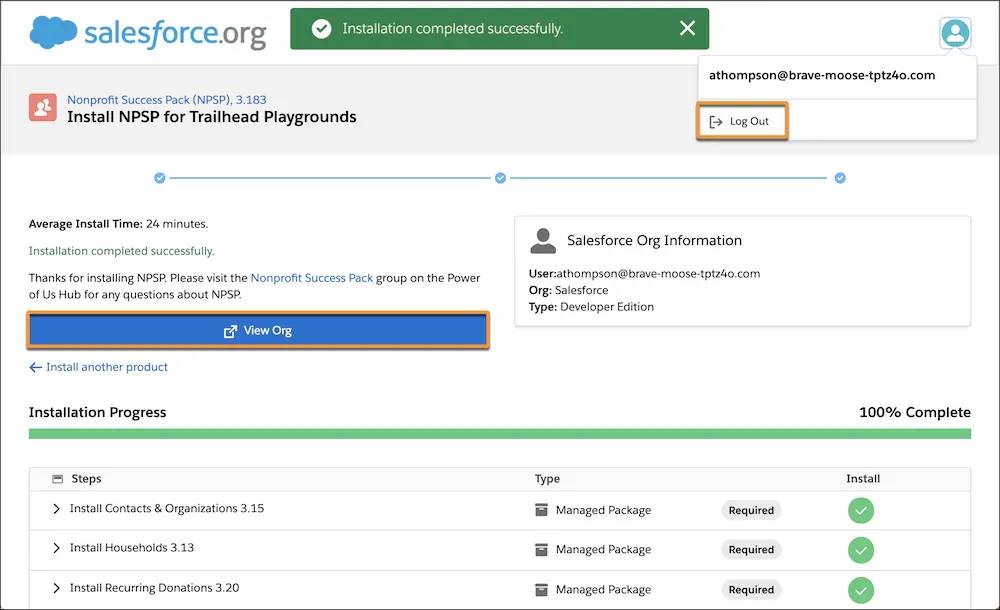 And you're done! Now all that's left to do is check that NPSP installed correctly into your Playground. First, go to the Verify Step section below on this page. Select the shiny new Trailhead Playground you created in Step 1 and launch it. If you haven't already done so, complete the steps listed above to run the NPSP installer. Then click the Verify button to see how it went.
Once NPSP is installed you can follow along with other NPSP modules or get hands-on with projects that use NPSP in a Trailhead Playground, like Import Your Data Using NPSP Data Importer, Extend NPSP Data Importer with Advanced Mapping, Build a Donor Email Flow for Nonprofit Success Pack (NPSP), and Create an Opportunity Record Type for Nonprofit Success Pack (NPSP). Check out the links in Resources!
Resources