Add Branding and Components to the Community
The Category 1 Biking community is coming along. In this step, we add custom branding, update components, and put the finishing touches on the community. Let's get started.
Click Content Management [1] then Builder [2] to open the Community Builder.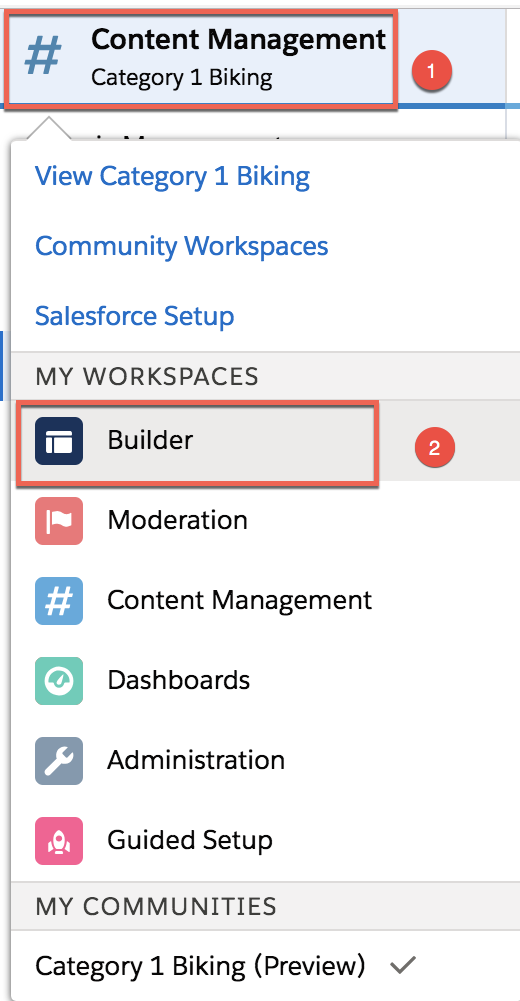 We begin by adding branding to the community, and updating our navigation menu.
Click the Headline component.



Update the headline as follows.

Title: Category 1 Biking
Banner Text: Welcome to the community!
Select Theme.



Under Colors, choose any palette.
Under Images, click Header Image and click Upload Image to upload an image. Choose header.jpg from the zip file you downloaded earlier.
Click the Navigation Menu component.


Click Navigation Menu.
Click + Add Menu Item.
Define the Menu Item as follows.

Name: Cases
Type: Salesforce Object
Object Type: Case
Default List View: My Open Cases

Click Save Menu.
Click Publish.
Select Components.



Locate the Snap-ins Chat [1] and Trending Articles by Topic [2] components.



Select Snap-ins Chat and drag it to the sidebar, beneath the Ask a Question component. Close the Snap-ins Chat dialogue box.
Select Trending Articles by Topic, and drag it to the sidebar beneath the Snap-ins Chat component. Close the Trending Articles by Topic dialogue box.

Click Publish.
On the Publish Your Community confirmation screen, click Publish, then Got It.
You receive an email confirmation once your community is published. Click the link in your email to see your community live!