Get Started with Social Studio
Learning Objectives
After completing this unit, you'll be able to:
Explain how social marketing and Social Studio can help your business.
Learn the major features of Social Studio.
Welcome to Social Studio
Today's marketer knows that social media is the best place to build a strong brand, engage their community, and gather candid product feedback. Social channels provide you with a full view of the customer: sometimes it's customer service complaints, sometimes it's product praise, sometimes it's an anecdote or story—it's important for you to see these! The need for timely responses from a social media manager adds more complexity: Because customers can engage directly with you on more than one highly visible social platform, they expect quick response turnaround. 
Social Studio helps you manage all of these challenges and demands. With Social Studio, you can plan and schedule content among individuals and teams spread across geographical distances, brands, or departments. Plus, after you publish content, you can engage with your customers and compare your post's performance with other content you published.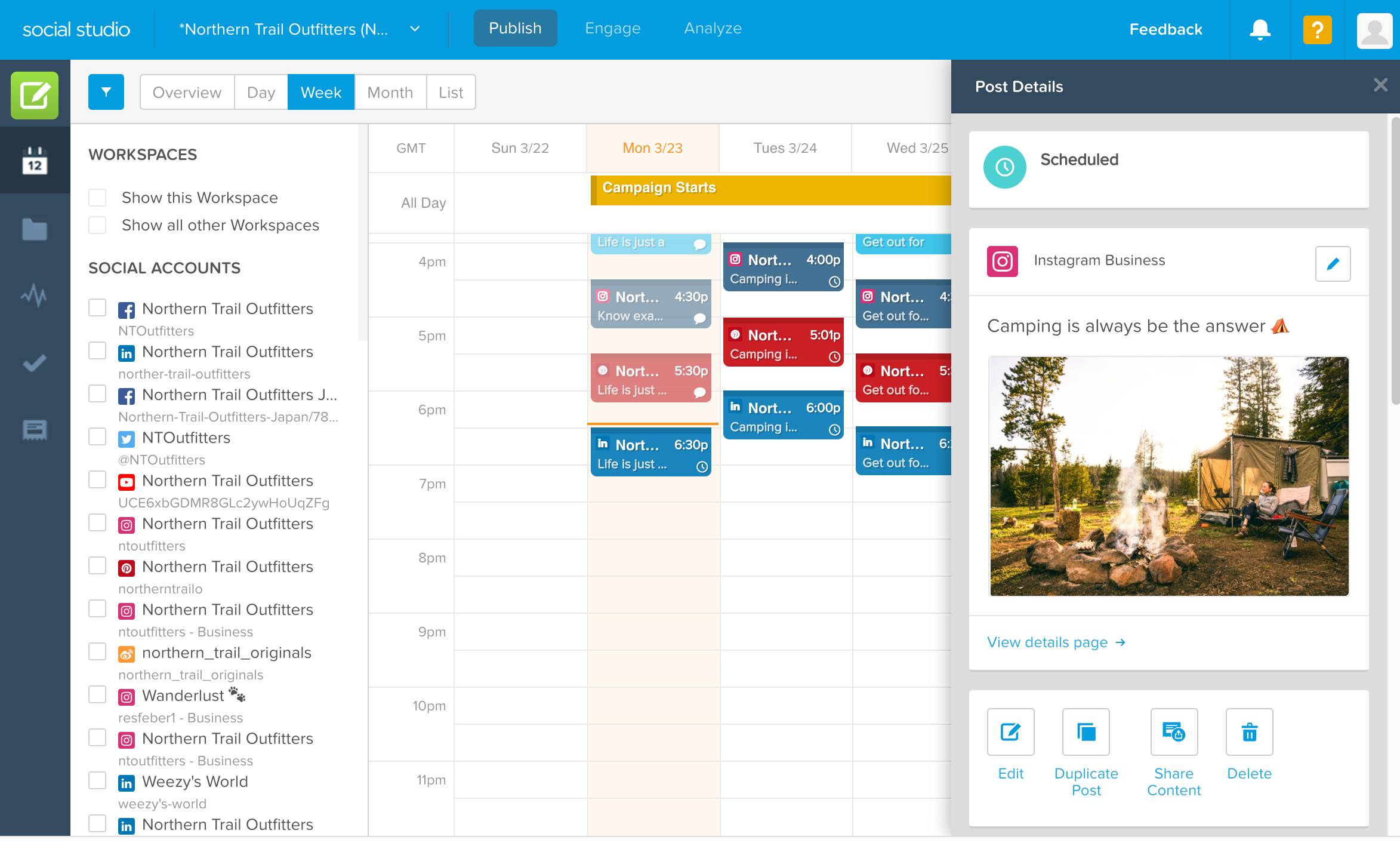 Follow the Leader
Let's make it even simpler. Social Studio helps you listen to, track, and respond to your audience. It connects your in-house marketing, sales, and services teams to your customers through popular social channels. 
Social Studio Actions
With Social Studio you can:
Configure workspaces to quickly organize teams by region—either across the world, country, or down the street—and organize workspaces by brand or business function. You can use workspaces to promote collaboration for campaigns, content creation, and publishing.
Schedule and design content on workspace calendars. You can manage your future and past content calendar with fully featured planning and scheduling tools designed for teams.
Create social content tailored to specific networks using our intelligent social network platform that goes beyond just a text entry box. Attach images or video for more impact.
Preview and approve content before going live using easy-to-create customized approval rules. Approval rules protect your brand integrity and ensure a consistent voice. Notifications for approvers appear in Social Studio and by email. If you're logged in and using Social Studio Mobile, notifications appear as push notifications.
Engage and respond to your social audience and focus on the changing content. You can use shortcuts and bulk actions aligning objectives, teams, and permissions with other content goals.
Automate common actions and processes for classifying, reporting, and routing content using macros.
This table includes a list of the major features and tasks within the Social Studio platform.
Social Studio Component

Description
Admin

Manage administrative functions.

Add and manage users, topic profiles, social accounts, and macros. Connect existing Salesforce Service Cloud and Marketing Cloud accounts for integration to Service Cloud and Marketing Cloud.

Publish

Start conversations.

Publish enables you to create and publish content to one or more social accounts, across channels, in near real time, or scheduled to post later.

Engage

Participate and manage conversations.

Engage allows you to moderate and join conversations started with the content created using Publish. Use classification and workflow controls to manage any scale of social engagement, enabling more complex use cases such as Social Customer Service and lead generation.

Analyze

Understand conversations.

Use Analyze to monitor multiple social accounts and topic profiles, discussions from owned social accounts, and broader social news. Create custom dashboards for sharing.

Einstein Vision

Classify images with data.

Use artificial intelligence to automatically classify incoming images. Einstein can classify the images by logo, scene, food, and object. The data returned provides deeper insights on what is important and being discussed about your brand.

Overall Social Studio is a one-stop solution allowing you to manage, schedule, create, and monitor posts. So let's get you ready to start benefiting from these features! In the next unit, we explore Social Studio navigation and how to administer user roles and permission. 
Resources