Create Effective Selling Habits
Learning Objectives
After completing this unit, you'll be able to:
Demonstrate good selling skills.
Cultivate operational rigor.
Explain how to be a team player.
Explain how to avoid a selling rut.
Teach the Right Selling Behaviors
There's a difference between getting the sale done and getting it done right. It's not just about hitting your sales quota; it's also about creating deep relationships with customers, even after the sale. Successful Salesforce reps demonstrate good selling skills, operational rigor, and perform well as a team player.
Here's what it looks like at Salesforce.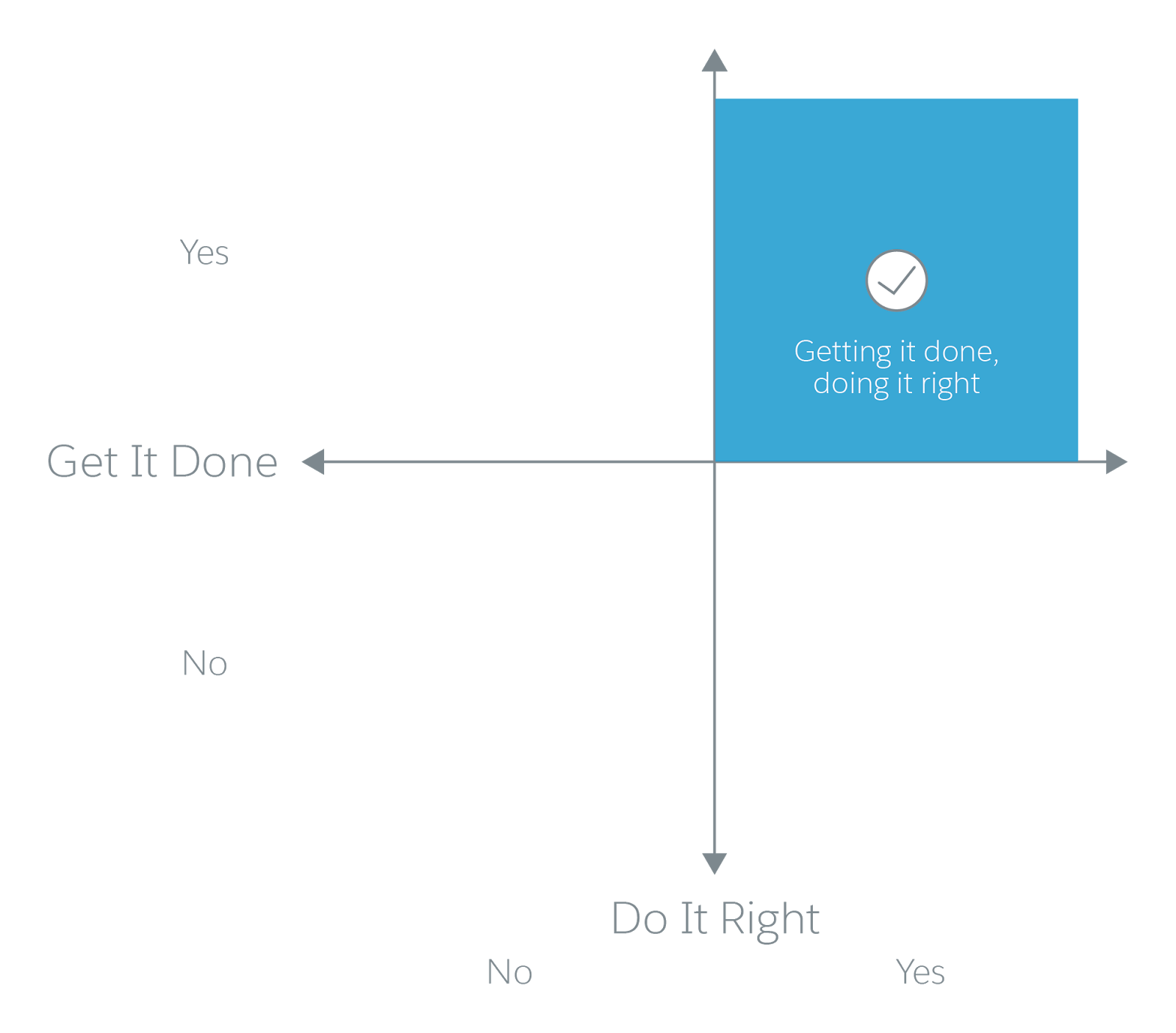 "Obviously, every seller should aspire to be in the upper right quadrant. This means you're not only getting it done by hitting your sales quota, but you're also accomplishing this in the right way." —Tony Rodoni, EVP, Commercial Sales and Marketing Readiness, Salesforce
Demonstrate Good Selling Skills
The selling skills we discussed in the previous unit, including time management and identifying your customer's business problems, are crucial if your reps want to hit their numbers. But you also want to ensure your reps are highly skilled at discovery, qualification, and negotiation, and can master the sales process from start to finish. It's these skills that make them stand out during the sales process.
Have Good Operational Rigor
Make your CRM central to your sales process; to get the most out of it, keep it up to date. Make sure every opportunity is in the right state, has the right anticipated value, and includes next steps. This makes the targeted pipeline accurate and achievable.
Play Well with Others 
Complex sales can have many stages and involve more than one person to win. It can mean the executives of the two companies meet while sales managers and reps meet with various constituents within the prospect's organization. Or perhaps one rep is working with a subsidiary while another is trying to sell to the parent company. Complex deals can have many stages and involve many people. If you're not identifying the right players and building relationships with them ahead of time, you increase the chances that things can get derailed. Only when reps are able to bring together everyone in their company to work with the right contacts at the buying company can they most effectively work to close a deal.
Expand Your Sales Mind
In the good ol' days, selling was all about cold calling. Now a cold call doesn't get you very far. (Have you noticed people don't answer phone calls anymore?) Regardless of how you connect with prospects and customers, we know this is true: both expect you to know them well enough to anticipate their problems and needs, and to offer the right solutions. Your reps are required to know what their prospects and customers specialize in, the relationship between the company and their top-tier customers, how they're differentiating themselves in a crowded marketplace, and where they have pain points in the customer experience.
Get Out of the Sales Rut
With all that pressure to know the customer, your reps can fall into the habit of prescriptive selling. That's when they skip over using the discovery process to make a strong connection with the customer, and they revert to pitching products only based on what the customer has explicitly told them. Many customers have an idea of what they think their challenges are, but an outside perspective can surface issues and solutions the customer is too close to see. At Salesforce, reps are trained to use design-thinking concepts in the discovery process to better understand the customer's business, challenges, and opportunities.
Observe Interaction
Good sales reps are incredibly observant, curious, and empathetic. By approaching each customer and opportunity with curiosity and empathy, your reps can uncover opportunities that lead to further sales. Here's how: They can discover that a major bus company, for instance, is using an inefficient form on its website, or that a cosmetics company is having a difficult online buying experience. Even if your extra effort doesn't lead to a direct sale, it shows prospective customers that you're willing to go that extra step to give them the attention they need. And that greatly increases your company's status as a trusted advisor.
Give Reps Permission to Take Time
In an ideal world, your reps devote more attention to the discovery process for every potential customer. In reality, sales reps are constantly under pressure to sell more and sell faster, which means they don't have the luxury of time. When Salesforce trains reps on the discovery process, we emphasize the importance of carving out that time with promising opportunities. It's easy and quick to directly ask a customer what their problems are. It takes much more time and effort to learn a company's processes and observe their customer experience firsthand. Without permission from sales leaders to spend extra time on these opportunities, reps are likely to default back to prescribing a solution based on too little information. But when reps do have license to dive deep with a customer, they have the opportunity to cultivate an even larger deal.
Resources