Discover the Skills of a Penetration Tester
Learning Objectives
After completing this unit, you'll be able to:
Describe a penetration tester's career path.
List key skills relevant to the role of a penetration tester.
A Penetration Tester Career
Let's explore whether you'd be a good fit for the role of a penetration tester by starting with some questions.
Who are you?
Do you like to think about ways to circumvent security controls? Does it appeal to you to help organizations better manage their security risk? Are you curious about how technologies and networked systems operate and ways to better secure them? If so, then penetration testing as an ethical hacker might be the career for you.
What do you like to do?
Let's delve deeper into what penetration testers spend their time doing. Penetration testers test information systems to determine if they are secure. They target applications, business processes, IT infrastructures, and more to try to exploit the same vulnerabilities attackers might use to compromise an organization's sensitive data. Their goal is to map out all components of a system and gain access in order to help an organization better understand how an attacker would try to circumvent its security.
Penetration testers help measure the effectiveness of the organization's security defenses. They are knowledgeable about real-world attack patterns and countermeasures. They help organizations improve both their attack defenses and response processes, evaluate the effectiveness of security investments, and better manage risk. They also help organizations comply with regulatory requirements. 
To give you a closer look, let's meet Russell, a penetration tester at a data encryption and digital privacy company. Russell is involved in planning penetration tests of the company's systems, discovering information about vulnerabilities on target systems, exploiting vulnerabilities, and reporting on recommended mitigations to reduce risk. 
Russell plays an important role in disclosing vulnerabilities he finds so that the company's IT team can fix them before malicious actors exploit them. Sometimes, he conducts tests with no prior knowledge of the target environment, and in other cases, he has full knowledge and tries to simulate an internal attack. He's familiar with different penetration testing methodologies and uses the most appropriate methodology, depending on the engagement.
What type of environment do you want to work in? 
The role of penetration tester can be an in-house position or a consultant. The larger the organization, the more penetration testers they may employ. You can work for many industries, including financial institutions, consulting firms, technology companies, and more.
What is the career trajectory for this role? 
Many penetration testers start out in security administration, network administration, network engineering, system administration, or application development. Having a focus on the security side of each discipline would provide a good foundation for a penetration testing career. Penetration testers can transition to a variety of roles based on an individual's interests and skills. You can grow from penetration testing into an IT manager role, developer, consultant, malware engineer, or bug bounty researcher, to name a few. 
Why should you consider this career?
The role of a penetration tester pays well, and is expected to continue to be in demand. In fact, the cybersecurity field as a whole is growing and needs more skilled professionals. Penetration testers create value by helping their employers protect systems and maintain customer trust as a result. They also help businesses and organizations improve their digital security measures. 
Penetration Tester Skills
Like Russell, you're excited about helping organizations think like an attacker in order to defend themselves. You identify patterns in your organization's system weaknesses to help prioritize remediations. Let's turn our focus to the education and skills needed to pursue a career as a penetration tester.
Education
A bachelor's degree in computer science, cybersecurity, or a related field is usually good to have, but not necessarily required.
Experience
Typically, employers look for candidates with anywhere from 1 to 3 years of experience testing enterprise networks using standard penetration tools, such as Kali Linux, Metasploit, Meterpreter, Wireshark, Nmap, and Burp Suite. Experience in vulnerability management, preventing data breaches, business continuity, scanning, and remediations is also valuable. 
Certifications
To help you skill up and get your foot in the door, pursuing a certification is a great idea. Here are some common certifications for penetration testers. 
Certification

Description


Introduces penetration testing tools and techniques via hands-on experience.

You learn not only the skills, but also the mindset required to be a successful penetration tester. 

Global Information Assurance Certification (GIAC) Penetration Tester (GPEN)

Validates a practitioner's ability to properly conduct a penetration test, using best practice techniques and methodologies.

GPEN certification holders have the knowledge and skills to conduct exploits and engage in detailed reconnaissance, as well as utilize a process-oriented approach to penetration testing projects.

GIAC Exploit Researcher and Advanced Penetration Tester (GXPN) 

Introduces advanced penetration concepts and provides an overview to prepare students for what lies ahead. 

You walk through dozens of real-world attacks used by the most seasoned penetration testers.

Teaches the necessary skills to work with a penetration testing team, the exploitation process, and how to create a buffer overflow against programs running on Windows or Linux. 

Prepares students to attack various web applications and operating systems.
Knowledge
As a penetration tester, a solid understanding of operating systems, networks, and networking technologies is key. You should know the basics, such as Windows and Linux commands, scripting, network security concepts, and web application security practices. It's also good to have familiarity with system or service enumeration, exploit development, scripting, and evasion techniques. A grasp on physical security protections is also a plus. 
Business Skills
In addition to these technical skills, it's also critical to sharpen your business skills. A huge part of being successful as a penetration tester is critical thinking and strong written and verbal communication skills. You should enjoy working with others, managing stakeholders, paying close attention to detail, and should be good at managing your time.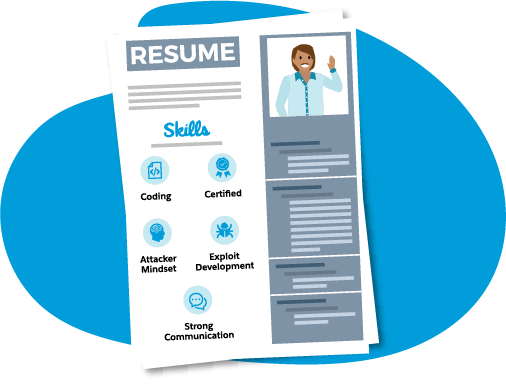 Sum It Up
In this module, you've been introduced to the goals of penetration testing. You've learned more about the importance of penetration testing in helping organizations shore up cyber defenses against exploitable vulnerabilities before malicious actors find them. You've also discovered the duties, skills, and qualifications of a penetration tester. 
In the next module, Responsibilities of a Penetration Tester, you learn how to plan a penetration test, perform reconnaissance, and exploit identified vulnerabilities.  
Interested in learning more about cybersecurity roles and hearing from security professionals? Check out the Cybersecurity Learning Hub on Trailhead.
Give Us Your Feedback
We'd love to hear from you. Take a minute to fill out this survey. This survey allows participants to voluntarily provide information about themselves to support the Cybersecurity Learning Hub's commitment to building resources and training that reflects the diverse communities we serve. We don't collect your email or your username—only your valuable and anonymous feedback.
Resources