Get to Know Sales Cloud PRM
Learning Objectives
After completing this unit, you'll be able to:
Describe what Sales Cloud PRM is in relation to the rest of the Salesforce ecosystem.
Explain the key pain points vendors face when working with channel partners.
Identify key features of Sales Cloud PRM.
What Is Sales Cloud PRM?
When talking about channel sales, people use different terms depending on the industry and the situation. At Salesforce, we use Partner Relationship Management (PRM) as a generic term to describe a tool that helps companies manage their partners. Let's look at other key terms we use in this module.
Vendor. This is the company that originated the product or service that is being resold. Vendors are the companies that purchase Sales Cloud PRM from Salesforce and provide a login to its partners.
Partner. This is the generic term we use to talk about third parties that work with vendors. Often these are channel sales partners, but they can be project managers or even contractors who are not on your full-time payroll.
System Integrator (SI). If you sell software, these are the service providers that implement your software at corporations. Often a vendor's product is one of many products that the SI packages together to sell as a full solution to customers.
Independent Software Vendor (ISV). This is an organization that focuses on making and selling software for general use (rather than company-specific, in-house software). Many ISVs build apps on top of the Salesforce Platform and thus are our partners.
Value-Added Reseller (VAR). These are companies who take a vendor's product, add features or services to it (that is, add value), then resell it to customers.
Original Equipment Manufacturer (OEM). There are different definitions of an OEM, but for this module we use this term to identify companies that produce an original part or equipment that is used in a larger product. For example, the provider of a car battery used in a new car is the OEM of the battery.
That's enough definitions for now. Let's move on and see if Sales Cloud PRM is right for you.
Wait, How Does Sales Cloud PRM Fit into the Salesforce Ecosystem?
Great question. One way to look at PRM is as a way to extend customer relationship management (CRM) functionality through workflows out to partners. Just as a direct sales team uses leads and opportunities to track their sales deals, partners similarly find value in using leads and opportunities to track their deals. Having a system also allows partners to log deals that they source and helps prevent channel conflict (two partners going after the same customer) by allowing the vendor to assign leads.
Another way to think of it is as an analogy. Just like CRM allows companies to manage their customer relationships, PRM allows companies to manage their partner relationships. This makes forecasting channel sales, collaborating with partners, and working with partners a lot easier and faster.
Is Sales Cloud PRM Right for Your Organization?
The first question to ask is if your organization works with third parties. If it does, then Sales Cloud PRM could be right for your organization. Let's dive deeper into key pain points.
You do not sell directly to end customers. You sell through third parties, like VARs, SIs, and ISVs.
You are emailing leads over to partners. While this can be an OK solution when you only have a handful of partners, it's not scalable.
Forecasting your channel is nonexistent or is a labor-intensive process. Tracking partner activity is difficult if you are relying on spreadsheets.
It takes multiple months to onboard a partner.
Finding new partners is a difficult process.
Partners are logging in to multiple portals to find what they need.
Partners are fighting with each other over customers.
If you have one or many of these issues, not to worry—there's hope. Sales Cloud PRM was designed for companies just like yours.
Optimize the Partner Lifecycle with Salesforce
Sales Cloud PRM, powered by the Salesforce Platform, allows you to extend the power of your CRM to your partners in a personalized way. Passing data to partners and receiving data from partners is now a seamless process with Sales Cloud PRM. And, whether you start with a handful of partners or a more mature set, Salesforce scales with your business.
Salesforce handles the entire partner lifecycle from recruiting and onboarding new partners to your business, to providing self-service and analytics tools to your most advanced partners. You can manage the partners in real time and amplify your brand by marketing through partners. Most importantly, your channel partners can close more deals, faster with the same Salesforce sales and quoting features you already use.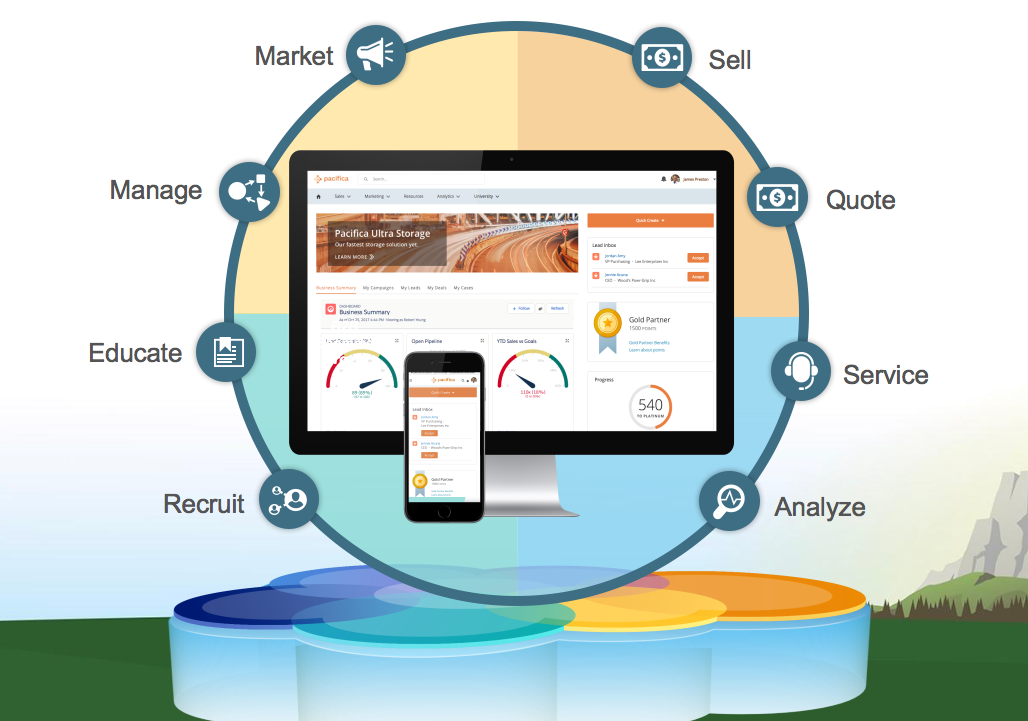 How Sales Cloud PRM Can Help Boost Sales
Sales Cloud PRM helps you boost sales by automating your onboarding process, providing channel marketing tools to easily build demand, streamlining partner sales with leads and opportunities, and providing reports and dashboards for easy reporting.
Sales Cloud PRM is built on the Salesforce Platform, so it also integrates seamlessly with many of our other products, including Service Cloud, Marketing Cloud, Tableau CRM, and Revenue Cloud. In the following modules, we talk about how Sales Cloud PRM has made onboarding, channel marketing, channel sales, and analytics easy.
Resources