Decide If Salesforce Is Right for Your Nonprofit
Learning Objectives
After completing this unit, you'll be able to:
Relate common nonprofit challenges to your own organization.
Describe how Salesforce helps nonprofits solve their challenges.
Describe the benefits of standard functionality.
Describe the benefits of custom functionality.
Introduction
We all know that nonprofits have large IT budgets and plenty of free time to install and maintain the latest systems.
Just kidding.
If you work for a nonprofit (and we hope you do), you know that setting up IT systems takes time and money that you don't have. It's easy to feel like technology is working against you. After all, most systems aren't designed to help you manage your unique programs and overcome the biggest challenges you face.
Do some of these challenges ring true for your organization?
My data is scattered across multiple systems, paper documents, and sticky notes.
My donor information is never quite up-to-date despite my staff's best efforts, and I don't have a full picture of all the ways constituents interact with my organization beyond what they've donated.
It's hard to forecast how many donations we'll bring in this year. I don't know where we stand today relative to fundraising targets.
It takes forever to compile reports for my board and funders. I wish I could more readily answer questions like: How many people did our programs serve last week, last month, and last quarter? How are we making a difference in our constituents' lives?
I'm fed up with manually managing finances, sponsorships, attendance, and follow-up for events.
I wish it took less effort to get the word out to our supporters.
It seems like our IT budget is simply not sufficient.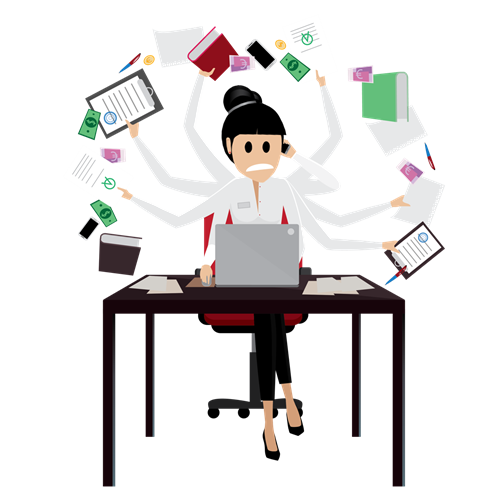 If your organization has these kinds of challenges, you're not alone. It's the reality of nonprofits doing demanding, critical work with limited resources.
Challenges, Meet the Salesforce Solution
It's also a reality that nonprofits of every shape and size are using Salesforce to solve these nearly universal challenges. Organizations have transformed the speed, effectiveness, and quality of their operations, starting from a place similar to where you might be today.
Many of these organizations are using the Nonprofit Success Pack (NPSP), a version of Salesforce that allows you to bring constituent and program data together in one place, so you can get a complete view of your organization's impact. Salesforce helps you do this by offering standard features (features that come "ready" or "out-of-the-box"), as well as the ability to customize any feature to meet your unique needs. Once you've learned how to adapt Salesforce's standard and custom features, you'll be able to work more efficiently, engage smarter, and prove your impact.
We've recently launched Nonprofit Cloud, which includes NPSP. For more on Nonprofit Cloud see Fundraise with Nonprofit Success Pack (NPSP).
"Move-In-Ready" Standard Features
Think of Salesforce with NPSP as a "move-in-ready" house. You get standard features out-of-the-box to store constituent data and manage processes. These features make it easier to manage donors, manage cases, track volunteers, and handle a host of other activities—so you can devote more attention and resources to your mission.
| You need to be able to ... | Salesforce has standard features for ... |
| --- | --- |
| Raise funds | Constituent relationship management (CRM), donor management, and donation management |
| Communicate with constituents | Sending messages to stakeholders, supporters, and partners through email, community portals, and more |
| Manage cases and issues | Case management, including logging, routing, tracking, and approvals |
| Manage volunteers | Tracking your volunteers, events, shifts, and hours |
| Create reports and visualize data | Running and scheduling reports, and building dashboards with drag-and-drop tools |
Customization for All The Things That Make You Unique
At some point, though, the similarities between nonprofits end. Every nonprofit has a reason for being that is as unique as their mission is critical. Salesforce as a solution offers ultimate flexibility.
Nonprofit users invariably customize standard Salesforce functionality, depending on time, resources, and what they need. Customization is possible because Salesforce isn't just a set of standard features. It's also a platform that lets you add on functionality, tailored for your unique business processes.
| You need to be able to ... | Salesforce platform flexibility lets you ... |
| --- | --- |
| Manage programs | Track virtually any type of program data in one place, whether you're tracking schools built, trees planted, or veterans served |
| Digitize paper-based processes | Set up a database that can store the information you need and make it available to staff from anywhere, replacing paper records and spreadsheets |
| Automate manual processes | Set up automated workflows to streamline manual processes like client intake, document generation, outcomes reporting, and more |
| Engage constituents on every channel | Take advantage of constituent data stored in Salesforce when communicating via social media, direct mail, your website, and more |
| Do many more things than we could ever list here | Access the Salesforce ecosystem of pre-integrated, third-party applications, including apps for managing events, memberships, payment processing, and much more |
Get Ready to Lay Your Foundation for Transformation
Successful Salesforce implementations typically start with a solid foundation of standard functionality and grow in phases as you further customize and extend the platform. Fundraising? Program management? Marketing and engagement? Whatever is most important to your organization now, that's where you can start today.
Salesforce.org celebrates the organizations you just heard from in that video, as well as the thousands of organizations in the nonprofit community who are doing monumentally important work. Our mission is to make Salesforce accessible to and customized for nonprofits. We understand that it's hard to nail down everything that you might need from a technology solution, which is why we want to use this module to break things down for you step by step. As with a house, everything starts with the foundation, to which you add one room at a time. Everyone, regardless of where they come from, has the right to a good house, and we want to show you how to build the house that's best for you.
In the units that follow, you'll:
Learn more about the Salesforce platform.
Get familiar with how to model and structure your data in Salesforce.
See how to build, borrow, or buy custom functionality.
Sketch out your design-and-build project plan for implementing Salesforce.
Wrap up with a review of where to access resources, whether you approach this project as a do-it-yourselfer or with help from other professionals.
By the end, you'll understand what Salesforce is, evaluate what you get with "move-in-ready" Salesforce, and know what it takes to create a home that provides exactly the functionality, improved productivity, and stability that you can build on, for years to come.