Track Emissions with Net Zero Cloud
Learning Objectives
After completing this unit, you'll be able to:
List the key differentiators of Net Zero Cloud.
Outline the various sources of greenhouse gas emissions categorized by scope.
List the high-level carbon accounting steps in Net Zero Cloud.
Explain how Net Zero Cloud helps track waste-based emissions.
Meet Net Zero Cloud
Northern Trail Outfitters (NTO) has been using some Salesforce products for its CRM solutions. Sam Rajan evaluates Salesforce's Net Zero Cloud for NTO's requirements and discovers that Net Zero Cloud is designed for companies like his. NTO can use Net Zero Cloud to effectively and quickly track, analyze, and report on its environmental footprint with reliable, investor-grade data. This data is essential for third-party audits, financial filings, corporate reputation, and building trust with all stakeholders.
Net Zero Cloud offers the following key differentiators.
Breaks down data silos and provides companies with trusted data because the Salesforce platform offers a single source of truth.


Enables users to record data from various sources, such as business travel, electricity, third-party freight hauling, and direct fuel use. It then tracks the energy consumption and calculates the emissions for each of these sources using relevant emissions factors.


Helps evaluate corporate environmental impact with rich data visualizations and prebuilt CRM Analytics dashboards.


Helps companies easily incorporate procurement data for estimating their value chain emissions and converts spending data into emissions estimates.


Comes with preloaded reference datasets with emissions factors readily available for use in the application. Examples include datasets from the US Environmental Protection Agency (EPA), UK Department for Business, Energy & Industrial Strategy (BEIS), and the Intergovernmental Panel on Climate Change (IPCC).


Enables companies to create climate action commitments and set science-based targets that align with their sustainability commitments.


Tracks supplier sustainability commitments and emissions using scorecards to easily identify suppliers that don't yet have a science-based target.


Helps companies forecast emissions by activity type for upcoming periods and allows users to track targets against forecast data.


Helps companies incorporate waste management data for estimating emissions from waste generated during operations and from product end-of-life disposal.


Enables companies to manage water usage data of their stationary assets and that of their suppliers, to calculate the water footprint.


Serves as a one-stop solution for companies to easily manage all their carbon credit information, be it projects or actual credits.
A clear net zero strategy begins with solid and consistent data tracking. This makes it possible to set clear, bold targets, track progress over time, and report on progress. Sam is happy to have found the right tool in Net Zero Cloud to accelerate NTO's net zero journey.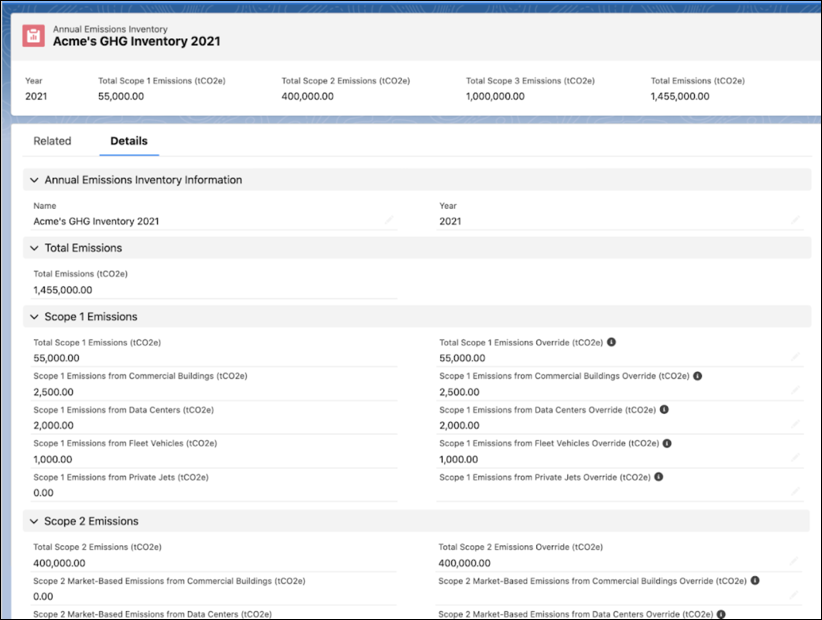 Differentiate Between Scope 1, 2, and 3 Emissions
The Greenhouse Gas Protocol has established an emissions inventory that categorizes greenhouse gas (GHG) emissions to outline direct and indirect emissions sources.
Scope

How It's Determined

Sources and Activities

Scope 1

Emissions that result from direct activities of your company, such as fuel combustion from facilities and vehicles that your company owns or controls.


Onsite natural gas combustion in owned buildings
Other direct fuel usage from generators and heating oil
Leakage of refrigerants from owned buildings
Corporate private jet travel
Fuel usage for corporate shuttles

Scope 2


Emissions that result from the generation of purchased energy consumed by your company, such as purchased electricity, steam, heating, and cooling.

Scope 2 is divided into location-based and market-based categories, which reflect different calculation methodologies.

Electricity use in offices and warehouses
Natural gas use at leased facilities
Generator fuel use at leased facilities
Steam use at leased facilities
Leaked refrigerants at leased facilities

Scope 3


Emissions from all other indirect sources in your company's value chain, such as purchased goods and services, distribution and transportation of products, employee commuting, and end use of sold products.

Scope 3 is divided into 15 categories, which reflect different types of value chain activities or processes.

Purchased goods and services
Capital goods
Fuel and energy-related activities
Business travel
End-of-life treatment of sold products
Use of sold products
Investments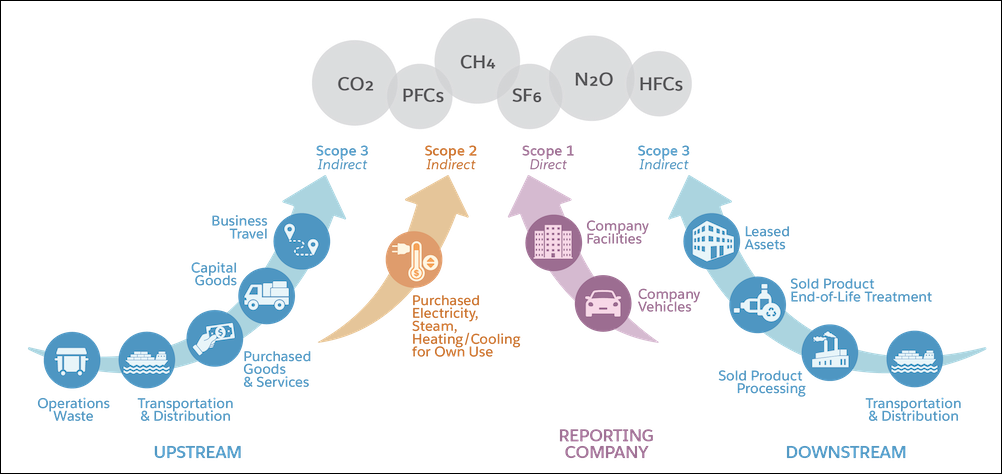 Calculating its carbon footprint will give NTO valuable information about its sources of emissions and help pinpoint its biggest opportunities for reduction. To do this, NTO must complete a robust carbon footprint analysis, including calculating emissions from its entire value chain. An accurate emissions inventory paves the way for effective climate targets, short-term reduction strategies, and long-term plans for purchase of the right number of carbon credits to reach net zero.
Quantify Emissions with Carbon Accounting
Sam makes a list of the high-level steps that he plans to take in Net Zero Cloud to effectively quantify emissions.
Identify assets and emissions sources, such as buildings, warehouses, company vehicles, private jets, data centers, and scope 3 activities, such as business travel, procurement of supplies, and transportation of retail products.


Record activity and energy consumption data, such as utility bills, fueling receipts, travel records, and data from suppliers. Also, determine, specify, or calculate other critical details, such as location-based and market-based electricity grid mixes, renewable energy allocation percentages, and fugitive refrigerant emissions.


Load or upload datasets from environmental agencies in the US, UK, and other standard environmental bodies to convert energy data into reportable carbon numbers. Several emissions factors in the form of reference datasets from standard government or private sources are preconfigured in Net Zero Cloud. Since this data can be regionally specific, you can also load your own reference data.


Review the calculated GHG emissions, which are broken into appropriate scopes for each asset and emissions source.


Create carbon footprint records for each emissions source type to roll up and aggregate emissions data by asset for a specific year.


Seamlessly audit carbon footprint data to validate and confirm the auto-calculated emissions. Sam plans to give his external auditors access to Net Zero Cloud so that they can perform their assurance work in the same source of truth where all of NTO's emissions data resides.


Create an annual emissions inventory to sum up emissions from all sources for a year. Net Zero Cloud aggregates emissions across a company's assets and procurement activities for a year to provide the total annual emissions inventory.
A Little About Tracking Waste
Apart from the energy use and activity data, Sam can also use Net Zero Cloud to account for the waste generated from NTO's activities. Waste-specific emissions factors are applied to the generated waste values to calculate scope 3 upstream and scope 3 downstream emissions measured in tonnes of carbon dioxide equivalent (tCO₂e).
Net Zero Cloud helps you keep track of waste generated from operations, as well as waste generated from end-of-life treatment of sold products. The primary data used for waste calculations are waste type, disposal site type, disposed waste quantity, and waste disposal emissions factors.
Similar to a carbon footprint record, a waste footprint record can be created to aggregate the amount of waste for a specific year or any other reporting period of your choice.
Continue to the next unit to find out how Net Zero Cloud helps you forecast carbon emissions, set targets to reduce emissions, and more!
Resources