Manage Engagement Plans
Learning Objectives
After completing this unit, you'll be able to:
Understand NPSP Engagement Plans.
Create, edit, and delete an engagement plan.
Engagement Plan Basics
Now that we've identified target prospects, we need to plan for and track activities to steward them to deeper engagement.  
Salesforce, on its own, includes ways to track activities like tasks, emails, calls, notes, and events. Nonprofit Success Pack (NPSP) adds Engagement Plans, a way to organize and assign common tasks to help your teams engage with your stakeholders in consistent and personalized ways. Engagement plans are created from Engagement Plan Templates, another record that collects all of the tasks that can be applied to contacts, accounts, and campaigns. 
Engagement plans can be added to a donor's record manually by a staff member or automatically when the donor reaches a particular level or through another automated process built by your admin. For example, when a donor at our (fictional) nonprofit No More Homelessness (NMH) is assigned the Major Donor level, an engagement plan is automatically created.
If you need tasks not included in the engagement plan template, you can add those tasks and activities manually, as well.
But remember, an engagement plan does not include any automation of the tasks listed — it will remind you to send an email, but it won't send the email for you. There are lots of ways to build automation into your processes in NPSP, but those require additional apps, configuration, or development by your admin or consulting partner. One example of an app is Marketing Cloud Engagement for Nonprofits, which includes automation tools and templates designed specifically for nonprofits. See the link in the Resources section for more information.
However you use them, engagement plans work best when your organization has a defined process for engagement with buy-in from all of the people who perform the tasks. We recommend answering the following questions before you start creating engagement plan templates in NPSP:
What are you trying to achieve?
What is the ultimate goal of the plan?
What series of actions will produce the result?
Once you have a plan with a defined set of tasks and the team involved has given the thumbs up, hand off the plan to your admin to set up engagement plan templates. These templates are used to generate the detailed tasks on contacts, accounts, and campaigns.
Automatically Assigned Engagement Plans in Action
Let's check out how engagement plans work at NMH, where they are tied to donor level.
Annual donor Gabrielle Nazarian makes a $1,000 gift to NMH — her first big gift! The size of the gift automatically moves the donor to the Major Donor level and, thanks to the engagement plan template the NMH admin created, kicks off a series of tasks assigned to different members of the development and program teams.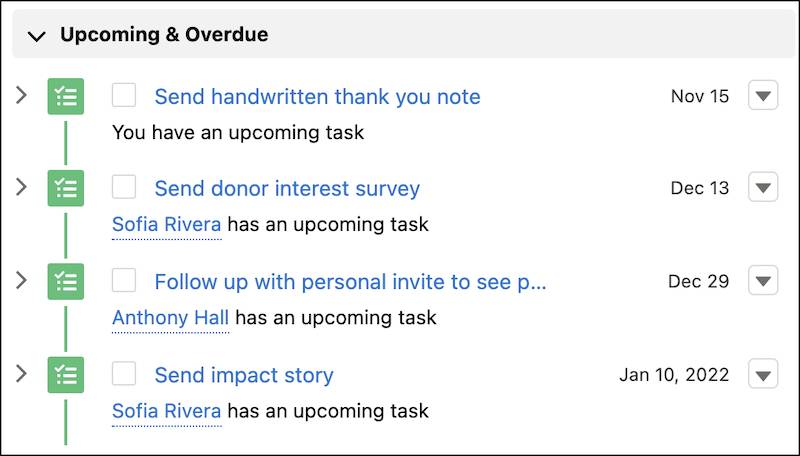 With tasks assigned, the NMH Programs team takes action as defined in the engagement plan. Tasks show up on staff members' Home page task lists, their Tasks tab, and in reports. As they complete tasks, NMH staff members update their tasks to Completed status.
As soon as a staff member completes a single task, the Status on the engagement plan record updates from Not Started to In Progress. When the final task is completed, the Status on the engagement plan is updated to Complete. You can see a list of engagement plans associated with a contact or household account in the Engagement Plans related list. 

Now let's check out how an engagement plan could be created manually. 
Apply an Engagement Plan Manually
The NMH Development team just added a new contact and household account record for a major gift prospect — Gabrielle's friend who attended a recent fundraising event.
Let's follow along as Sofia Rivera, a Development Associate at NMH, adds a new engagement plan to the prospect's contact record.
Find and select the donor's contact record.
Click the Related tab.
Find the Engagement Plans related list and click New.

In the Engagement Plan Template field, find and select the appropriate template. Sofia selects her New major gift prospect template.
Check to ensure the plan is connected to the correct contact record in the Contact field.

Click Save.
Voilà! We now have a plan for engaging with this new prospect.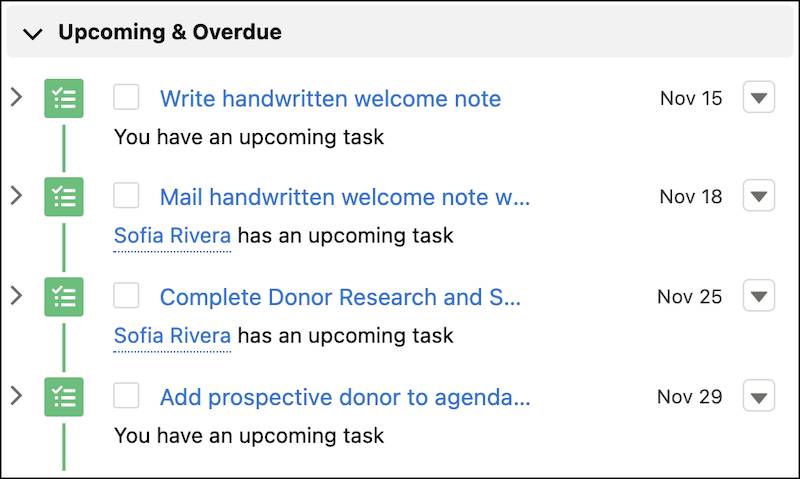 Delete an Engagement Plan
Occasionally, you may need to delete an engagement plan. 
When you delete an engagement plan, the underlying tasks still exist, but dependent tasks won't be automatically updated or assigned based on a parent task's completion. 
Navigate to the record to which engagement plan is assigned.
Click the Related tab.
Find the Engagement Plan related list.
In the row for the engagement plan you'd like to remove, click the menu arrow ().
Click Delete.
Click Delete again to confirm.
You can then manually delete the tasks if you don't need them (like if the engagement plan was assigned by mistake).
Now that we've covered the basics of engagement plans, let's dig into managing the actual tasks and activities in the plan.
Resources