Get to Know Your Mobile Contacts
Learning Objectives
After completing this unit, you'll be able to:
Describe the difference between a contact and a subscriber.
Explain how mobile contacts are added in Marketing Cloud.
Why Are Mobile Contacts Important?
Whether through a mobile app, messenger, or text message, customers want to hear from you on the device that is always with them. As your marketing program expands beyond email—with mobile messaging, in this case—think about your customers more holistically. This module is all about adding and managing mobile contacts in Marketing Cloud. Why? Because mobile contacts power everything you do in Mobile Studio, so understanding your mobile contact data is a key part of creating incredible mobile experiences for your customers. See what's possible with Mobile Studio in this video.
Contacts vs. Subscribers
Remember when we said contacts power everything? Well, that's true, but we can't forget about subscribers. Here's the deal: There are lots of ways that customers can be added into Marketing Cloud (imported files, API calls, synchronized data sources, and so on). Which means sometimes customers are added as a subscriber and sometimes they're added as a contact. What's the difference? Let's break it down. Here's the definition of each and an example of how they're used by Scott's Restaurant and Bar. 


Definition

Example

Identifier

Contact


A customer who opts in to one or more channels and is stored as a contact in Contact Builder.

Gordon Wexley receives MobilePush messages from Scott's Restaurant and Bar mobile app.

Gordon is stored as a contact in Contact Builder and he is identified by his device ID.

ContactKey: 2345678

Subscriber


A customer who opts in to a specific communication or channel and is stored as a subscriber in that channel (often Email Studio).

Rosario Garcia signed up for Scott's Restaurant and Bar's email newsletter. Rosario's record is stored in Email Studio's All Subscribers list as a subscriber.

She is also found in All Contacts since she has received an email from Scott's.
Rosario is identified by a subscriber key in Email Studio, with the same contact key in Contact Builder.

SubscriberKey and ContactKey:
rosariogarcia2345


Bottom line: A customer is a contact or a subscriber based on where that customer's record is stored—the All Subscribers list (found in Email Studio), the All Contacts lists (found in Contact Builder), or both. So, with more than one way to add a customer, it's clear we need a unified view—regardless of channel. 
Contact Builder and Contact Keys
No matter where contacts live in Marketing Cloud, they are identified by a unique key. In Email Studio, this is the subscriber key, which becomes the contact key in Contact Builder. So how do you get a single view of your customer with more than one key? The answer is Contact Builder. Contact Builder allows you to manage all of your customers (email, mobile, and more) in one place using one contact key.  
In order to help maintain an account that allows you to send cross-channel messages with ease, it is important to use the same contact key—regardless of channel. We cover this in a bit. For now, you should know that records without a defined contact key default to the address of the channel sending the message, such as an email address, mobile number, or MobilePush device ID. This is why, in the Scott's Restaurant and Bar example earlier, Gordon has a default contact key of his MobilePush device ID (which isn't ideal for Scott's in the long run). More on that in the next unit.
How Mobile Contacts Are Added
Most new contacts are automatically added to your account without any action from you (other than using your marketing skills to promote sign-ups). However, this isn't the only way contacts can be created, and sometimes it isn't the best way to add them. Let's review all the ways mobile contacts can be added into Marketing Cloud based on the channel.
Feature

How a Contact Is Added

Scott's Example

GroupConnect


Opt in from a messaging app like LINE.

Rosario Garcia opts in through LINE to receive messages via GroupConnect. When she opts in, a contact key for her is added into All Contacts.

MobileConnect


Opt in from a keyword.
Imported into Marketing Cloud via a list or data extension.
Added via API.

Gordon Wexley opts in to the BURGER SMS campaign with a keyword. Gordon is then added to All Contacts, associated with that keyword and SMS code.
Rosario Garcia's mobile address is imported into an existing data extension by marketer Simone Wright.
A new customer, Jim Chiu, signs up for SMS notifications via a webform on Scott's website. Using an API call, Jim's information is added into Marketing Cloud.

MobilePush


Opt in from a mobile app MC SDK registration.
Imported into Marketing Cloud.

Rosario downloads the Scott's Restaurant app and opts into notifications. She is automatically added as a contact in MobilePush.
Simone Wright imports new customers into a customer data extension with contact keys and device numbers for existing customers, like Gordon.
When users opt in for MobileConnect, MobilePush, or GroupConnect, a contact is added directly into Marketing Cloud. Based on the channel (and the information provided), the default attributes are recorded for the user and then stored in All Contacts within Contact Builder. 
Let's head to Data Designer within Contact Builder to take a look at those attributes. In this module, we assume you are a Marketing Cloud user. If you're not, that's OK. Read along to learn how you would take the steps in a production org. Don't try to follow these steps in your Trailhead Playground. Marketing Cloud isn't available in the Trailhead Playground.
OK, let's get started. In Data Designer, you see default attribute groups for MobileConnect, MobilePush, and GroupConnect. These attribute groups are data sources that help you organize data about your customers.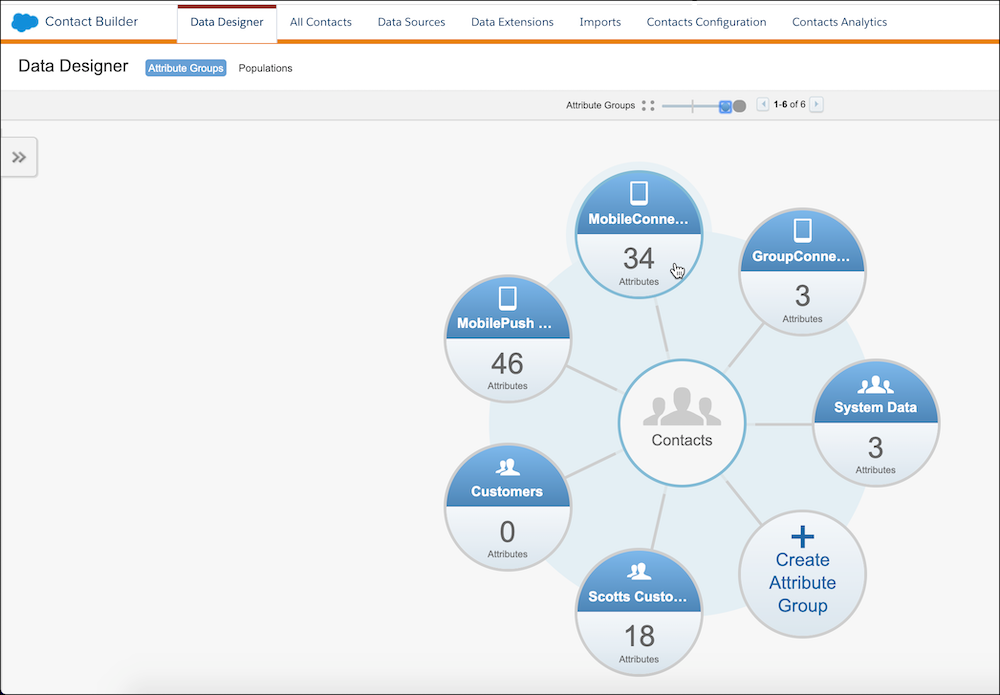 Mobile customer data can be stored in three ways in Marketing Cloud: system attributes, custom attributes, or data extension fields. Let's review each. 
System Object Attributes
System Object attributes are default attributes stored when a subscriber is added directly into MobileConnect, for example.
Let's take a look at the MobileConnect attribute group. This is the default information stored about contacts for MobileConnect. (FYI, default attributes are created for MobilePush and GroupConnect, too.) There are two attribute groups: demographics (1) and subscriptions (2). Demographics is information about the user, and subscriptions is information about the campaigns and keywords that the user has opted into.
Custom Attributes
Custom attributes (3) are created by you in Data Designer via the Create Attribute option. Add custom attributes to the demographics model when there is additional information you want from your mobile subscribers for a particular campaign. Scott's Restaurant and Bar uses custom attributes to store a contact's birthday and favorite burger to include in personalized text messages.  
Data Extension Fields
Data extension fields are fields within a table (a data extension) that stores information about a customer. To go beyond simple personalization using attributes, it is best practice to use data extensions. Data extensions give you the ability to target and personalize your messages to subscribers using better segmentation. So if Scott's wants to send a multi-channel journey to their customers about an upcoming change in their menu, they would use a data extension that has more customer information in it than just a mobile number, like email address.
Now that you're familiar with mobile contacts and how they're stored in Marketing Cloud, let's talk about managing those contacts. 
Resources