Work with Notes and Files
Learning Objectives
After completing this unit, you'll be able to:
Create enhanced notes and attach them to multiple records.
Find all your files in Salesforce Files.
Boost Your Note-Taking with Enhanced Notes
If you're like most people, you rely on notes to stay organized. With enhanced Notes in Lightning Experience, you can take better notes, faster, from anywhere.
So, what do we mean by better notes? Let's compare the original notes tool in Salesforce Classic to the enhanced notes editor and you'll quickly understand. Here's the classic tool, the version you get from the Notes & Attachments related list.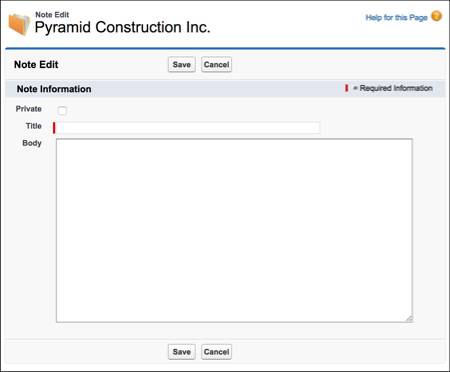 The Salesforce Classic notes tool. Not much going on here.
Or maybe you've been using enhanced Notes in Salesforce Classic. You're still in for a treat because enhanced Notes in Lightning Experience includes many more options for creating richer, more meaningful notes.
The enhanced Notes editor in Lightning Experience. Wow, there's no comparison.
Write with confidence because your ideas are automatically saved as you type.
Highlight important details and enhance meaning by adding bold and italic formatting to text (1).
Organize info with bulleted and numbered steps (2).
Add clarity and memorability by embedding pictures or images (3).
Even better, you can expand the visibility and impact of important information by relating a note to multiple records, such as relevant opportunities, accounts, and contacts (4). You can even share a note with groups or teammates (5).
Create Notes on the Fly
In Salesforce Classic, creating notes is tied to the Notes & Attachments related list on records or the Chatter publisher on feeds. In Lightning Experience, you can launch a new note from anywhere.
As we just learned, you can create notes from the Global Actions menu and the utility bar. You may also see a Notes item in the navigation bar. We'll talk about this Lightning Experience option in a sec. But if the app you're using includes the Notes item, it's another place to create notes.
It's also easy to create notes that are automatically related to a record you're working with. Look for the New Note action in the record's action menu, or use the New button on the Notes related list.
Two Related Lists for Notes?
You might think you're seeing double when looking at the related lists on a record.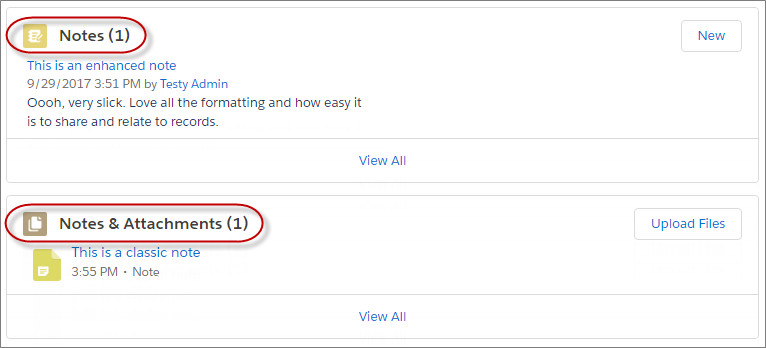 Don't worry, your eyes are fine. Enhanced notes and classic notes don't play well together. So the enhanced Notes that you create for a record are located in the Notes related list. Any notes that you previously created for the record using the classic notes tool are in the Notes & Attachments related list.
A New Home Page for Notes
Welcome to the Notes home page, one of the "it" features available only in Lightning Experience. Available from the navigation bar, Notes is your hub for accessing and managing all of the notes you have permission to see, whether they're related to records or not.
The home page includes several list views that make it easy to find specific notes, including those shared with you. Click a note in a list view to read or update it.
You can even call up previous versions of a note to see what's changed, or revert to an earlier version.
Manage Files
Say goodbye to juggling all of your content across different Salesforce file management systems. In Lightning Experience, Salesforce Files unifies your files, documents, and libraries into a single place for easier management. Lightning Experience also integrates files access directly into the flow of your business, so you can grab the content you need from wherever you are in the app. Let's see how this streamlined approach benefits you.
Your Files Hub
We'll begin with Files home, your one-stop shop for managing all of your files. Access Files home from the Files item in the navigation bar.
Access all the files you own or have access to. Change the list of files that you see with filters (1).
Access libraries and the files in libraries (2). Libraries are a way to organize content and share content with colleagues. You can even create folders within libraries, to better organize your content.
Search (3) to find files.
Upload new files to Salesforce Files (4) so you can attach them to records and share them with colleagues, groups, or customers. All file types are supported, from Microsoft® PowerPoint® presentations and Excel® spreadsheets to Adobe® PDFs, images, and audio and video files.
Act on individual files directly from the file list (5).
See files in the file preview player (6). The player includes controls for downloading, sharing, or deleting the current file, uploading a new version of the file, editing file details, generating a public link to the file, and switching to full-screen mode for presentations. 
Manage Files on Records
Need to attach some files to an opportunity, account, or other record? Forget about using the familiar Notes & Attachments related list. The Files related list is the way to go.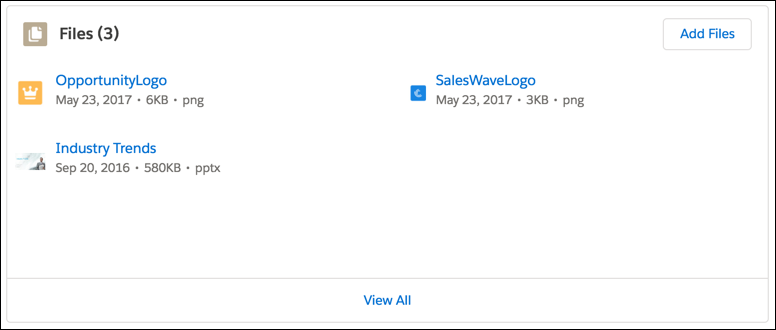 There are two options for attaching files to a record using the Files related list.
If the file is on your computer, quickly upload it. Simply drag the file—or multiple files at once—onto the Files related list card on the record! Uploaded files are also automatically added to Salesforce Files, so they're accessible from anywhere in Lightning Experience, not just the record at hand. 
The Files related list also opens the door to all of the files in Salesforce Files that you have access to, including files in libraries and external repositories like Google Drive or Box. To attach files from Salesforce Files, click Add Files in the Files related list. 
For each file attached to a record via the Files related list, you can quickly leverage all the rich Salesforce Files features. For example, upload a new version of the file, edit the file's details, or share the file with people, groups, and libraries. Click View All in the Files related list card to see the full related list.

To learn more about file access permissions, file privacy settings, and file size limits, see Upload and Share Files in Salesforce Help.
Share Files
To facilitate content collaboration, Salesforce Files embeds file sharing opportunities throughout your org's workflow. You can access sharing options from Files home, Files related lists, the file preview player, file record detail pages, and Chatter feeds.
It's easy to share your files with the right audience. Let's look at some examples.
Specific people or groups If the Share action is available for a file, you can designate the people or groups who can see it. Assign Viewer or Collaborator file permissions to each person or group. Viewers can view, download, and reshare the shared file (if the file allows resharing). Collaborators can do all that plus change file permissions, edit the file, and upload new versions. 
Broader audiences or records Attach files to posts or comments in the main Chatter feed or to feeds on records.
Customers or people outside your company If the Public Link action is available, you can safely share the file with external audiences. A public link is an encrypted URL that's safe to send to any recipient outside (or inside) your company, including leads, customers, partners, and coworkers. Recipients can view and download the file, but they can't be collaborators. You can delete the link at any time, at which point it no longer provides access to the file. 
Considerations for Other Content Types
Some of the older types of files in Salesforce Classic aren't fully supported or supported at all in Lightning Experience. If you use any of these features, here are a few things to keep in mind.
Attachments on records aren't automatically available from Salesforce Files or the Files related list because attachments aren't actually files. There are options for your admin to convert attachments to Salesforce Files. But in the meantime, you can continue to view and download existing attachments from the Notes & Attachments related list. You can't create new attachments in Lightning Experience.
The Documents tab isn't making the trek to Lightning Experience. If you have files in Documents that you need to access in Lightning Experience, we recommend downloading them, then uploading them to your Asset Library in Files home. One exception is documents used in email templates as attachments. These files need to stay in Documents for now.
Salesforce CRM ContentFolders and files in libraries are available from Salesforce Files in Lightning Experience. You can share and interact with them as with other files. But there are a few current limitations, including:

Depending on your org setup, you might have to switch to Salesforce Classic to create or manage libraries. If you don't have this option, talk to your Salesforce admin.
Content deliveries aren't available in Lightning Experience, but link sharing is supported.